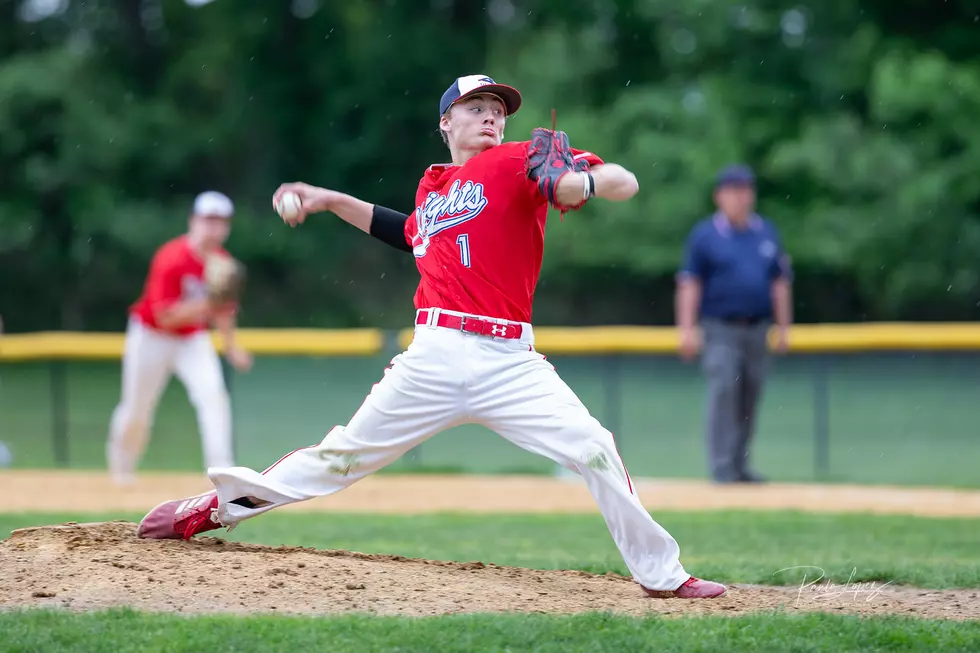 Baseball – 2020 Outlook: Class B North
Wall junior Teddy Sharkey. (Photo by Paula Lopez)

Enter your number to get our free mobile app
The 2019 Wall baseball team will be remembered as one of the more dominant clubs in recent Shore Conference lore, particularly because of its relentless pitching staff. Despite that, the Crimson Knights still got beat twice during the Class B North schedule and not even by the team that finished second in the division. That is an illustration of how rugged the B North schedule can be when all the teams are on the upswing and while not every team can be as good as it was last year, every one of the rosters below looks pretty formidable.
Despite losing a remarkable class of seniors, Wall remains a prospective favorite because of the top of its rotation, the middle of its order and the pipeline that continues to produce. The field, however, could have a shot to dethrone Wall this time around, should there be a "this time around" in 2020.
In predicted order of finish
Head Coach: Jim Rochford, first season
2019 Record: 27-4 (12-2, first in B North)
Returners: Teddy Sharkey (Sr., CF/RHP), Jay Bant (Jr., 3B/RHP), Sean Nocera (Sr., OF), Sean Brannon (Sr., INF), Fredo DiPaola (Sr., OF), Matt Croson (Sr., INF), Max Harrell (Jr., C)
Key Losses: Trey Dombroski (LHP), Grant Shulman (3B/RHP), Ryan Napolitano (RHP), Johnny Volpe (SS/RHP), David Howarth (C), Dylan Richey (2B), Tanner Powers (1B/LHP), John Iradi (OF), Doug Wetzel (OF)
Key Newcomers: Nick Lovarco (So., OF), Justin Cofone (Jr., INF), Chris Cosenza (Jr., INF), Andrew Fischer (So., INF)
For the first time in 15 years, Wall is a defending state champion and the Crimson Knights are hoping to be defending champions again next year by virtue of winning another one rather than missing out on an entire season along with the rest of the state. At first glance, that proposition might seem like a long shot, both because of the pandemic and because of all the graduation losses Wall has to address. A closer look, though, gives a little more of a positive spin on the baseball side of things – Teddy Sharkey is back as a thunderous hitter and dominant pitcher to lead the way in both halves of the inning, Jay Bant is a proven hitter ready to take his turn on the mound as well and Sean Nocera is a fine-tuned hitter at his best in run-scoring situations.
Beyond that, Wall will be a mystery team, but the Crimson Knights have always had talent show up and this year would be no different. Junior Max Harrell is set to take over the catching duties while seniors Sean Brannon and Matt Croson are hoping to resume their push for spots on the infield. Senior Fredo DiPaolo is also in the mix for an open corner outfield spot, joining Sharkey and Nocera as starters. The competition on the infield during camp was intense and spots are still up in the air, but any version of the 2020 season will include Wall as a team to watch at the Shore.
Head Coach: Mike Morgan, 14th season
2019 Record: 10-12 (7-7, tied fourth in B North)
Returners: Rocko Brzezniak (So., SS/RHP), Jacob Ramirez (Jr., C), Ryan Sekman (Jr., LHP/1B), Ryan Chin (Sr., RHP), Domenic Cerniglia (Sr., INF/OF), John Higgins (Sr., OF), Evan Pollack (Jr., RHP), Robert Lehan (Sr., RHP), John Furch (Jr., 1B), Ryan DiPede (Sr., OF)
Key Losses: Luciano Fabrizzi (INF), Spencer Margulis (CF), Robert Skinner (INF), Brendan Martin (RHP), Anthony Altomonte (C/INF), Matt Dellea (RHP)
Key Newcomers: Matteo Pasculli (Jr., 3B/OF) – transfer from Manalapan; St. , Antonio Antoniades (Jr., 2B/OF) – transfer from Monroe; Thomas Wright (Jr., P), Dominic McCaffery (Jr., P), Kyle Pollack (So., C/INF)
St. John Vianney graduates three of its better offensive players from a team that finished two games under .500 and went 7-7 in a competitive Class B North, so there is work to be done for the Lancers to make a serious move up the B North standings and toward the Top 10 at the Shore. With the impact young talent Vianney has in place and coming up to the varsity roster right now, that move looks like it is coming – whether it is this spring or whenever else high school baseball might resume. Rocko Brzezniak tops that list of talented returnees after an eye-popping freshman season that put him in early position for a record-breaking career.
Juniors Ryan Sekman and Jacob Ramirez are also coming off strong seasons – Sekman as the emerging ace of the staff and Ramirez behind the plate. Senior Ryan Chin lines up as the No. 2 in the rotation, with senior Ryan Lehan and junior Evan Pollack both returning with experience. Seniors Domenic Cerniglia, John Higgins and Ryan DiPede are hoping to get another shot in high-school ball while junior John Furch and noteworthy junior transfers Matteo Pasculli and Antonio Antoniades are all geared up to make an impact. If they all get a chance this year, Vianney will be ready to make a play for championships.
Head Coach: Cip Apicelli, 11th season
2019 Record: 20-8 (10-4, second in B North)
Returners: Kevin Schoenberger (Sr., RHP), Nick Callano (Jr., CF/RHP), Kevin D'Auria (Sr., OF), Cole Kelly (Sr., 1B), Brian Yatcilla (Sr., 2B), Kevin Novobilsky (Jr., INF), Mark Schell (Sr., LHP), Lucky Perrotto (Jr., LHP), Jack Fisher (Sr., OF), Nick Schneider (Sr., OF), Nick Vaughn (Jr., C), Dean Flannigan (Jr., INF), Zach Robinson (So., INF), Harry Greenspan (So., OF), Riley Morrow (Jr., INF/P), Sam Prud'homme (Sr., INF/P), Dylan Stewart (Jr., OF), Jack Zabarsky (So., INF)
Key Losses: Max Winters (C/RHP), Ryan Toomey (SS), Scuba Hagerman (3B/RHP)
Key Newcomers: Rich Alderiso (So., P), C.J. Anderson (So., OF), Cord Birzin (So., 1B), Will Calderone (So., INF/OF), Ryan Cook (Jr., OF), Pat Demarco (So., OF), Dillon Downs (Jr., C), David Espinosa (Jr., INF), Shane Flanagan (So., INF), Steven Gambino (Jr., INF), Jack Giglio (So., P), Jack Hough (So., INF), Elijah Huey (So., INF), Justin Irvin, (Jr., P), Alex Koenig (So. OF), George Krenkel (Fr., OF/P), Collin Latzsch (Jr., INF), Luke Marino (So., INF), Ayden Miles (So., P), Grady Stefankiewicz (So., INF), Aaron Tretsky (So., OF), Alejandro Villaraga (Sr., INF/P)
Ocean was a runner-up for two championships in 2019, settling for second place in the Class B North race behind Wall and lost to CBA in the Monmouth County Tournament championship game. Although two All-Shore players (Max Winters and Ryan Toomey) graduated from that two, two key cogs in getting the Spartans to 20 wins and close to two titles are back in the fold in 2020. Senior right-hander Kevin Schoenberger was Ocean's third All-Shore player last year after posting an ERA just north of 1.00, while current junior Nick Callano was third on the team in innings behind Schoenberger and Scuba Hagerman.
Callano will also be a key piece on offense and in centerfield, while Kevin D'Auria, Cole Kelly, Brian Yatcilla, Kevin Novobilsky and Jack Fisher all return with experience – Novobilsky as a junior and the rest as seniors. Senior Mark Schell and junior Lucky Perrotto entered camp as candidates to fill in some of the lost innings from Hagerman and Winters, and junior Nick Vaughn was Winters's understudy at catcher last season. The next wave of talent looks promising but Ocean also has the seniors to be in the top-10 hunt again if the season can get going at some point.
Head Coach: Mike Yorke, 21st season
2019 Record: 12-9 (8-6, third in B North)
Returners: Rob Mannino (Sr., DH), Dan Cowles (Sr., 1B), Chase Masterson (Sr., LHP), Justin Coppola (Sr., RHP), Collin Kratzer (So., SS/RHP), Cameron Knipp (Jr., OF), Joe Cilea (So., C)
Key Losses: Reece Horneck (OF), Adrian Jimenez (3B/RHP), Brooks Condon (RHP/SS), Nick Torres (OF/LHP), George Zemlanicky (OF/C), Walter Jordan (INF/RHP)
Key Newcomers: Christian Rice (Jr., RHP) – transfer from St. Joseph by the Sea (N.Y.); Anthony Gubitosi (So., LHP) – transfer from Freehold Boro
With an imposing lineup and gritty pitching staff that used a lot of different contributors, Colts Neck got a good amount out of 2019. Some important bats have since moved on to graduation but the Cougars again look like a team that can put some runs on the board. Rob Mannino has fought through a shoulder ailment that has limited him as a catcher but did not slow down his bat at all last year. Mannino and senior classmate Dan Cowles two of the Shore's most formidable hitters and would be the team's one-two punch in the heart of the order.
The rest of Colts Neck's prospective lineup would likely be younger, led by returning sophomore Collin Kratzer. After playing second base last year, Kratzer – who is already committed to Army – moves to shortstop and could even get some work on the mound. Junior Cameron Knipp is eyeing an open spot in the outfield while sophomore Joe Silea is the catcher of the future, which will start whenever play resumes. If Colts Neck can get a boost from its pitching staff – headlined by senior Chase Masterson and junior transfers Christian Rice and Anthony Gubitosi – the Cougars will be an even tougher out when baseball eventually comes back.
Head Coach: Bobby Carnovsky, eighth season
2019 Record: 10-14 (5-9, sixth in B North)
Returners: Jay Kalieta (Sr., CF), Griffin Falco (Sr., C), Tim Egan (Jr., LHP/OF), Ben Porricelli (Sr., SS), Christian Rivera (Sr., 2B), Nick Trapani (Sr., INF), R.J. Clifton (Sr., P), Matt Silva (Sr., OF), Ryan Anderson (Sr., 1B), John Beukers (Sr., RHP)
Key Losses: Chris Gendi (RHP/3B), Jackson Hercek (OF/RHP), Danny Hirujo (RHP/1B), Ben Palumbo (UTIL)
Key Newcomers: Carlos Zeno (Sr., RHP), Mike Caldon (Jr., P/INF), Luke Elliot (Sr., OF/P), Dom Salot (Jr., INF/OF), Eli Gries-Smith (Jr., P)
Of all the teams in Class B North, the one likely most desperate for some kind of season to be played this season is Matawan. Along with Ocean and possibly Neptune, the Huskies were likely to be the team most reliant on its senior class to lead the way in 2020. They had their share of players move on in graduation, but the returning nucleus of Jay Kalieta, Griffin Falco, Ben Poricelli, Christian Rivera and Nick Trapani brings a lot to the table – quality offense and defense from arguably the most important non-pitcher positions on the field.
Junior left-hander Tim Egan is the top returning pitcher from a year ago when he climbed the rotational depth chart. Behind him is another group of seniors – R.J. Clifton, Matt Silva, John Beukers and Carlos Zeno – who all have designs on making their mark this season with more innings to be absorbed. Throw in newcomer Luke Elliot as a potential starter in the outfield and Ryan Anderson at first base and Matawan has the kind of senior class that can make a big splash. They are just hoping the water will be safe to swim in before it's too late.
Head Coach: Ryan McCabe, second season
2019 Record: 7-16 (3-11, eighth in B North)
Returners: Danny Frontera (Jr., RHP/SS), Mike Roditis (Sr., 2B), Ryan Rozinski (Sr., RHP/OF), Andrew Lombardi (So., C), Colin Dowlen (Jr., RHP/3B), Tony Sansone (Jr., LHP/OF), Dom Scerbo (Jr., OF/RHP), Tyler Sharkey (Jr., RHP/UTIL), Jack Costigan (Sr., OF), Shane Doyle (Sr., 1B), Matt Maguire (Sr., 3B), Richie Wall (Sr., OF), Matt Sherwin (Jr., INF)
Key Losses: Sean Gardiner (RHP), Khaniel Alba (LHP/OF)
Key Newcomers: Kevin Lisser (Jr., OF), Frank Salesi (Jr., INF/C), Guissepe Salandro (Jr., INF/C), Christian Malizia (Jr., C), Jaden Ascolese (So., P/INF), Ryan Frontera (Fr., INF/P)
Middletown North's last-place finish a season ago was as expected as one can be. The Lions had a new coach in Ryan McCabe and a young roster without a whole lot of varsity experience or production. Sean Gardiner stepped up in a big way as staff ace and he the senior starter Middletown North was most challenged in replacing. The Lions have a built-in answer for that open spot as the staff ace, with junior Danny Frontera, who made an impact as a freshman before Tommy John Surgery prevented him from pitching last year. It did not, however, keep him from coming back to get at-bats as the DH at the end of 2019 and with a healthy arm to pair with a potent bat, he will be an impact player whenever the games start up.
Ryan Rozinksi leads a solid group of seniors that hope to make a contribution to Middletown North's continued turnaround, having pitched as the No. 2 man in the rotation and manned centerfield last season. Seniors Mike Roditis, Shane Doyle, Jack Costigan, Matt Maguire and Richie Wall all return from last year as well. Junior Colin Dowlen is back at third base and on the mound as well, while sophomore Andrew Lombardi is back behind the plate after leading the team with three home runs as a freshman. A lost season would definitely be a downer for Middletown North with some of the seniors slated to play, but the youth movement is underway and poised to make noise.
Head Coach: Kevin Frederick, sixth season
2019 Record: 13-9 (7-7, tied fourth in B North)
Returners: John Gannon (Sr., C), Rocco Richard (Sr., SS), Jett Tinik (Sr., CF), Jack Smith (Sr., 1B), Ryan Cole (So., 2B/RHP), Brian Young (Jr., LHP/OF), Andre Harris (Jr., OF/P), Thomas Gamba-Ellis (Sr., P/1B),
Key Losses: Ron Cole (RHP/1B), Sebastian Jno-Baptiste (CF/RHP), Kyle Bailey (3B/RHP), Arden Underwood (P/1B)
Key Newcomers: Tyler Persico (So., 3B), Dan Moran (So., UTIL), Austin Celiberto (Jr., 2B), William Foy (So., P/1B)
Neptune has had an interesting three-year stretch that had some overlap when it comes to players on the roster for the entire run. The Scarlet Fliers reached the Central Group III final in 2017, sported one of the Shore's worst records in 2018 and rebounded to win 13 games last year. Pitching was a common thread between the two successful stretches during that three-year stint and that's was the area Neptune had to address heading into this year. Brian Young and Andre Harris both pitched important innings last year but have big shoes to fill as the one-two punch following Ron Cole and Sebastian Jno-Baptiste.
Thomas Gamba-Ellis and Ryan Cole can help out on the mound as well, with Cole manning second base on the other days. Seniors John Gannon, Rocco Richard, Jett Tinik and Jack Smith are the team's offensive core, with Gannon and Richard returning as two of the team's top three hitters from a year ago. In that sense, Neptune shouldn't have a problem scoring runs in any game it plays, but the Scarlet Fliers will certainly miss an opportunity as a program if there is no season this year, never mind the missed opportunity for its accomplished group of seniors.
Head Coach: Nick Tucker, seventh season
2019 Record: 7-16 (4-10, seventh in B North)
Returners: Max Stamer (Sr., LHP/OF), Andrew Glauber (Jr., RHP/INF), Sean O'Mara (Jr., SS/OF), Nick Ferrogine (Jr., RHP/OF), Jack McCabe (Sr., RHP/3B), Joe Pallante (Sr., OF/RHP), Ryan Lahey (Sr., C), Aiden Keale (Jr., OF), C.J. Paolino (Jr., C/1B), Kyle Weisman (Sr., RHP/INF), Doug Scales (Sr., RHP), Matt Keegan (Jr., P/OF)
Key Losses: Jack Povey (RHP/2B), Aidan Kelly (1B), Luke Jurek (OF), Colin Chatto (C)
Key Newcomers: Ryan McBride (Sr., 1B), Michael Niro (Sr., OF), Sam Wasserfall  (Sr., 1B/P), Jack Welsh (Sr., P), Ed Devine (Jr., 1B/P), Dan Jurek (Jr., OF), Dan Lopez (Jr., INF), Cole Armond (S., INF/P)
With one of the better pitchers in the Shore Conference topping its pitching staff, Red Bank was a dangerous team on days Jack Povey pitched and on others, the Bucs still showed the qualities of a scrappy team that could be dangerous down the line. This year might start to reveal that progress – certainly if senior returnees Max Stamer, Jack McCabe, Joe Pallante, Ryan Lahey, Kyle Weisman and Doug Scales have any say in the matter.
Stamer is set to be a key cog in both the pitching staff and the lineup, with junior Nick Ferrogine coming back as the team's best performer on the mound behind Povey a year ago. McCabe and Pallante figure into the pitching equation as well, while juniors Sean O'Mara, Andrew Glauber and Aidan Keale are the top returning offensive threats in the lineup along with Stamer. There is enough coming back in the junior class for Red Bank to feel good about taking its shot in 2021, but the seniors on board are good enough to push for their opportunity now.
Division Lineup (with 2019 stats)
John Gannon, Sr., C, Neptune (.431/.500/.778, 8 2B, 1 3B, 5 HR, 22 R, 33 RBI)
Dan Cowles, Sr., 1B, Colts Neck (.409/.547/.659, 6 2B, 1 3B, 1 HR, 10 R, 17 RBI)
Rocko Brzezniak, So., SS/RHP, St. John Vianney (.508/.608/.952, 5 2B, 1 3B, 7 HR, 20 R, 26 RBI, 6 SB)
Rocco Richard, Sr., SS, Neptune (.333/.432/.524, 10 2B, 1 3B, 11 R, 16 RBI)
Jay Bant, Jr., 3B/RHP, Wall (.341/.396/.477, 6 2B, 2 HR, 16 R, 27 RBI)
Teddy Sharkey, Sr., CF/RHP, Wall (.391/.542/.598, 11 2B, 2 3B, 1 HR, 24 R, 22 RBI)
Jay Kalieta, Sr., CF, Matawan (.319/.451/.389, 5 2B, 18 R, 9 RBI, 8 SB)
Sean Nocera, Sr., OF, Wall (.365/.489/.419, 4 2B, 17 R, 17 RBI)
Rob Mannino, Sr., C, Colts Neck (.368/.538/.632, 7 2B, 1 3B, 2 HR, 21 R, 12 RBI, 7 SB)
Kevin Schoenberger, Sr., RHP, Ocean (6-1, 49 IP, 44 H, 8 BB, 33 K, 1.14 ERA, 1.06 WHIP)
Ryan Sekman, Jr., LHP, St. John Vianney (3-3, 44.1 IP, 37 H, 25 BB, 49 K, 2.84 ERA, 1.40 WHIP)
Tim Egan, Jr., LHP, Matawan (2-3, 39 IP, 34 H, 14 BB, 34 K, 2.51 ERA, 1.23 WHIP)
Nick Collano, Jr., RHP, Ocean (4-1, 29 IP, 34 H, 10 BB, 30 K, 3.14 ERA, 1.52 WHIP)
Nick Ferrogine, Jr., RHP, Red Bank (3-4, 35 IP, 27 H, 16 BB, 33 K, 3.60 ERA, 1.23 WHIP)
More From Shore Sports Network