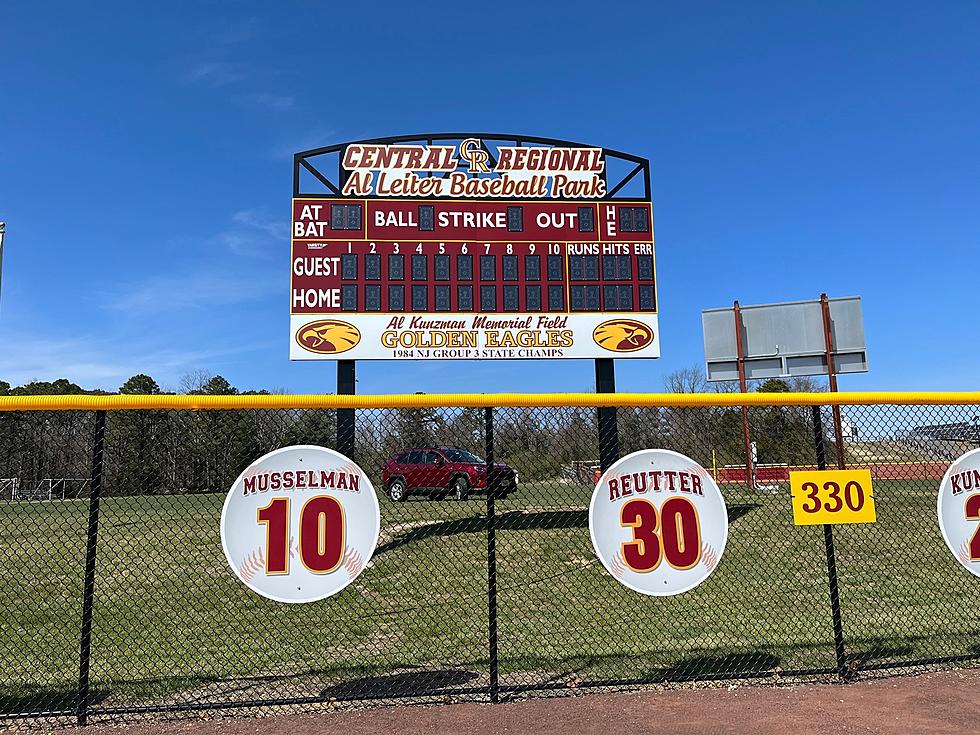 A Celebration Of Central Regional Baseball History
The new scoreboard at Central's Baseball Complex
Let me first say I am part of Central Regional baseball history as probably the only person in program history to receive a varsity letter for serving as third base coach.  It came in my senior year in 1973 at the request of legendary coach Al Kunzman who awarded me with the #8 uniform because that was the number worn by then Mets manager Yogi Berra.  I was not a player but spent the entire season as a quasi-assistant coach who never missed a practice or a game.  It culminated with the Golden Eagles winning the Ocean County Tournament by beating Toms River North a game in which I was benched…but that's another story.
I tell you this because this weekend was a glorious one for the Central baseball program thanks to the efforts of Al Leiter, Athletic Director John Scran, Coach Jerry Frulio, and Superintendent Tom Parlapanides along with the Board of Education.
It started Friday night with the honoring of the first 24 members of the program's Legends of the Diamond which is basically a rather exclusive Baseball Hall of Fame.  That group included Coach Kunzman who passed away 17 years ago and all three Leiter Brothers…Kurt, Mark and Al.  I had the pleasure of serving as the Master of Ceremonies for the event which was a night filled with memories, smiles and at times emotion.
Then on Saturday prior to the Golden Eagles season opener against Toms River South there was a ceremony at what is now Al Kunzman Memorial Field and Al Leiter Ballpark.  Leiter as he's done before contributed his own money to revitalize the facility which has to be one of the nicest in the entire shore featuring a new scoreboard, new bleachers, press box and more.  The ceremony included the retiring of Kurt Leiter's #22…he was the first of the brothers to wear that number which is on display on the outfield fence. In a classy move Scran and Central honored Indians coach Ken Frank with an engraved bat as a tribute to him for being the winningest coach in New Jersey history.
And in what can only be described as a fitting conclusion to the weekend Kurt (who is the Central pitching coach) watched his son Cam throw a complete-game shutout with 13 strikeouts as the Golden Eagles beat the Indians 2-0.  It was a great weekend for my alma mater.
Here Is the inaugural class of Central's Legends of the Diamond:
Coach Al Kunzman
Coach Bob Reutter
Larry Mattox                    (1970)
John Kilmurray                (1972)
Dick Gabriel                     (1973)
Gene Drumright               (1975)
Gregg Allan                     (1977)
Kurt Leiter                       (1979)
Craig Tice                        (1979)
Al Aires                            (1980)
Jeff Musselman                (1981)
Mark Leiter                      (1981)
Steve Kachmar                 (1981)
Val Chevalier                   (1984)
Dave Kennett                   (1984)
Al Leiter                           (1984)
Jeff Roessler                     (1985)
Tim Morris                       (1985)
Vin Frulio                        (1987)
Keith Reardon                  (1987)
Jerry Frulio                      (1990)
Keith Applegate               (1990)
Jesse Gorman                   (1999)
Josh Norton                      (1999)
Mike Rooth                      (2002)
."}" data-sheets-userformat="{"2":33555201,"3":{"1":0},"11":4,"12":0,"28":1}">
The Nine Best Baseball Players From New Jersey
More From Shore Sports Network