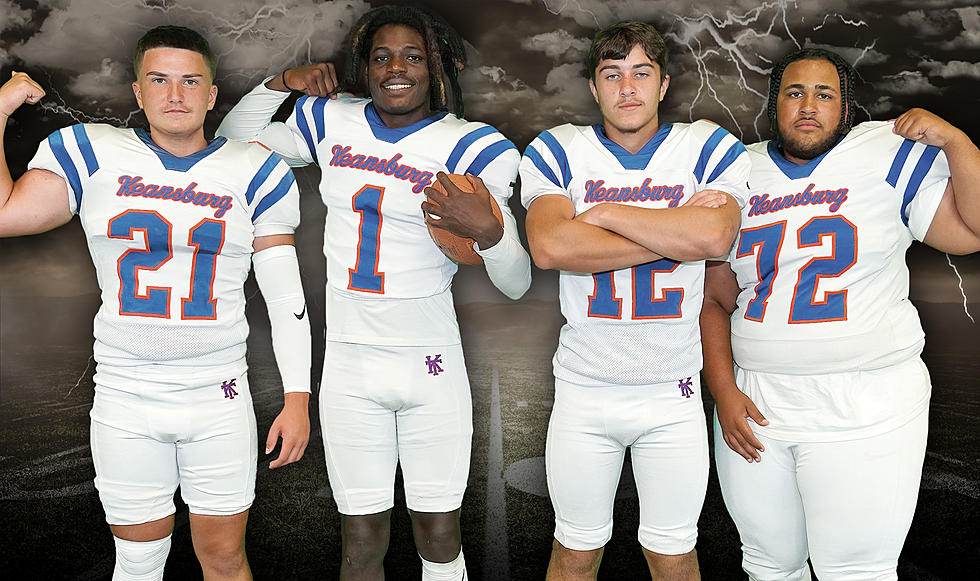 Worth the 'Waite': 2021 Keansburg High School Football Preview
From left: Ryan Comey, Mikal Braithwaite, Ian Mendez, Jon Beattie. (Photo by Richard O'Donnell)

Over the past four seasons, Keansburg has turned the corner with a record above .500 during that span, punctuated by a 4-3 2020 season thanks to a solid group of seniors. Those seniors did not get a crack at the NJSIAA Playoffs due to the cancellation of the state-run postseason, which sets up a potential program-defining challenge ahead of the 2021 team.
While Keansburg has proven it can win with experienced teams of the past four years, there are two things the Titans are hoping to prove this season. The first is that they can keep churning out winning seasons with a predominantly-new group of starters, albeit with a few returnees led by one of the Shore's top returning all-around players.
"Physically, we have a very good team," Keansburg coach John Bird said. "The key is going to be how quickly can the juniors grow up. Not a lot of them played big roles as sophomores, so it's going to be a test of the program and whether or not we can get these guys ready to compete every week and win games like we have been doing the last few years."
The other mission for Keansburg this season is to make that deep playoff run that the Titans have been building toward over the past four seasons. That might seem like a pipe dream considering how inexperienced Keansburg will be a most positions on the depth chart but the return of senior quarterback and safety Mikal Braithwaite to lead the team should make the Titans a player in Central Jersey Group I.
Keansburg at a Glance
Projected Starters (RS=Returning Starter; 3RS=Third-year Starter)
Offense: Spread
QB: Mikal Braithwaite, Sr., 3RS
RB: Ian Mendez, Jr.
WR: Yosef Abdou, Sr.
WR: J.P. Debow, Jr.; Shane Debow, Jr.
WR: Nasun Lee, Jr.; Mike Alonso, Jr.
TE: Reily Jankowski, Jr.; Ryan Comey, Jr.
LT: Mike Menture, Jr.
LG: Robert Conaway, So.
C: Kyle Scott, Jr.
RG: Jon Beattie, Sr., RS
RT: Anthony Mascolino, So.
Defense: 3-4
DE: Keyshaun Coppinger-Ward, Sr., RS
DT: Jon Bettie, Sr., RS
DT: Patrick Smit, Sr.
DE: Mike Morro, Sr., RS
OLB: Zahere Tinsley, Jr.
ILB: Ryan Comey, Jr., RS
OLB: Joe Ricciardelli, Jr.
CB: Mike Alonso, Jr.
CB: Tony Alejandro, Jr.
SS: Jaheim Hill, Jr.
FS: Mikal Braithwaite, Sr., 3RS
Special Teams
K: Joe Sautner, Jr., RS
Staff
Head Coach: John Bird, seventh season
Career Record: 21-34
Record Last Five Years:
2020: 4-3
2019: 5-4
2018: 4-5
2017: 5-5
2016: 2-8
Assistant Coaches: Jim Reid (Off. Coordinator/QB/DB), Nic Vloyanetes (WR/DB), Nick Varanelli (OL/DL), Dan White (TE/DL), Uriel Morfin (RB/LB), Kelli Hudson (Athletic Trainer)
Player to Watch: Mikal Braithwaite, Sr., QB/FS
Braithwaite was an All-Shore performer as a junior, passing for 897 yards with 11 touchdowns through the air and six on the ground. He is a dual threat as a quarterback and will also be an impact defender for Keansburg as the team's free safety. The Shore's small schools don't produce many First-Team All-Shore players with all the large-scale programs topping the conference, but Bird believes that if Braithwaite doesn't already belong in that conversation, he will be part of it by season's end.
"You never win football games with just one guy but when it comes to the skill level on this team, it's Braithwait and everybody else," Bird said. "He's just that good right now and my goal for him – and the first goal is always winning, but as far as the individual recognition goes – I want to see him represent the National Division on First Team All-Shore. Whether it's offense or defense, I think he will be worthy of it."
Player Under the Radar: Ryan Comey, Jr., TE/FB/ILB
Comey saw more and more time as the 2020 season went on and was one of the few sophomores to make an impact of any kind on last year's experience-laden team. After that taste of success, Comey will get a bigger bite of playing time as fullback-slash-tight-end on the offensive side and as a linebacker on the defensive one.
Impact Newcomers: Nasun Lee and Mike Alonso (Jr., WR/DB)
Lee is a transfer from Freehold Boro and Alonso is a first-year high-school football player who has previously played varsity basketball at Keansburg. Both will be noteworthy additions to the overhauled receiving corps, as well as part of the rotation of defensive backs.
"With so many open spots, we try to recruit within the school and get as many guys out as we can who we think can help us," Bird said. "We were fortunate that Nasun moved here and with Alonso, he has been a varsity basketball player and we have had some success with the basketball guys coming over to us and being able to contribute."
Top Position Group: Quarterback
Keansburg will need its emerging core to learn quickly in order to compete but ultimately, its success will depend on how far Braithwaite can carry them throughout the course of the season. Part of his performance this year will hinge on his ability to uplift the new receivers and help them produce while also learning on the job.
Big Shoes to Fill: Ian Mendez, Jr., RB/ILB
If there was one player outside of Braithwaite who drove what Keansburg did last year, it was Patrick Beltran – who was a leader on offense (606 rushing yards and six touchdowns) and defense (52 tackles and three sacks). With Beltran now graduated, Mendez will assume that role as the feature back on offense and as an inside linebacker in Keansburg's 3-4 scheme.
"Patrick Beltran was as important to our season as any player we had last year, so we are looking for Ian Mendez to take on a big role and basically be our new version of Patrick," Bird said. "It's a big responsibility but Ian has looked good and he's ready to step up as that guy."
X-Factor: The junior class
A full senior season of Braitwaite at quarterback is likely to keep Keansburg in the running but to get over the hump and continuing pushing toward a sectional championship game, the Titans will need a promising junior class short on experience to grow up quickly. Linemen Keyshaun Coppinger-Ward, Mike Morro, Jon Beattie and Patrick Smit, as well as wide receiver Yosef Abdou and Braithwaite, are the lone seniors in the starting offensive and defensive units, with the rest coming from the junior and sophomore classes.
"The juniors are the majority of the team," Bird said. "They are super-talented and they have been doing a good job picking up what we are giving them but we haven't had a ton of time to get them up to speed. They are going to have to learn quickly but we feel like once they get the hang of what we're teaching, this could be a very good group."
Schedule
Saturday, Aug. 28 vs. West Windsor-Plainsboro South, 2 p.m.
Saturday, Sept. 11 vs. Keyport, noon
Saturday, Sept. 18 vs. Monmouth, noon
Friday, Sept. 24 at Point Beach, 7 p.m.
Saturday, Oct. 2 vs. Lakewood, noon
Friday, Oct. 8 at Pinelands, 6:30 p.m.
Saturday, Oct. 16 at Keyport, noon
Saturday, Oct. 23 vs. Point Beach, noon
More From Shore Sports Network