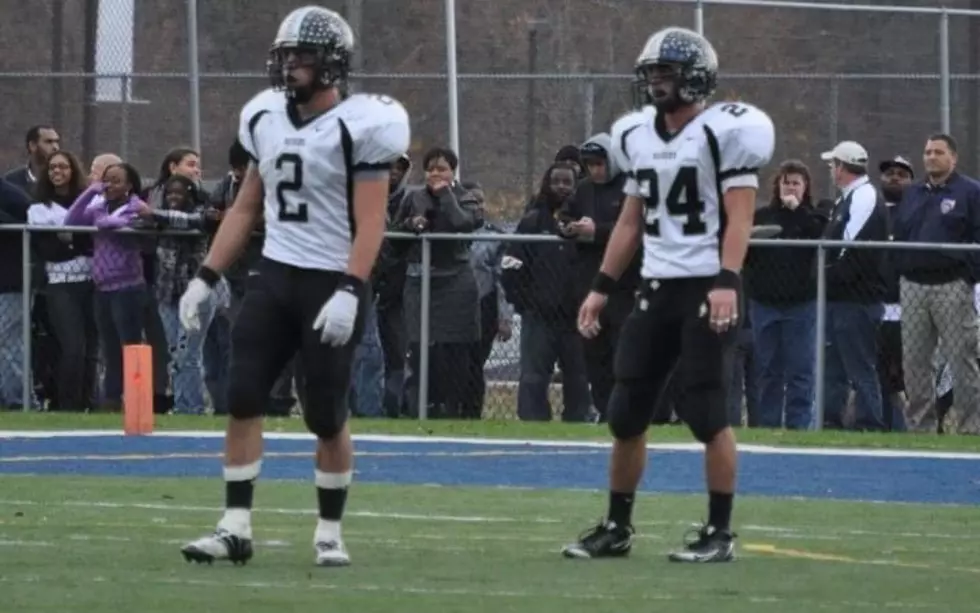 The Top-10 most read, watched Jersey Shore News stories of 2020: #10
Nico and Mario Steriti playing for Toms River High School East. (Photo Courtesy of Nico Steriti)
There has been a lot of News and Events going on at the Jersey Shore in 2020 both Covid-19 related and stories not related to the pandemic.
As the year comes to a close, we're making two sets of countdowns of the Top-10 most read and watched stories of 2020.
One is a Top-10 most read & watched Covid-19 countdown.
This one is a Top-10 most read & watched Non-Covid News story countdown.
Download our App for both countdowns each day for the next 10 days.
Without further or due, here is the 10th most read article followed by the 10th most watched video on our social media platforms of Facebook and YouTube across 92.7 WOBM, 94.3ThePoint, 105.7TheHawk, the new Beach 104.1 FM and the Shore Sports Network.
There's something exciting about a Friday night in the fall at a high school football game whether you're coaching, playing, broadcasting the game or watching it from the stands.
It's the coolness of the autumn breeze, roar of the fans around you, the hype of great teams with great players and the smell of the snack stand surrounding you as 22 players battle it out on the gridiron.
Things felt like that at Toms River High School East on Friday night's when Nico and Mario Steriti were wearing the silver and black of the Raiders uniforms on teams with a heap of talent all over the field.
There was something different, unique and special though about the skills and abilities the Steriti brothers demonstrated on a football field.
They left a mark on the game still etched on the turf nearly a decade later.
This Feature story about the younger Steriti brothers 10-years after playing together at Toms River High School East takes a look back at the days on the Gridiron and what's happened to each of them since, once stars on the football field, injuries and illness sidelined their careers but the heart of a football player is still very much alive within each of them.
Detective Sickinger is 39-years old, recently celebrated his 10th wedding anniversary with his wife Diana and they have two daughters, 4-year old Harper and 8-year old Olivia.
In January of 2020, Detective Sickinger was diagnosed with ALS then Lyme Disease and Mold Toxicity.
To date, the online campaign has raised close to $30,000.
Check back here on our website and app for #9 in our countdown of the Top-10 Most Read Jersey Shore News Articles and Most Watched Jersey Shore News Videos of 2020.
You can follow Vin Ebenau on Twitter and Instagram and email news tips to vin.ebenau@townsquaremedia.com.
The Nine Best Baseball Players From New Jersey

Enter your number to get our free mobile app
More From Shore Sports Network