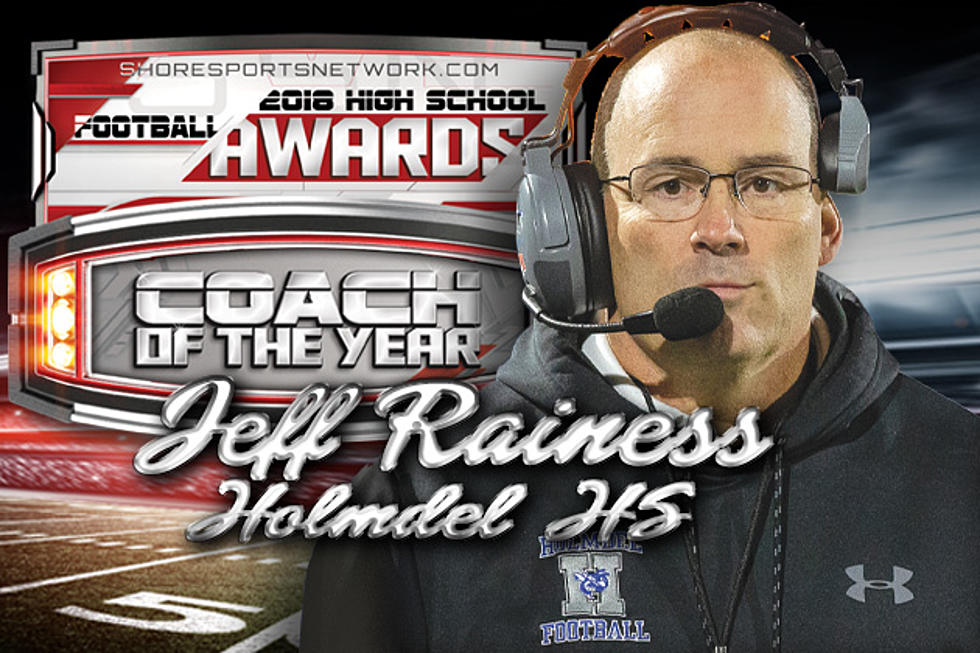 Shore Sports Network Football Coach of the Year: Holmdel's Jeff Rainess
(Artwork by Steve Meyer/Townsquare Media NJ).
For 20 years, Jeff Rainess sat behind a desk, closely monitoring the markets as a commodities broker in the electricity field. His concentration was devoted to the daily task at hand. He couldn't afford to blink in the fast-paced, constantly-changing environment.
Yet, every day without failure, Rainess reserved a moment to delve into a small compartment of his mind that housed an eternal dream, one of a calling he'd envisioned for himself from as far back as he could remember…one, that in its own unique way, revolved around a different type of juice.
As a linebacker/tight end at Morris Knolls, his formative years were partially groomed by iconic head coach Bill Regan, whose manner and style overseeing the program carried significant influence. Rainess recognized Regan's passion for the vocation and devotion to his players. He admired such qualities, the kinds that transcend the gridiron and can be applied in all walks of life, and entertained what it would be like to one day instill such traits into a team of his own.
"Coach Regan had a huge impact on me," said Rainess. "Since I was five years old, I wanted to be a coach. I needed to find a way to go pay that back."
Backed by his supportive wife Jenn and children Mac, Jake and Charlotte, Rainess decided to make a shift and pursue his lifelong ambition. The journey began with a knock on the door at Bishop Ahr and a visit with coach Don Sofilkanich, who brought him aboard as an assistant. He then headed to Mater Dei, working under Shannon Hoadley, before landing at Holmdel in 2016 to embark on his first stab as a head coach.
He inherited a situation in desperate need of stability. Rainess was the fourth coach in as many falls to pilot the Hornets, who, over the previous eight years, had endured an agonizing 18-61 spell. To say a change needed to be made would be an understatement.
Fortunately, Rainess proved to be the right man in the right spot at the right time. A Holmdel resident, his roots were planted in the community, familiar with many of his players and their families. He was deeply invested in transforming the culture and resorted to his former job in one sense by selling an unseeable commodity to those he would oversee, a leap of faith steeped on a belief in themselves and what could be accomplished once an unbreakable bond of brotherhood could be forged.
It didn't take long. In his inaugural campaign, Holmdel weathered a 2-8 performance, but gradually implemented cornerstones to sturdy a foundation. A year later, came a 6-4 showing, the first winning season at Holmdel since 2007, and what unfolded this season were the fruits of unified labor put forth by a coach who never turned his back on a dream and passed along values to his players who repaid the favor with championship benefits.
The Hornets stamped an 8-2 resurgence by winning the National Division crown, their first such title in over a decade, and marched to the semifinals of the Central Jersey, Group 3 playoffs before bowing to then-unbeaten Somerville in a gritty 31-20 effort that did nothing to tarnish a sterling run.
The modest architect of a football revival at Holmdel, Rainess is The Shore Sports Network 2018 Football Coach of the Year.
"The culture was broken," noted Rainess, who played as a rover back in the secondary at Susquehanna after graduating from Morris Knolls. "The kids are the ones responsible for turning it around."
Holmdel thrived on its balance, boasting the No. 1 scoring defense (7.9 ppg.) in the Shore Conference, which counted five shutouts on its impressive resume, countered by the No. 2 scoring offense (34.1 ppg.).
Senior running back Dean Gallo thrived, rumbling for 1,193 yards and accumulating 18 touchdowns, and junior backfield partner Cameron LaMountain added 708 yards and six TDs on the ground while senior quarterback Jeff DeCicco threw for 592 yards and 10 scores. All conducted their business behind an imposing offensive line that featured 6-foot-3, 230-pound senior Austin Fischer and 5-foot-11, 215-pound senior Jack Tedeschi.
On the opposite side of the ball, senior linebacker Brandon Saghafi (83 tackles), junior defensive back Nick Bauman (71 tackles), senior defensive linemen Alex Starr and Dan Tempone and senior defensive backs Mack Byrne, Evan Jennings and Nick Fanzini embodied a unit both fierce and relentless.
And, don't overlook the special teams. Senior kick Alex Unanski converted 49 of 51 extra points and booted two field goals, including a season-long 40-yarder.
Yet, amid all that success, it was during one of Holmdel's two losses, a 28-26 setback to Red Bank in Week 2, when Rainess sensed a seismic change was unfolding just off the shoulder of the Garden State Parkway.
"There was a huge turnaround in attendance," he reflected. "The Red Bank game was mobbed. We were down in the fourth quarter and then we hit (senior running back) Dean Gallo on a 75-yard pass for a score and you could feel the ground shaking. I pulled everyone in and told them to look around to see that they'd built. That was one of the best experiences of my football career. It was awesome."
Though genuinely humbled by his honor, Rainess is quick to deflect the ultimate praise for the deserving cast that was the recipient of his undying commitment to pursuing that eternal dream.
"The most satisfying part was so many people said it couldn't be done here," shared Rainess. "I used to think it could be better than this. The infrastructure has to be there. The kids deserve the credit. It's about them. Those kids that battled through the tough times, the senior class that dug in and poured their hearts out. I couldn't be prouder of this team and this staff."
A lifelong dream fulfilled.
More From Shore Sports Network