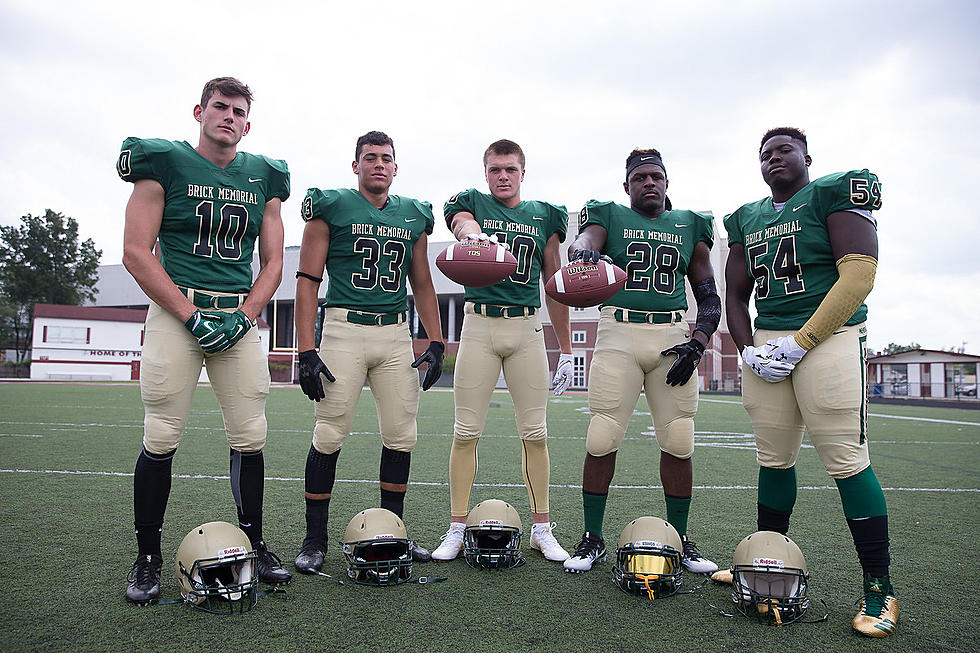 Scanning The Scene Week 10: The Tournament Begins
Photo by Paula Lopez/PALImages
Whether you believe in the process or not, the New Jersey State football championships will begin on Friday night and 26 teams from the 43 schools that play high school football in the shore have made the tournament. That's 60% of all teams and some are more deserving than others. We have three #1 seeds, Manalapan (Central 5), Point Boro (Central 2) and Rumson (Central 3). They are three of the favorites to win a title. There is one #2 seed (Brick Memorial in Central 4). They are all deserving of getting into the playoff hunt.  On the other hand, one team is under .500 (Donovan Catholic), four are at 4-4 and six others have 5 wins. If you cut the bracket to the top 4 teams, none of the above would make the tournament. That would be 15 teams in, a truer representation of the Shore Conference.  
As we prepare to cover the state playoffs, we have had repeated discussions over a Shore Conference tournament instead of the current system of crowing 23 sectional champions. Different scenarios were brought up: Let's say it's an 8 team tournament, with all outright champions automatically in. If that was the case we would have five in (Central and Brick Memorial tied and would not get an automatic bid, they would have to be wildcard teams). So you would have Manalapan, SJV, RBC, Mater Dei and Point Boro and the three wild cards would be Brick Memorial, Rumson, and Howell. Seed those 8 teams and play this weekend to 4 winners with the semis the following weekend, and the finals on November 30th or December 1st. Teams on the outside looking in that would have an argument would be Long Branch, Lacey, Freehold, and Central. Let those four have a 4 team playoff among themselves. Freehold Twp, Brick, Monmouth, and Manasquan would be the next 4. I believe all of the games would be competitive. The so-called consolation or "crossover" games that they call them now would be done for those 16 schools. Give the other 17 teams crossover games, so that everyone plays at least 10 games. I understand that the bigger schools have an advantage over the smaller schools, but every other sport does it, so why not football? Do you think Point Boro wouldn't want to compete against some of the bigger giants? Would it ever happen? I doubt it, but it makes for good conversation. Enjoy the games and the tournament.  
This and That from Week 9
Many of us play fantasy football on Sunday, but on Friday and Saturday there are certain players that are putting up fantasy numbers and Freehold's Ashante Worthy is one of those players. He is on the verge of breaking records which may never be approached again. Friday night in a very impressive 27-20 victory over Long Branch (6-2), Freehold (6-3) ran 75 plays and Worthy had a hand in 72 of them. He had 50 carries for 217 yards and a TD, plus 22 passes for 240 yards and 2 TDs. Worthy now has 44 TDs which he has accounted for, which ties the Shore record held by Christian Palmer (Mater Dei) and Mike Husni (TR North). It is believed that no player has ever rushed and passed for 2,000 yards in a single season. Worthy is close to those numbers already, with at least one more game and possibly 3 more. It's been an amazing career for someone who began playing QB midway through last year.  
Our #1 team in the Jeep Store Top Ten (Manalapan (9-0)) continues to roll by opponents. This week, it was a good Freehold Twp. team who absorbed a 48-7 pounding. Naim Mayfield is another player putting up fantasy numbers. Mayfield has played a full game maybe once all year and his stats are off the chart: 2,114 yards, 35 rushing TDs (36 total). That rushing number leads the state as do the TDs and he averages 14.1yds per carry. He is 476 yards away from setting the Shore Conference single-season rushing record, currently held by Damiere Willis of Long Branch (2,589 yds. In 2014). Mayfield is also on the radar to break Knowshon Moreno's record of 40 total TDs in a season. As I said, fantasy type numbers for a great player.  
Congrats must go out to all teams who won a conference championship. They are as follows:
A-North - Manalapan (9-0)
A-Central - St John Vianney (9-0)
A-South - Brick Memorial (7-2) and Central (7-2)
B-North - Red Bank Catholic (8-1)
B-Central - Mater Dei Prep (6-1)
B-South - Point Pleasant Boro (9-0)
Tentatively there are only 6 Thanksgiving Day games (November 23). All of these games have at least one team who is in the playoffs and three of the six involve both teams in the playoffs. That means there is always a possibility that games may be moved to allow players ample time to recover from a possible semifinal game (November 17). That's the argument for doing away with the Turkey Day games and changing the playoff format. That vote comes December 5th. Enjoy your dinner on Thanksgiving and watch the NFL. I'll be working the traditional Wall/Manasquan game. There is never a situation where that game is moved off of Thanksgiving.
All teams not in the playoffs will get a crossover game this Thursday or Friday. They will be announced on Monday (CLICK HERE). That will conclude their season if they are not playing Thanksgiving with winter sports right around the corner.  
It'll be a great Gateway Toyota Coaches Corner this week live from the River Rock Restaurant and Marina Bar in Brick. Joining us will be Dave Ellis, Head Coach of Freehold Boro, who will bring QB Ashante Worthy and WR/Safety Matt Krauss with him. Also appearing will be Walt Currie, the head man at Brick Memorial, along with RB Tony Thorpe and Wing/Safety Blane Netterman. Join us live, on105.7 The Hawk, or streamed on Shore Sports Network.
Our Jersey Mikes Game of the Week will take us back to Brick Memorial for the 1st round playoff game between Jackson Memorial and the Mustangs, a quick rematch of last week's 27-21 win by Brick Memorial. It'll be a 7 p.m. start on 1160/1310AM or streamed on the Shore Sports Network.
More from Shore Sports Network:
More From Shore Sports Network