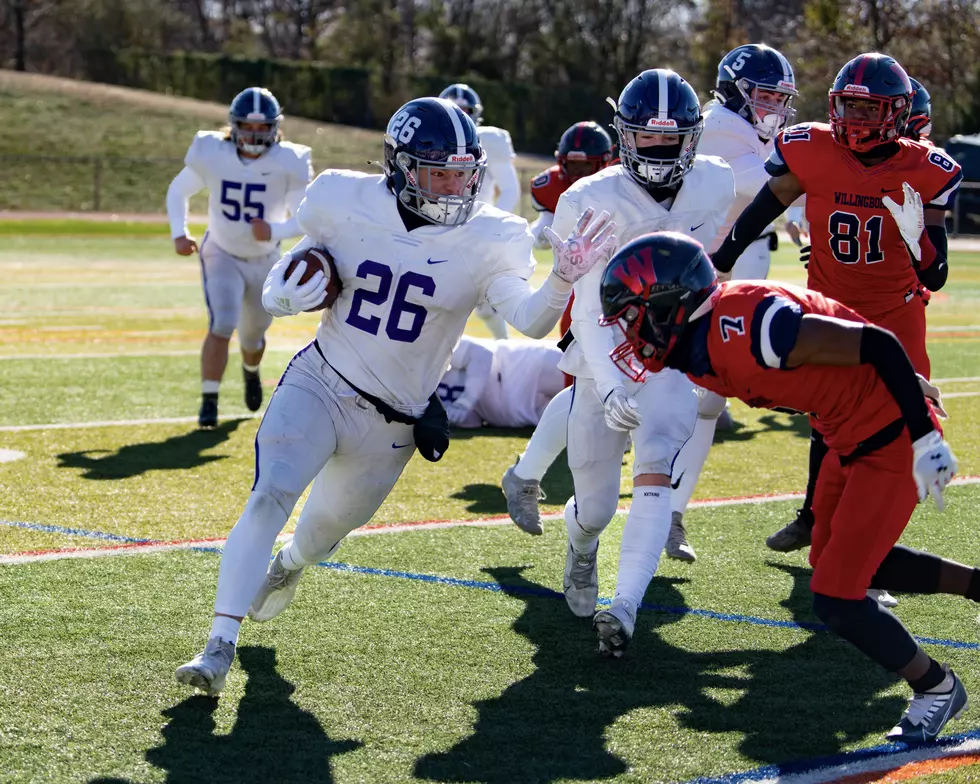 Rumson-Fair Haven handles the elements, Willingboro to reach inaugural NJSIAA Group 2 football state championship game
Rumson junior RB Alastair Orr ran for 91 yards and two touchdowns. (Thomas Pantaleo)

EVESHAM TOWNSHIP -- After losing their first two games of the season, Rumson-Fair Haven had work to do to regain the championship form that has now seen the program produce seven sectional championships in the past 12 seasons. And wouldn't you know, the Bulldogs did exactly that.
This shouldn't even be surprising, because when it comes to playing in championship games, the Rumson-Fair Haven football program is inevitable.
It was a purple parade to the end zone on Sunday afternoon at Cherokee High School when the Bulldogs used the vicious wind to their advantage, shut down a dangerous Willingboro offense, and played its most complete game of the season to roll to a 42-6 victory in the NJSIAA Group 2 semifinals. The only blemish was a touchdown pass as time expired against Rumson's backup defense.
Senior wide receiver Scott Venancio caught five passes for 92 yards and two touchdowns, sophomore quarterback Owen O'Toole threw for 130 yards and three touchdowns, and junior running back Alastair Orr ran for 91 yards and two touchdowns behind an offensive line that won the battle against Willingboro's box defenders.
Rumson's defense was exceptional against a Willingboro offense that hung 50 on Point Boro in a stunning Central Jersey Group 2 semifinal upset and was averaging 39.6 points per game during a five-game winning streak that saw it go from 1-5 to sectional champions. After being gashed for over 300 yards in a sectional final victory over Raritan, Rumson put the clamps on the Chimeras' run game by allowing under 100 yards rushing. Junior running back Derrick Bryant entered with 1,264 yards rushing and was limited to 92 yards on 23 carries.
While the wind certainly helped, Rumson made standout freshman quarterback Lamar Best and the Willingboro passing game a non-factor. Best finished 3 of 10 for 37 yards and one touchdown, but before the final drive of the game, he had just three yards passing. He had thrown 11 touchdown passes in the prior three playoff games.
For a program that has reached nine straight sectional finals and won six of them, playing in the first-ever Group 2 state championship game seems appropriate. To win that title, they'll have to go through a fellow small-school powerhouse. At 12 p.m. on Sunday, Dec. 4, Rumson will face Caldwell at Rutgers University for the Group 2 state title. Caldwell is 12-0 and has a state-best 27-game winning streak.
"We knew they had a freshman quarterback and it's a big game, so we wanted to make him as uncomfortable as we could," said senior linebacker Luke Mikolajczyk. "We had to stop the run and play aggressive in the box and our D-line did an amazing job."
"Shout out to our O-line getting a push like that," Venancio said,. "When the big boys are pushing them around like that we're unstoppable. We have the best skill guys in the state, I think, and our quarterback is a sophomore but you know he doesn't look like a sophomore.
"What the offensive line did up front and what Alastair did was incredible, and our defense; I guess they got tired of hearing all week that we couldn't stop the run. I think we proved a lot of things to a lot of people today," said Rumson-Fair Haven head coach Jeremy Schulte. "All week we kept hearing about was how prolific their offense is; and that's a talented team and young like us so we're probably going to have some battles over the year. You have to give it up for the O-line and our defense. They played absolutely lights out. I don't know how many times they got across the 50 outside of the end of the game with our backups in. To do that aginast a team like that in a group semifinal game is pretty impressive.
Willingboro received the opening kickoff with the wind, which was blowing steadily at near 20 mph with much stronger gusts at times, at its back for the first and fourth quarters. Rumson had the wind in the second and third quarters. The Bulldogs' management of the weather was crucial. It was 0-0 at the start of the second quarter and 35-0 when the fourth quarter began.
Willingboro picked up one first down on the game's opening drive but was forced to punt from midfield. Penalties halted the Chimeras' next possession and they once again had to punt from midfield. Rumson took over at its own 20-yard line and began the game's first scoring drive.
With the wind blowing directly in their face and resulting in three straight incompletions on the first drive, Rumson stayed on the ground this time and the early returns were strong. Orr ran for 14 yards on his second carry and the Bulldogs moved into Willigboro territory a few plays later. On the final play of the first quarter, Rumson was able to draw the Chimeras offsides on a fourth-and-1 to extend the possession. Two plays later, Orr broke a 19-yard run and then Nick Rigby caught a 12-yard pass down to the 1-yard line. Orr scored on the next play for a 7-0 Rumson lead.
Now the wind was at Rumson's back, and kicker Oliver Lorraine easily bombed the kickoff out of end zone for a touchback. With Willingboro at its own 20-yard line and the ability to pass almost nullified by the weather, Rumson began a cycle that blew the game open. It started with stopping the Chimeras' ground game, which they did on first and second down to lead to a Marshall Halfacre sack on third down. Willingboro had to punt form its own 13-yard line, and the kick traveled just 17 yards to the 30-yard line. On the first play for Rumson, O'Toole flipped a shovel pass to Venancio and the senior whipped around the left side, got to the edge, and raced up the sideline for a 30-yard touchdown and a 14-0 lead.
The cycle continued with Lorraine kicking off for a touchback, Rumson forcing a three-and-out, Willingboro punting from its own 20-yard line, and the punt traveling just five yards. The Bulldogs ran four straight running plays down to the 10-yard line where O'Toole connected with junior wide receiver Sean Trinder for a touchdown. Lorraine added the extra point for a 21-0 Rumson lead with 1:38 left in the first half.
Rumson actually got the ball back one more time and moved in position for Lorraine to attempt a 40-yard field goal, but the kick barely missed its mark.
The Bulldogs received the second-half kickoff and Willingboro was able to come up with an important three-and-out. The Chimeras' offense still couldn't get anything going. They gained one first down but couldn't convert a third-and-4 thanks to Cooper Bunnell bursting through the line to drop Bryant for a three-yard loss.
This time, Willingboro's elected to go for it on fourth-and-7 from its own 37-yard lined but Best's pass fell incomplete. Rumson had excellent field position once again and cashed in when Orr and Brayden Dill combined for six straight running plays to get into the end zone. Dill broke a 20-yard run down to the 1-yard line and Orr scored his second 1-yard touchdown of the day to put the Bulldogs ahead, 28-0.
By now it's clear what happened next. Willingboro started at its own 20-yard line after a touchback, went three-and-out, and punted from its own 19-yard line. The punt traveled six yards and Rumson took over at the 25-yard line. On third-and-10, O'Toole lofted a pass toward the end zone and Venancio made a fine catch after the defensive back deflected it for a 25-yard touchdown catch. Rumson 35, Willingboro 0, and a running clock in the state semifinals.
Rumson's defense continued to get the job done on Willingboro's next series. Markus Brown sacked Best on third-and-8 and the Chimeras then decided to go for it on fourth-and-12 from their own 32-yard line. They elected to run the ball and Bryant was stopped well short of the first down after gaining just two yards.
Rumson put in some of its reserves on offense and Griffin Kolb added to the scoring with a 13-yard touchdown run with 4:20 and counting on the clock, making it 42-0.
Willingboro avoided the shutout when Jayson Harris caught a 28-yard touchdown pass from Best as time expired.
From 0-2 to playing in the Group 2 state championship game, it has been a great turnaround by this Rumson group and a phenomenal coaching job by a staff that always has the Bulldogs ready to compete in the biggest games. And it's not surprising. This is what Rumson does, and it's foolish to count them out. The Bulldogs have proven that much over the past 12 years.
"The mentality at RFH is 1-0 every single week," Venancio said. "At the beginning of the season we played two very tough teams and we had a very young team. We go in and play Toms River North and it's a tough loss (40-27) but we hung with them. Donovan (21-0 loss) we didn't play too well but we kept taking it week-by-week, trusing each other, trusitn our coaches, and you end up here when you do that. We work very hard in the offseason and we knew we were going to put ourselves in the best position to put a ring on our finger."
"We were one of the first teas who got to play in the bowl games, the first Shore team to win one, and to be part of the first Group 2 championship game just feels right for us," Schulte said. "We've been saying for the past two weeks or so, why not us? I don't think too many people after the Donovan Catholic loss would say we would be in the first Group 2 final. But here we are. It's pretty awesome."
"We have a chance to make history," Mikolajczyk said. "We started off the year 0-2 and that's not normal for Rumson. We've been doubted all year but we're looking to go make history."
VIDEO HIGHLIGHTS
Rumson vs. Willingboro Football
The 5 Highest Paying Jobs In New Jersey
Everyone wants a good-paying job, and according to the
Bureau of Labor Statistics
, these 5 jobs pay the absolute best in the Garden State.
More From Shore Sports Network