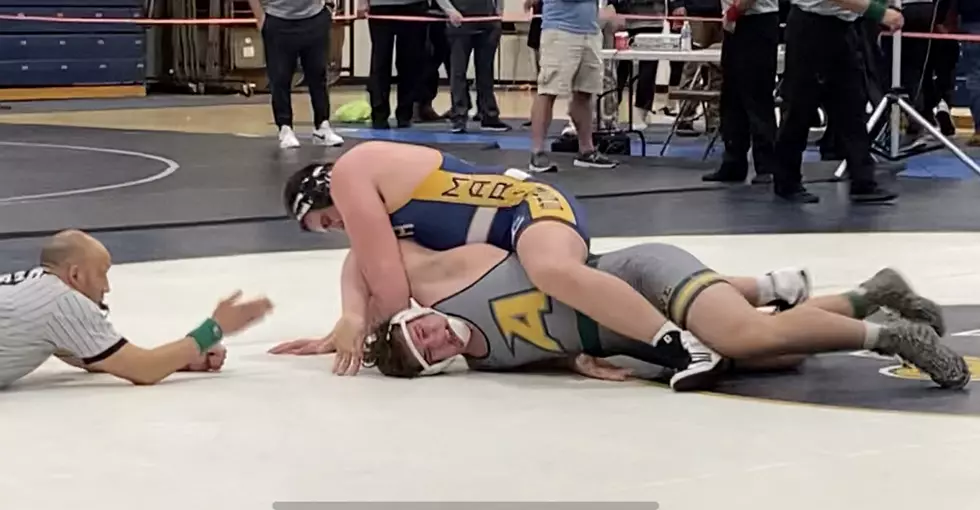 Region 7 Recap: TR North's O'Donnell wins in OT to reach semifinals
Photo by Robert Badders/Townsquare Media NJ

Enter your number to get our free mobile app
TOMS RIVER – A locking hands call against John O'Donnell had just put the Toms River North junior in a 2-1 hole in double overtime against undefeated Audubon junior Jefferey Jordan. He knew he couldn't afford to play it safe anymore.
With time winding down in the first tiebreaker period, O'Donnell ran a half-nelson and turned Jordan for two nearfall points just before the buzzer sounded, giving himself a one-point lead that would turn into a 4-2 double-overtime victory in the 285-pound quarterfinals of the NJSIAA Region 7 Tournament on Friday at RWJBarnabas Health Arena.
"I know I'm good on top and I could turn him whenever I wanted, but it's that risk, especially with big guys, of going for that turn and the reversal is a possibility," O'Donnell said. "But at that point, I had to risk it."
"I looked up and there was like seven seconds left when I just started (the hold). I thought I was going to punch it easy but he was fighting hard. I leaned my weight to one size and I heard the buzzer go as soon as the ref said two."
The back points erased a 2-1 deficit and gave O'Donnell a 3-2 lead heading into the tiebreaker period where he had choice. He chose defense, Jordan awarded him an uncontested escape and O'Donnell kept him at bay the rest of the way.
O'Donnell is now into the semifinals of a deep heavyweight bracket as the No. 6 seed. He'll face Howell's Justin Wright, the No. 2 seed. Wright defeated O'Donnell, 6-2, when the two teams met during the regular season.
"At districts I beat the kid that send me home last year and that was my revenge," O'Donnell said. "I'm going to get more revenge tomorrow."
O'Donnell was one of 21 Shore Conference wrestlers to win their quarterfinal bouts on Friday night and move within one win of at least qualifying for the state tournament as a top-four finisher at a loaded Region 7 Tournament.
The seeds held in most of the weights with seeds 1-4/5 advancing to the semifinals in 11 of the 14 weight classes. Toms River East sophomore Joe McCullough is the No. 6 seed at 126 pounds but is into the semifinals after an 11-3 major decision over the No. 3 seed, Donovan Catholic senior Cael Rankin. He and O'Donnell where the lowest-seeded Shore Conference wrestlers to reach the semifinals. McCullough will wrestle the No. 7 seed, Cherokee's Evan Brown, after Brown upset Howell's Nieko Malone, 7-4, with a five-point move late in the third period.
Brick Memorial is tied for second overall and leads all Shore Conference teams with six semifinalists: Anthony Santaniello at 106, Vincent Santaniello at 120, Michael Richardson at 126, Ryan Smith at 132, Joe Colon at 182 and David Szuba at 195. Paulsboro also has six semifinalists and Camden Catholic leads with eight semifinalists.
Howell's Shane Reitsma won by 16-1 technical fall over Collingswood's Michael Gregg to record his 159th career win, breaking the program mark set by Kyle Slendorn and also moving into second place all-time in the Shore by passing Slendorn and Raritan's Dan Seidenberg. Wall's Rob Kanniard is first all-time with 165.
Semifinal bouts of note for Saturday morning include Toms River East's Michael Conklin vs. Brick Memorial's Ryan Smith and Cherokee's Andrew Aromando vs. Central's Tyler Pepe at 132 pounds, Paulsboro's Jacob Perez-Eli vs. Cherry Hill West's John Howe and Camden Catholic's Cody Walsh vs. Cherokee's Cooper Pontelandolfo at 138, Paulsboro's Gabe Onorato vs. Camden Catholic's Dante Monaco at 145, Jackson Memorial's Kyle Epperly vs. Brick Memorial's David Szuba at 195, Lacey's Vin Ceglie vs. Camden Catholic's Hunter Suter at 220 and O'Donnell vs. Wright at heavyweight.
Managing editor Bob Badders can be reached at bob.badders@townsquaremedia.com. Follow him on Twitter @Bob_Badders. Like Shore Sports Network on Facebook and subscribe to our YouTube channel for all the latest video highlights.
More From Shore Sports Network