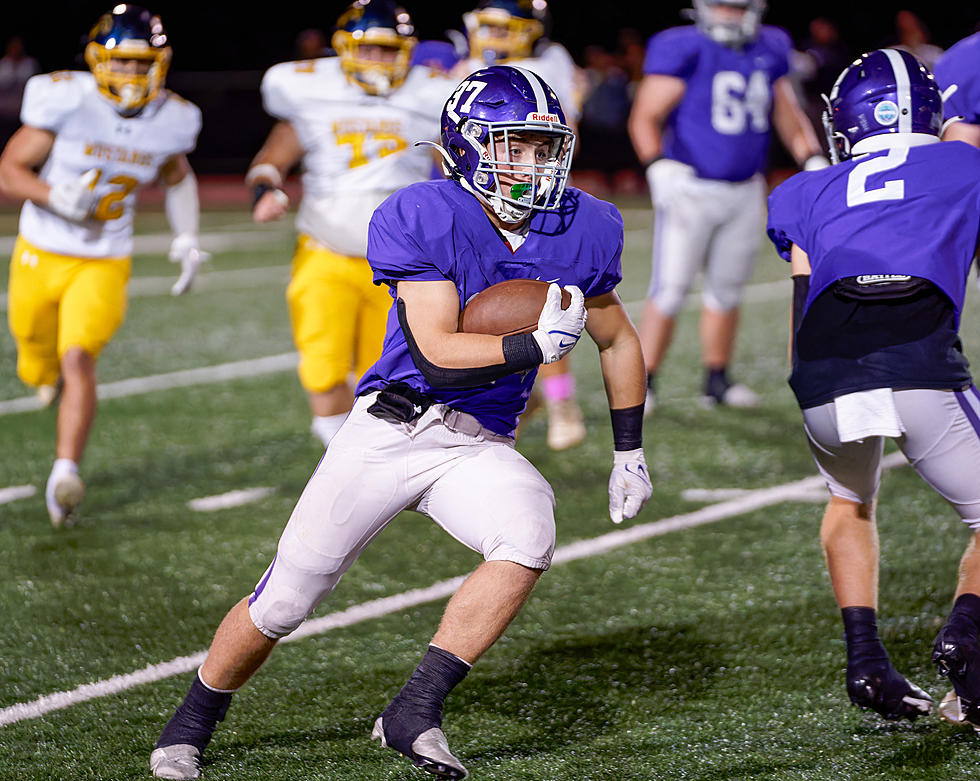 Off the Mat: No. 8 Rumson-Fair Haven snaps 4-game skid and hands No. 4 Marlboro first loss
Bob Badders | rpbphotography.com

RUMSON – The Shore Conference's American Division is a powerhouse filled with several of the best teams in New Jersey, and because of that relentless competition there can be anomalies like a team being 2-4 yet sitting atop their group's United Power Rankings.
Among the most notable quotes from Hall of Fame head coach Bill Parcels is "You are what your record says you are". Mostly, but not always. Rumson-Fair Haven is a perfect example with its aforementioned sub-.500 record because of losses to each of the top three teams in the Shore and another to a 6-1 team ranked seventh. The Bulldogs are not only comfortably in the NJSIAA playoff picture, they will more than likely be the top seed in their section and could be the No. 1 overall seed in South Group 2.
A four-game losing streak is still a four-game losing streak, however, so with the Bulldogs eager to get back to their winning ways they delivered a dominant defensive performance to knock a team from the ranks of the unbeaten.
Sophomore running back Kellen Murray, senior running back Griffin Kolb, and junior wide receiver Jordan Angstreich scored touchdowns, junior Carson Memmott kicked a field goal, and Rumson's defense allowed just 105 yards and three first downs as the Bulldogs, ranked No. 8 in the Shore Sports Network Shore 16, shut down No. 4 Marlboro to earn a 24-3 Shore Conference nondivisional victory on Friday night at Borden Stadium.
Murray ran for 109 yards and a touchdown, Kolb ran for 73 yards and a touchdown, and Angstreich caught four passes for 80 yards with a 41-yard touchdown catch from junior quarterback Owen O'Toole. The Bulldogs' defense stifled Marlboro's rushing attack by yielding just 42 yards on 19 carries. Rumson is off the mat, back within a game of .500 ahead of a date with division rival Wall to close out the regular season next week.
"We knew coming into the season that there is great competition in the division," said senior linebacker Reed Elsas. "We know we're a great team all around, we just needed the pieces to come together. It was great to come out after some losses and get our team rejuvenated."
"We don't really pay attention much to the record because it certainly doesn't reflect the football we've been playing," said Rumson head coach Jeremy Schulte. "You saw what happened last year. We went 4-4 (in the regular season) and made it to the group final, so we want to focus on one game at a time but we know what the bigger picture is. We don't hang banners for things that happen in the regular season, it's about late November/early December."
Rumson plays one of the most difficult schedules in the Shore with an American Division battle royale that includes Donovan Catholic, Red Bank Catholic, Toms River North, Middletown South, and Wall. The Bulldogs' nondivisional games don't offer much of a reprieve either with Point Boro, Marlboro, and Matawan. Six of those teams have been ranked all season and two others, Wall and Matawan, have been ranked for multiple weeks. This week it was a Marlboro team with an undefeated record coming off a monumental victory over Jackson Memorial that clinched a share of the program's first division title in 29 years.
Marlboro had held five of its first six opponents to seven points or less and had not allowed more than 14 points in any game this season. Rumson was able to put 24 on the scoreboard against a physical Marlboro defense, most notably with 182 yards rushing versus a Mustangs' unit that had stymied everyone else's run game up to that point. Murray had another strong game and Kolb was superb helping to fill the gap with senior Alastair Orr out of the lineup with an injury.
"They have a great defense with guys who fly around and they close on the run very well," Schulte said. "They are very well-coached, schematically. We knew if we could get the run game going and get a little confidence we would be able to move the ball."
Injuries to top wideout Nick Rigby and senior Sean Trinder left the receiving corps thin, but Angstreich was able to make the most of his opportunity with a game-high 80 yards and a score. He leaped over a defender to high-point O'Toole's pass on his 41-yard touchdown reception that gave Rumson a 7-0 lead in the first quarter.
"Not surprised in the slightest bit," Schulte said. "Rigby's been out and Trinder has been out the entire season, so he really took this opportunity to step up and do what he needed to do. Jordan is a kid who gives you 100 percent every time he steps on the field."
Marlboro went three-and-out to open the game but came up with a clutch defensive stop on the next series when senior linebacker Mike Consolazio sacked O'Toole on third down and the Mustangs forced an incomplete pass on fourth down to take over at their own 28-yard line. Marlboro's offense was never able to get anything going, however, even with some hard runs by senior running back Matt Cassidy. The Mustangs gained just one first down in the first half but a tackle for a five-yard loss by Rumson's Jacob Tobias helped force a punt on that possession.
Rumson took a 7-0 lead with 1:50 left in the first quarter when Angstreich's touchdown capped a six-play, 71-yard drive. Murray had two straight 10-yard gains and senior fullback Cooper Bunnell converted a third-and-two one play before the scoring pass.
The lead grew to 14-0 on Rumson's next offensive possession when Murray got to the edge and sprinted past the Marlboro defense for a 66-yard touchdown run. After two straight three-and-outs by Marlboro, Rumson tacked on three more points when Memmott connected on a 21-yard field goal with five seconds left in the first half. The Bulldogs moved inside the 10-yard line when Kolb took a swing pass for 18 yards on third-and-nine from the 25-yard line.
Marlboro had an opportunity to get back into the game early in the third quarter but could not cash in with a touchdown after two Rumson turnovers. The Bulldogs fumbled the opening kickoff of the second half, but Marlboro coughed it up two plays later to give Rumson the ball right back. An interception by sophomore Zach Caporale then set Marlboro up at the RFH 20-yard line but two straight penalties backed the Mustangs up to the 39-yard line on second-and-29. Nick Scaff made a tremendous 33-yard catch for a first down when he caught a pass that deflected off teammate Sam Hirsch at the 6-yard line, but Rumson's defense held and Marlboro had to settle for a 20-yard field goal from senior Luke Rubin to cut its deficit to 17-3.
Marlboro gained only one first down the rest of the way. A combined sack by Bunnell and Will Tencza forced another Marlboro punt and Rumson put the game away with a 51-yard scoring drive that began early in the fourth quarter. O'Toole had a 17-yard completion to senior tight end Jackson Gallagher and a 15-yard completion to Angstreich to put the ball at the Marlboro 23-yard line. Kolb gained another first down with a 12-yard run, then muscled his way across the goal line on his next carry for an 11-yard touchdown and a 24-3 Rumson lead.
Marlboro had two more possessions but gained just eight yards on eight offensive snaps as Rumson and its defense polished off a much-needed victory.
"It gives us confidence, and as a staff, too," Schulte said. "When you're 2-4 the question marks start coming in but when you see yourselves No. 1 – theoretically as the No. 2 seed in the playoffs because Point Boro will jump is if we're back-to-back – it definitely helps morale. But you still have to get those wins."
"We've been in this position before and we know what to do," Elsas said. "We just have to execute as well as we can."
For all the adversity Rumson has faced in terms of defeats and injuries, the ultimate prize is still very much in reach for the Bulldogs. The team is getting healthier, as well, with senior two-way lineman Luke Marascio returning vs. Marlboro after missing the previous five games. Rigby, Orr, and Trinder are all on track to return for the playoffs.
"It's starting to look a little bit sunnier in Rumson now," Schulte said.
Box Score
No. 8 Rumson-Fair Haven 21, No. 4 Marlboro 3
| | | |
| --- | --- | --- |
|   | Marlboro | Rumson |
| First downs | 3 | 15 |
| Rushes-yards | 19-42 | 30-182 |
| Passing | 10-14-0 | 11-19-1 |
| Passing yards | 63 | 145 |
| Fumbles-lost | 2-1 | 1-1 |
| Penalties-yards | 3-25 | 5-45 |
| | | | | | |
| --- | --- | --- | --- | --- | --- |
|   | 1 | 2 | 3 | 4 | F |
| Marlboro (6-1) | 0 | 0 | 3 | 0 | 3 |
| Rumson (3-4) | 7 | 10 | 0 | 7 | 24 |
Scoring Summary
R – Jordan Angstreich 41-yard pass from Owen O'Toole (Carson Memmott kick)
R – Kellen Murray 66-yard run (Carson Memmott kick)
R – Carson Memmott 21-yard field goal
M – Luke Rubin 20-yard field goal
R – Griffin Kolb 11-yard run (Carson Memmott kick)
Individual Statistics
RUSHING – M: Matt Cassidy 10-25, Zach Caporale 8-16, Brayden Klein 1-1; RFH: Kellen Murray 14-109, Griffin Kolb 13-73, Cooper Bunnell 2-8, Owen O'Toole 1-(-8).
PASSING – M: Brayden Klein 8-12-0, 67; Zach Caporale 2-3-0, (-4); RFH: Owen O'Toole 11-19-1, 145.
RECEIVING – M: Nick Scaff 1-33, Mike Consolazio 2-22, Matt Cassidy 2-6, Sam Hirsch 1-6, Luke Houston 2-0, Dan Alcide 2-(-4); RFH: Jordan Angstreich 4-80, Griffin Kolb 2-29, Nick Thomas 4-19, Jackson Gallagher 1-17.
SACKS – M: Mike Consolazio 1-(-8); RFH: Will Tencza 0.5-(-6), Cooper Bunnell 0.5-(-6).
INTERCEPTIONS – M: Zach Caporale, 1-25.
More From Shore Sports Network