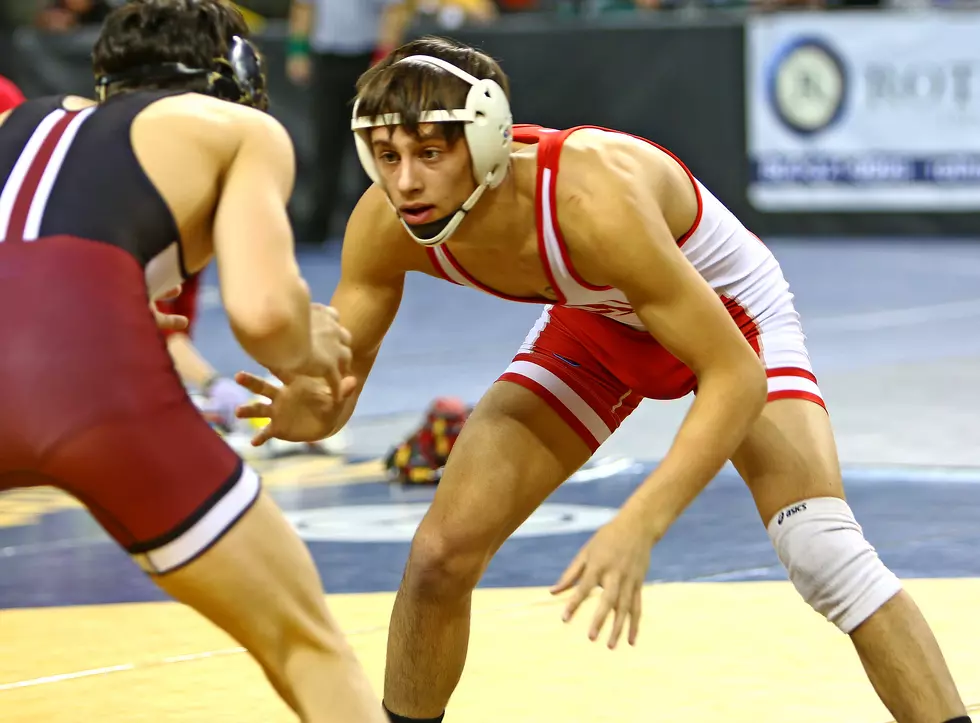 Ocean's Jake Benner Storms His Way Into the 138-Pound State Final
Ocean junior Jake Benner is the Spartans' first state finalist since 2008. (Photo by Ray Richardson).
ATLANTIC CITY —  In a sport where the knowledge of tendencies is a closely-guarded secret, knowing what an opponent is trying to do can often be the difference between winning and losing.
Bucking the trend, Ocean's Jake Benner prefers to know as little as possible about his opponents. He wants to impose his will and style onto the bout, and it's his skill and style that have Benner within one win of a state championship.
Benner, the No. 3 seed, pinned Cranford's Tom Digiovanni in 1:54 to reach the 138-pound NJSIAA state final on Saturday night at Boardwalk Hall. Benner took Digiovanni down quickly before locking in a half-nelson and working a tilt to put Digiovanni's shoulders squarely to the mat.
"I thought I was taking him back with a power half for back points but it turned out I had a half with a tilt at the same time, I don't even know," Benner said. "I saw him completely flat and I was just waiting for the ref to call it. It's the best feeling ever."
Benner will wrestle Bergen Catholic junior Gerard Angelo in the 138-pound state final on Sunday afternoon. The finals begin at 3 p.m. at a weight yet to be determined.
The Ocean junior is the Spartans' first state finalist since both Nick Menditto and Mike Berardesco made the finals in 2008. Menditto won the second of back-to-back state titles that season and remains Ocean's only state champ in program history.
Benner's preference of knowing the bare minimum about his opponent is rare. Most wrestlers want to know their opponents' go-to move and what he does in certain situations. Scouting and video play a big part, just not for Benner. He doesn't even want to see the bracket.
"I never looked at it or looked at one prediction," Benner said. "I don't need to be thinking about 'if I win I have this kid and then this kid, or if I lose I have this kid'. It gets in your head and you think too far ahead."
"I hate scouting and I don't like to watch video. I like to know what the kid does, but barely. I don't want to be wrestling defensive. I just want to wrestle like Jake Benner."
Ocean head coach Cippy Apicelli used to try in vain to give Benner all the info he could, but after being rebuffed time after time he realized this is what works best for his star.
"He doesn't care who you are," Apicelli said. "I have tried all year to say 'this is who you have' and he walks away. He didn't look at the bracket, just wanted to know who his first kid was. If I told him he has 'so and so' tomorrow he'd walk away. He isn't changing his style for anyone, and it works."
In last season's state tournament Benner reached the second round of wrestlebacks where he fell to Delaware Valley's Matt Kolonia, 7-5. In that tournament he lost a 10-8 decision to Clearview's Zack Firestone, the eventual 132-pound state champion. He wasn't quite there, but he was close.
He opened eyes this season in late December when he won the Mustang Classic by beating Kingsway's Trace Kinner, 11-4. In 2015 Kinner was sixth in the state at 113 pounds.
"We've talked about this since he came here last year and lost to Firestone, 10-8, to Kolonia, 7-5," Apicelli said. "He didn't place so a lot of people maybe don't even know who he is. We know who he is. We had our eyes on the Mustang Classic in the beginning of the season. That match (against Kinner) got him on everybody's radar and let everyone know this kid isn't a joke."
Benner's ability to score in any position and with multiple attacks makes him dangerous against any opponent. While he won't change his style, per se, he is comfortable in high-scoring and low-scoring bouts alike.
"He's good in all positions and when you feel comfortable he feels even better," Apicelli said. "The DeLuise match (a 3-1 win in the quarterfinals over Don Bosco Prep's Even DeLuise), the kid's in on a shot and a lot of kids get taken down there. Jake rolls around and takes him down. He's really funky and really good on top. Hell let it fly tomorrow."
"I always thought I was good enough to be a state champ and now I have the chance to go for it," Benner said. "It's been a goal of mine since fourth grade."
Against Angelo, Benner will be facing a wrestler who was a state champion as a freshman at 106 pounds and finished third at 120 pounds last season. He has been in and out of the national top 20 each year.
"Right now I bet he doesn't know who he's wrestling," Apicelli said. "And I'm not going to be the one to tell him."
Wrestling editor Bob Badders can be reached at badders@allshoremedia.com. Follow him on Twitter @Bob_Badders. Like Shore Sports Network on Facebook and subscribe to our YouTube channel for all the latest video highlights. 
More From Shore Sports Network