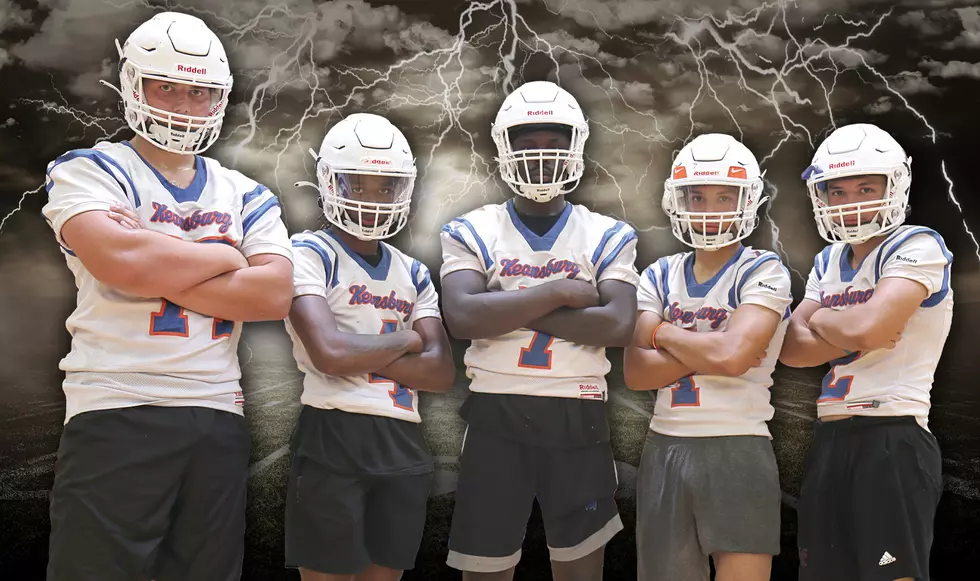 New Leadership, Same Goals: 2022 Keansburg High School Football Preview
From left: Michael Menture, Na'Sun Lee, Jaheim Hill, Shane DeBow and J.P. DeBow. (Photo: Steve Meyer)

Over the past five seasons, the Keansburg football team has hit its stride by posting a composite record of 23-21 during that period with a 4-5 mark in 2018 the only losing season in the bunch. Prior to that stretch, the Titans were enduring seasons with one or two wins while trying to build their way back to playoff contention.
Two of the more important figures in that transformation – coach John Bird and two-way All-Shore talent Mikal Braithwaite – are no longer with the team, with Braithwaite graduating this past spring and Bird taking an administrative job in the district. During the first two years of his seven-year tenure, Bird set the foundation for success in the final five and for the final four of those seasons, he had Braitwaite as his quarterback.
This season, two proteges will step into the spotlight to replace Bird and Braithwaite. On the sideline, Jim Reid takes over as head coach after serving as the offensive coordinator under Bird and his quarterback will be senior Jaheim Hill. In his first season in charge, Reid aims to keep the machine humming along by building upon when he and the rest of the staff helped Bird accomplish over the past five seasons.
"Coach Bird did an amazing job transforming the team and building a culture," Reid said. "We return a good amount of starters on both sides of the ball and we have a lot of guys who played. It's a tremendous situation to come in as a head coach."
While replacing Braithwaite will be a significant challenge for Reid and Hill, the Titans return the vast majority of their starting talent from a season ago, which will help both coach and quarterback transition into their new positions. Even with a new coach-quarterback combination, the postseason is the expectation at Keansburg after the Titans missed out on the postseason a year ago.
"The conversation we have every day is whatever our goals are, we have to be ready to win practice every day," Reid said. "We do believe we have the talent to have a special season but talent doesn't mean anything unless you go out and prove it every day."
Keansburg at a Glance
Projected Starters
Offense: Multiple Spread
Returning Starters: 10
QB: Jaheim Hill, Sr.; J.P. DeBow, Sr.
RB: Dejuan Weems, So. RS; Ian Mendez, Sr.
FB: Ryan Comey, Sr. 3RS
WR: Mike Alonso, Sr. RS; Jahmere James, So.
WR: Na'Sun Lee, Sr. RS; Shane DeBow, Sr. RS
TE: Riely Jankowski, Sr. RS
LT: Michael Menture, Sr. RS
LG: Patrick Smit, Sr. RS
C: D.J. Deangelo, Jr.
RG: Kyle Scott, Sr. RS
RT: Anthony Mascolino, Jr. RS
Defense: Multiple
Returning Starters: 8
DE: Riely Jankowski, Sr. RS; Reed Holland, Jr.
DT: Isaiah Goodman, Sr. RS
DT: Takiee Murphy, Sr.
DE: Bill Huhn, Sr. RS; John Gilliland, Jr.
OLB: Zahere Tinsley, Sr. RS
ILB: Ryan Comey, Sr. 3 RS; Matt Rock, So.
OLB: Ian Mendez, Sr. RS
CB: J.P. DeBow, Sr. RS
CB: Antonio Alejandro, Sr.
SS: Shane DeBow, Sr.
FS: Na'Sun Lee, Sr. RS
Special Teams
K: Joe Sautner, Sr. 3RS
P: Joe Sautner, Sr. 3RS
Staff
Head Coach: Jim Reid, first season
Career Record: 0-0
Record Last Five Years:
2021: 5-4
2020: 4-3
2019: 5-4
2018: 4-5
2017: 5-5
Assistant Coaches: Nick Varanelli (Def. Coordinator/LB/OL), Uriel Morfin (Special Teams/RB/DE), Nick Vloyanetes (WR/DB), Danny White (TE/DT), Richie Squeo (OL), John Thornton (OL/DL), Stephanie Walters (Quality Control/Film), Carley Lewandowski (Athletic Trainer)
Player to Watch: Dejuan Weems, So., RB
With Braithwaite leading the team in rushing a season ago, Weems was somewhat of a secondary option in the running game, but by the end of the season, he was so effective that the Titans coaching staff got more and more comfortable with the ball in someone other than Braithwaite's hands. As a freshman, Weems played in only six games, but still managed to rush for 579 yards on 87 carries and racked up 700 total yards when factoring in the passing game.
"Dejuan Weems came on really strong as a freshman," Reid said. "He made big strides over the offseason and he is carrying himself like a leader already, even though he is still only a sophomore."
Player Under the Radar: Ryan Comey, Sr., FB/LB
For the past two seasons, Comey has been a player willing to do the dirty work of a fullback and an inside linebacker, which has been invaluable for Keansburg, even if it often goes overlooked by people outside the program. With sophomore Dejuan Weems poised for a big sophomore season, Comey will be a change-of-pace ball-carrier when he is not clearing a path for Weems. Defensively, Comey and classmate Ian Mendez will form a rock-solid linebacker duo, with senior Zahere Tinsley playing opposite Mendez on the outside.
Top Position Group: Wide Receivers
Seniors like Comey, Mendez and tight end Riley Riely Jankowski could make major contributions to the Keansburg offense, but with Weems emerging as a big-play back and a deep group of receivers, it is going to be tempting to run four wideouts on the field with Weems and look to hit big play after big play.
Seniors Mike Alonso, Na'Sun Lee and Shane DeBow all return as receivers, with Alonso and Lee serving as big-play options and DeBow a dependable slot receiver who led the team with 21 receptions last year. Alonso, meanwhile, led Keansburg with 317 receiving yards, five of his 15 receptions went for touchdowns and he even contributed a pair of interceptions on defense. Lee and DeBow are also slated for starting jobs on defense, while Alonso could certainly find himself on the field for defensive possessions as well. For a change of pace or a breather, Keansburg also has sophomore Jahmere James as a receiver option to add to the list of weapons in the passing game.
Big Shoes to Fill: Jaheim Hill, Sr., QB
The leader in the quarterback competition, Hill is the closest thing Keansburg still has to Braithwaite in that he can make a significant impact running the ball, as well as throw it downfield. Hill has more to prove in the passing game to get to the level that his predecessor established, but Reid expects Hill to be part of a dynamic rushing attack and to depend on an experienced group of receivers to help him quickly become a dangerous passer.
"He was the heart and soul of our team for three years," Reid said of Braithwaite. "He had the ball in his hands every play, so you take that away and there is a lot to make up for. The good thing for us is we have what we think is a very talented, experienced team around Jaheim. That's going to help him ease his way into the position so he can just let his talent take over."
Senior J.P. DeBow is in line to be the back-up and his knowledge of the position after serving as Braithwaite's back-up last year make him a dependable option as well – especially if it means getting a chance to use Hill as a receiver or ball-carrier in some of Keansburg's more unique looks on offense.
Rivalry Game: Oct. 15 at Keyport
The Titans will have revenge on the brain when they meet their longtime rivals on the penultimate weekend of the regular season. Keansburg beat Keyport twice in three seasons between 2017 and 2019, but has dropped each of the last three meetings – including two losses in 2021. Both teams will have new quarterbacks, but with Keansburg returning most of its starting lineup, the Titans will like their chances when they arrive at their next-door neighbor's yard in mid-October.
2022 Schedule
Thursday, Sept. 1 at Jackson Liberty, 6 p.m.
Friday, Sept. 9 at Point Beach, 7 p.m.
Saturday, Sept. 17 vs. Shore, Noon
Saturday, Sept. 24 vs. Lakewood, Noon
Saturday, Oct. 1 vs. Haddon Twp., 2 p.m.
Friday, Oct. 7 at Asbury Park, 6 p.m.
Saturday, Oct. 15 at Keyport, Noon
Saturday, Oct. 22 vs. KIPP Academy, Noon
See How School Cafeteria Meals Have Changed Over the Past 100 Years
Using government and news reports,
Stacker
has traced the history of cafeteria meals from their inception to the present day, with data from news and government reports. Read on to see how various legal acts, food trends, and budget cuts have changed what kids are getting on their trays.
More From Shore Sports Network