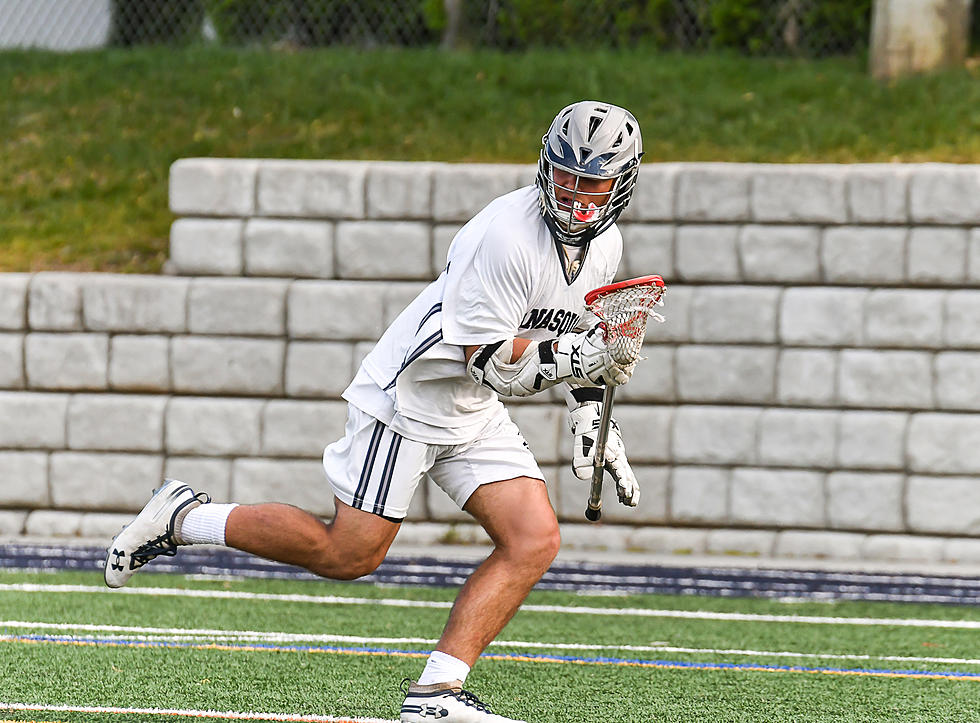 Manasquan's Casey Mulligan Voted as June's Monmouth County Athlete of the Month
Tom Smith | tspsportsimages.com

Manasquan's Casey Mulligan is a true representation of his school's nickname.
On the basketball court, he was a high-energy player whose impact defense and timely shooting helped the Warriors win two Shore Conference championships and two NJSIAA state sectional titles. On the lacrosse field, he was one of the top attackmen in the Shore Conference, a two-time All-Shore selection, and a Division 1 Ivy League recruit who helped guide Manasquan to two Shore Conference Tournament titles and three NJSIAA state sectional championships.
And now, Mulligan is June's Shore Sports Network/94.3 The Point Monmouth County Athlete of the Month.
Mulligan was a Shore Sports Network First Team All-Shore Boys Lacrosse selection this spring to cap a terrific career. He scored 61 goals and added 27 assists to lead a Manasquan team that went 17-4, won the Class B South division title, reached its fifth straight SCT championship game and won its third consecutive NJSIAA South Group 1 state sectional title. He was a major reason why the Warriors concluded the season ranked No. 2 in the SSN Top 10 and No. 12 in New Jersey. He finished his career with 133 goals and over 200 points and was a varsity starter for all three seasons. Also a standout student, Mulligan will continue his lacrosse career in the Ivy League at the University of Pennsylvania.
It was an extremely close poll for the final award of the 2020-2021 school year with Mulligan earning 24.4% of the vote to narrowly win over Freehold's Noah Evans with Freehold Township's Zachary Orrico third and Colts Neck's Cole Tucker fourth. He will receive a specially engraved acrylic award from Ocean Trophies of Lanoka Harbor. The program will return in September with the start of the school sports calendar.
Q & A with Casey Mulligan
Q: Now that you've had almost a month since graduation, have you been able to reflect on your career at Manasquan and that you'll be moving on to college in the coming weeks? 
A: Since graduating I've definitely had the time to look back at my high school career and remember all those special moments on and off the field. It's pretty crazy to think it's over and I will not be returning to wear the blue and white, but I'm very excited for the next chapter of my life and to see what it has in store for me. It's wild to think about, that the teams I were a part of will go down in the history books and be forever remembered.
Q: Manasquan's lacrosse team has steadily risen to become one of New Jersey's best programs. What has it been like being a major part of the team's success and is this something you guys thought could happen as you came up through the youth leagues? 
A: It's definitely been a grind and it took a lot of hard work and effort from everyone to get where Manasquan lacrosse has gotten. It's definitely something I'm proud of and will never forget as I progress through life. A lot of guys played for the same recreational team growing up so it was almost second nature when we got to high school. A lot of the names you see I'm very close with and have been since a young age. Manasquan's success in the past years has come from our passion and toughness. These two attributes were instilled in all of my teammates and coaches. It was a blast wearing that jersey!
Q: During your freshman and sophomore years you were certainly an important offensive player, but this year you really had to take the reins of the offense as a leader and the top player. How did you embrace that challenge and deliver a career year?
A: It was a very big challenge for me to take on this year. As a freshman and sophomore, the major focus was on Canyon (NJ's all-time leading scorer Canyon Birch), freeing up others, including myself, to be successful. Canyon is one of my best friends and he taught me so much about playing that larger role that it wasn't as big of a transition. It made me feel at points during the season that there was a target on my back and it drove me to push harder and get better every day. My teammates this year were outstanding and nothing would have been accomplished without the help and hard work they put in. 
Q: I know you had several Division 1 scholarship offers for lacrosse. What made UPenn the right choice for you?  
A: There are many things that made UPENN the right choice for me. Starting with the academic piece of things, there are only a few other places around the country where you can get as good of an education that there is at UPENN. My family takes academics very seriously and focuses on being a strong student and excelling in the classroom. Another reason I felt PENN was a good fit for me is that the coaches and team were so kind and welcoming. I was a little late in the process in committing to PENN so everyone welcomed me with open arms. Lastly, I believe PENN is the right fit for me because it's super close to home and having my parents being able to come to my games and watch me play is something I wanted. Also, to be able to get a home-cooked meal once in a while is always nice. PENN will be a great home for me and I'm very excited to begin the next chapter of my life.
Q: You were a member of multiple championship teams in both boys lacrosse and basketball. Is there a moment, individual or as a team, that stands out as being the most memorable?
A: That's definitely a tough question, however, this year's basketball season is something that will probably be most memorable for me. All the ups and downs we went through as a team will never be forgotten, and our trust and love for one another is nothing I've ever felt before.
GO INSIDE SEA GIRT'S $10 MILLION BEACHFRONT GLASS MANSION
More From Shore Sports Network