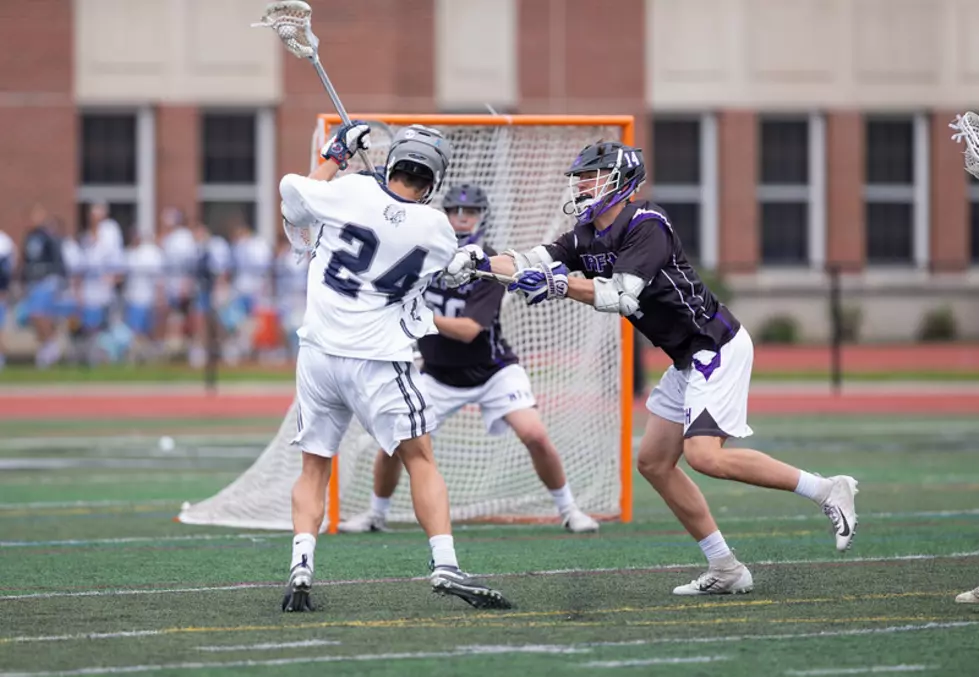 Manasquan surges past Rumson to reach 4th straight SCT final
Photo by Paula Lopez/palimages.com
LONG BRANCH – Adversity is not something Manasquan has had to deal with much this season, but in the first quarter of its Shore Conference Tournament semifinal game against Rumson-Fair Haven, the Warriors were in the weeds.
Already playing without standout midfielders James Pendergist and Matt Franzoni, Manasquan went down another player when defenseman Tommy Shaughnessy was disqualified six minutes into the game for accumulating five minutes of personal foul penalties. Kiel Forlenza had scored off a great clear and setup from Jack Spagnuola, and as Forlenza executed a turning, jumping shot for the goal, Shaughnessy cross-checked him to the ground.
Forlenza was down for a minute or two and went off with what appeared to be a lower-body injury. He did not return to the game. Shaughnessy was assessed a three-minute, non-releasable penalty for a hit to the head, plus an additional two minutes for unsportsmanlike conduct. Manasquan was now down a man for five minutes.
One way or another, this was going to be the turning point of the game, and because of Manasquan's defense, the Warriors are heading to a fourth straight SCT final.
Manasquan allowed only one goal during the five-minute penalty and one shortly after to briefly fall behind, but the Warriors quickly resorted order in the form of an 11-goal run to defeat the Bulldogs, 14-4, on Thursday evening at Long Branch High School's Bresett Stadium.
Senior attackman Ryan Anderson scored five goals and added two assists, senior attackman Canyon Birch had three goals and two assists and the defense of poles Jack Fabean, Mike Farrell, Chris Farinacci, long-stick midfielder Mike Page and goalie Mike LaPoint held Rumson scoreless for a span of 34:30 from late in the first quarter to the final minutes of the fourth quarter.
Manasquan will go for its third straight SCT title when it faces Christian Brothers Academy at 2 p.m. on Saturday at Monmouth University's Kessler Stadium.
"We practice man-down for basically half our practice every single day, so when we go man-down it's not like it's anything we're afraid of," Fabean said. "Our defense knows how to handle things."
"They're tough and make all the plays they're supposed to make, and when you add on top of that pretty much killing a five-minute, non-releasable penalty is pretty unbelievable," said Manasquan head coach Sean Cunningham. "It was not the started we wanted but it goes back to having senior leadership and that veteran resiliency."
Rumson scored once during the five-minute penalty when Rowan Goldin scored off a pass from Jack Whitelaw with two seconds left. Manasquan actually had a man-up situation during the five-minute span when Rumson had two different players called for one-minute penalties at the 4:52 mark. The Warriors didn't score but were able to chew some time off the clock.
Rumson eventually went ahead, 3-2, when Drew Shaw cranked a rocket past LaPoint with 50 seconds left in the half, but Manasquan had a swift response. Anderson tied the game at three with 16 seconds left, and after Max Pauwels won the ensuing face-off, sophomore attackman Casey Mulligan scored with one second left. Somehow, through all the first quarter presented, Manasquan held a 4-3 lead after the opening 12 minutes.
"Michael made some really key saves in the cage and Max Pauwels wins two face-offs and we gang home two goals to reclaim the lead," Cunningham said. "From a confidence standpoint, when you see yourself in the black instead of the read after a quarter like that, you'll take it. It was big for us in terms of gaining momentum."
"We definitely dodged a bullet there, but it never felt like we weren't in control of the game," Fabean said. "With 20 seconds left in the first quarter we pop two goals to take the lead. We know what we're capable of."
Manasquan began to pull away early in the second quarter when sophomore midfielder Robert Pendergist scored 19 seconds in for a 5-3 lead. Mulligan scored at 9:22 to make it 6-3 and Birch scored at the 9:00 mark for a 7-3 advantage.  Pendergist's goal with 6:16 on the clock gave Manasquan an 8-3 lead which it took to the half.
It was more of the same in the third quarter. Birch scored with a low blast from long range to make it 9-3 early in the third before Anderson cut in front from X and scored for a 10-3 lead. Birch's third goal with 48 seconds left in the quarter stretched the cushion to 11-3.
With 5:29 left in the fourth quarter, Anderson scored his fourth to make it 12-3. Pauwels won the next face-off, raced toward the goal and scored Manasquan's 11th straight goal, giving the Warriors a 13-3 edge. Luke Devlin scored for Rumson with 2:20 left but Anderson scored again with 1:50 to play to give Manasquan a 10-goal lead.
"We know it's hard to beat a good team twice," Anderson said. "Rumson is a good team and played some quality teams up north to get them tested for the postseason. We knew the game plan in the first game (a 13-2 Manasquan win) worked and we didn't want to change too much. We were patient on offense with them locking off Canyon and our defense did a fantastic job."
Manasquan is known for its high-scoring offense led by Birch, but this game showcased the Warriors' fantastic defense and great depth. Farinacci stepped in and the defense didn't miss a beat and Pendergist looked just like his older brother making big plays at both ends of the field.
"Chris Farinacci went in there and did a spectacular job," Cunningham said. "He's been Mr. Unsung Hero for us all year and doesn't get enough praise. And Ryan O'Leary coming in there for us doing a great job. Defensively, we're super deep and we have a lot of capable guys and even some more on the bench."
"Obviously Canyon is fantastic, but our team is more than just him," Anderson said. "We have a lot of good players and we all know we can contribute. Obviously, with Tommy going out it was a big loss, but Chris Farinacci stepped in and did a great job and Robert is like a mini James out there. We like games like this where we can flex our depth."
Standing in the way of the Warriors and a third straight SCT title is CBA. The two teams played earlier this season with Manasquan scoring a resounding 15-4 victory. CBA defeated Shore, 8-7, in the other semifinal on Thursday night.
1-Manasquan 14, 4-Rumson-Fair Haven 4 
| | | | | | |
| --- | --- | --- | --- | --- | --- |
|   | 1 | 2 | 3 | 4 | F |
| Rumson (11-9) | 3 | 0 | 0 | 1 | 4 |
| Manasquan (16-0) | 4 | 4 | 3 | 3 | 14 |

GOALS – RFH: Kiel Forlenza, Rowan Goldin, Drew Shaw, Luke Devlin; M: Ryan Anderson 5, Canyon Birch 3, Casey Mulligan 3, Robert Pendergist 2, Max Pauwels.
ASSISTS – RFH: Jack Spagnuola, Jack Whitelaw; M: Ryan Anderson 2, Canyon Birch 2.
SAVES – RFH: Ryan Croddick, 5: M: Mike LaPoint, 5
Managing editor Bob Badders can be reached at bob.badders@townsquaremedia.com. Follow him on Twitter @Bob_Badders. Like Shore Sports Network on Facebook and subscribe to our YouTube channel for all the latest video highlights.
More From Shore Sports Network