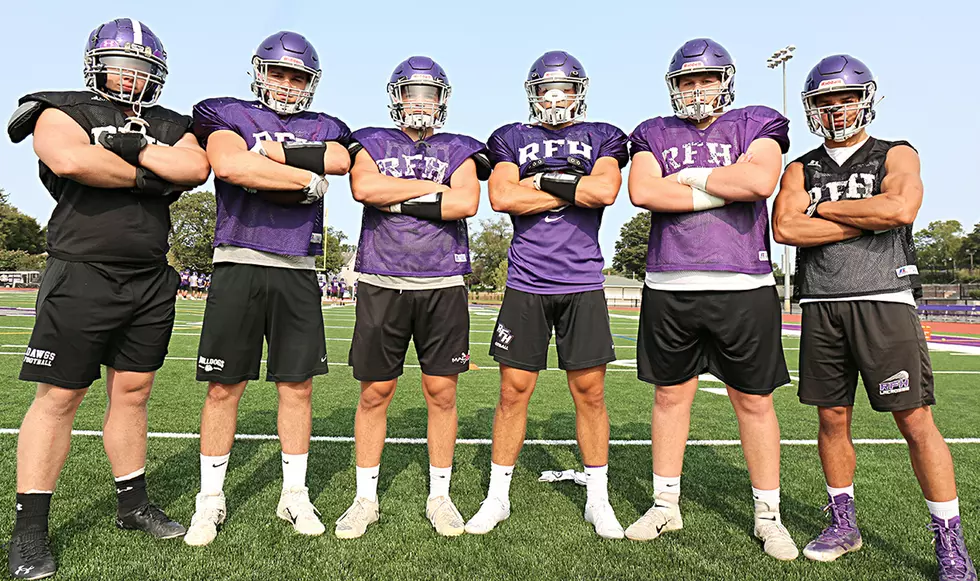 Great Expectations: 2020 Rumson-Fair Haven Football Preview
Photo by Steve Meyer.

Enter your number to get our free mobile app
First, a fact: the 2019 season was a down year for Rumson-Fair Haven's football program.
Now, some more facts: the Bulldogs won six games and finished second in the most stacked division in Shore Conference history. They also reached their seventh consecutive NJSIAA state sectional final and finished ranked fifth in the Shore Sports Network Top 10.
A down year? Only based on the gold standard Rumson has set for itself.
Most Shore Conference teams would happily sign up for that kind of season, but the Bulldogs are not just any program. Since 2010, Rumson has won six NJSIAA state sectional championships, reached a total of nine sectional finals and averaged nine wins per season. Few teams in New Jersey have been as good as Rumson over the past decade.
The ever-so-slight step backward last year was due in large part to injuries to key players, inexperience at certain positions and a brutal schedule. Given Rumson's history, it's fair to assume it was just a blip on the radar, especially considering the talent the Bulldogs bring back for the 2020 season.
After a very good sophomore year when he primarily served as the backup to first-team All-Shore running back Alex Maldjian, the 2019 season was supposed to be a breakout season for John Volker. He ran for 717 yards and six touchdowns and added 292 yards receiving and three touchdowns, finishing fourth in the American Division in rushing. He missed some time due to injuries and Rumson's offensive line was also breaking in five new full-time starters.
This season, Rumson has senior James Smith, a returning first-team All-Shore player, at left tackle along with juniors Christian Smith and Charlie Pearson at right guard and right tackle, respectively. Both saw plenty of time last season as sophomores. As long as he's healthy, Volker, who is committed to Princeton University, could be in for a monster season.
The silver lining to Volker being banged up last season was the emergence of junior Geoff Schroeder, who ran for 269 yards and two touchdowns on an average of five yards per carry, including 113 yards and a touchdown when he started for an injured Volker against Toms River North. Volker and Schroeder together give Rumson one of the best backfield tandems in the Shore.
"We plan on having those guys in the backfield together a lot," said Rumson head coach Jerry Schulte. "We can move them around at tailback, fullback, and in the slot."
In the passing game, Rumson has three-year starter Patrick Jamin at wideout along with another returning starter, senior David Livingston. Senior Luke Devlin is also a returning starter at tight end. Jamin caught 35 passes for 451 yards and 3 touchdowns and was a third-team All-Shore selection last season.
Throwing to them will be either senior Josh Harmon or junior Colin Kennedy, who are still competing for the starting job to replace two-year starter Collin Coles. Harmon has varsity experience as a starting wide receiver last season.
Rumson is known for its strong defensive play and last season was no different as the Bulldogs ranked 11th in the Shore at 15.6 points per game. Eight starters, including three All-Shore players, return in Rumson's 4-3 scheme. Junior defensive end Aiden Moriarty recorded 70 tackles and 13.5 sacks last season when he started as a sophomore and was a third-team All-Shore selection. Senior defensive tackle Von Factor was a second-team All-Shore pick with 79 tackles and three sacks. Senior Jack Kelly made some big plays last season and is another returning starter at defensive tackle. Senior Thomas Quadarella is also considered a returning starter based on the amount of playing time he received as Rumson employed a heavy rotation up front.
Rumson had two stud sophomore linebackers, John Lista and Ryan McKay, flanking first-team All-Shore middle linebacker Gordon Forsyth last season. With Forsyth now graduated, McKay moves to the middle and Lista remains at outside linebacker.
First-team All-Shore selection Ryan Ruane, who is committed to Holy Cross, leads Rumson's secondary from his strong safety position. Senior Agnello Pane is a returning starter at cornerback.
The schedule isn't as unforgiving as last season, but it's still no picnic. Rumson has games against Mater Dei Prep, Middletown South and Red Bank Catholic included in its six-game regular-season schedule.
"The schedule is formidable," Schulte said. "I think just about everybody's main goal is to get through the season, to have those eight games, and do the best we possibly can. It's not the same kind of season but whatever the state decides to do our goal is to be in the thick of it."
At a Glance
Projected starters (RS=returning starter, 3RS=3rd-year returning starter)
Offense: Multiple Pro
QB: Josh Harmon, Sr., or Collin Kennedy, Jr.
RB: John Volker, Sr., 3RS; Geoff Schroder, Jr., RS
WR: Patrick Jamin, Sr., 3RS; David Livingston, Sr., RS
LT: James Smith, Sr., 3RS
C: Multiple players competing
RG: Christian Smith, Jr., RS
RT: Charlie Pearson, Jr., RS
Defense: 4-3
DE: Aiden Moriarty, Jr., RS
DT: Von Factor, Sr., RS; Thomas Quadarella, Sr., RS
DT: Jack Kelly, Sr., RS; James Peluso, Sr.
CB: Agnello Pane, Sr., RS
Special teams
K: Jack McCarron, Jr. or Justin Worobel, Jr.
P: Nick Ferrara, Sr., 3RS
Head coach: Jerry Schulte, fifth season (19th overall)
Career record: 94-90-1 (35-12 at RFH)
Team record last five years:
Assistant coaches: John Corneliusen (Offensive Coordinator); Jeremy Schulte (Defensive Coordinator); Joe Murphy (OL); Chris Quinn (WR); John Andl (RB); James Rizzo (WR); Brandon Wall (OL); Matt Walsh (DB); John Wagner (DB); Rich Mosca (DL); Mike Zadlock (DL); John Bellavance (freshmen); Frank Papalia (freshmen); Glenn Grainger (freshmen); Alex Stein (athletic trainer).
Players to Watch: John Volker, Sr., RB and Ryan Ruane, Sr., SS
Volker, who is committed to Princeton University, possesses great speed and strength and is equally comfortable running between the tackles and on the edges. He totaled 1,009 yards from scrimmage and nine touchdowns a season ago. If all goes well, Volker is a potential MVP/Offensive Player of the Year candidate.
A returning first-team All-Shore selection, Ruane is a rangy safety who plays equally well against both the run and pass. He totaled 93 tackles and intercepted four passes last season.
"Ruane is kind of like the defensive quarterback," Schulte said. "We call defenses in but we also, depending on who we're playing, have automatic calls we'll do and he's right on top of it. He understands every aspect of the defense. It's like having another coach on the field."
Players Under the Radar: John Lista, Jr., LB and Ryan McKay, Jr., LB 
Both started as sophomores last season with Lista recording 85 tackles and McKay making 69 stops. With a year of varsity games already under their belts, both could be on the cusp of emerging as two of the Shore's very best linebackers.
Impact Newcomers: Josh Harmon, Sr., QB or Colin Kennedy, Jr., QB
Harmon isn't a true newcomer since he played wide receiver last year, but either he or Kennedy will be a first-year starting quarterback. The winner of the competition will replace Collin Coles, who was a two-year starter, an All-Shore selection and helped lead Rumson to two sectional title games, a state sectional championship and a bowl game victory.
Top position groups: Defensive line and running backs 
Seniors Von Factor, Jack Kelly and Thomas Quadarella and junior Aiden Moriarty give Rumson four returning starters along the defensive line, which should be among the Shore's most fearsome units.
With senior John Volker and junior Geoff Schroeder in the offensive backfield, Rumson has a versatile 1-2 combo that can be deployed in a variety of ways.
Big Shoes to Fill: Tommy Swain, Sr., OLB 
Gordon Forsyth was the Shore's leading tackler and a first-team All-Shore selection last year. With him having graduated in June, Swain will join junior returning starters John Lista and Ryan McKay in the linebacker unit.
X-Factor: Staying healthy
Injuries threatened to derail Rumson's 2019 season and the nature of its schedule never allowed the Bulldogs to get fully healthy. Most teams preach a next next-man-up mentality but the reality is that no team is going to be as good as advertised if their top players are on the sideline.
Season Schedule
Friday, Oct. 2 – vs. Middletown North, 7 p.m.
Friday, Oct. 9 – vs. Long Branch, 7 p.m.
Friday, Oct. 16 – at Red Bank Catholic, 7 p.m.
Friday, Oct. 23 – vs. Middletown South, 7 p.m.
Saturday, Oct. 31 – at Mater Dei, 1 p.m.
Friday, Nov. 6 – vs. Ocean, 7 p.m.
Managing editor Bob Badders can be reached at bob.badders@townsquaremedia.com. Follow him on Twitter @Bob_Badders. Like Shore Sports Network on Facebook and subscribe to our YouTube channel for all the latest video highlights.
CHECK IT OUT: These words were born in the '80s
More From Shore Sports Network