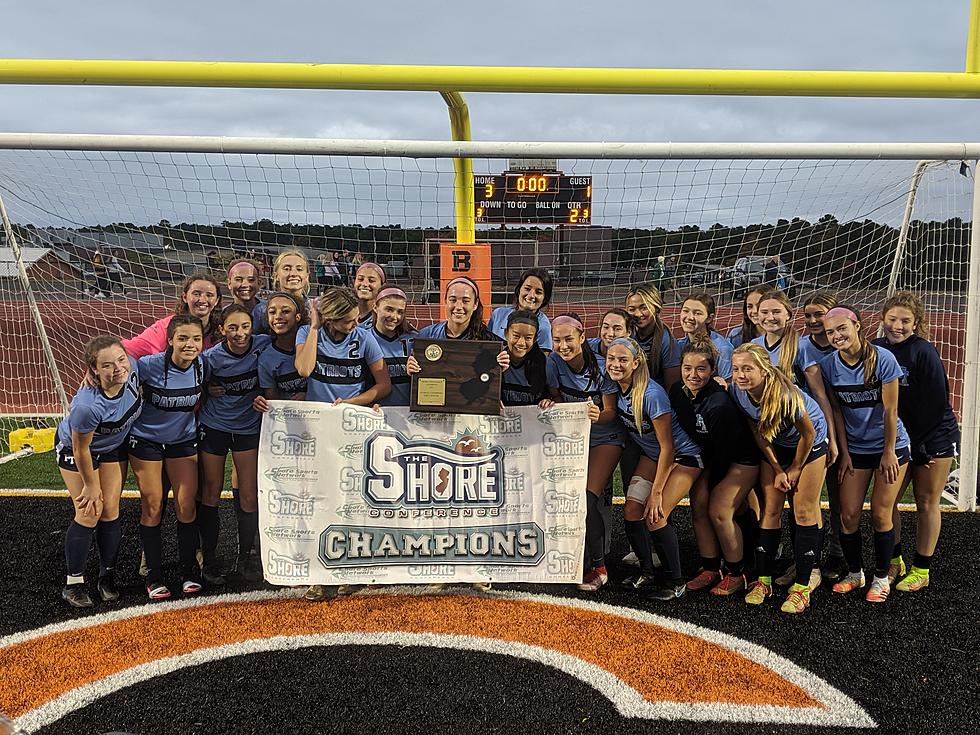 Girls Soccer – Freehold Twp. Tops Toms River North for First Shore Conference Title in a Decade
Photo by Matt Manley

BARNEGAT -- The Freehold Township girls soccer team is one with only three seniors on it and regardless of what happened in Thursday's Shore Conference Tournament championship game at Barnegat High School, the Patriots are set up to be a dominant team for years to come.
As they showed early on in Tuesday's final vs. second-seeded and fellow unbeaten Toms River North, these Freehold Township players are not the type to wait around.
Freshman Gaby Parker scored 47 seconds into Thursday night's championship match to get Freehold Township off and running and the top-seeded Patriots put away Toms River North, 3-1, to win the program's first Shore Conference Tournament title in 10 years.
"Freehold Township has always been such an amazing team and we have gone to many semifinals and lots of quarterfinals, but since 2011, we haven't won," junior Gabby Koluch said. "I think we just knew it was our time."
"I was so confident in our group," senior defender and captain Kelsey Gilroy said. "Our underclassmen stepped up every game and it's amazing to watch. I wanted win the Shore Conference more than anything. It's a great feeling.
"We went down a goal against Toms River North in the semifinals in my sophomore year, so I get it. The Shore Conference is such a tough tournament to win and it's such an amazing honor to be able to do it."
Koluch scored what proved to be the game-winning goal on an 18-yard direct kick to break a 1-1 tie in the 33rd minute and sophomore Cassidy Corcione effectively put the game away with a penalty kick in the 56th.
"Once Cassie scored, it was like we knew it," Koluch said. "We just had to battle through to the end and we did it."
While the last two Freehold Township (17-0-1) goals decided the game, Parker's early strike set the tone for the No. 1 seed. Sophomore Ainsley Moy and Corcione each won a 50-50 ball in Freehold Township's third of the field to get the ball to junior Kayla Wong on the counter-attack.
Wong slid a well-timed pass to sophomore Hailey Santiago, who had it knocked away by a Toms River North defender. Parker was on the spot, and she finished into an exposed net to stun the Mariners less than a minute into the game.
"It gave us so much confidence and I think it showed how much we wanted it," Gilroy said. "We said from the beginning that that's what this game was going to be about. They are just as good as us, but we wanted it more than them and I think that's why we came out on top."
"We just knew we had to play our game and not succumb to the pressure," Koluch said. "We knew we had to come out strong and get the first goal to set the momentum and set the pace of the game and we did that."
Koluch dominated the game from her defensive midfield spot and cashed in on a chance to score in the most crucial of spots for her team.
Five minutes after Toms River North (16-1-1) tied the game on a direct kick by senior Faith Wavershak, Parker drew a takedown on the edge of the top of the 18-yard box. With the ball resting just inches away from the top of the box, Koluch spotted daylight between her and the right side of the goal and slotted her shot into that lower right corner for the go-ahead score.
"When I saw we got the kick, I knew I wanted it right away," Koluch said. "I was going to go for power, but I saw the opening and it went in. It was another amazing feeling too."
"She is definitely a catalyst for us," Freehold Township coach David Patterson said. "Whether she plays on the back line or the defensive center mid spot. She is someone who every time there is a ball there, you know she is going to get it and you know with that change of speed and change of direction she has, she is just going to go eat up space out there. She was huge for us, for sure.
In the 56th, it was two more of Freehold Township's underclass forwards, Santiago and Corcione, who combined on the goal. Santiago drew the foul on the left side of the box and Corcione cashed in on the penalty kick.
"Once Cassie scored, it was like we knew it," Koluch said. "We just had to battle through to the end and we did it."
While Koluch had a big game playing a more defensive and distributing role, Moy and Wong were effective attacking from the center midfield while Parker and Santiago were both disruptive as forwards.
"Gabby, Cassidy, Kayla and Ainsley are all just so dynamic all over the field," Patterson said. "You can try to mark one of them off the field, but there are three or four other ones that are going to step up. Gaby Parker had the first goal of the game, Hailey Santiago created so many opportunities out there for us. She was amazing out there for us."
Gilroy and classmate Lexi Konstantinidis both played key roles as senior defenders, with Konstantinidis heading the ball off the line on a Toms River North corner kick in the 10th minute.
"My job was to be on the back post and I was really glad I was able to get my head on it," Konstantinidis said. "(Freshman goalkeeper) Ashley Moore did an amazing job for us and as defenders, we all know we have to be ready for anything on corner kicks and I was just glad I could be in a position to help my team."
In the 25th minute, Toms River North broke through with a goal on a 25-yard direct kick by Wavershak that tied the game at 1-1, but Parker's effort and Koluch's accuracy from 18 yards out gave Freehold Township the lead back within seven minutes.
Over the past nine years (eight tournaments, since there was no 2020 SCT), the ball bounced against Freehold Township in games like the ones the Patriots won on Monday (a 2-1, come-from-behind win over Manalapan) and again on Thursday. This year's team, however, was not phased by the adversity, despite the overall youth of the players.
"At the beginning of the year, we all just kind of looked at each other and said, 'It just feels different,'" Patterson said. "The emotion, the confidence, the athleticism – it all just felt different from an early point."
Gilroy, Konstantinidis and Carly Shein are the only seniors set to leave the team after the year, which means Freehold Township is set to return the vast majority of a team that enters the 2021 NJSIAA Tournament as the No. 1 team in the state, according to NJ Advance Media.
"We had a few major pieces from last year that are here this year, but the way the freshmen stepped up, the sophomores and juniors and the seniors who weren't with us last year as been really special," Patterson said. "We have had talented teams before, but the depth all over the field this year is something we haven't seen before. Left, right, center, backs, forward, mids: everybody contributed out there today."
"I was so confident in our group," Gilroy said. "Our underclassmen stepped up every game and it's amazing to watch. I wanted win the Shore Conference more than anything. It's a great feeling."
More From Shore Sports Network