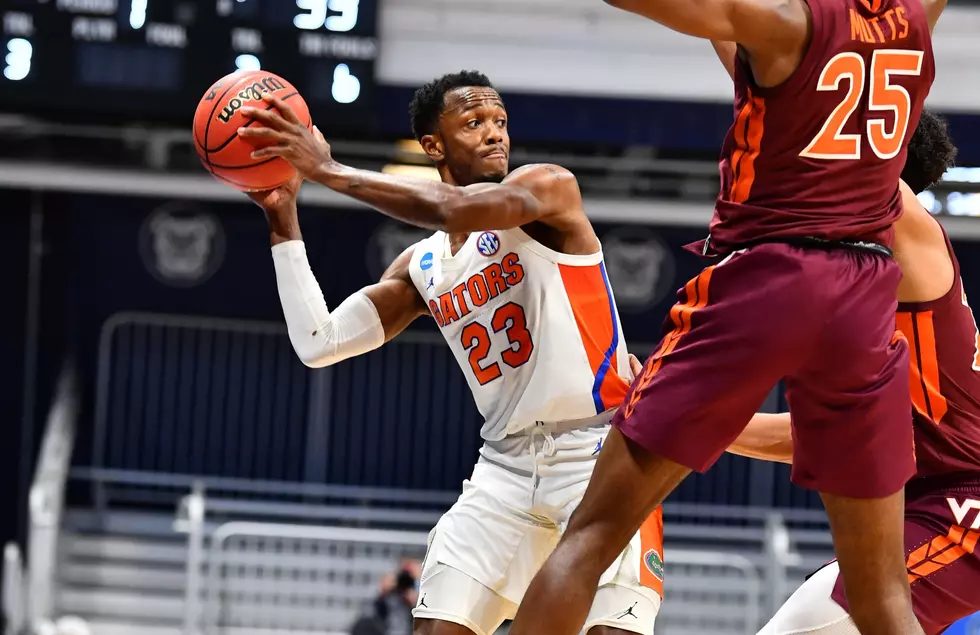 Former Ranney, New Jersey High-School Star Scottie Lewis Entering NBA Draft
Florida guard Scottie Lewis. (NCAA Photos)

Scottie Lewis went to the University of Florida as a stop on the way to what he hopes will be his ultimate destination. On Thursday, the former Ranney School star announced he is ready to take that final step toward his NBA dream.
Lewis announced Thursday on his Instagram account that he has signed with an agent and will enter the 2021 NBA Draft, bringing a close to his two-year career at Florida.
"Playing in the NBA has always been my main priority in life," Lewis said in the written statement.
In two seasons with the Gators, Lewis flashed the potential that has made many in the mock-draft industry to project him as a potential first-rounder while also dealing with the challenges of adjusting to the college game.
"It has been an absolute honor being able to have that gator logo across my chest day in and day out," Lewis said. "I am beyond grateful for everything that we have accomplished and every moment will be cherished."
The 2021 NCAA Tournament show both ends of the spectrum for Lewis, with the 6-foot-5 wing turning in 15 points on 5-for-8 shooting in a first-round win over Virginia Tech, followed by a scoreless outing against Oral Roberts thanks to early foul trouble.
Lewis was also pushed to the bench during his sophomore year, with head coach Mike White benching him to start Florida's SEC Tournament first round game vs. Vanderbilt after Lewis arrived late to the team shoot-around on the day of the game. He started the first eight games of his sophomore season, then came off the bench for his next eight before starting in his 17th appearance.
Lewis finished 2020-21 averaging 7.9 points, 3.1 rebounds, 1.5 assists, 1.6 steals and 1.05 blocks while starting nine of the 21 games in which he appeared. As a freshman, Lewis averaged 8.5 points, 3.6 rebounds, 1.2 blocks and shot 36 percent from three-point range.
While coming off the bench might sound like a mark against Lewis with respect to his draft profile, starting for one's college team is not a requirement to climb up the draft board. Patrick Williams - who played against Lewis in both high school and college - did not start as a freshman at Florida State but his size (6-foot-9), athleticism and promising three-point-shooting ability were enticing enough to convince the Chicago Bulls to draft him No. 4 in the 2020 draft.
Lewis is hoping to make a similar impression in pre-draft workouts - the type of setting in which to ultra-athletic Lewis thrives. He is also a high-IQ, high-character player who should win over NBA front office personnel and coaches during the interview process.
Lewis has been on an NBA trajectory since before he played a high-school game at Ranney. He and current Villanova sophomore Bryan Antoine entered high school at Ranney together as a duo with sky-high expectations and the two McDonald's All-American guards delivered on that promise by leading Ranney to an NJSIAA Tournament of Champions title as seniors.
Lewis and Antoine were Shore Sports Network Co-Players of the Year for the 2018-19 season, with Lewis averaging 17.5 points, 6.3 rebounds, 3.5 assists, 2.7 steals and 1.5 blocks while shooting 56 percent from the field, 75 percent from the free-throw line and 36.5 percent from three-point range during his senior season.
The highest any Shore Conference player has every been drafted was when the Phoenix Suns draft Freehold Boro alum Tim Perry No. 7 overall out of Temple in 1988. John Crotty (Christian Brothers Academy) is the last graduate of a Shore Conference program to play in an NBA game, while J.R. Smith is the NBA player in recent vintage to have played in the Shore Conference. Smith transferred from Lakewood to St. Benedict's in Newark after his junior season with the Piners.
Minnesota Timberwolves center Naz Reid is a native of Asbury Park, but play for a Shore Conference team, instead spending his entire high-school career at Roselle Catholic.
More From Shore Sports Network