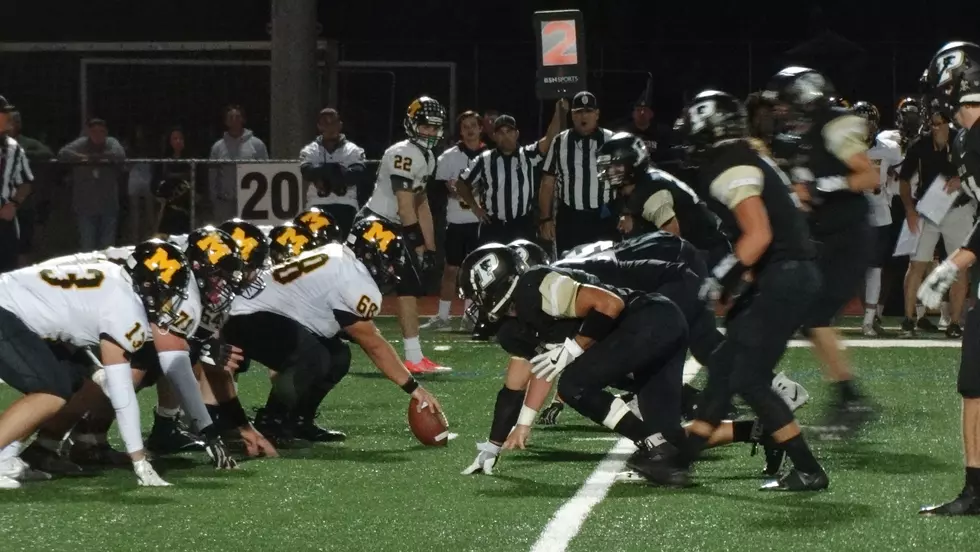 Defense Leads No. 8 Point Boro to Comeback Win over No. 10 Monmouth
Point Boro's defense held Monmouth to 30 yards and two first downs in the second half to key a 13-3 win. (Photo by Robert Badders/Townsquare Media).
POINT PLEASANT BOROUGH — Not much went right for Point Boro's offense in the first half of its game with No. 10 Monmouth, but there was no panic in in the locker room at halftime. The Panthers had been in this situation before.
"We walked in there and we knew what we were doing wrong, and we knew we could come back," said senior quarterback James Fara. "Last year we were down 21-6 to Manchester and came back, two years ago we were losing to Central 21-6 and came back. We knew we could do it again."
Spurred on by a defense that allowed just 30 yards and two first downs over the final two quarters, Point Boro's triple-option offense got on track in the second half to score 13 unanswered points and lead the Panthers, ranked No. 8 in the Shore Sports Network Top 10, to a 13-3 Shore Conference nondivisional victory over the Falcons in a battle of unbeatens on  Friday night at Al Saner Field.
Fara scored on a 13-yard run midway through the third quarter to erase a 3-0 deficit, and senior running back Brandon Cipriano added a 13-yard touchdown run in the fourth quarter as the Panthers' offensive line helped close out the victory with a long scoring drive.
Fara finished with a team-high 91 yards on 24 carries while senior fullback Tanner Gordon returned after missing two games with an injury to rush for 80 yards on 16 attempts. Cipriano had 57 total yards, including a critical 32-yard catch on third-and-13 during Point Boro's first scoring drive, and also had a clutch pass breakup in the end zone.
Monmouth senior Ian Fitzgerald ran for a game-high 133 yards on 21 carries and senior Devon Johnson kicked a 39-yard field goal with 15 seconds left in the first half to account for the Falcons' only points.
Point Boro had no answer for Fitzgerald in the first half, but was able to keep Monmouth out of the end zone. Fitzgerald had 106 yards on 14 carries over the first two quarters, but a pair of turnovers, including one inside Point Boro's 30-yard line, proved costly. Tyler Sanchez had a fumble recovery and Nathan Chiarello and Kyle Komanitsky had interceptions for Point Boro. Senior linebacker Ronny Leyda had three tackles for a loss.
"I'm very proud of our kids and the way they responded," said Point Boro head coach Matt Cilento. "Monmouth did a very good on both sides of the ball and they're very well-coached over there. Our kids came out and responded in the second half."
"Our defense was definitely the key part of the comeback," Fara said. "Without them doing what they did we would have lost this game. We were sloppy on offense, so for [the defense] to hold and let us comeback was nice."
Johnson's field goal to end the first half capped a 12-play, 68-yard drive for Monmouth and gave the Falcons a 3-0 halftime edge. Fitzgerald had a 19-yard run that moved the ball out to the 49-yard line, and senior quarterback Colin Miller found senior running back Anthony Guarino for six yards on a screen pass to convert a fourth-and-4.
With Monmouth set to receive to start the second half, Point Boro's defense knew it had to change the narrative right away to begin the third quarter.
"I feel like we came out at halftime with more juice than they did," said junior defensive lineman Trent Livolsi, who had a sack and a tackle for a loss. "It all started with that three-and-out."
The Panthers' defense swarmed Fitzgerald for losses on the first two plays of the second half and stuffed Eli Rife for a short gain on third down to force a punt. Point Boro took over at its own 30-yard line, where it started an 11-play, 70-yard scoring drive to take the lead for good.
One of the biggest plays of the game came when Fara found a wide-open Cipriano for a 32-yard gain on third-and-13. Up to that point, the Panthers had just three first downs and did not have a third down of less than eight yards to gain. The big gain jump-started the Panthers, as Gordon ripped off a 12-yard run and then converted a fourth-and-2 with a 5-yard run. Two play later, Fara faked to Gordon and kept around the left side for a 13-yard score.
Ironically, Cilento was trying to get a timeout called before Fara got the snap off. The referee never heard him.
"How lucky was that," Cilento said. "Fortunately it worked out for us that it didn't get called and James made a play for us."
The teams traded turnovers on the next two series as Gordon ran down Miller from the backside and hit him as he threw, forcing a wobbly pass that Chiarello intercepted at the Monmouth 33-yard line. After Point Boro had moved to the 15-yard line, however, Falcons senior linebacker Jeremiah Clarke recovered a fumble to put out the fire.
Point Boro bottled up the running game again on the next Monmouth possession to force a punt, and when the Panthers got the ball back with 9:59 left in the fourth quarter they embarked on 12-play, 78-yard drive that chewed up 6:43 and put the game away.
Gordon had a 13-yard run to move the ball into Monmouth territory and Point Boro chipped away with seven straight runs down to the Falcons' 13-yard line. On third-and-3, Cipriano took a pitch and scored to give Point Boro a 13-3 lead with 3:16 left.
The Panthers are now 4-0 for the third straight year after passing their biggest test of the season thus far. Cilento's message to his team following the win was that it's not always going to be easy, but championship teams find a way to rise to the occasion.
"Like [senior lineman] Gabe Fattizzi always says, 'you can't beat a team that has a bond like brothers'," Fara said. "We came out here and we really showed what we're made of."
No. 8 Point Boro 10, No. 10 Monmouth 3
| | | |
| --- | --- | --- |
| | Monmouth | Point Boro |
| First downs | 8 | 14 |
| Rushes-yards | 33-156 | 48-201 |
| Passing | 3-11-2 | 1-3-0 |
| Passing yards | 15 | 32 |
| Fumbles-lost | 3-1 | 1-1 |
| Penalties-yards | 6-40 | 3-30 |
Monmouth (4-1) 0 3 0 0 —  3 
Point Boro (4-0) 0 0 7 6 — 13
M — Devon Johnson 39-yard field goal
PB — James Fara 13-yard run (Nathan Chiarello kick)
PB — Brandon Cipriano 13-yard run (kick failed)
RUSHING — M: Ian Fitzgerald 21-133, Anthony Guarino 6-13, Dayshawn Porter 2-13, Eli Rife 1-1, Devon Johnson 1-0, Colin Miller 2-(-4); PB: James Fara 24-91, Tanner Gordon 16-80, Brandon Cipriano 4-25, Nathan Chiarello 4-5.
PASSING — M: Colin Miller 3-9-1 15, Ian Fitzgerald 0-1-1 0, Dayshawn Porter 0-1-0 0; PB: James Fara 1-3-0 32.
RECEIVING — M: Ian Fitzgerald 2-9, Anthony Guarino 1-6; PB: Brandon Cipriano 1-32.
INTERCEPTIONS — PB: Nathan Chiarello 1-5, Kyle Komanitsky 1-0.
Managing editor Bob Badders can be reached at bob.badders@townsquaremedia.com. Follow him on Twitter @Bob_Badders. Like Shore Sports Network on Facebook and subscribe to our YouTube channel for all the latest video highlights.