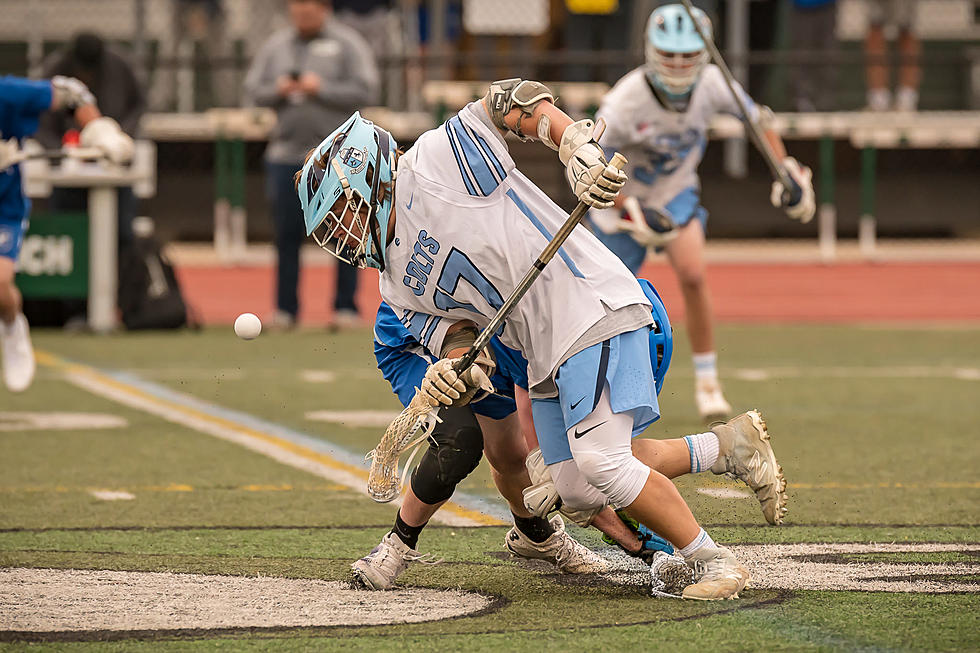 Clutch Colts: CBA wins thriller over Shore Regional to return to SCT final
Photo by Richard O'Donnell.
LONG BRANCH – Steady. Efficient. Reliable. Those have been the traits which have defined Christian Brothers Academy's lacrosse team all season and were the ones that sent the Colts to a thrilling victory in the Shore Conference Tournament semifinals.
Sophomore midfielder Kyle Aldridge scored with 3:14 left in regulation to snap a seven-all tie and sophomore face-off specialist Jared Lucich won several pivotal draws as the second-seeded Colts held off third-seeded Shore Regional, 8-7, on Thursday night at Long Branch High School's Bresett Stadium to advance to the SCT final.
"It's always special coming out with a close win, and to do it in this atmosphere under the lights was something different," Aldridge said.
CBA will play top-seeded Manasquan in the SCT championship game at 2 p.m. on Saturday at Monmouth University's Kessler Stadium.
The Colts (11-5) jumped out to a 4-0 lead in the first quarter and threatened to run away with the game, but Shore (13-1) clawed back with four straight goals to send the game to the half knotted at four. From there, it was back-and-forth the entire way.
Gil Goldsmith scored early in the third quarter to give Shore a 5-4 lead, but CBA scored the next two goals to bring a 6-5 advantage into the final 12 minutes. That's when things got really interesting.
During the stick check between the third and fourth quarters, a CBA player was flagged for having an illegal stick (too short), and the result was a three-minute, non-releasable penalty. The door was now wide open for Shore to sprint through and take the lead, and perhaps the game. It took just seven seconds for the Blue Devils to tie the game when Jake Turner threaded a pass from X to Tom Bocco for the tying goal. The next face-off meant everything.
Two standout sophomore FOGOs, Lucich and Shore's Sean O'Brien, had a good battle going in the first half, but the second half was all Lucich, including the game's most important draw. He popped the ball out clean, played it back to goalie Noah D'Andrea and the Colts executed a successful clear. The offense did the rest, running out the remaining 2:53 of penalty time to limit the damage to only one goal and keep the game tied at six.
"I was just focusing on what I had to do," Lucich said. "I knew if I played it out the back I would be able to play it to my goalie and we would be able to get it out. I struggled a bit in the beginning but changed things up in the second half, and I don't think I lost one after that."
"That was the turning point of the game," said CBA head coach Dave Santos. "We opened the quarter with that three-minute man-down, and (after the game-tying goal) we knew Jared had to win that face-off. That's a game-changer and he came up in a big spot. He's only a sophomore but it's kind of been that way all year. He's turned the momentum in a number of games and today was no different.
Lucich finished 14-for-19 on face-offs, including a perfect 9-for-9 in the second half.
"We weren't pulling out that win without his work at X today," Aldridge said.
Graduating 19 seniors off last year's team has meant plenty of players like Lucich have had to take on an expanded role. Sophomore Terrance Lacewell falls into that category, as well. Forty-six seconds after the three-minute penalty expired, Lacewell dodged toward the net and scored his first career goal to give CBA a 7-6 lead with 8:14 to play.
"We have guys all over the field who are inexperienced," Santos said. "That was Terrance's first career goal and he picked a heck of a time to get it. He wasn't even in our rotation early in the year and now he's a big part of our offense."
As they did all evening, the Blue Devils battled back to tie the game once more. Turner's sixth assist of the game went to senior midfielder Jack McCrae, who blasted a shot past D'Andrea with 5:06 left to square the score at seven apiece.
Whereas Lucich and Lacewell are green sophomores, Aldridge fits a different mold. He was a key component as a freshman with 36 goals and 13 assists and has been the Colts' pace-setter as a sophomore. He may be in 10th grade, but he plays like a seasoned veteran. Appropriately, the ball was in his stick with the game on the line.
With the clock approaching three minutes remaining, Aldridge dodged to his right past a Shore defender and whipped a shot up high that found the back of the net and gave the Colts and 8-7 lead.
"The whole game I thought I was getting by my defender a lot, so once I got the ball I didn't really think about it, I just got it and went and hit that top left corner," Aldridge said.
Lucich won the ensuing face-off and allowed CBA to chew more time off the clock. Shore did get the ball back and called a timeout to set up a play with 21 seconds left, but an errant pass turned the ball over in the closing seconds.
Shore entered the game in the midst of the best season in program history and was playing in its first SCT semifinal game. Goldsmith is among New Jersey's top midfielders and leads a potent offense that includes McCrae, Turner, Bocco, attackman Justin Murphy and freshman midfielder Jamie Mazzacco. The Blue Devils were averaging over 16 goals per game but were held to just seven thanks to a defense led by poles Tommy Gray, Declan McGagh, Max D'Andrea and Dillon Quinn and goalie Noah D'Andrea, who made seven saves, including several clutch stops.
"To his credit, you almost don't even think about it because it's expected," Santos said of his sophomore goalie. "He just makes big save after big save and it doesn't surprise us. We know how talented he is."
After getting past Shore in thrilling fashion, CBA now turns its attention the juggernaut that is Manasquan. The two teams met earlier this season with Manasquan winning, 15-4. They also met in last season's SCT final, an 11-3 Manasquan victory.
"We have a tall task in front of us on Saturday but we're going to prepare (Friday) and go out and see what happens," Santos said.
2-Christian Brothers Academy 8, 3-Shore Regional 7
| | | | | | |
| --- | --- | --- | --- | --- | --- |
|   | 1 | 2 | 3 | 4 | F |
| Shore (13-1) | 1 | 3 | 1 | 2 | 7 |
| CBA (11-5) | 4 | 0 | 2 | 2 | 8 |

GOALS – S: Jack McCrae 3, Gil Goldsmith 2, Justin Murphy, Tom Bocco; CBA: Kyle Aldridge 3, Connor Macrae 2, Dan Martin, Patrick Convery, Terrance Lacewell.
ASSISTS – S: Jake Turner 6; CBA: Kyle Aldridge, Patrick Gotterup.
SAVES – S: Scott Sirianni, 8; CBA: Noah D'Andrea, 7.
Managing editor Bob Badders can be reached at bob.badders@townsquaremedia.com. Follow him on Twitter @Bob_Badders. Like Shore Sports Network on Facebook and subscribe to our YouTube channel for all the latest video highlights.