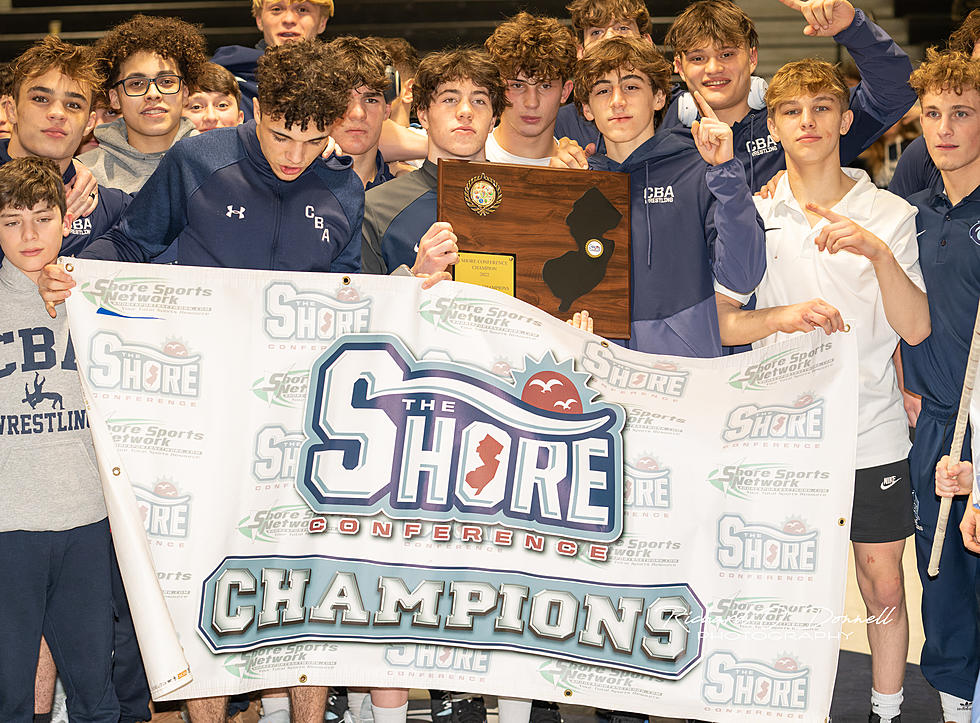 Christian Brothers Academy Beats St. John Vianney & Howell to Win 2022 Shore Conference Tournament Wrestling Championship
Richard E. O'Donnell

MIDDLETOWN -- Six years ago, Christian Brothers Academy's wrestling team gathered at the center of the mat inside Red Bank Regional's gymnasium to unfurl a championship banner and pose with the program's first Shore Conference Tournament title.
At the time, it seemed likely to be a fleeting moment, a special season for a senior-laden team that had built up to that day over the course of the previous few seasons, sure, but not a harbinger of a dynasty. And that is precisely how it played out. Four consecutive sub-.500 seasons followed and the SCT title began to fade into the distance.
CBA being relegated to obscurity once again would not have been completely unexpected - this is a program, after all, that boasted just a handful of team championships prior to 2016 - but that is not how this story ends. In late July of 2018, CBA hired Billy Ashnault as its head coach, tabbing the former South Plainfield and Rutgers standout to lead the wrestling program back into title contention. A year later, the Colts welcomed a supremely talented freshman class, then added some impact transfers the following season while getting back to a winning record in the pandemic-altered 2020 season.
Instead of that first SCT crown becoming a distant memory, the lean years from 2017 to 2020 now seem like eons ago. Because on Monday night, the Colts were once again on top of the mountain.
The Brothers are back.
After defeating St. John Vianney in the semifinals, top-seeded CBA stormed out to a big lead and put Howell away early, wrestling to a 38-29 victory in the Shore Conference Tournament final to capture the 2022 SCT championship. Sophomore Tyler Venet, and juniors Julian George, Tyler Barrett, and Zander Silva each won by fall, senior Garrett Totten delivered a technical fall, and sophomore Alex Nini and freshman AJ Falcone each came through with huge individual victories to lead the way for the Colts. CBA won eight of the 14 bouts and piled up 14 bonus points, cementing their return to the Shore's elite.
"This was a great experience for me and the rest of the team," Totten said. "I've never really been on a team that has won something like this so I'm very excited and grateful to be on this team."
"These guys see the 2016 plaque on the wall in our wrestling room," Ashnault said. "With Covid and everything there haven't been many opportunities to win team championships since I got here, so winning this is important to them. They'll be asking me (Tuesday) why this plaque isn't on the wall yet."
It was a doubly-satisfying win for CBA, which lost to Howell, 32-31, during the regular season and ended up sharing the Class A North division title with the Rebels and also Middletown South.
"That loss has been in the back of our minds since then," said Totten, a two-time state medalist ranked No. 1 in the Shore at 126 pounds. "We wanted this match and it went our way this time."
"A lot of our guys stepped up today and got a lot of bonus points," Nini said. "The first time we wrestled Howell we gave up a lot of bonus points and today we put it all together and performed like we're capable of."
That style, "pin to win", as Ashnault said. Served the Colts well during both matches Monday. The propensity to work primarily at neutral, score takedowns, and spend little time riding is ever-present in New Jersey high school wrestling. The Colts have a different approach and it delivered punishing results in two of the season's biggest matches.
"We change it up a little bit," Ashnault said. "It's funny, we talk a little about that, taking him down and cutting him; sometimes you have to man up and get a bar, get a cross-face. You pin to win, man. Pin to win."
As they did in the 42-30 semifinal win over fifth-seeded St. John Vianney, CBA bumped up junior 215-pounder Robert Canterino to heavyweight and shuffled its lineup. Canterino won 8-3 over Howell's Thomas Richards at 285 to stake the Colts to a 3-0 lead. A crucial swing bout was set to be wrestled at 106 between Venet and Howell sophomore Liam Clark, but Clark, who wrestled in Howell's semifinal victory over Middletown South, did not participate in the championship match. He hit a headlock and pinned Venet early in the first period during the regular-season dual. Instead, it was Mason Hultman who took the mat for the Rebels and Venet took advantage with a win by fall in 60 seconds, giving CBA a 9-0 lead.
"He's been a little banged up for the last couple weeks and he wasn't going to go for that second match," said Howell head coach John Gagliano.
Howell got on the board at 113 pounds when standout freshman Xavier Ortega won 8-2 over CBA senior Vin Principe. That set up a marquee matchup at 120 pounds between Nini and Sebastian Ortega, pitting two returning state medalists against each other for the third time in two seasons. Ortega finished fifth in the state at 113 pounds last season while Nini placed eighth. Ortega also defeated Nini twice.
This time, it was Nini who came out on top with a dominant 4-0 victory. He took Ortega down in the first period and rode him out the rest of the way, then scored a reversal in the second and kept Ortega down for the remainder of the period. Ortega chose defense in the third and Nini kept him there for the entire two minutes to avenge last season's defeats and give CBA a 12-3 lead through four bouts.
"I wanted that match the first time we wrestled Howell but he was a little banged up; I knew I'd see him eventually and I'll probably see him at regions again," Nini said. "I just wanted those matches back. Last year, that wasn't me. This preseason, Super 32, Beast of the East (third-place finish), that's more of me and it's going to be like that now."
"That was big, Alex and Ortega are both top wrestlers in the Shore," said Totten, who is Nini's workout partner in the CBA wrestling room. "I knew he was going to beat that kid. He's definitely matured a lot and I can tell when I'm wrestling him in the room. His hand fighting has picked up and he's always going forward nonstop. He keeps a high-level pace."
Totten followed with a 17-1 technical fall in 5:29 over Sawyer Ostroff to extend CBA's lead to 17-3. Then, at 132 pounds, Falcone made the decibels rise when he scored a reversal with two seconds left in regulation to win 2-1 over Howell's Kieran Bruen. During the regular-season dual, Bruen defeated Falcone, 4-3, in a match that helped decide Howell's victory.
"I definitely wanted it more than him," Falcone said. "We got into those positions twice in that (first) match and I knew in my head how to finish it and that's what I did. I knew once I pushed away on that head I was going to pop out and get two."
"It was awesome," Ashnault said. "He went into Howell's gym and, in his mind, got embarrassed. He wanted more and he got it done."
"Very proud of that guy," Nini said. "It was great, goosebumps. He fought from start to finish."
"AJ Falcone is tough in every position and he's getting better every day," Totten said. "He's going to do big things in high school."
CBA was really in the driver's seat after Falcon's win and added to its lead at 138 pounds when George, a returning state medalist, pinned JJ Machnik in 1:50 to make it 26-3 halfway through the dual.
Howell picked up six points at 144 pounds when Giovanni Scafidi won by disqualification over Nico Punzi. Early in the second period with Scafidi on defense, Punzi brought him down with a hard mat return that was ruled an illegal slam by match official John Reese. Scafidi was down for the full two minutes of allotted injury time and could not continue. Because his injury was the result of an illegal slam, by rule, he wins by DQ.
The two shook hands after the match and no ill will appeared to be present. It was just a minor speed bump for CBA, however, as Barrett pinned Luke Dalton in 1:16 at 150 pounds to give CBA a 32-9 lead with just five bouts remaining. All Silva needed to do at 157 pounds was win by decision to clinch the match but he added some extra emphasis when he pinned Nick Acque in 3:03 to give CBA a 38-9 lead and officially clinch the Shore Conference Tournament championship with four bouts left.
Howell won the final four bouts with state champion Hunter Mays winning by fall over Daniel Menake at 165, DJ Henry winning by 16-5 major decision over Nick Stump at 175, Ian Soutar winning by injury default over Anthony Lawrence at 190, and Dane Colfer closing out the match with a 12-1 major decision over Taig Sheehy at 215 pounds.
It was a banner day for CBA's wrestling program, but if there is one thing that detracted from the entire tournament, it's the lack of Southern, the No. 1 team in the Shore Conference. The Rams once again opted out of the SCT and have not competed in the conference tournament, team or individual, since 2011. The Rams usually wrestle Phillipsburg on championship Saturday but that match was canceled because of the snowstorm. In other sports, the team that wins an SCT can unequivocally say it is the best in the Shore. CBA feels it is that team, but it's hard to know for sure when the No. 1-ranked team isn't even in the tournament.
"I would love to wrestle Southern," Ashnault said. "If they have an open date tell them we'll go. It's just a bus ride away, right? To me, we won the Shore Conference Tournament. We had an opportunity to put ourselves in this tournament, we did, and we won. We took first. Southern is a great team, obviously, but they decided to do what they wanted to do. We put our foot on the line and won the Shore Conference Tournament."
With or without Southern, CBA is the Shore Conference Tournament champion, and the Colts will hold that title with pride.
"Nothing is better than winning," Nini said. "It was a great day for us."
Semifinals Recap
In the semifinals, CBA won eight bouts, six of which came by fall, to win a highly-anticipated dual with a red-hot St. John Vianney team. The Colts won the flip and bumped Peter Grippo up to 215 and Canterino up to 285 in the first two bouts. Both won by fall for a quick 12-0 lead. CBA limited the damage at 106 and 113 where SJV stud freshmen Patrick O'Keefe and Anthony Knox both won by technical fall. Nini then won 5-2 over SJV's Jake Zaltsman at 120 and Totten bested Joe Giordano, 4-3 on a late escape, to open an 18-10 lead.
The teams traded wins in the next three bouts before Barrett won by fall at 150 pounds to give CBA a 30-18 lead. The strategic moves up top allowed CBA to forfeit to state qualifier Jasiah Queen at 157 pounds and bump up both Silva and Stump to 165 and 175, respectively. Both won by fall to put the match away and send CBA to the title match.
In the other semifinal, Howell avenged its regular-season loss to Middletown South with a 34-21 victory. Thomas Richards had a key victory at heavyweight to reverse a decision from the first match and Sebastian Ortega, who didn't wrestle in the first meeting, won by decision at 120 pounds for a three-point swing at that weight. A major decision by Sawyer Ostroff at 126 pounds was also a boon for the Rebels.
Middletown South did not have two of its top wrestlers for the match. Senior Robert Generelli weighed in but did not take the mat. Junior David Hussey, ranked No. 1 in the Shore at 144 pounds, weighed in at 150 pounds and was thus ineligible to wrestle because he weighed in at 144 for the first two rounds on Thursday. Tournament rules state a wrestler must weigh in at the same weight for all rounds of the SCT.
CBA vs. Howell Wrestling - Shore Conference Tournament Final
Box Scores
Championship Match
1-CBA 38, 3-Howell 29
285: Robert Canterino (CBA) d. Thomas Richards, 8-3
106: Tyler Venet (CBA) p. Mason Hultman, 1:00
113: Xavier Ortega (H) d. Vin Principe, 8-2
120: Alex Nini (CBA) d. Sebastian Ortega, 4-0
126: Garrett Totten (CBA) tf. Sawyer Ostroff, 5:31 (17-1)
132: AJ Falcone (CBA) d. Kieran Bruen, 2-1
138: Julian George (CBA) p. JJ Machnik, 1:50
144: Giovanni Scafidi (H) by DQ over Nico Punzi (illegal slam)
150: Tyler Barrett (CBA) p. Luke Dalton, 1:16
157: Zander Silva (CBA) p. Nick Acque, 3:03
165: Hunter Mays (H) p. Daniel Menake, 0:45
175: DJ Henry (H) md. Nick Stump, 16-5
190: Ian Soutar (H) by injury default over Anthony Lawrence
215: Dane Colfer (H) md. Taig Sheehy, 12-1
Semifinals
1-CBA 42, 5-St. John Vianney 30
215: Peter Grippo (CBA) p. Elijah Portales, 1:09
285: Robert Canterino (CBA) p. Ryan Buchanan, 0:34
106: Patrick O'Keefe (SJV) tf. Tyler Venet, 5:13 (17-2)
113: Anthony Knox (SJV) tf. Vin Principe (CBA), 5:13 (19-3)
120: Alex Nini (CBA) d. Jake Zaltsman, 5-2
126: Garrett Totten (CBA) d. Joe Giordano, 4-3
132: Nico Diaz (SJV) tf. AJ Falcone (CBA), 5:36 (23-8)
138: Julian George (CBA) p. Dom Terraciano, 1:21
144: Cole Stangle (SJV) d. Nico Punzi, 7-3
150: Tyler Barrett (CBA) p. Kevin McBride, 1:26
157: Jasiah Queen (SJV) by forfeit
165: Zander Silva (CBA) p. Thomas Cleary (SJV), 1:37
175: Nick Stump (CBA) p. Ryan Cawley (SJV), 1:54
190: Michael Foley (SJV) by forfeit
3-Howell 34, 2-Middletown South 21
215: Matt Cody (MS) d. Dane Colfer, 4-3
285: Thomas Richard (H) d. Dante Miranda, 3-2
106: Liam Clark (H) d. Zach Veniskey, 6-3
113: Xavier Ortega (H) d. Ryan Madden (MS), 12-8
120: Sebastian Ortega (H) d. Kaden King (MS), 7-2
126: Saywer Ostroff (H) md. Alec Holland, 9-1
132: Jack Zaleski (MS) md. Kieran Bruen, 14-2
138: Giovanni Scafidi (H) md. Garrett O'Hara, 13-2
144: Jason Desanctis (MS) md. Rob Weissel, 13-4
150: Alex Quintano (MS) md. Gavin Merkel, 12-4
157: Nick Acque (H) md. Jack Nelson, 9-0
165: Hunter Mays (H) by forfeit
175: DJ Henry (H) md. Jack Reiter, 11-1
190: Jack Willi (MS) p. Robert Owen. 3:31
New Jersey's Latest School Rankings
More From Shore Sports Network