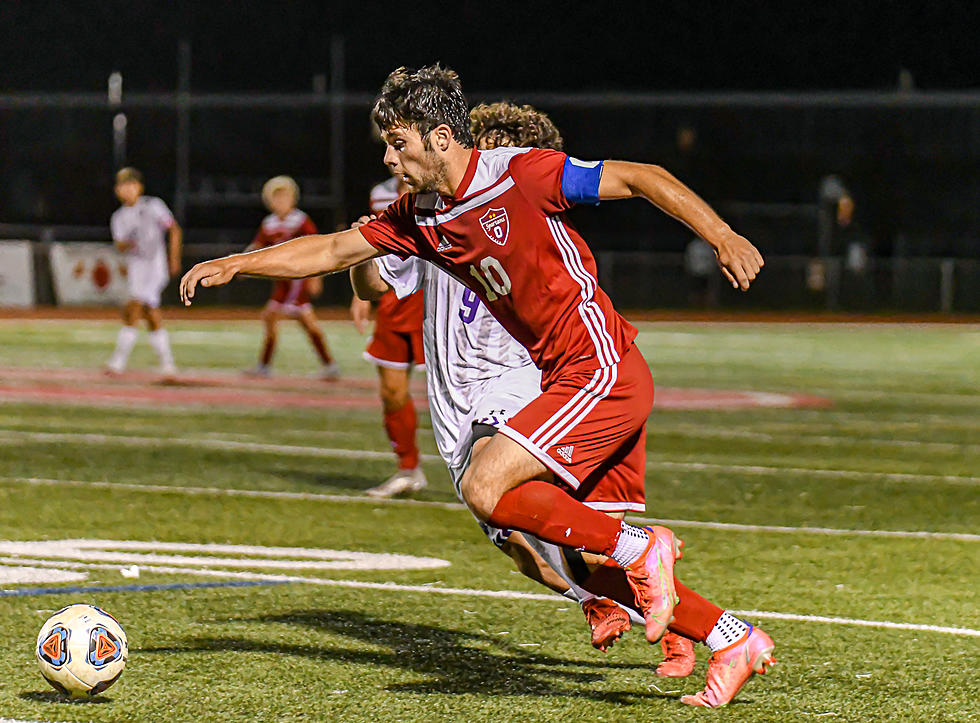 Boys Soccer – Watch: Tisony's Highlight-Reel Goal Propels Ocean to SCT Win over St. John Vianney
Ocean senior Aidan Tisony. (Photo by Tom Smith | tspsportsimages.com)

OCEAN TWP. -- Slow starts have not been a problem for the Ocean Township boys soccer team and once again, the Spartans stormed out of the gate bright an early during Saturday's Shore Conference Tournament opener against No. 20 seed St. John Vianney.
Protecting those early leads, however, hasn't been quite as easy for the 13th-seeded Spartans and it took a noteworthy defensive effort to keep the Shore's top scorer from wiping out the early fireworks from Ocean's leading scorer.
Senior Aidan Tisony struck in the second minute and once more in the 21st to get Ocean going and the Spartans kept St. John Vianney scoring leader Johnny Troiano in check in a 3-1 win over the Lancers to kick off their Shore Conference Tournament run.
Ocean will hope to make its run a substantial one by knocking off No. 4 seed Manalapan on the road on Wednesday.
"Obviously, number 13 is lower than we want to be but it doesn't matter," Tisony said. "We know we can be the best team in the Shore. We're playing every team tough and it's been so wide-open this year that we expect to go far. That's what you expect when you play for Ocean and that's the kind of talent we think we have."
It took only 1:38 of game clock for Ocean to take a 1-0 lead, with Tisony slipping behind the Vianney back line on the left side of the field for the finish.
While the rapid-strike goal represented an ideal start for the Spartans, scoring first has not necessarily been a harbinger for victory for Ocean. In the five matches Ocean has failed to win so far in 2021 -- four losses and one tie -- the Spartans scored first in three of them, including squandering a 2-0 halftime lead in a 3-2 loss to Rumson-Fair Haven.
Ocean has just one win this season when its opponent scores more than one goal (1-4-1). On the flipside, the Spartans have only been shutout once (at Holmdel) and are 9-0 when allowing one or zero goals, which made Saturday's objective clear.
"Scoring early hasn't been a problem and scoring goals, in general hasn't really been an issue for us," Ocean coach John Terlecsky said. "When we have been at full strength, we have a lot of firepower and I think the defensive issues that have come up at times have given us some urgency to come out hard and get off to a fast start."
Tisony's second goal further put the numbers in Ocean's favor and also added an aesthetic dimension to the win. In the 22nd minute, senior Michael Reid created space from himself on the left side of the field and used it to push toward the end-line and send a cross into the box through the air.
Tisony inched toward the six-yard marker, lined up the cross, and volleyed it out of the air with a firm left-footed strike that directed the ball into the left side netting.
With first-hand experience coughing up a two-goal lead this season and Troiano (20 goals in 2021) on the other side, Ocean did not rest on its 2-0 advantage. In the 32nd minute, junior Archeley Eugene glided toward the end-line to set up a shot for classmate Stephen Aliaj. Although Aliaj did not get a clean hit on the ball, Eugene followed his pass and finished the second chance opportunity from close range for a 3-0 lead.
St. John Vianney poured some cold water on Ocean's feel-good first half when freshman Kyle DiMarco launched a 35-yard ball into the box that bounced over Spartans keeper Paco Castelo and into the left corner of the goal with 1:20 left in the half.
"It wasn't a good goal to let in but I thought, defensively, we did a good job overall," Terlecsky said. "We could have done a little bit better job not fouling because most of the chances they got were on restarts but sometimes that's the way the game is called and we didn't let it hurt us. It has been a grind to iron out our defense but it has been getting better and I think we have made it through the toughest stretch."
While he did not score in Saturday's game, Troiano appeared to impact the play by streaking in front of Castelo's line of vision while also occupying an Ocean defender. After the ball bounced, Castelo was caught a step too close to Troiano as the runner and could not recover in time.
With the lead by to two goals, Ocean applied pressure early in the first half, with Tisony consistently beating defenders heading toward the left corner. He had several opportunities to add a third goal throughout the game -- including a 25-yard direct kick that went off the top right corner of the goal frame in the first half. His best second-half chance came after Aliaj hit the crossbar on a long attempt and it bounced to Tisony right in front of the goal. He chose to head the ball at the goal, but SJV junior goalkeeper Matt Brana recovered in time to secure the save.
"I tried to get as many chances as possible early in the game and once they adapt, we open up as much space as we can for other players," Tisony said. "They all worry about me but they don't know how many quality players on our team that are pretty much the same level as me. If I'm not doing anything, we have 10 other players who can do the job."
With Ocean unable to tack on a fourth goal, St. John Vianney was one goal away from creating a tense finish for Ocean and had some chances to get it. Troiano's closest call was a sinking 22-yard direct kick that he hammered off the crossbar, while Ocean was effective in limiting his attempts in the run of play.
The Spartans defense withstood Vianney's effort to inch closer and sealed the victory. It marked the ninth time this season Ocean has scored at least three goals and despite some defensive issues over the course of the season, the Spartans have won every time they have reached that mark.
An injury to junior center back Danny Abrams has been the major source for some of the challenges Ocean's defense has faced, but the Spartans are confident they have ironed out most of those wrinkles heading into the most important stretch of the season.
"(Losing Abrams) was heartbreaking, but we had to adapt," Tisony said. "It was early in the season and we had to do our best. We fixed our formation: we started in a 3-5-2 and we had to go back to a 4-2-3-1 to give us two center backs. Those guys have been playing great and they keep getting better."
On Wednesday, Ocean will take on a Manalapan side that did not win a game in 2020 but has ascended to the No. 4 spot in the Shore Conference with a strong showing in the deep, dangerous Shore Conference Class A North division. Ocean, meanwhile, was as high as No. 5 in the Shore Sports Network Top 10 this season, so while the Spartans stand as the No. 13 seed in the tournament, they have, at times, been in the position that Manalapan currently occupies heading into Wednesday's match.
On top of all that, Manalapan will enter play having gone 0-2-2 in its last four matches after starting the season 7-1-1. Not including the abbreviated 2020 season, Ocean has made it to either a Shore Conference Tournament or NJSIAA Central Jersey Group III championship game in four of the past five seasons, including trips to the SCT final in 2015, 2017 and 2018. Manalapan last reached the SCT semifinals in 2014, which came a year after the Braves won their last SCT championship.
"This senior group was in a (sectional) final two years ago so I think they got a taste of what these tournament games are like and what it takes to advance," Terlecsky said. "Not only do they know what it's like to advance, but they know what it's like to advance on the road and that's what we are going to have to do starting next week in Manalapan.
"I haven't had a chance to see (Manalapan), but we know what they are about. They went through the grind of that A North schedule and came out with a winning record, so you know they are going to be tough, especially on their home field."
More From Shore Sports Network