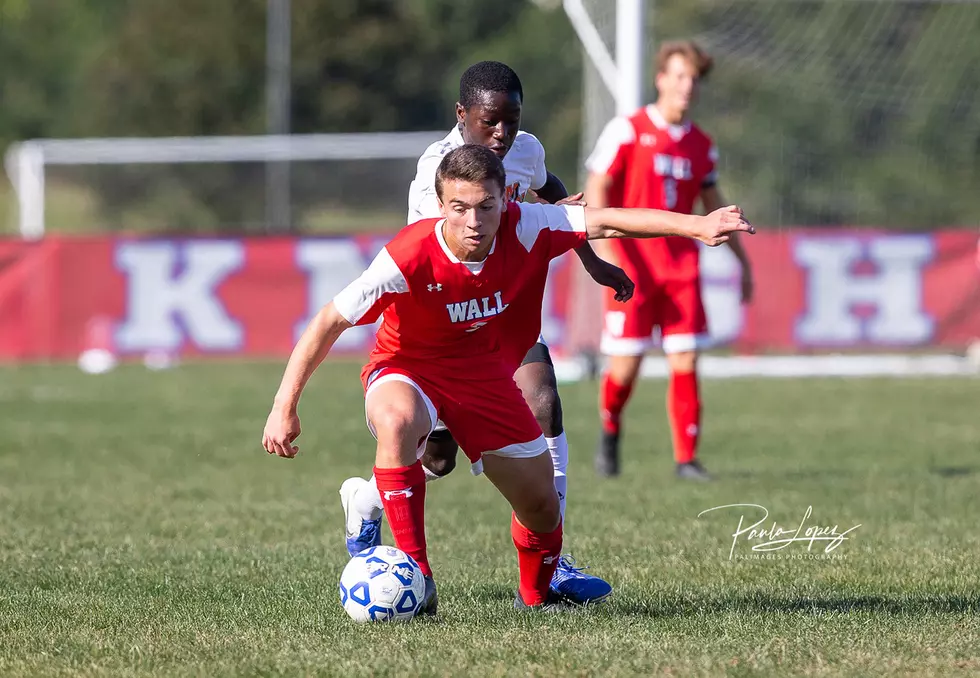 Boys Soccer – No. 4 Wall Begins Critical Stretch With Win Over Midd. North
Wall senior Thomas Perry defended by Middletown North junior Denzel Boeteng. (Photo by Paula Lopez)
WALL TWP. - Thursday's home-opener against Middletown North marked the first of three straight matches the Wall boys soccer team had lined up against teams ranked in the Shore Sports Network Top 10.
The Crimson Knights are hoping to open eyes throughout the Shore Conference with this three-game stretch but they first had to endure an eye-opening experience of their own.
After giving up two late goals in a win over Rumson-Fair Haven and losing to Matawan, Wall - No. 4 in the Shore Sports Network Top 10 - began its three-game mission with a 1-0 win over No. 8 Middletown North.
"Matawan was definitely a huge wake-up call, especially for our defense," senior center back Tagg Ancrum said. "We know we can't let that happen if we want to win states, which is our main goal. We're just going out every game like animals, trying to shut everyone out.
"We're hyped to win this one. This gives us a lot of confidence."
The shutout is the fourth of the season for Wall and junior goalkeeper Sebastian Campanile, who recorded clean sheets in each of Wall's first three-and-a-half matches before giving up five in five halves between the 3-2 win over Rumson and Tuesday's 3-1 loss at Matawan.
"We went into the (Matawan) game thinking we were going to coast," Campanile said. "Our confidence was way over our heads and it bit us, so taking what we did in that game really pushed us today. It was a big game for us and we did what we needed to do."
Campanile made a diving save in each half, the first one in the 21st minute on a one-time strike from 18 yards out by junior and Lions leading scorer Aidan Cardella.
With his team protecting a one-goal lead in the 68th minute, Campanile came up big again, this time denying Doug Silva Rocha on a one-timed volley off a free kick.
"They had some good shots on us but our defense is one of the best in the Shore, if not the best," Campanile said. "Our defense is what we take pride in."
The shutout was a statement for a team that has made defense its calling card during the 18-year tenure of current head coach Garry Linstra.
"We believe we have the best defense in the Shore," Ancrum said. "We want every game to be a shutout and hopefully that mentality gets us a lot of wins."
The clean sheet was enough to cement the win in 80 minutes thanks to a quick strike on the attack early in the second half. At just 1:09 after the start of the half, senior Thomas Perry ran onto a ball from junior Phillip Lyons and chipped a shot past junior goalkeeper Alex Bogues for the first and only score of the match.
Thursday marked the seventh out of eight Middletown North games this season decided by one goal. The Lions won their first five one-goal matches and have lost their last two.
In the early going this season, goal-scoring has not been a pressing issue for a Wall side that lost four of its top five scorers from a year ago to graduation and later the fifth - senior Ryan Garibay - to a season-ending knee injury.
"(Junior) Jake Pepe has definitely been a huge key," Ancrum said. "We have known him forever too and he is just a great goal-scorer."
Last year Wall's season ended with a loss to Ocean in the NJSIAA Central Jersey Group III semifinals and Ocean went on to win the overall Group III championship. The Crimson Knights are aiming to be the team-to-beat in Central Jersey Group III this season after their rivals from Ocean graduated nine starters from their championship team.
If Wall wants to establish itself as a leading contender to reach the Group III final out of the Central and South Jersey brackets, the next two games are a chance to make such a statement. On Saturday, Wall hosts an unbeaten Marlboro side that is coming off a win over Christian Brothers Academy.
On Monday, the Crimson Knights will play Manasquan - the team that eliminated them from last year's Shore Conference Tournament - under the lights at the Wall Municipal Complex. Marlboro is currently the No. 5 team in the SSN Top 10 while Manasquan is No. 6.
"We have been playing together since we were nine years old, we're all best friends," Ancrum said. "We definitely feels like this is our year."
Wall 1, Middletown North 0
| | | | |
| --- | --- | --- | --- |
| | 1 | 2 | F |
| Midd North (6-2, 2-1) | 0 | 0 | 0 |
| Wall (5-1, 2-1) | 0 | 1 | 1 |
Goals (Assists): (W) Thomas Perry (Phillip Lyons) 42'
Shots: Middletown North, 6-5
Saves: (MN) Alex Bogues 1; (W) Sebastian Campanile 2
More From Shore Sports Network