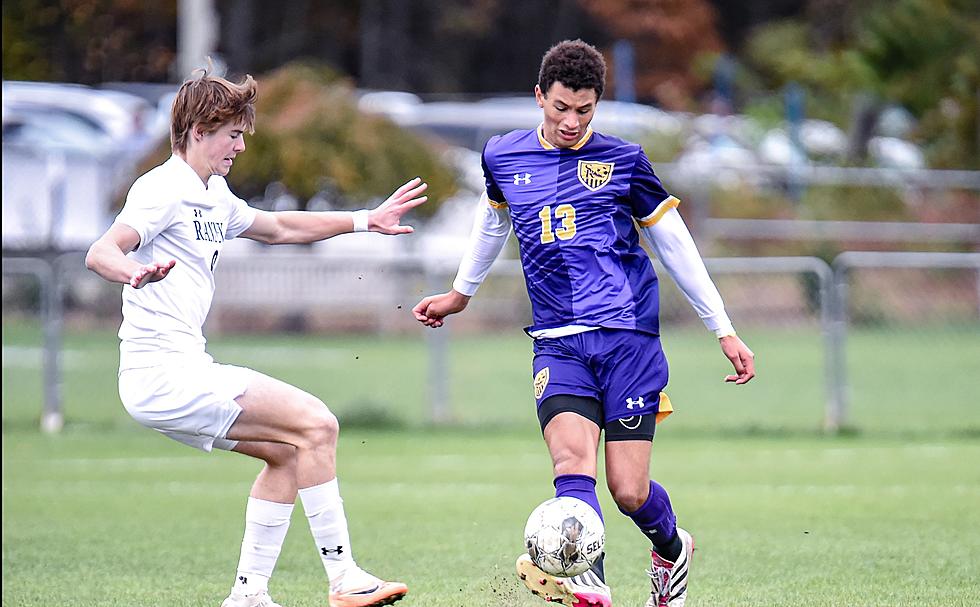 Boys Soccer – NJSIAA Sectional Final Preview: CBA and St. Rose Eye Repeat Titles
St. Rose junior Henry McLean clears the ball away from Ranney's Colin Bradley. (Photo: Tom Smith | tspsportsimages.com)
2023 NJSIAA Non-Public Sectional Championships
Tuesday, Nov. 6
South Jersey Non-Public A
No. 3 Pingry at No. 1 Christian Brothers Academy, 2 p.m.
Pingry at a Glance
Head Coach: Miller Bugliari
Last Sectional Championship: 2014 (Non-Public B)
Last Appearance: 2014
Road to the Final: Defeated No. 6 Notre Dame, 4-0, and No. 2 St. Peter's Prep, 2-0.
CBA at a Glance
Head Coach: Tom Mulligan
Last Sectional Championship: 2022
Last Appearance: 2023
Road to the Final: Defeated St. Joseph Metuchen, 1-0, and No. 4 St. Augustine, 4-2, on penalties after a 0-0 draw.
A year ago, CBA knocked Pingry out of the state tournament with a 2-0 victory on the way to winning its third Non-Public A championship in seven seasons. The Big Blue will head back to CBA with revenge on its mind and with an even more capable team than the one that entered last year's game with the Colts unbeaten against in-state competition. While that is not the case this season, Pingry was 15-0 before losing to Bridgewater-Raritan and tying Gill St. Bernard's in a pair of tune-up games.
Pingry appears sufficiently tuned, having blown out Notre Dame and shutout a St. Peter's Prep team that lost to CBA, 1-0, in last year's final. Pingry's top scoring target is senior Anthony Bugliari (15 goals), the grandson of its 900-plus-win head coach Miller Bugliari, and the Big Blue has employed a balanced lineup with multiple scoring threats.
CBA has a similar composition, but goal-scoring has not been a strength of the Colts lately. After scoring three or more goals eight times during the regular season, they have not done it once since the start of the Shore Conference Tournament and have scored just one goal in two NJSIAA Tournament games.
Defensively, however, CBA has been on its game during tournament time, with no goals allowed in the last 396 minutes thanks to goalkeeper Miles Gallagher, the back line of Sean Galvin, Christian DeOliveira, Conor Melor and Dan Dinnell, and the steady midfield play of Lawrence Mancino and Phil Bodenski.
Change the Pick?
Pre-Tournament Prediction: CBA over Pingry
With the game on its home field and championship experience throughout the roster, CBA has to be considered the favorite to win on Tuesday, even if the Colts have lacked the same scoring punch as they had before senior midfielder Dimitry Corba went down with a knee injury that continues to sideline him. Pingry is a formidable threat in Non-Public A, but it has been nine years since a team other than CBA or St. Augustine represented South Jersey in the Non-Public A final and St. Augustine accounted for just one of those appearances while CBA has six to its credit. It will probably take only one goal to win on Tuesday in Lincroft and the Colts usually find one when they need it.
South Jersey Non-Public B
No. 3 St. Rose (12-3-4) at No. 1 Moorestown Friends (14-5-1), 2 p.m.
St. Rose at a Glance
Head Coach: Simon Muckle
Last Sectional Championship: 2022
Last Appearance: 2022
Road to the Final: Defeated No. 6 Ranney, 5-0, and No. 10 Princeton Day, 4-0.
Moorestown Friends at a Glance
Head Coach: Mike Schlotterbeck
Last Sectional Championship: 2019
Last Appearance: 2019
Road to the Final: Defeated No. 9 Wildwood Catholic, 5-0, and No. 12 Noor-ul-Iman, 6-1.
Gill St. Bernard's is the four-time defending Non-Public B champion and both St. Rose and Moorestown Friends are among the teams the Blue Knights have turned away in the championship game. St. Rose is the more recent group runner-up after taking Gill to penalty kicks following a scoreless championship game a year ago. The Purple Roses graduated several key pieces, but have reloaded with a team that heads into Tuesday's sectional final more battle-tested than last year's squad.
St. Rose's improvement from 2022 to 2023 has shown in the results of the state tournament alone. The Purple Roses have outscored their two opponents by a combined margin of 9-0 and both are teams that have played the Roses tough within the last calendar year. St. Rose barely got by Ranney, 1-0, during the regular season, then handled the Panthers in the sectional quarterfinals. Princeton Day put up three goals in a 4-3 loss to St. Rose in last year's sectional quarterfinals, but could not break through on Friday at Fletcher Fields.
With a standout goalkeeper in Jack Harmon and a dominant junior defender in Henry McLean, St. Rose has taken shape as a strong defensive unit once again. Diego Nieves and Jack Kane have been steady seniors in helping to manage possession, while Jack Tiernan, Matt Alexis, Andrew Restiano and Matt Dayton are all dangerous pushing forward.
Moorestown Friends has lost to just one in-state opponent and it was Lenape – the No. 2 seed in the South Jersey Group IV section. The Foxes also only played seven teams from New Jersey prior to the state tournament and the highest power-point-total team that Moorestown Friends beat was a 9-10-1 Haddonfield team. St. Rose and Moorestown Friends have one common opponent: Princeton Day, which tied Moorestown Friends, 2-2.
The Foxes are led by the junior one-two punch of Preston Galanis (19 goals, 11 assists) and Jared Kolaris (10 goals and nine assists) and are, overall, a younger team than the senior-led Purple Roses. The one edge Moorestown Friends has is that St. Rose has to travel for the championship game, but that is likely not a significant factor.
Change the Pick?
Pre-Tournament Prediction: St. Rose over Moorestown Friends
With state-final appearances in 2017 and 2019, the Foxes have been a strong Non-Public B program in recent years and will be in the mix again in 2024, but it remains St. Rose's time to shine. This season represents St. Rose's best chance to win a state title since 2010 and the Purple Roses are very likely to take this opportunity all the way to Friday at Franklin High School for the championship game.
More From Shore Sports Network