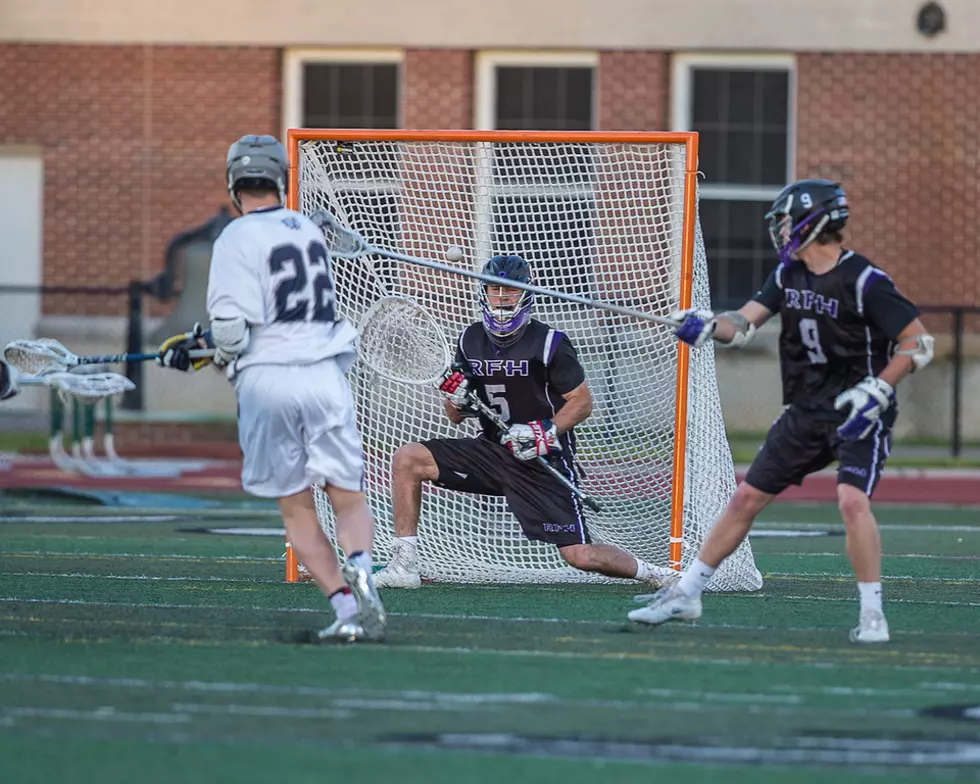 Boys Lacrosse – The Rematch: Rumson and Manasquan Clash in Saturday's South Jersey Group II Final
Photo by Paula Lopez.
Boys Lacrosse NJSIAA South Jersey Group II Final
At Manasquan's Vic Kubu Warrior Field, noon
No. 1 Manasquan vs. No. 2 Rumson-Fair Haven
Road to the Final: defeated Ewing 22-0, defeated Hopewell Valley 14-5, defeated Seneca 16-7.
Players to watch: Jarrett Birch, Sr., ATT (85g, 19a); Canyon Birch, So., ATT (76g, 28a); Pat Felstedt, Sr., MID (19g, 17a); Devan Carroll, Sr., MID (27g, 9a); Joe Tonkovich, Sr., ATT (18g, 34a); James Pendergist, So., MID (17g, 5a); Kyle LeBlanc, Sr., DEF; Jack Mallett, Sr., DEF; Jack Fabean, So., DEF; Tom Pollock, Sr., G; Tom Meyer, Sr., LSM; John Moran, Sr., MID (8g, 9a); Matt Thermann, Sr., FOGO.
Road to the Final: defeated Hamilton West 20-1, defeated Ocean City 18-6, defeated Somerville 10-1.
Sectional titles: 2013, 2015
Players to Watch: Charlie Curran, Sr., ATT (45g, 25a); Colin Pavluk, Sr., ATT (53g, 11a); Bryan Hess, Sr., MID (44g, 16a); Alex Werner, Sr., ATT (28g, 33a); Emmett Jennings, Sr., DEF; Dan Maloney, Sr., DEF; Stephen Edler, Sr., DEF; Conor Deverin, Sr., G; Garrett Sweeley, Sr., MID (17g, 3a); Ryan Tuorto, Sr., MID (11g, 5a); Andrew Walsh (14g, 3a); Oliver Heins, Sr., MID (15g, 3a); Peter Lucas, Jr., MID (10g, 5a); Wyatt Feinberg, Jr., MID (7g, 8a).
For the fourth time in two seasons Shore Conference powers Rumson-Fair Haven and Manasquan will square off in marquee game to decide a championship. The last two Shore Conference Tournament finals have been between the two programs and now, for the second straight season, the teams will play for the NJSIAA South Jersey Group II championship.
Going back to last year it was Rumson which struck first blood, taking the 2016 SCT championship with an 8-5 victory. Manasquan earned revenge in the sectional final with an 8-4 victory, claiming the program's first NJSIAA sectional championship. This year Manasquan won the SCT in thrilling fashion, 8-7 over Rumson, to secure the program's first conference tournament crown.
Manasquan has been flying high all season with its only loss coming to undefeated Bridgewater-Raritan (6-3). The Warriors have been ranked as high as No. 5 in New Jersey, which is the highest state ranking a Shore Conference team has ever attained. The Warriors are strong in all phases, starting up top where senior attackman Jarrett Birch leads all of New Jersey with 85 goals. His brother, sophomore Canyon Birch, is fourth in the state with 76 goals. No team has been able to shut them down this season, but it's been the secondary scoring that has put Manasquan's offense over the top. Senior midfielders Devan Carroll and Pat Felstedt and sophomore attackman Joe Tonkovich can put the ball in the net with consistency, and that means teams can't concentrate all their focus on the Birch brothers.
Defensively, Manasquan is excellent with seniors Kyle LeBlanc and Jack Mallett paired with sophomore Jack Fabean, who continues to play like an upperclassmen. Goalie Tom Pollock has had an outstanding season and played his best in the Warriors' biggest games.
The x-factor for Manasquan in the SCT final was the play of sophomore midfielder James Pendergist. His modest stats (17 goals and 5 assists) don't to justice to his overall ability and effect on each and every game. His versatility allows head coach Sean Cunningham to use him in any situation, and he has thrived in all scenarios.
Rumson's offense not be as high-octane as Manasquan's but the Bulldogs aren't that far off. The senior attack line of Colin Pavluk, Charlie Curran and Alex Werner is balanced and dangerous, and leading a deep group of midfielders is one of the Shore's best in senior Bryan Hess.
Rumson's defense has put together an awesome year and is coming off maybe its best performance of the season. Seniors Emmett Jennings, Dan Maloney and Stephen Edler led the way in a surgical 10-1 win over Somerville in the semifinals where they held the Pioneers to just nine shots on goal.
Rumson's x-factor is its speed and riding ability, which was on full display against Somerville. The Bulldogs 10-man ride wreaked havoc on the Pioneers and was a major factor in a big possession advantage that resulted in outshooting Somerville 49-9.
Given the first meeting this season was a one-goal game decided in the final minute, there are so many little things that could swing the balance this time. It's going to be interesting to see what adjustments are made. Some tinkering will surely be done, but it may just be a case of execution.
Either way, the last two Shore Conference teams standing figure to put on a show Saturday afternoon.
Prediction: Manasquan, 9-8
Managing editor Bob Badders can be reached at bob.badders@townsquaremedia.com. Follow him on Twitter @Bob_Badders. Like Shore Sports Network on Facebook and subscribe to our YouTube channel for all the latest video highlights. 
More From Shore Sports Network