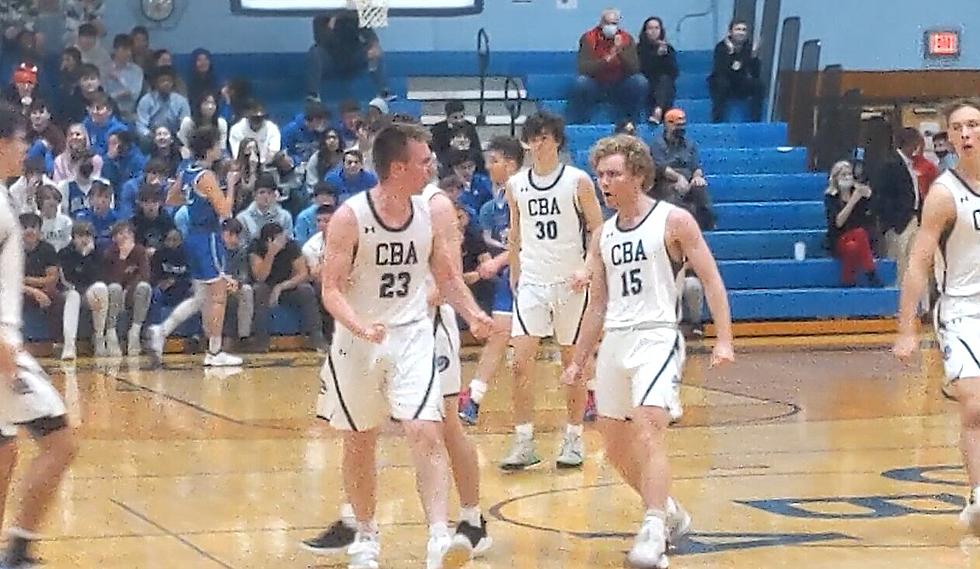 Boys Basketball – Young CBA Squad Gets a Senior Lift in Opening-Night Win Over Holmdel
Will Bradley (23) and James Durney (15) celebrate a key first-half sequence during CBA's opening-night win over Holmdel (Photo by Matt Manley)

MIDDLETOWN -- With a team that starts just one senior and its top three scorers from 2021 all graduated, Christian Brothers Academy basketball coach Geoff Billet expected his team to take some time to learn the ropes this year before hitting its stride and meeting the program's lofty expectations.
Maybe it didn't need to take too long, after all. It just took a pair of seniors coming off the bench on opening night.
Seniors James Durney and Rob Hemmsing provided an offensive spark with fellow senior Pat Lautato in foul trouble and CBA -- ranked No. 6 in the Shore Sports Network Preseason Top 10 -- rode its usual sterling defensive effort to a 66-49 win over an even younger Holmdel squad on opening night of the 2021-22 season.
"I thought Durney and Hemmsing -- two seniors off the bench -- won the game offensively for us," Billet said. "The first half, our defense set the tone. We weren't going to hold them to 30 points so we tried to tell our guys they are going to score in the second half, so the key was to just keep that intensity for 32 minutes. But early on, Durney with his threes and Hemmsing with his five points, that didn't necessarily win the game then and there, but it put us in a really good spot."
Durney scored nine of his game-high 13 points in the first half, all of which came on three three-pointers. He also dished out all four of his assists in the first half. Hemmsing, meanwhile, scored all five of his points in the second quarter.
"I wasn't surprised at all," Lautato said of Durney. "I knew he had it in him the whole time. He's a fellow senior and he was just ready for his time to step up."
Lautato picked up three fouls in under five minutes in the first half, which made the contributions of his two classmates off the bench even more significant. Lautato stayed on the floor for the second half and finished with 10 points, seven rebounds and five assists.
"I hate being out, but my boys really picked me up in the second half," Lautato said. "When I'm out there, I try to lead them to the best of my ability, so I was just trying to encourage them off the bench. We had some guys off the bench that really stepped up, really helped us out and I thought we did good today."
Durney and Lautato were two of five CBA players to score at least nine points, with four of them cracking double-figures. Junior Joe White scored 12 points to go with eight rebounds, freshman Justin Fuerbacher poured in 11 and junior Will Bradley added nine points and nine rebounds.
"Our offense is built that way where everybody touches the ball and everybody shares in the scoring," Billet said. "Tonight, to have that kind of contribution off the bench for us is huge. We'll figure out who that alpha scorer will be, but maybe we won't have one. We'll just have five guys on the floor who can be the guy."
CBA's largest lead of the game was 21 points, which it held at halftime, 37-16, and early in the third quarter at 39-18. Holmdel made a push to get back into the game with a 9-0 run, but 12 points was as close as the Hornets would get in the second half. Sophomore Peter Noble scored off a feed from Lautato, White hit a short jumper and Durney scored on a putback to push the CBA lead right back to 18, 45-27.
The Colts started off strong, burying Holmdel into an 10-2 hole behind a quick start by Bradley, who had five points during the run. Durney then entered and knocked down two threes to push the lead to 16-5.
CBA's lead first hit 20 during a sequence that saw Durney hit Bradley for a layup, Bradley steal the ball on the opposite baseline and find Durney for a left-wing three-pointer that made the score 29-9 and fired up the Colts crowd, as well as the CBA bench.
On the other side, sophomore Nick Seeloch and junior Drew Pollack each scored 12 points to lead Holmdel, with Pollack also scoring his dozen off the bench. Sophomore Ben Kipnis also pitched in 10 points for the Hornets, who started four sophomores -- Seeloch, Kipnis, James Vallillo and Will Gilfilian -- alongside senior Saverio Bodnar and brought freshman Evan Romano (six points) off the bench for major second-half minutes.
CBA is coming off a 2021 season in which it went 9-5 and reached the semifinals of the Shore Conference Playoff Championship Pod. That team was led by seniors Colin Farrell, Mike White and Dane Moran, with Lautato and Joe White the younger members of the starting lineup and Bradley an understudy off the bench.
This year, it is Lautato who is now playing the role of senior leader, with the younger White also stepping forward to lead on both ends of the floor in the early part of the season.
"I was really close with the boys last year," Lautato said. "They were just mentoring me, getting me ready for the next year. They showed me what I had to do and how to keep everybody on lock."
More From Shore Sports Network