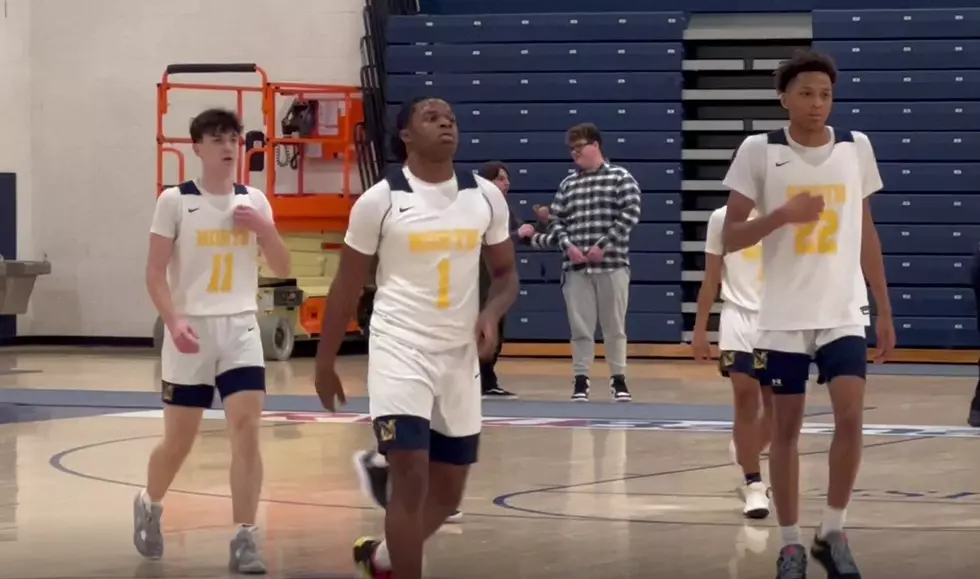 Boys Basketball – Toms River North Back on Top in A South After Beating Southern
From left: Toms River North junior Owen Baker, junior Micah Ford and senior Delani Hyde. (Image: Matt Manley/Shore Sports Network on YouTube)

TOMS RIVER -- When the Toms River North boys basketball team squandered a 13-point halftime lead in a road loss to Southern on Jan. 13, it appeared as though the Mariners likely let a chance to win the Shore Conference Class A South championship slip away.
When a new opportunity and another big lead presented themselves to Toms River North Monday night against Southern at the RWJ Barnabas Health Arena, the Mariners were not letting it slip away this time.
Junior Micah Ford led four Mariners players in double-figure scoring with 22 points and Toms River North -- ranked No. 5 in the Shore Sports Network Top 10, raced to a 75-64 win over Southern Monday to clinch the program's eighth Class A South championship in the last 11 seasons and first since 2019-20.
Ford also added seven rebounds and four steals, while two of his junior classmates -- Owen Baker and Tareq Council -- each hit double-figures as well. Baker poured in 16 points to go with four assists and Council posted 11 points, five rebounds, three steals and three blocks in the win.
Senior Delani Hyde was the other big statistical performer for the newly-crowned A South champions, finishing with 18 points, nine rebounds and two blocks.
Hyde was the only senior to see the floor for Toms River North on Monday night and was a freshman the last time Toms River North finished off a season as the Class A South champs. With its final divisional win of 2019-20, the Mariners won their 74th straight game in Class A South play, capping a fourth straight season with an undefeated record within the division.
The A South waters have not been nearly as smooth for Toms River North since, but this year's junior-heavy group has developed its own version of winning within a division that had its share of contenders. Toms River North and Southern were two of four teams that entered Monday with a chance to win a share of the Class A South championship, with Jackson Memorial and Brick Memorial playing one another for a chance to share the title if Toms River North faltered.
The Mariners, however, were the only one of the four with a chance to win the title outright and saw to it that they would not leave the opportunity on the table. The teams traded blows through the first quarter, with Toms River North taking a 15-8 lead early in the second before Southern responded with four straight to pull within 15-12.
It was then that the Mariners blasted the Rams with the run that would, ultimately, decide the game. Toms River North closed the first half with 14 unanswered points, with Ford (four), Council (six) and Baker (four) combining for all of them. Council capped the run with an exclamation mark, throwing down a one-handed dunk off a pass-ahead from classmate Jeremiah Pruitt in the final seconds to make it 29-12 heading into halftime.
While the 17-point lead seemed like an ideal situation for Toms River North, it was not far off from the lead the Mariners coughed up in Stafford Twp. 17 days earlier, when Southern erased a 26-10 second-quarter deficit by the end of the third quarter on the way to a 47-40 win.
In addition to that result, there was additional precedent in the other meaningful Class A South game Monday night, with Jackson Memorial overcoming a 17-point halftime deficit to shock Brick Memorial in overtime and keep its hopes of a Class A South title share alive.
Toms River North did not let up in the third quarter, employing a full-court press to open the second half and quickly pushing its lead to 35-15.
Southern battled throughout the rest of the game and caught fire from beyond the three-point arc early in the fourth quarter. The Rams cut their deficit down to eight, but could not keep the Mariners from scoring, nor could they overcome foul trouble that claimed senior standouts Tom Menegus and Max DiPietro -- both of whom fouled out.
Senior Pat Gaffney led the Rams with 18 points, while junior Caden Schubiger poured in 15, DiPietro netted 11 and sophomore Cooper Dempsey contributed eight in the loss.
Ford, Council and Pruitt were standout players on Toms River North's 14-0, Group V championship football team in the fall and the trio adds a unique winning perspective to a group that also gets significant contributions from Hyde, Baker, junior Garrett Dusheck and sophomore Sherrod Nelson.
They may not have gone undefeated like the football team or the four straight division champions from 2017 through 2020, but this Mariners team persevered through a difficult Class A South division, tested themselves against the likes of Moorestown (win) and St. Augustine (loss) outside of the Shore Conference.
Now, the Mariners will venture into the Shore Conference Tournament as the Class A South champion, a potential top-five seed, and a semifinal hopeful -- one that has the winning pedigree that could make tournament favorites Manasquan and St. Rose uncomfortable for 32 minutes.
More From Shore Sports Network