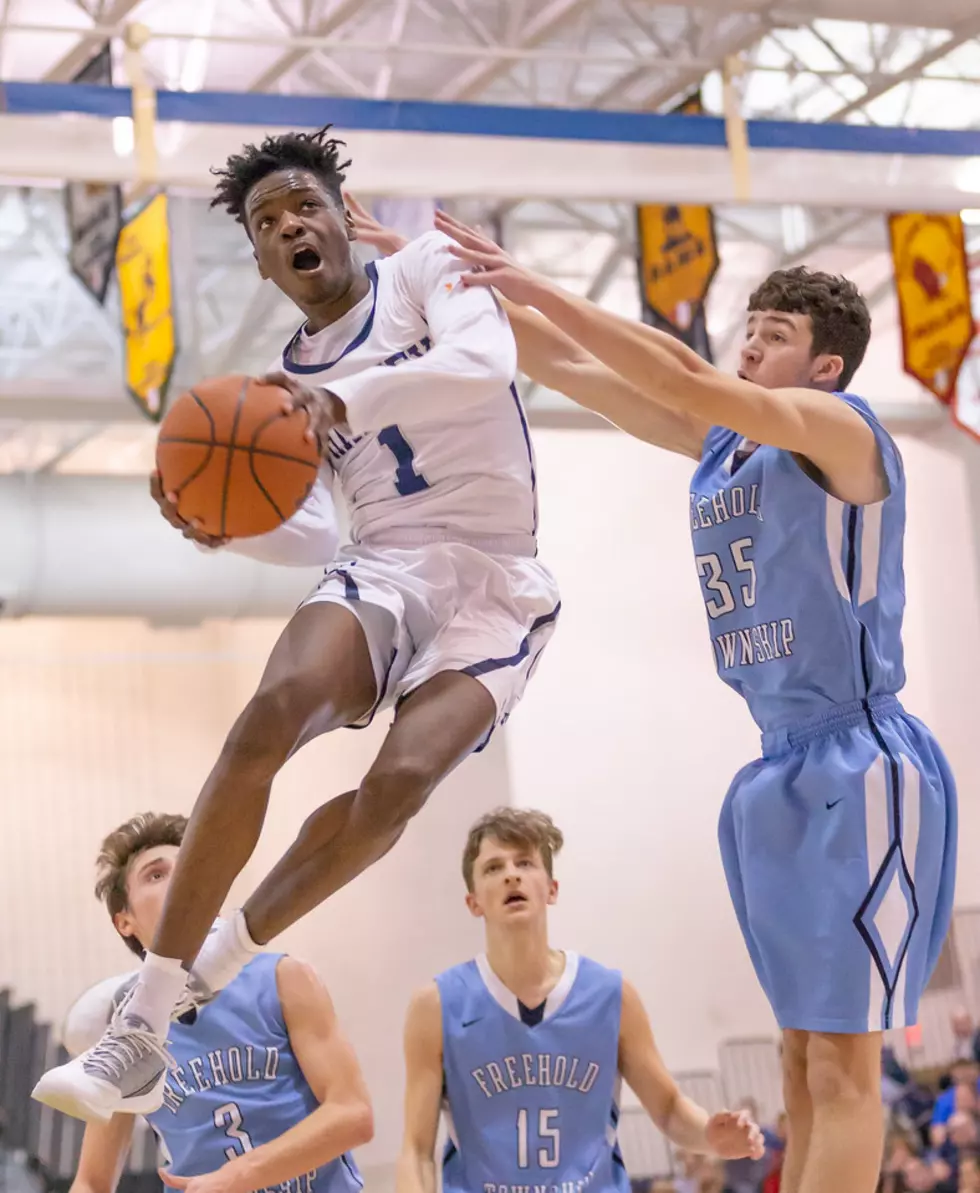 Boys Basketball – The Shore's Final Four Play for a Spot in the State Finals
Ranney senior Bryan Antoine. has put himself among the Shore's all-time greats. (Photo by Paula Lopez)
NJSIAA Tournament Championship Week
South Jersey, Non-Public B Final
At Jackson Liberty High School
Wildwood Catholic (27-1) vs. Ranney (27-3), 7 p.m.
The terrifying sense of finality hangs over the head of every team at this time of year but it has to be especially intense for this group of Ranney seniors. The program was dormant before Bryan Antoine, Scottie Lewis, Alex Klatsky and Chris Autino got there as freshmen along with head coach Tahj Holden and given the unmatched accolades of Antoine and Lewis within the context of Shore Conference history, it's clear we are witnessing the end of an era.
How that end comes to pass is still to be decided but with a 27-1 Wildwood Catholic squad on the opposing sideline on Wednesday, it could be a matter of hours, not days. The Crusaders have ascended into upper echelon of teams in the state thanks to the emergence of the junior tandem of Taj Thweat and Jahlil White. Both are 6-foot-6 wings with an offer from Temple and interest from a number of other Division I programs.
Thweatt leads Wildwood Catholic with 21.2 points per game while White checks in at 18.9 per game. Fellow junior and 6-3 guard Jacob Hopping is the third option at just over 14 points per game and those three will a major portion of the scoring with 54 points per game between them.
While Wildwood Catholic enters this game with designs on winning and have earned a reputation as one of the state's best teams, a win over Ranney this year at this stage of the tournament would send shockwaves through the state. Ranney is the Tournament of Champions favorite, the defending sectional champion and has a senior-laden core led by two McDonald's All-Americans. The sky is the limit for this Wildwood Catholic junior trio over the next 12-plus months, but making a run to the Tournament of Champions at the expense of this Ranney team might be a task too tall. The Crusaders will have their moments but Ranney rules the day once again.
The Pick: Ranney 73, Wildwood Catholic 65
At Egg Harbor Twp. High School
Freehold Township (23-4) vs. Cherokee (22-8), 5:30 p.m.
Of the four boys teams from the Shore Conference still playing, none is coming off a more emotional win than Freehold Township. After years of heartbreak, coach Brian Golub and the Patriots finally won their elusive sectional championship in Central Jersey Group IV. The players have had a full day to celebrate and will now try to take advantage of an opportunity to reach the Group IV final in a year in which there is no overwhelming favorite to win the group – a rarity in recent years.
In order to keep playing, Freehold Township will have to beat a Cherokee team that has a lot of the same qualities. The Chiefs are a guard-heavy squad with multiple shooters, ball-handers and plenty of athleticism despite team size that is not overwhelming. That description could be applied to Freehold Township as well, which should make for a fascinating, mostly-even matchup.
Cherokee enters the game the higher-scoring team, with four players virtually at 10 points per game or better. Junior Gavin Gibson leads the way with 13.1 points per game while seniors Olarewaju Oladipo and Damian Smith each average a tick over 10 and senior Anthony DiCaro is right at 10 per game.
Freehold Township offers a similar scoring breakdown, with senior Greg Billups averaging a team-best 13.8 points after going for 22 in a sectional semifinal win over Monroe and 16 in the sectional final at Trenton. Seniors Seth Meisner and Cristian Corcione each come in at 10 points per game and senior Zach Barilka is putting up 8.5 per game.
The Patriots hope to gain an edge with their scoring off the bench, namely seniors Kevin Kilinskas and Matt Santangelo. Kilinskas has been a steady scoring source during the second half of the season as the team's sixth man while Santangelo came up big with nine points off the bench in Monday's win over Trenton.
The only common opponent between the two teams this year is Toms River North, which Freehold Township beat by a 10-point margin in December when the Mariners were banged-up and struggling. Cherokee split two meetings with Toms River North, including a 53-47 win in the sectional semifinals.
This game has the look of a toss-up, with both teams taking huge program steps to win their respective sections. Freehold Township's season has been a surprise to some degree after last year's team – with mostly the same personnel – went 9-13 while Cherokee entered the season at the top of the list of South Jersey Group IV favorites. The Chiefs have had the Group IV final in their long-term sights from the beginning of the season and although Freehold Township presents a serious roadblock, Cherokee is the slight favorite going in.
The Pick: Cherokee 50, Freehold Twp. 46
Manasquan (29-3) vs. Haddonfield (29-1), 7 p.m.
The most compelling public group semifinal is neither in North Jersey nor is it in Groups IV or III. Haddonfield and Manasquan are two teams on the cusp of the state top 10 – Haddonfield at No. 11 and Manasquan at No. 13 – and one of them can kick down the door with their 30th win of the season.
Also on the line, of course, is a spot in the Group II championship game and both teams have the look of a group-championship-caliber squad. Haddonfield is the defending Group II champion and returns the vast majority of that team this year, hence the 29-1 record. The Bulldogs showed their championship mettle Monday in the sectional final against Camden, which led by 11 with just over two minutes to play only to watch as Haddonfield rallied to send the game to overtime and win it, 69-67. It marked the third straight year that Haddonfield and Camden went to overtime in the South Jersey Group II final, with Haddonfield winning the last two.
Senior Dan Fleming is Haddonfield's toughest matchup – the 6-7 senior leads the Bulldogs with 16.5 points per game and is a force near the basket on defense (2.7 blocks) and away from it on offense (53 three-pointers). Senior point guard Mike DiPersia makes the team go and is averaging 13.1 points, 4.6 assists and three steals despite missing nine games due to injury.
Seniors Aidan Blake and Dylan Heine each average just under 10 points and six rebounds in the front court while senior Drew Gavranich and junior Ben Cerrato can both space the floor and score. Junior Andrew Gostovich and senior Lewis Evans round out a steady, eight-man rotation for the defending champs.
Manasquan counters with a seven-man rotation that is firing on all cylinders. The Warriors were utterly dominant during the Central Jersey Group II tournament, outscoring its four opponents by 36, 14, 35 and 36, capped by a 78-42 drubbing of Lincoln Tuesday in the sectional final. That follows up a strong showing in the Shore Conference Tournament that ended with a loss to the state's No. 1 team, so while Haddonfield enters Wednesday on a 19-game winning, Manasquan's 20-1 record in its last 21 might be even more impressive.
Both teams offer a heap of versatility and while Haddonfield probably has a little more balance on the perimeter, Manasquan can pound it inside, get out and run and get going from beyond the arc as well. Brad McCabe has shot the lights out of the last month and is coming off a 6-for-10 performance from beyond the arc and 23 points against Lincoln. While Haddonfield can spread the floor with shooters, none of them can light it up quite like McCabe when the 6-5 seniors gets it going.
One wild card in the game could be the gym. Perth Amboy has been a house of horrors for Group II Shore Conference teams, with the Shore losing its last five games (Manasquan, Lakewood, Matawan, Manasquan and Rumson-Fair Haven) in the venue – four of which came at the hands of Camden. Haddonfield proved last year it's not just Perth Amboy when the Bulldogs beat Rumson-Fair Haven at RWJ Barnabas Health Arena in Toms River.
This game is a tossup and could very well wind up being the game of the day in New Jersey. It's hard to find a team playing better than Manasquan right now but Haddonfield is one of the few teams in the conversation and the Bulldogs have a championship pedigree that is sure to come in handy if the game comes down to two or three possessions in the final minute.
The Pick: Haddonfield 60, Manasquan 58
Wall (21-8) vs. Moorestown (25-5), 7 p.m.
It has been a magic carpet ride of a season for Wall from the first day of the regular season all the way until at least tip-off Thursday at Brick Memorial against Moorestown. It will take some more Crimson Magic for the Knights to knock off the 25-win Quakers, who came into the season as the favorite to make it to the Group III final out of the South-Central Jersey side of the tournament and have not disappointed.
Both semifinalists on this side of the Group III bracket have waited a long time to get back to this position, but Wall takes the prize for the longest wait by a full half-century. The Crimson Knights ended a 46-year drought when they beat Burlington Township Tuesday for their first sectional championship since 1973. They did it with a core that includes only one senior and who mostly played supporting roles on a 14-13 team in 2017-18 that relied on now-graduated Steve Geis to score 28 points per game.
This year's Wall roster also leans on its top scorer, although not to the degree it did last year. Junior Quinn Calabrese is averaging better than 18 points per game after pouring in 27 in Wall's championship-clinching win on Tuesday – the only Crimson Knights player to reach double-figure scoring. While Calabrese been Wall's best offensive weapon, the Knights have shown they can win games when teams take Calabrese away or he just has an off-night scoring the ball.
Sophomore Pat Lacey has been Wall's most consistent perimeter scorer outside of Calabrese, but freshman Colin Ackerman and sophomore Toms Palluzzi have also been reliable sources of offense. Junior Mike Caputo and sophomore Logan Peters have been sparks off the bench as well.
Trey Dombroski is the team's lone senior and its bruiser on the inside. The Monmouth University baseball commit – Dombroski is the reigning Shore Sports Network Pitcher of the Year – is coming off a 13-rebound effort in the sectional final against Burlington Township and is averaging just under 10 per game for the season while putting nine points per night as well.
Moorestown did not have to wait quite as long as Wall between sectional titles, but the Quakers were thrilled to finally break through with championship after a 21-year wait. Since losing to Camden on Feb. 2, Moorestown has ripped off 12 straight wins, including two over sectional champions Burlington City (Central Jersey Group I) and Cherokee (South Jersey Group IV). The Quakers had little trouble in steamrolling through their South Jersey section, with only Timber Creek providing some measure of resistance in a 52-43 Moorestown win in the sectional semifinals.
All five of Moorestown's losses (Eastern, Wildwood Catholic, Trenton Catholic, Camden Catholic and Camden) have come against teams that have been ranked in the state Top 20 at one point or another this season. The Quakers also have noteworthy wins over St. Augustine and Trenton Catholic and, for what it's worth, have an edge over Wall in record against common opponents, 4-0 to 3-1. Both semifinalists beat Burlington Township, Ewing and Northern Burlington while Moorestown won its sectional final over a Mainland squad that edged Wall in the Score at the Shore Tournament in December.
Wall will have to contend with a potent one-two scoring punch on Thursday, led by senior guard Nick Cartwright-Atkins. The 6-1 senior leads Moorestown at 14.9 points per game while classmate Jagger Zrada enters averaging 13.1 per game, with much of Zrada's damage coming from deep (76 three-pointers).
One thing Wall should have going for it on Thursday is the crowd, which turned out in full force for the historic sectional final win on Tuesday. Brick Memorial is just a 15-minute drive from Wall High School and with the Crimson Knights one win away from their first trip to a state final, the Crimson Crazies should be out in full force.
The 2018-19 season has been a charmed one for Wall, which is set up to make another run next year. A 20-plus win campaign, a Class B North championship and the first sectional title in nearly half-a-century make for quite the resume for a team that seemed to be a year away from making any real noise, even by first-year head coach Bob Klatt's estimation. It has already been an incredible season and at this point, everything Wall does is icing on the cake.
The Pick: Moorestown 64, Wall 54