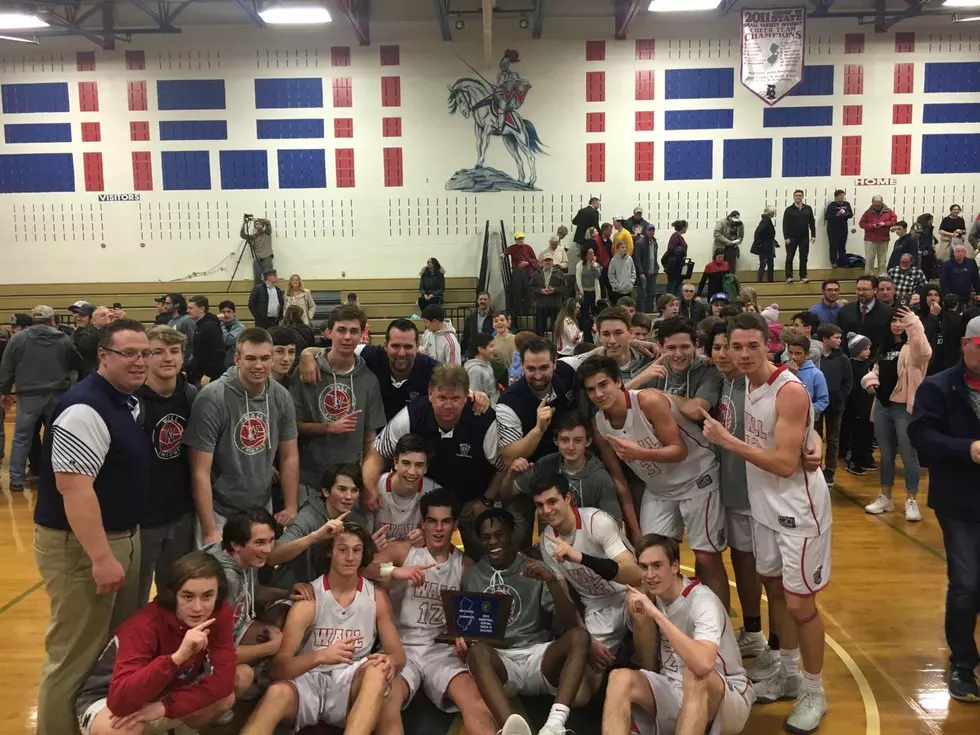 Wall Captures First Sectional Boys Basketball Title Since 1973
Wall captured its first NJSIAA sectional title since the 1972-73 season. (Photo by Scott Stump)
WALL TOWNSHIP - Time to shake the dust off the Wall boys basketball championship banner.
Displaying the poise of a champion despite not having won the bracket in 46 years, the top-seeded Crimson Knights came up with crucial stops, key rebounds and clutch free throws in the final two minutes on Tuesday night to close out a 53-47 victory over sixth-seeded Burlington Township (22-8) and win their first NJSIAA sectional title since 1973 by taking home the Central Jersey Group III crown.
Junior Quinn Calabrese poured in a game-high 27 points, including nine in the fourth quarter, to help the Crimson Knights continue their surge from a 14-win team a season ago that graduated one of the Shore's top scorers to one that now has Class B North and Central Jersey Group III titles on its resume under first-year head coach Bob Klatt.
"It feels unbelievable,'' Calabrese said. "We knew coming into the year we were going to be slept on. We never expected anything like this, but we played our hardest and proved what we can do."
A young team that only has one senior who plays significant minutes is now one victory away from playing at Rutgers in the Group III championship on Sunday. Wall (21-8) will take on South Jersey champion Moorestown on Thursday in the Group III semifinals at Brick Memorial, hoping to keep the historic wins coming.
"I have no words for it,'' said senior forward Trey Dombroski, who is better known as a star pitcher on the baseball mound. "It's just awesome. No one expected us to be here. To do this is pretty unbelievable in my mind."
Wall had to fight off a pesky Burlington Township team that had a 40-39 lead with 3:45 left in the game after a free throw by forward Wesley Robinson, who finished with 13 points. Guard Marcus Moore led the Falcons with 15 points.
The Crimson Knights answered Burlington Township's surge with a 9-0 run that put the game away. Following a free throw by Dombroski that tied it, they came up with a steal that led to a layup by Calabrese for a 42-40 lead.
Wall junior Michael Caputo then drew a charge when the Falcons tried to push the ball down the floor in transition, drawing a roar from the capacity home crowd and packed student section.
"I thought that was the game,'' Klatt said. "Caputo's been doing that all year."
The Crimson Knights seized that momentum to take a four-point lead on a lay-up by sophomore Pat Lacey, who scored all eight of his points in the fourth quarter. After Burlington Township missed the front end of a one-and-one, Calabrese hit two free throws to make it 46-40 with 2:09 remaining.
The lead grew to eight after a travel by the Falcons and a pair of foul shots by Lacey, as Wall went 7-for-8 from the foul line in the final two minutes to close out the win. After Calabrese sunk a pair of technical foul free throws for a six-point lead with four seconds remaining, a celebration nearly 50 years in the making kicked into gear.
"This program has been frowned upon for years now, and now we're finally showing people what playing for Wall basketball means,'' Calabrese said.
"We're definitely putting our name on the map,'' Dombroski said. "No one expected us to do this, so now they know Wall basketball is here."
Calabrese, who entered the night averaging a team-high 18.1 points per game, nearly matched that in the first half when he poured in 16 of his 27 points, including shooting 4-for-7 from 3-point range. He helped stake Wall to a 26-19 lead at the break.
Wall sat in a 2-3 zone that kept Burlington Township under wraps most of the night, holding the Falcons to 3-for-19 shooting from 3-point range in the game.
"We knew they struggled from 3-point range,'' Klatt said. "That was something we definitely made a point of emphasis."
However, Burlington Township clawed back into the game in the third quarter, taking a 35-32 lead on a 3-pointer by Robinson that capped a 16-4 run. The Falcons were beating the Crimson Knights down the floor after made baskets to get easy layups, and Wall also missed four free throws in the quarter, including three by Dombroski, to let the Falcons close the gap.
"I tell them all the time they're trying to kill me,'' Klatt joked. "I never go to the doctor during the season because they might shut me down because of my blood pressure."
Dombroski had a rough night at the line in going 6-for-15 but made up for it with 13 rebounds and tough post defense. His ability to play through that frustration was emblematic of the poise of the Crimson Knights, who answered the challenge when the Falcons grabbed the lead in the second half.
"If one thing doesn't go right, you can't throw everything out the window,'' he said. "I just had to stay the course, and that's what I did."
Wall trailed by a point heading into the fourth quarter before making its final push to end their long sectional title drought.
With a team that will return everyone but Dombroski from its regular lineup next season, this could only be the beginning of a special run. The Crimson Knights have made a dramatic leap forward under Klatt, who was the long-time coach at Mater Dei Prep before spending the last two seasons as an assistant at Wall and then ascending to the head job.
"I said that to Quinn coming off the court,'' Klatt said. "I think we put Wall basketball on the map tonight."
Wall 53, Burlington Twp. 47
Burlington Twp. (47) Ayetigbo 1 0-0 2, Moore 7 1-3 15, Brown 2 0-0 6, Oluwadare 3 2-3 8, Robinson 3 6-7 13, Scarlett 0 0-0 0, N'Diaye 1 1-2 3, Dotson 0 0-0 0, Thomas 0 0-0 0, Hayden 0 0-0 0. Totals: 17 10-15 47.
Wall (53): Dombroski 0 6-15 6, Lacey 2 4-4 8, Calabrese 8 7-8 27, Palluzzi 2 0-0 5, C. Ackerman 0 0-0 0, Peters 0 1-2 1, Caputo 3 0-1 6. Totals: 15 18-30 53.
Burlington Twp. (22-8)     10   9   16   11 - 47
Wall (21-8)                       12  14  8    19 - 53
Three-pointers: (B) Brown 2, Robinson; (W) Calabrese 5, Palluzzi. Fouled out: (B) Ayetigbo, Dotson.
More From Shore Sports Network