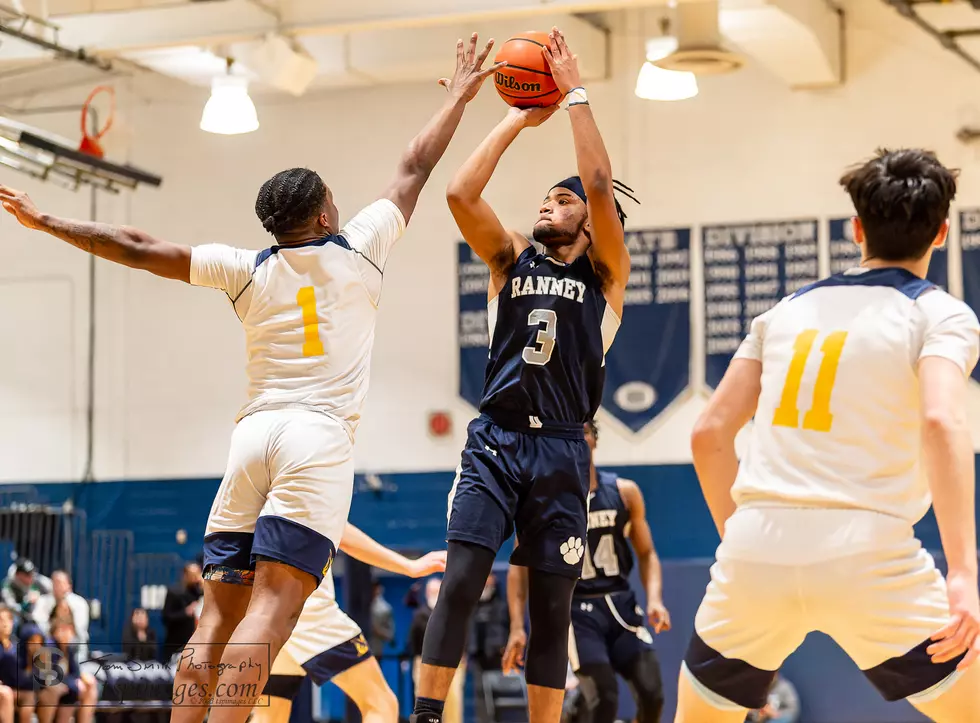 Boys Basketball – Red-Hot Hester Carries Ranney Past Toms River North, Into Shore Conference Semifinals
Ranney senior Isaac Hester shoots over Toms River junior Micah Ford. (Photo: Tom Smith | tspsportsimages.com)

MIDDLETOWN -- Regardless of which teammates have been available to play and how the overall performance of the team has been, Ranney senior Isaac Hester has been a constant for the Panthers all season long.
At Saturday's Shore Conference Tournament quarterfinals at Middletown High School South, he was a constant headache for Toms River North -- the No. 3 seed in the SCT -- and with a full squad alongside him and locked in, it was more than enough to keep No. 11 Ranney rolling one.
Hester scored 20 of his game-high 33 points and grabbed 10 rebounds to spark Ranney to a 75-60 win over Toms River North to earn a spot in the Shore Conference semifinals for the fifth time in the last seven seasons.
"We struggled in the beginning half of the season, but we picked it up at the right time," Hester said of his team, which started 0-4 and was 8-9 with a week left before the Shore Conference Tournament cutoff date. "I think getting the 11 seed was fine for us. No matter what seed we got, we were going to come and compete every single game. We weren't mad about it or anything, we just wanted to come out and that we should be higher than that."
Toms River North presented potential matchup challenges for Ranney with its strength and athleticism throughout the lineup, particularly in the backcourt, but Hester's red-hot shooting negated any edge the Mariners might have hoped to have. Hester shot 12-for-17 (70.6 percent) from the field, 3-for-5 from three-point range and 6-for-6 from the free-throw line for the game.
Hester has been the top scorer of a Ranney team that has followed the lead of three standout players, a trio that also includes senior Jahlil Bethea -- a Patrick School transfer who became eligible on Jan. 14 -- and junior Drew Buck.
Buck scored 17 points Saturday and sparked Ranney's game-clinching run after Toms River North chopped the Panthers' lead down to 58-54 with six minutes left. Buck scored twice on drives to the basket during an 8-0 run that quickly stretched the Ranney lead back to 12 and the Panthers never let the Mariners get back within single-digits.
Bethea, meanwhile, finished with 14 points, seven rebounds and seven assists.
Senior Delani Hyde scored 18 points to lead Toms River North, which cut a 49-32 deficit to four with a 22-9 run. Hyde scored the first eight points of the run and junior Jeremiah Pruitt hit consecutive three-pointers to cut the deficit to nine. A three-pointer by junior Garrett Dusheck knocked the Ranney lead down to 53-47, making it a 15-4 run to open up the larger run.
After Ranney inched the lead back to nine, junior Micah Ford scored five straight points with a three-pointer play and a post-up that made it 58-54.
Ford finished with 15 points and nine rebounds and Duscheck scored 11 of his 14 points in the first half to go with seven rebounds.
Ranney took out the top-ranked teams in Ocean County in the back-to-back rounds with a win at Jackson Memorial on Thursday and Saturday's win over Toms River North. Now, the Panthers will try to author the upset of the tournament Tuesday night, when they take on No. 2 St. Rose for the third time this season.
St. Rose won both regular-season meetings within the Shore Conference Class C North division schedule by double-digits, but Ranney trailed by seven points at halftime of the second meeting and was ultimately done-in by an 18-7 St. Rose start to the game, followed by just six points during the third quarter. Bethea led Ranney with 21 points in that game, while Hester had one of his quieter games of the season with 12 points.
"It's tough to beat a team three times," Hester said. "We know the task at hand. They're a great team with great players, so we're going to watch a lot of film and play our best version of basketball. We'll see what happens."
More From Shore Sports Network