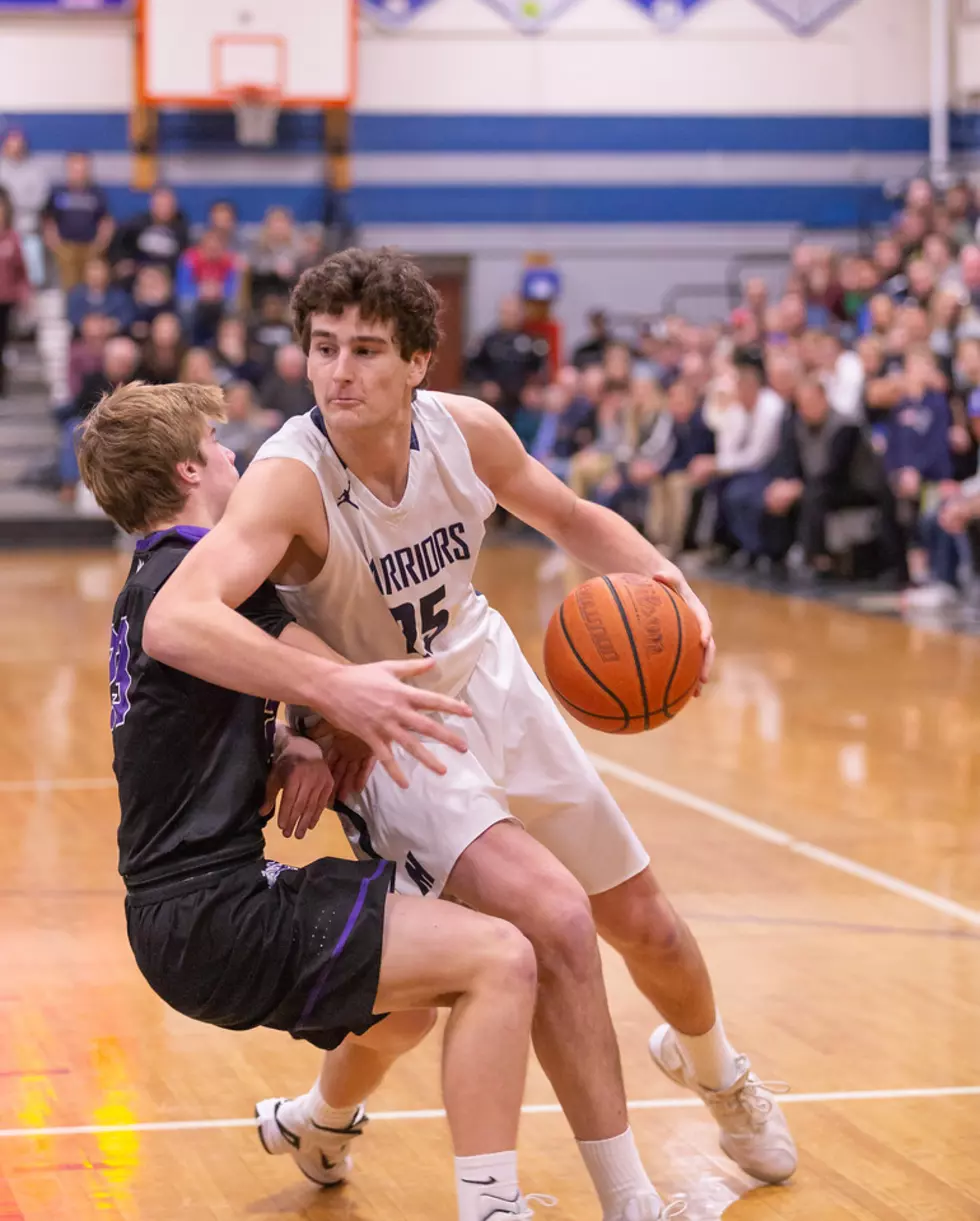 Boys Basketball – Manasquan Snaps Rumson's 10-Game Streak
Manasquan junior Alex Galvan. (Photo by Paula Lopez)
RUMSON - There was a time, not so long ago, when the Rumson-Fair Haven boys basketball team found wins over Manasquan hard to come by, but the members of this year's Manasquan squad were not around for those days.
On Tuesday night in Rumson, the Warriors stated loud-and-clear that this year's head-to-head bragging rights - at least in the regular season - once again belong to Big Blue.
Junior Alex Galvan scored 22 points and grabbed 12 rebounds to spark Manasquan - the No. 5 team in the Shore Sports Network Top 10 - to a 49-41 win over No. 2 Rumson-Fair Haven.
"This is a big win for us and hopefully it can get us going on a nice streak," Galvan said. "Playing Rumson at their place and trying to beat them is very tough so we had to come out strong from the tip and keep it up for four quarters."
Manasquan's win snapped Rumson's 10-game winning streak and also marked the first time since December of 2015 that the Warriors won on Rumson's home floor. The Bulldogs had won the last three meetings between the rivals in Rumson, including an NJSIAA Central Jersey Group II semifinal game in 2016-17.
Rumson's winning streak started the game after Manasquan handled the Bulldogs, 65-48, in Manasquan on Dec. 17. That win ended a three-game Rumson winning streak in the rivalry, which included two wins in 2016-17 and a Bulldogs win at Manasquan in 2017-18.
Senior Brad McCabe posted 11 points and 13 rebounds and senior Xander Korolik added eight points and seven rebounds on Tuesday. The two seniors are the only current Manasquan players to play in the state tournament loss at Rumson two seasons ago.
"Playing in this gym is like a different world," McCabe said of playing at Rumson. "Their student section, their fan section and how small the gym is are all factors. We have to get our energy and come out and show more intensity than their team and their crowd. We were tougher and played more efficiently than them tonight and came out with a win."
For the second time in as many meetings this season, Manasquan held Rumson to fewer than 50 points, this time limiting the Bulldogs to 6-for-27 shooting from beyond the three-point line.
Rumson leading scorer Ian O'Connor led his team with 16 points and nine rebounds while fellow senior Jackson McCarthy returned from a three-game absence due to an ankle sprain with eight points and 10 rebounds. The Rumson duo entered Tuesday averaging just under 48 points per game and managed only half that against their second matchup against Manasquan.
"We locked up O'Connor and McCarthy and we helped out off their other players," McCabe said. "Kieran (Flanagan) did a great job on O'Connor and I got McCarthy for most of the game. I thought we did a pretty solid job."
Prior to the 2016-17 season, wins against Manasquan were hard to come by for Rumson. The Warriors defeated the Bulldogs three out of four times in 2015-16 and in 2014-15 - when Rumson won its first ever Shore Conference Tournament championship - Manasquan defeated Rumson in both regular-season meetings.
Since the 2012-13 season, Manasquan owns a 10-5 series advantage over Rumson.
Tuesday's result drops Rumson out of what was a three-way tie for first place in the Shore Conference Class A Central standings with Manasquan and Red Bank Catholic. Rumson will play at RBC on Thursday and try to end the Caseys' 12-game winning streak, which began after a 67-41 loss to Rumson.
RBC was also the last team to beat Manasquan, dropping the Warriors, 62-50, on Jan. 10.
"I our losses, we have come out really flat," Galvan said. "Tonight, our intensity was there from the first quarter and that's the kind of approach we have to have every game for the rest of the season now that we are playing for our division and for Shore Conference and state tournament seeding."
More From Shore Sports Network