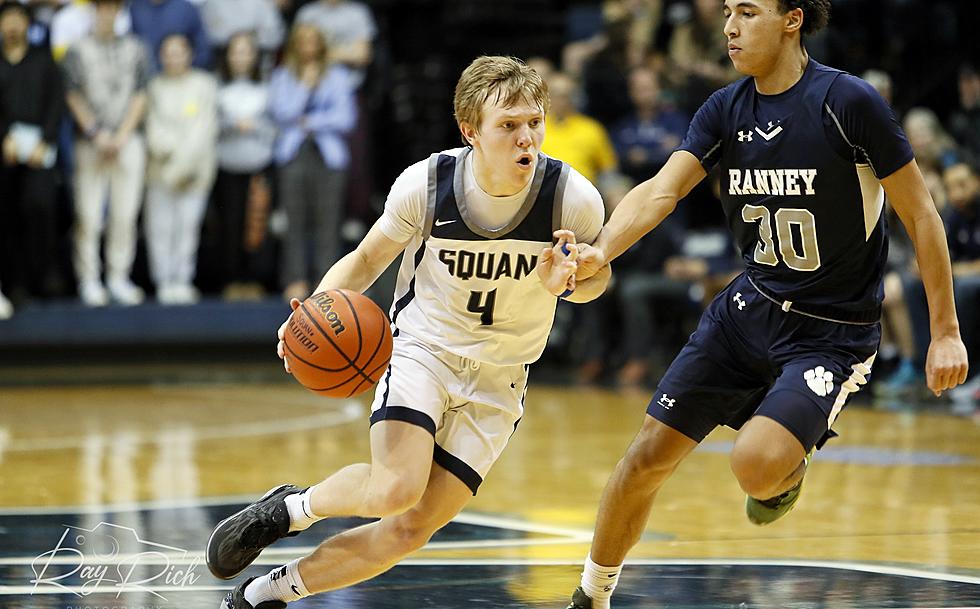 Boys Basketball – Manasquan One Step Away From Group 2 Final
Manasquan junior Ryan Frauenheim. (Photo: Ray Rich Photography)

NJSIAA Group II Semifinal
Thursday, March 2, 2023
At Central Regional High School
Manasquan (26-4) vs. Middle Twp. (20-11), 5 p.m.
Whichever team emerges from the South-Central semifinal in Group II is going to bring a young team to Rutgers on Saturday in hopes that this will be the first year of a multi-year run as champions. Those around the Shore Conference know the Manasquan story: the Warriors start two sophomores and a junior and their third leading scorer is a junior currently coming off the bench. Those four – sophomores Darius Adams and Griffin Linstra and juniors Ryan Frauenheim and Alex Konov – all started last season and were not far off from leading Manasquan to its first ever group championship, with Camden Eastside knocking the Warriors off in the Group III semifinal.
Middle Township boasts an even younger team than Manasquan, and one that is gaining heaps of confidence at that. The Panthers start two juniors, two sophomores and a freshman and their top scorer off the bench (Aydan Howell) is another sophomore.
Junior Bubba McNeil and sophomores Jamir McNeil and Re Ale Basquine are the top offensive threats in the group, led by the 5-foot-10 Bubba McNeil at 15.5 points per game. Jamir McNeil is averaging 11.2 points, 5.2 rebounds, 3.9 assists and 2.3 steals from the point guard position and the 6-6 Basquine is a versatile weapon for Middle averaging 10.4 points and 8.4 rebounds as a sophomore.
Junior Anthony Trombetta (8.9 points) and freshman Chad Moore (4.1) round out the starting five for Middle, who is coached by one of its own in LaMarr Greer – a former McDonald's All-American at Middle who went on to play at Florida State.
Since losing five out of six in late January, Middle is 11-2 with losses to two high-profile South Jersey non-public programs (Paul VI and St. Augustine) and a win over Montclair Immaculate – the runner-up to Roselle Catholic in North Jersey Non-Public B. The Montclair Immaculate win was an eye-opening one for the young Panthers and the championship run got real when they blew out a 25-3 Cinnaminson squad on the road, 71-44, in the South Group II semifinals before wrapping up their first sectional championship since 2011 with a road win over Sterling.
Manasquan's senior frontcourt of Quinn Peters and Jack Dettlinger will be put to the test handling Basquine in the paint, where South River was able to do some damage on offense in Tuesday's sectional final. Where Manasquan should be sound is on the glass, where the Warriors dominated the Rams Tuesday and have been exceptional throughout most of the season.
Linstra is an x-factor in this game because Manasquan can use his defense prowess to slow down a number of Middle's options, while Adams and Frauenheim are capable perimeter defenders as well. The Warriors will also be hoping for more offensive efficiency than they got on Tuesday, when Manasquan missed 13 layups in the first 18 minutes and did not get one of Adams's better shooting nights. Adams has been in the middle of a personal hot streak, so he might be due for a 20-plus-point night after putting up 16 and 15 in each of the last two rounds.
Prediction
Reaching the Group championship game is a big deal for any program, but win for either of these teams Thursday night would be a particularly momentous occasion. Manasquan is seeking its second ever trip to the Group II final and first since losing to Raritan in the 2004 championship. Middle, meanwhile, is two decades removed from its last championship and three from its golden age. The Panthers last won a Group II title in 2002 and reached the championship game three straight years from 1992 to 1994, winning the last two. Greer was the star on those teams, with the Panthers capturing back-to-back titles in his junior and senior seasons.
This Middle Township teams looks like it is on the cusp of a big run, much like Manasquan was a season ago. The group semifinal round is always a tricky game and Middle's momentum will be an obstacle for Manasquan. The Warriors struggled with a tough Camden Eastside team in last year's Group III semifinal and will hope to get into its offense with more regularity on Thursday. Fortunately for the Warriors, Middle is more solid than spectacular defensively and succeeds by getting out in transition. Manasquan can handle that formula and after last year's disappointment in this game, the Warriors will be ready this time. The Pick: Manasquan, 67-56
The Most Watched Netflix Shows Ever
According to the streaming service, these are the most popular series — based on their total view hours per title in their first 28 days of release on Netflix
More From Shore Sports Network