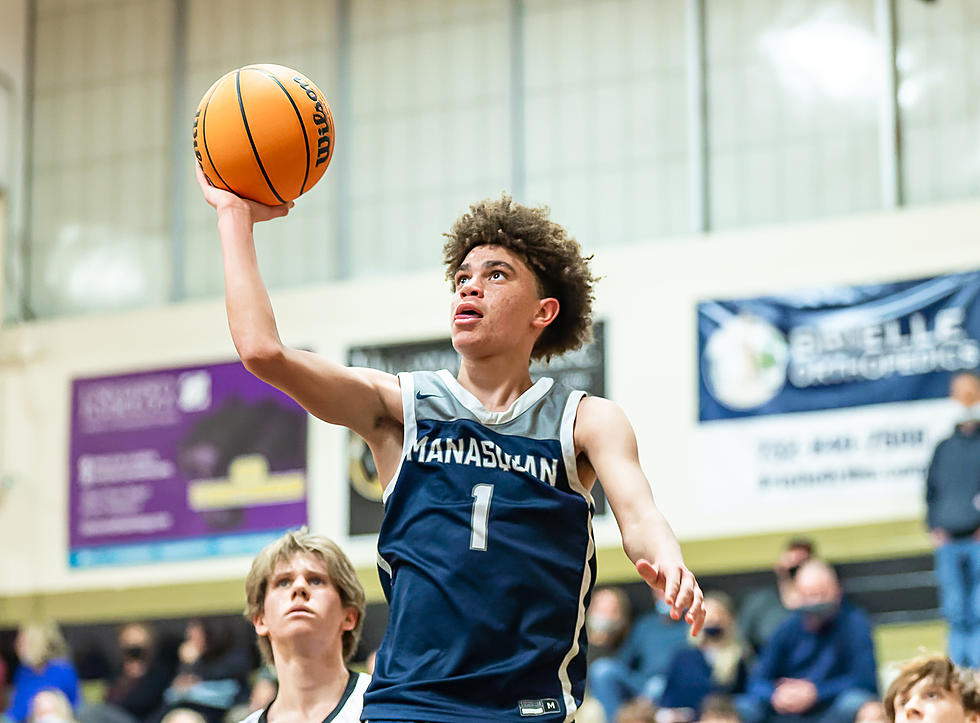 Boys Basketball – Manasquan Dominates Point Boro, Turns Attention to Next State, Shore Powers
Manasquan freshman Darius Adams. (Photo: Tom Smith | tspsportsimages.com)

POINT PLEASANT BORO -- Manasquan's 2021-22 season started with a humbling loss to one of the state's top teams.
Over the last five weeks, the Warriors have built up their confidence and after a near-flawless performance on Thursday night in Point Pleasant, they are riding high into what will be another test against one of the state's best.
As it has done throughout the season, Manasquan used contributions from all over the roster to silence an 11-win Point Pleasant Boro squad Thursday, 56-26.
Freshman Darius Adams was the top scorer with 16 points and he also handed out three assists, while sophomore Alex Konov threw in 11 points with three three-pointers, seven rebounds and two blocked shots.
"We have a great balance on our team," said Konov, a transfer from Wildwood Catholic. "Everyone can score and that's what makes us so hard to stop. Everyone is good, everyone can hit open shots, pass the ball, drive, so it's tough to stop."
Sophomore point guard Ryan Frauenheim also set the tone for Manasquan on both ends, finishing with nine points and four rebounds as his offensive contribution.
The 26 points were the lowest total scored by Point Boro this season and marked the second time Manasquan has held Point Boro under 30 points this season. The Panthers' lone two losses this season are to Manasquan, with the Warriors winning a 35-29 slugfest in the first Shore Conference Class C North meeting between the teams back on Jan. 6.
"We expected them to come out and compete the way they did," Frauenheim said. "They knew they gained confidence only losing to us by six, but we also shot the ball very poorly in that game. As coach (Andrew Bilodeau) said, we couldn't hit water if we fell out of a boat. We knew we would shoot better this game and it showed."
Manasquan's 56 points scored on Thursday was also the most Point Boro has given up in a game this season.
With under three minutes left in the first half, Thursday's game looked a lot like the low-scoring affair on Jan. 6. Manasquan led 17-10 and was fighting off a physical approach from Point Boro.
In the last 2:30 of the half, however, Manasquan scored seven unanswered points, capped by a three-pointer at the halftime buzzer by Konov.
Manasquan then scored the first 10 points of the third quarter to stretch the run to 17-0 and establish a 34-10 lead. The lead first hit 30 when Manasquan went up 46-16, making the run 29-6 at its zenith.
"It was mostly our defense," Frauenheim said. "We continued to get stops possession by possession. We shot the ball well, got stops and that led to more good shots."
After vanquishing its primary competition in Class C North and moving closer to a ninth consecutive shore conference division title (excluding the shortened 2021 season), Manasquan will travel north to play Roselle Catholic -- the No. 2 team in the state, according to NJ Advance Media.
The showdown at Roselle Catholic will either be played as scheduled Sunday at 1:30 p.m. or, if the impending winter storm impacts Sunday, Monday at a tipoff time to be determined. This will be the first regular-season meeting between the teams since the Lions narrowly escaped Manasquan, 45-43, in 2020 -- Manasquan's lone loss of that season, which came with star forward Alex Galvan sidelined.
Manasquan's only losses in 2021-22 are to Rutgers Prep (No. 8 in the state at 13-0) and St. John Vianney (No. 4 in the Shore Sports Network Top 10 at 13-2 overall).
"We think we're one of the best teams in the state," Frauenheim said. "Not just the Shore, but one of the best teams in the state and we want go out and show that on Sunday when we play, maybe, the top team in the state."
"I think we're at the top of the top," Konov said. "But coach is right: we're young and trying to get better and just trying to be one percent better every single day."
More From Shore Sports Network