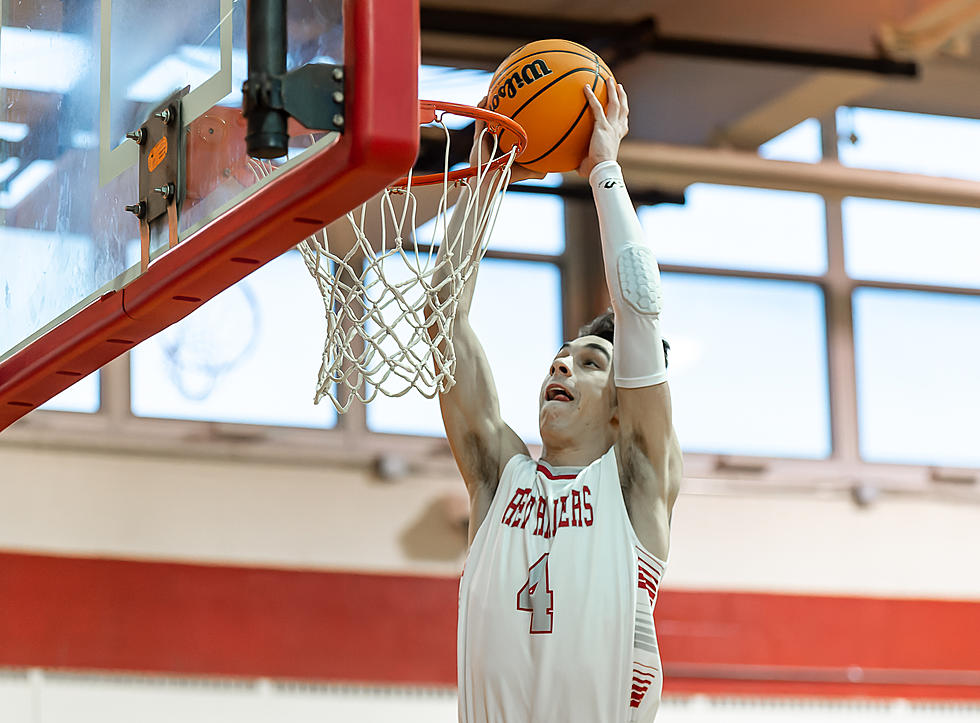 Boys Basketball – Keyport Earns Trip to First Central Group I Final Since 2004
Keyport senior D.J. Thomson. (Photo: Tom Smith | tspsportsimages.com)

KEYPORT -- D.J. Thomson and George Mitchell are the type of athletes that can, and often do, take their talents to bigger, possibly non-public schools, but from the time they were in middle school, the duo wanted to apply their ability toward taking Keyport places it had not been as an athletic program in nearly two decades.
On Saturday afternoon, Thomson, Mitchell and senior classmates Anthony Longo and Zyaire Treadwell accomplished a significant part of that goal and are one more win from completing the journey.
Thomson and Mitchell each hit their stride in the second half of their team's NJSIAA Central Jersey Group I semifinal against No. 3 seed New Egypt and the second-seeded Red Raiders dominated the fourth quarter to seal a 67-53 victory.
"We have always said, 'There is a reason for us to stay here,'" said Thomson, who is now the program's second all-time leading scorer and passed the 1,700-point threshold on Saturday. "I didn't stay here to score however many points. It was to accomplish a team goal."
"This is what we have been working for for four years," Mitchell said. "We wanted to make some noise in the Shore Conference too and unfortunately, that didn't happen, but this is the tournament we have been preparing for all four years. We didn't get the chance last year, and that sucked, but we didn't let that slow us down. This is what we have been waiting for."
With the win, Keyport punches its ticket to the sectional final for the first time since winning Central Jersey Group I in 2004. The win also achieved some historical redemption, with this year's team reaching the semifinal round for the first time since the 2011 team lost at New Egypt in the Central Group I semifinal.
"This is years in the making," 17-year Keyport coach Phil Recco said. "We're a small, Group 1 school and you go through the peaks and valleys from year-to-year. I can remember seeing this group in sixth grade: I teach in the middle school and I had D.J. and Anthony (Longo) in sixth grade and I was watching George over in Union Beach.
"They have known each other even longer, so just to send them off with a win at home in front of this kind of crowd, it's special. It's a small town and everybody comes out to support them. I don't think there was an open seat in the house today."
Thomson scored 14 of his team-high 23 points in the second half while facing a box-and-1 defense most of the game that targeted him with the defensive attention. Mitchell, meanwhile, scored 12 of his 16 points in the second half.
"We have been practicing to face the box-and-one all year and somebody finally ran it today," Thomson said. "They played Raritan tough, they played Bound Brook tough, and they have played all of these teams tough because they slow it down and they're good at it."
Junior Terrek Mimes (nine points) hit his second three-pointer of the third quarter to break a 34-34 tie, which gave the Red Raiders the lead for good. Keyport still had work to do in putting the game away, with New Egypt junior Devin Kimmick answering a Thomson floater before the end of the quarter, sending the game to the fourth with Keyport up, 39-36.
Thomson opened the scoring in the fourth and then, Mitchell got the capacity crowd fired up with a dunk that boosted the Red Raiders toward the finish line. Mimes attacked in transition off a steal and slipped a bounce pass to Mitchell, who threw down the two-handed slam as he was fouled. When the buzz in the gym calmed down, Mitchell completed the three-point play to make it 44-36 with 6:30 still left in the game.
"The crowd was getting a little anxious but once I got that dunk, I felt like everything opened up for us," Mitchell said. "Everybody feeds off that energy."
Keyport took full control of the game with a five-point possession that was the result of a technical foul on Kimmick, with Mitchell hitting two technical free throws and capping the possession with a drive to the basket to make it 55-42.
Thomson put the exclamation point on the win with a three-point play with just under two minutes to go, which made it 65-46.
"Most of our offense comes through our defense," Thomson said. "Our half-court offense isn't the best, so we had to start getting turnovers and that's when our offense starts creating."
Saturday's win is officially the final home game the senior quartet of Thomson, Mitchell, Longo (five points), Treadwell (four points) will play together and both the team and the Keyport home crowd did the occasion justice.
"Us four seniors, ever since we were playing together in middle school, we have been dreaming of getting that ring," Thomson said. "Playing here today, look at what happens when we're winning: everybody comes out. It was a great feeling for us and we're happy to be moving on."
"It's been like this the last three games," Mitchell said. "I live for this. I love this energy, especially since this is the last time I'm going to play here. I'm happy with how it went down."
Thomson, Mitchell and Longo have been major varsity contributors since their freshman year and Recco was hoping the 2020-21 season would be the year they ascended as contenders for a Central Jersey I championship and, if nothing else, gained valuable experience to set them up for a big 2022 run.
Of course, Keyport -- nor any other team -- got a chance to compete in the 2021 NJSIAA Tournament, which was canceled as part of the COVID-shortened 2021 season in New Jersey.
"That was one of my worries coming into this year," Recco said. "Their freshman year, we knew we had something but they went through the normal growing pains. Sophomore year, you started to see it and we thought we were ready last year but we didn't get that big-game experience and that was my worry coming into this year with games like this and Shore Conference Tournament games. We just haven't been tested like that in front of a big crowd."
"Last year, we thought we were going to be in this situation," Thomson said. "We wouldn't have had as much pressure because we'd always have our senior year. Now, this year is win-or-go home."
While some Shore Conference schools found some consolation in the makeshift Shore Conference Playoffs that awarded four "pod championships," Keyport never got a chance to test itself against similarly-sized schools from outside the Shore Conference in hopes of gaining experience toward this year's run.
Instead, the Red Raiders have had to learn from games against the toughest competition on their schedule, which has included two games against 21-5 Ranney, as well as losses to Group II South River, Group III Red Bank and Non-Public A squad Donovan Catholic.
All that experience will come into play on Tuesday, when Keyport travels to play No. 1 seed and two-time defending sectional champion Burlington City, which claimed the 2020 sectional championship and has been to the final in each of the last five state tournaments, including this year's.
"It's just another test for us," Thomson said. "We played Ranney twice and then (Red Bank) and Donovan. Those teams are all really well-coached and athletic, so that was our preparation for this tournament, especially for what we're going to see from Burlington City."
The only team to beat the Blue Devils during that run of championship appearances was the Shore's own Point Pleasant Beach, which knocked off Burlington City on the road in overtime in 2018.
Keyport is hoping to do what its Shore Conference Class B Central division rival did four years ago, which would give the Red Raiders their first Central Group I title in 18 years.
"It's exciting," Recco said. "We're enjoying it now, but it's back to work tomorrow. This is uncharted territory, but that's what makes it exciting."
More From Shore Sports Network