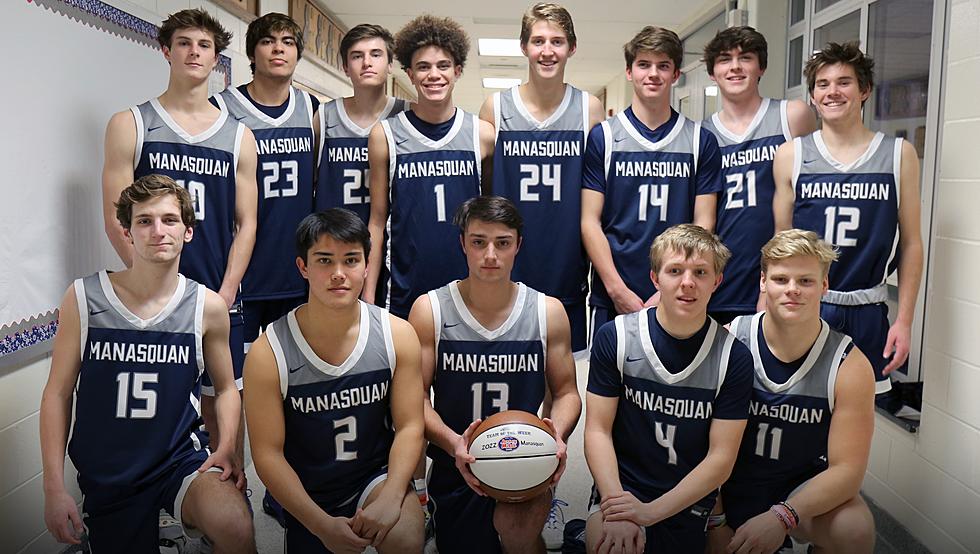 Boys Basketball – Jersey Mike's Week 2 Team of the Week: Manasquan
Photo by Steve Meyer

Before the 2021 portion of the 2021-22 season ended, the Manasquan boys basketball team had already lost more games in the current season than it had over the previous two seasons combined.
Of course, a 43-1 record in 2019-20 and in 2021 is a standard that few teams in New Jersey could ever live up to, especially one that is starting one senior, two sophomores and two freshmen -- none of whom started last season -- like Manasquan is.
Instead, the expectation of coach Andrew Bilodeau and the Warriors coaching staff is for the team to continue to get better and look like a championship contender by late February when the titles are on the table.
The young Warriors showed last week that it might not take until February, or at the very least, they are working at an encouraging pace. Manasquan beat undefeated Point Pleasant Boro in an important Shore Conference Class C North divisional game, then beat the No. 11 team in the state -- St. Joseph Metuchen -- in a showcase setting to improve to 6-2 and earn the Warriors the second Jersey Mike's Team of the Week award in 2022.
Manasquan came out of the holiday break with a 4-2 record, which included losses to Rutgers Prep and St. John Vianney and a win over Jackson Memorial -- then ranked No. 10 in the Shore Sports Network Top 10 -- to send the Warriors into 2022 on a positive note.
The team has since built on that Jackson Memorial win, grinding out a win over a tough Point Boro team at home by leaning on its defense and rebounding in a 35-29 victory.
On Saturday at the Hoop Group Boardwalk Showcase, Manasquan opened things up by running the floor early an often in a 56-47 win over St. Joe's. More impressive than the margin of victory over a state-ranked opponent was that Manasquan scored the first points of the game and never gave up the lead in a wire-to-wire victory.
While underclassmen Ryan Frauenheim, Alex Konov, Darius Adams and Griffin Linstra have all shown great promise, senior Matt Solomon has been a constant for Manasquan in the early going, averaging double-digit rebounds and leading the way with 18 points and 26 boards combined in the two wins last week.
More From Shore Sports Network