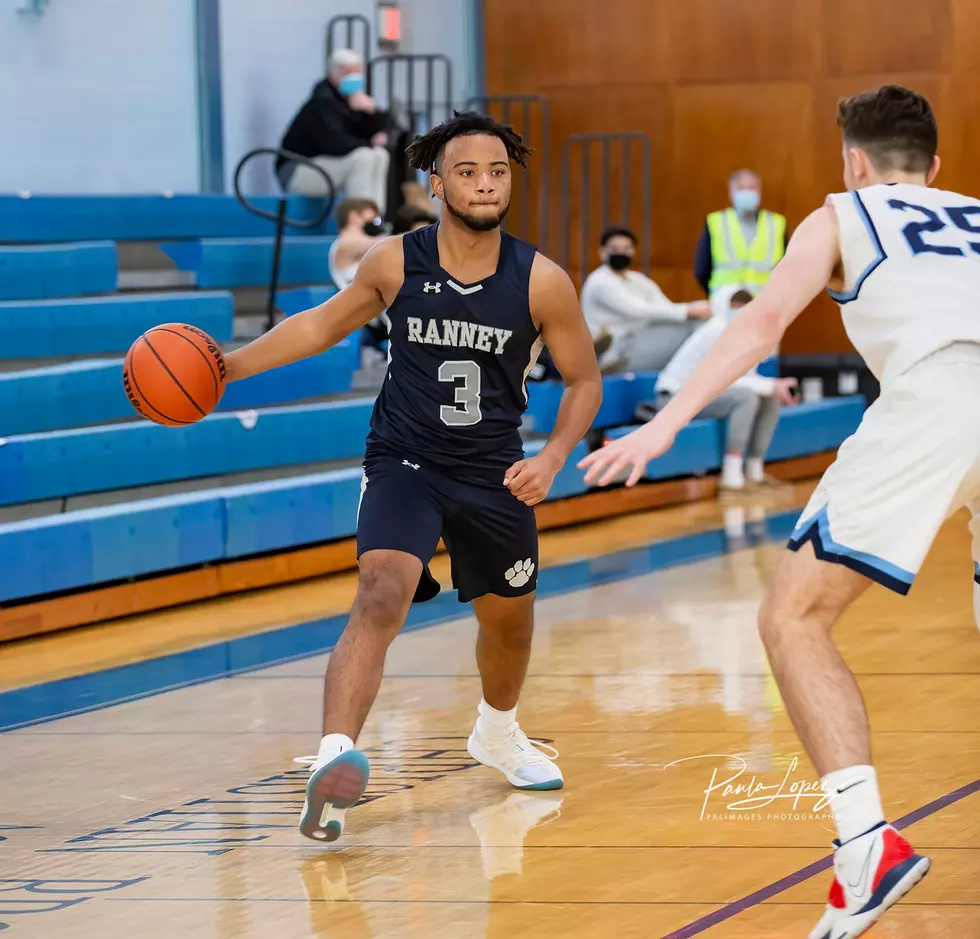 Boys Basketball – Hester Shines, But Ranney Falls Short vs. TCA in South Non-Public B Final
Ranney sophomore Isaac Hester. (Photo by Paula Lopez)

By Scott Stump – Shore Sports Network contributor
MEDFORD – Ranney boys basketball coach Tahj Holden had a goal this season of creating a solid foundation after fighting through COVID-19 shutdowns, key players transferring and bumpy regular seasons the past two years. 
After Wednesday night's hard-fought 70-55 loss in the NJSIAA Non-Public South B final at Lenape High School against one of the state's top teams in Trenton Catholic, he feels they accomplished that mission. 
"It was an up-and-down season, but overall I think it was a successful season," Holden said. "We were just talking about rebuilding and reestablishing our culture as a program going forward. I think we took steps to do that with this group."
Holden also knows he has one crucial building block for next season – junior Isaac Hester. 
The crafty guard shined against one of the state's top backcourts with a game-high 28 points while going head-to-head with Trenton sophomore guard Deuce Jones, who has drawn Division I interest from Temple and other Division I programs. It concluded a sparkling state tournament for Hester, who scored 28 against Bishop Eustace and 23 against St. Joseph-Hammonton to help Ranney (22-6) reach the final.  
"He's been doing that for us all year long," Holden said about Hester. "He works so hard at his craft, and it shows in games. These guys are athletic and play the full court, and he still battled through that." 
Jones scored a team-high 23 points for the Iron Mikes (22-4), who move on to play nationally-ranked Roselle Catholic in the Non-Public B final at Rutgers on Saturday after winning their first sectional title in 12 years. 
Senior T.J. Braswell Brown added 13 points and senior center Charles Anyichie pulled down 15 rebounds for the Panthers in the loss. Senior guard Jameel Morris added 15 for Trenton Catholic, which has won 13 straight and has not lost to an NJSIAA team all season.  
"They only had one player who scored 17 of their 26 in the first half, so we had to shut him down," Jones said about Hester. "We just had to face guard everything and try to stop him because if we stopped him, nobody could score for them." 
Hester has drawn Ivy League and Patriot League interest, and Holden believes he may start to attract some Atlantic-10 interest as well. 
He started fast on Wednesday by pumping in 12 of Ranney's first 13 points to keep the Panthers tied at 13 after one. Trenton Catholic's relentless backcourt pressure forced seven Ranney turnovers in the second quarter and helped the Iron Mikes jump out to a 34-26 lead at the break thanks to 10 points from Jones, who had 14 in the first half. Hester was almost Ranney's entire offense with 17 of its 26 points on 7-for-12 shooting. 
The Panthers whittled the lead to 42-37 late in the third quarter after a lay-up by Anyichie, but they could not get the deficit under five the rest of the way. The Iron Mikes were relentless on the glass in addition to forcing 18 Ranney turnovers. 
"That's been our Achilles' heel all year just because we're a smaller team," Holden said. "Charles can go out and get 15 rebounds and we end up with 20 rebounds as a team." 
"We got two shots, three shots, four shots on one possession," Jones said. 
Hester also had to handle the lion's share of the ballhandling against Trenton Catholic's pressure, which limited his shot attempts for stretches. 
"It would've been nice to get him off the ball a little bit more, but those are things to work on," Holden said. "He was our best ballhandler today." 
Ranney was within 47-42 after a putback by Brown with six minutes left in the game, but the Iron Mikes answered with a 5-0 burst to push the lead to 10 and closed it out from there. Jones dropped in nine fourth-quarter points and Eric Oliver Bush added six of his 14 points in the final period, including an emphatic slam on alley oop for the exclamation point in the final minutes. 
It concluded a campaign in which Ranney had a COVID-19 shutdown early in the season after already losing a pair of stars who transferred out. Standout guard Elijah Perkins joined the juggernaut at nationally-ranked Camden, which ended Rumson-Fair Haven's season in the Group II semifinals on Friday night, and center Ryan Zan transferred to Rutgers Prep, who beat Red Bank Catholic for a sectional title after Ranney's game at Lenape on Wednesday. 
"It changed a lot," Holden said. "We were expecting to be senior-heavy."
They still ended with 22 wins and a Shore Conference Class B Central title, along with the knowledge that Hester spearheads the group of returners for next season. 
"He's going to work, he's going to be an incredible senior for us, and the sky's the limit for him," Holden said.
Box score
Trenton Catholic 70, Ranney 55
Trenton Catholic (22-4) 13  21  10 26 – 70
Ranney (22-6)                  13  13    12    17 – 55
Ranney: Hester 7 6-8 28, Anyichie 3 1-3 7, Brown 3 7-11 13, Klatsky 2 1-1 5, D. Buck 1 0-0 2, Williams 0 0-0 0, Patla 0 0-0 0, Cook 0 0-0 0, J. Buck 0 0-0 0, Santulli 0 0-0 0, Engel 0 0-0 0. Totals: 16 15-23 55. Three-pointers: Hester 4. Fouled out: Anyichie.
Trenton Catholic: Jones 7 7-10 23, Jameel Morris 4 5-6 15, Jamaal Morris 4 3-4 12, Maxey 0 0-0 0, Stewart-Bethea 1 0-0 2, Keese 0 0-0 0, Bush 7 0-0 14, McBride 0 0-0 0, Myles 0 0-2 0, Davis 1 0-0 2, Raymond 1 0-0 2. Totals: 25 15-22 70. Three-pointers: Jones 2, Jameel Morris 2, Jamaal Morris. Fouled out: None.
More From Shore Sports Network