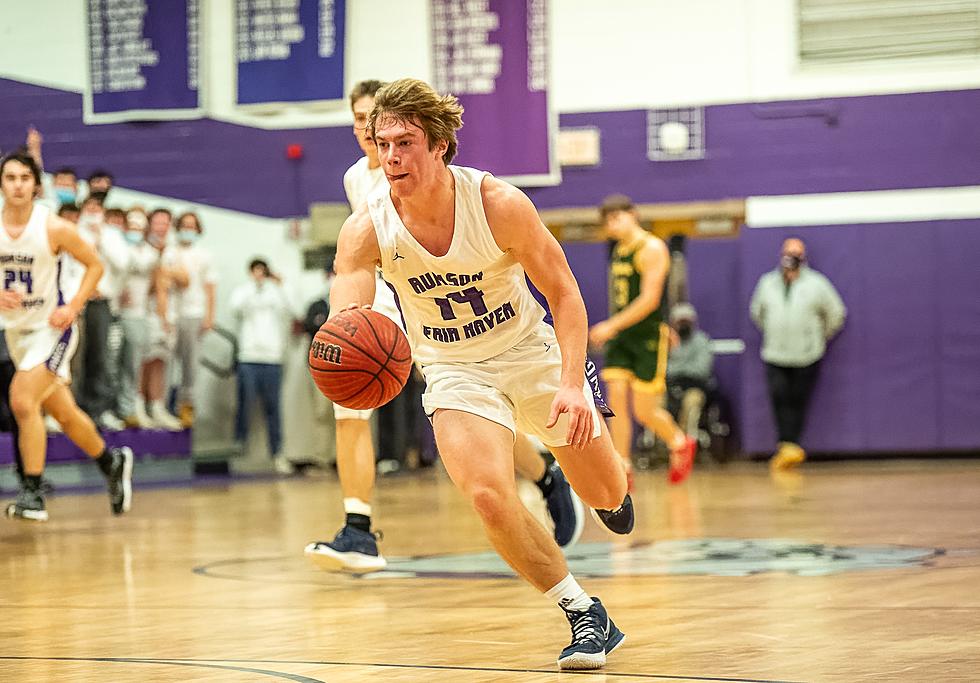 Boys Basketball – 2022 Shore Conference Tournament Quarterfinal Preview and Predictions
Rumson-Fair Haven senior Geoff Schroeder. (Photo: Tom Smith | tspsportsimages.com)

Shore Conference Tournament Quarterfinals
Sunday, Feb. 20
At Middletown South High School
No. 2 Marlboro (20-2) vs. No. 7 Jackson Memorial (17-5), 11 a.m.
The term "clash of styles" gets thrown around during tournament time, but this game is more a marriage of styles. Both Marlboro and Jackson Memorial love to defend the full 94 feet (or however long high school courts actually are) and it has served both well to this point. Jackson Memorial has been a dangerous second-half team, blowing past both St. Rose and Holmdel to make it to the quarterfinals for the first time since 2014 thanks to huge showings after halftime.
Marlboro is not as reliant on its defense because the Mustangs can score with the best teams in the state, so this game will be about whether Jackson Memorial can force Marlboro into enough mistakes to throw the Mustangs out of whack while also converting those mistakes into points on the other end. Marlboro will turn the ball over at times, but it is the result of the pace at which it plays, not so much because of some underlying deficiency. For Jackson Memorial to win, the turnovers have to be live-ball, lead to points and make Marlboro apprehensive running their stuff.
The interesting thing about this game is whichever team is winning heading into the fourth quarter might be in trouble. At the end of the day, though, Marlboro has a group that has been through it all over the last three seasons and while Jackson Memorial poses some challenges, the Mustangs have the kind of team that embraces the pace at which this game is likely to be played and at some point, you could even see Jackson Memorial try to slow it down some on offense.
The Pick: Marlboro, 72-61
No. 3 Rumson-Fair Haven (17-2) vs. No. 6 CBA (16-5), 12:45 p.m.
Game No. 2 Sunday is the only one of the four quarterfinals that is a rematch from the regular season and while it was a little under two months ago, it feels like it has been even longer since that Buc Classic semifinal game. CBA held off a late push by Rumson-Fair Haven to pull out a win on the way to winning the tournament, which was part of a 10-0 start to the season by the Colts. CBA would finish the regular season by going 4-5 in its last nine before routing Point Pleasant Beach in the SCT opening round and battling past Raritan on Thursday.
Rumson's transformation has gone in the other direction. The Bulldogs dropped to 4-2 with a 52-34 loss at Red Bank Catholic in early January and have since rattled off 13 straight wins – all but two of which have been by double-digit margins. The return of Geoff Schroeder – who missed Rumson's first six games with an ankle injury – has made a huge difference for the Bulldogs and the experience and confidence gained by the rest of the team in his absence has made Rumson even stronger.
Both of these teams defend and it is likely to be a lower scoring game than Rumson has gotten used to during its winning streak, but the Bulldogs have been the far more explosive offensive team. On top of the advantage in three-point shooting, Rumson also has the interior advantage with Scott Gyimesi, who is also playing better than he was earlier in the season. CBA has obviously proven it can win the game and has a chance to win on Sunday, but Rumson is on fire and it would be pretty wild for a CBA team that has struggled over the last three weeks to snap out of it against the Shore's hottest team.
The Pick: Rumson, 55-47
No. 1 Red Bank Catholic (20-3) vs. No. 8 Manchester (18-4), 2:30 p.m.
The 1-vs.-8 game has been relatively drama-free in recent years, but every now and again, we get a treat from a No. 8 seed that comes to play. There was a hint of that back in 2016 when Ranney and its freshman-loaded team made Mater Dei Prep work but ultimately could not muster the offense to pull the upset. Two years earlier, Jackson Memorial took top-seeded and eventual champion Point Pleasant Beach to overtime before falling. The last No. 1 seed to lose in the quarterfinal round was CBA to Point Beach in 2011, so Manchester will try to be the first team in the last decade to complete the task at hand.
There are some similarities between the two matchups 11 years apart, not the least of which is Manchester having the most dynamic player on the floor in Savon Myers. He and RBC senior Alex Bauman have a lot of similarities in what they both provide, but Myers has more verticality to his game and has been more of a three-point shooter than Bauman has. The difference is Bauman doesn't have to score for RBC to thrive on offense, while Myers has to get into 20's in order for the Hawks to have a chance.
The other key senior cogs for Manchester are D'Maari Brown and Amari Petty and both will have to be involved on both ends and with Brown's shooting ability, he has a chance to wreck the game. The player with his hands full for Manchester will be junior Blake Weiner, who will have to battle with RBC's big men – a unit back at full strength with the return of Zach Meeks from an ankle injury. Once a team accounts for RBC's size, it still has to deal with shooters from every angle.
If there is an upset on Sunday, this is the most likely one just because of Manchester's upside. With that being said, there are four distinct favorites and RBC is one of them, so it's going to take a near-immaculate performance by the Hawks to pull off the stunner. With Camden at the top of its NJSIAA section, Manchester is going to give everything it has to beat the No. 1 seed in this tournament and take a serious step toward a championship run.
The Pick: Red Bank Catholic, 65-60
No. 5 Manasquan (19-4) vs. No. 13 Donovan Catholic (16-6), 4:15 p.m.
In their own unique ways, Manasquan and Donovan Catholic have both been surprise teams this season and the two will now play for the fourth and final spot in Tuesday's SCT semifinal round in Toms River. Manasquan's presence in the final eight is anything but a surprise: this is the 11th straight season the Warriors have made it to this stage of the Shore Conference postseason, which includes last year's unofficial Shore Conference championship. With that being said, Manasquan in playing with five new starters from a year ago and four of them are underclassmen. Despite that youth, Manasquan is one win away from 20 for the season, which would mark the fourth straight 20-win season (not including 2021) and sixth in the last seven seasons for the Warriors.
Manasquan was hoping to get a rematch with St. John Vianney after the Lancers handed Manasquan the second of its four losses back on Jan. 28. Instead, it will be Donovan Catholic that stands between Manasquan and another trip to the Shore final four, with the Griffins shocking Vianney in overtime on Thursday to reach the SCT quarterfinals for the first time in 12 seasons. In the last two rounds, Donovan Catholic has had two of its three highest scoring offensive outputs and the only other game in which the Griffins have scored as many as 74 points was a win over one-win Lakewood. The offense is clicking better than it has all year and Donovan Catholic will need that trend to continue against a Manasquan squad that continues to improve with each game.
Donovan Catholic boasts plenty of individual speed and athleticism, with two-sport standouts Kyree Drake, Jalin Butler and Nunes Bukula all in the starting lineup. Alex Melon has played a quality point guard and Vin Coburn and Dan Schwartz have provided some marksmanship from beyond the three-point line. It has become a balanced lineup and Donovan Catholic will need all hands on deck. With all those seniors, there will be an age advantage for the Griffins, but senior Matt Solomon presents physical challenges, while Darius Adams and Griffin Linstra are not your typical freshmen. It's a tall order for Donovan Catholic, but the Griffins are playing tough and are capable of giving themselves a shot in the fourth quarter.
The Pick: Manasquan, 53-44
Round of 16 Picks Record: 6-2
Total 2022 Picks Record: 16-4
More From Shore Sports Network