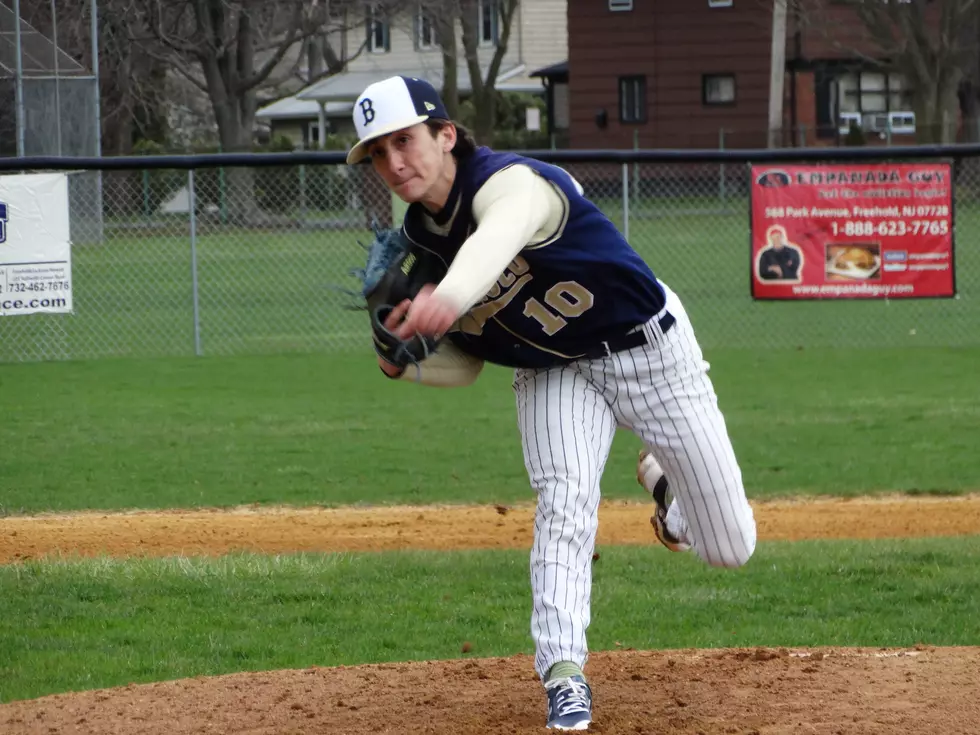 Baseball – Up Against Pitch Limit, Chiusano, Freehold Boro Dominate Marlboro
Freehold Boro senior Dan Chiusano. (Photo by Matt Manley)
FREEHOLD BOROUGH - The new pitch count rule is going to create plenty of situations like the one the Freehold Boro baseball team and head coach Jon Block faced Friday against Marlboro in an early-season Shore Conference Class A North game.
Block had his No. 1 pitcher available to pitch, but only for 60 pitches because of the portion of the new rule instituted for this season that states a pitcher can only throw 140 pitches during a span of five calendar days.
Fortunately for Block and the Colonials, when it comes to the new pitch count rule, senior left-hander Dan Chiusano is a living, breathing loophole.
Chiusano needed just 58 pitches to limit the Mustangs - No. 5 in the Shore Sports Network Preseason Top 10 - to two hits over five innings and the Colonials offense made sure that was enough for a shutout in a 10-0 win in five innings for No. 6 Freehold Boro.
"He's the perfect guy for this situation," Block said of Chiusano. "He throws about 12 pitches an inning, so we were confident he could give us five good innings today and we'd go from there. Fortunately, we swung the bats today and were able to finish before we had to take him out."
Over the last calendar year, Chiusano has earned a reputation as an economical left-hander with pinpoint control, evidenced by a 66-pitch perfect game he pitched against Manasquan in the Shore Conference Tournament last year. After throwing 80 pitches in six innings during a 1-0 loss to Christian Brothers Academy on Monday, Chiusano could only throw 60 Friday before he would reach the limit of 140 for the last five days.
"I like to go after guys and not waste many pitches," Chiusano said. "That's always how I've liked to pitch and now with this new rule, I feel like it's more beneficial for me because I can tell myself, 'Don't waste a pitch here,' which is what I did today."
"You can tell he just gets it," Block said. "It's his fourth year and he's got it. He knows how to get people out without striking them out. He doesn't throw hard enough to do that every batter, so he lets the ball be put in play and lets the defense do the work."
Mixing a slider and a changeup with his four-seam and two-seam fastballs, Chiusano was his usual, efficient self. He never threw more than 15 pitches in any inning, threw 45 of his 58 pitches for strikes and still managed to strike out seven while walking none.
"I've really developed more pitching skills as the year progressed," Chiusano said. "I focused more on my changeup and slider over the offseason and developing them so I could throw them for a strike more instead of wasting a changeup or wasting a breaking ball. I do feel like over the last couple of years, I've been able to become more of a complete pitcher."
Marlboro catcher Gene Napolitano recorded the only clean hit off Chiusano - a ringing double to the fence in right field to lead off the second inning. Right fielder Devonte Smith later reached on an infield single.
Napolitano's double in the second did not make for a difficult situation for Chiusano because the Colonials gave him four runs of support in their first turn at bat. The first three hitters in the order - third baseman Matt Granato, second baseman Mark Costanzo and shortstop Chris Cassandra all reached - Granato and Cassandra with singles - to load the bases for first baseman Tom Holdorf, who plated the first run with a fielder's choice ground out to second base.
Right fielder Nick Aiello ripped a one hopper to third that resulted in an error to produce the second run and senior designated hitter Pat White smoked a line drive back through the box with the infield drawn in to plate two.
Freehold chased Marlboro sophomore starter Ian Ayers, who threw 16 pitches and recorded one out.
Center fielder Isaiah Howard started the second with a double on a ball that dropped between the shortstop, third baseman and left fielder and later scored on a sacrifice fly by Costanzo.
White made it 6-0 in the third by connecting on a solo home run to right field on the ninth pitch of the at bat, the first of four runs in the inning.
"I definitely knew I was on him (Marlboro pitcher Seth Goldstein)," White said. "I was fouling pitches off and seeing what he had. With the first fastball I fouled off, I was a little too early and on the next one I was a little late, so I knew I was getting closer to timing it so when I got one over the plate, I was right on it."
On the very next pitch, catcher Phil Marcantonio hammered a triple to the right-centerfield gap and courtesy runner Matt DaSilva scored on a throwing error to the plate on a ground ball hit by left fielder Mike Belka.
Costanzo came through again with a double to score two runs and stretch the lead to 2-0 and after a one-two-three bottom of the fourth, the junior ended the game with an RBI double to score Howard from second with two out in the fifth.
Constanzo finished 2-for-2 with two doubles and four RBI while White was 2-for-3 with the homer and three RBI.
Costanzo's RBI double ensured that Freehold would not have to record an out Friday with any pitcher other than Chiusano, who would have been finished should the game have advanced to the sixth inning.
Despite pitching to a stat line that earned him Shore Sports Network First Team All-Shore honors as a junior in 2016, Chiusano entered Friday with a record of 5-6 over the last two years thanks to some bad fortune when it comes to run support. That was hardly an issue Friday for Freehold, which has increased its offensive output each game. The Colonials were shutout by Nick Hohenstein and CBA on Monday and did not score for the first three innings on Wednesday against Freehold Township, but a four-run fourth against their crosstown rivals broke the ice.
"As soon as we got to two runs, three runs, four runs, a bunch of weight is lifted off my shoulders," Chiusano said. "I'm able to go out there and just compete and throw strikes. It's very beneficial to have a team that backs you up like these guys did today,"
No. 6 Freehold Boro 10, No. 5 Marlboro 0 (5 Innings)
| | | | | | | | | | | |
| --- | --- | --- | --- | --- | --- | --- | --- | --- | --- | --- |
| | 1 | 2 | 3 | 4 | 5 | 6 | 7 | R | H | E |
| Marlboro (1-2, 1-2) | 0 | 0 | 0 | 0 | 0 | x | x | 0 | 2 | 4 |
| Freehold (2-1, 2-1) | 4 | 1 | 4 | 0 | 1 | x | x | 10 | 11 | 0 |
| | | | | | | | |
| --- | --- | --- | --- | --- | --- | --- | --- |
| Marlboro | IP | H | R | ER | BB | SO | PC |
| Ian Ayers (L, 0-1) | 0.1 | 3 | 4 | 3 | 0 | 0 | 16 |
| Seth Goldstein | 2 | 4 | 5 | 2 | 1 | 0 | 40 |
| Matt Gomolka | 2.1 | 4 | 1 | 1 | 0 | 1 | 41 |
| | | | | | | | |
| Freehold | IP | H | R | ER | BB | SO | PC |
| Dan Chiusano (W, 1-1) | 5 | 2 | 0 | 0 | 0 | 7 | 58 |
| | |
| --- | --- |
| Marlboro | Game Stats |
| Gene Napolitano | 1-2, 2B |
| | |
| --- | --- |
| Freehold | Game Stats |
| Pat White | 2-3, HR, R, 3 RBI |
| Mark Costanzo | 2-2, 2 2B, R, 4 RBI |
| Phil Marcantonio | 2-3, 3B |
| Isaiah Howard | 1-2, 2B, 3 R |
| Chris Cassandra | 2-3, SB |