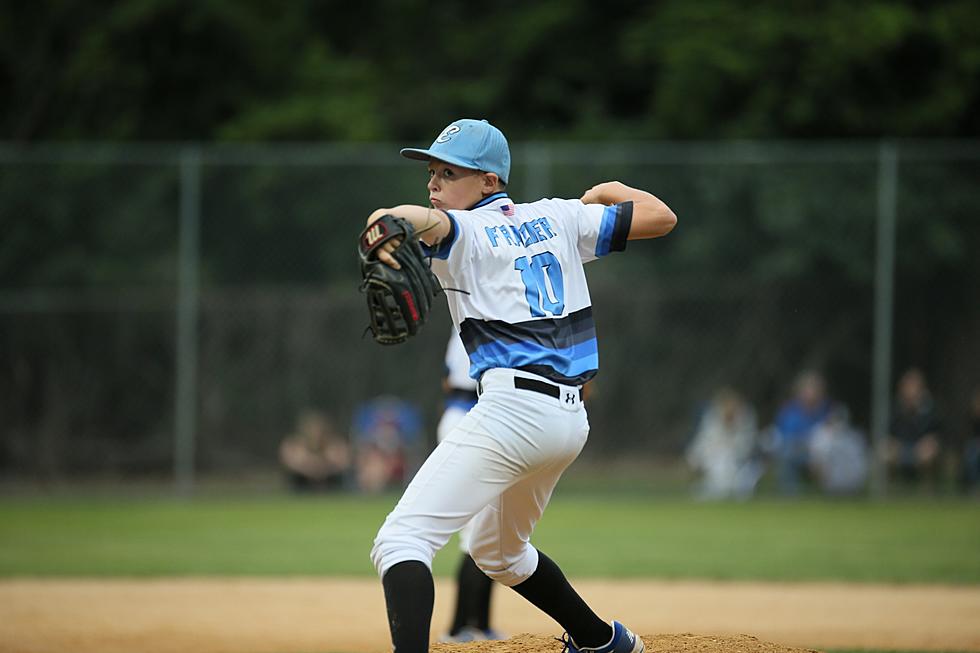 Baseball – Toms River East Rallies to Inch Closer to Region Title in Bristol
Carson Frazier pitches for Toms River East Little League. (Photo by Ray Richardson)

The Toms River East Little League team faced a rare uncomfortable moment Monday when it trailed at the midway point of a second-round game against Maryland's Montgomery County in the Little League Regional Tournament.
Once again, however, Toms River East handled a tight, competitive game like the undefeated team that it is. Now, the rest of the week looks a lot more comfortable for the boys from Toms River.
Second baseman Max Mika delivered two huge hits and Carson Frazier brushed off a spotty first inning to strike out nine in a five-hit, 84-pitch complete-game effort as Toms River East rallied to beat Montgomery County, 3-1, and reach Thursday's winner's bracket final in Bristol, Connecticut.
Toms River East will play the winner of Monday's 4 p.m. game between Upper Province out of Pennsylvania and Colonie from New York, but will first enjoy two off days to rest up after back-to-back wins on Sunday and Monday.
In its region opener, Toms River East defeated Canal, Delaware, 3-0, thanks to a combined shutout by Cole Garrison (10 strikeouts in five innings) and Joey DiMeo.
Frazier gave up a run in the bottom of the first inning before getting out of trouble with the bases still loaded. Montgomery County again loaded the bases in the bottom of the second, but this time, Frazier escaped unscathed.
Mika got Toms River East back in the game with a marathon at-bat that ended with Mika singling through the middle to chase home the tying run in the top of the fourth inning. The RBI single also ended the game for Montgomery starter Marcus Dober, who was already up to 88 pitches after the game-tying single. A second run came around to score on an error and give Toms River East the lead.
For some insurance, Toms River East again turned to Mika, who ripped a two-out RBI double to make the score 3-1.
Garrison started both rallies when he was hit by a pitch to lead off the fourth and reached on an infield single to start the sixth-inning rally. Third baseman Steven Malato also checked in with a double early in the game that went by the wayside when his teammates couldn't get hit home.
After wiggling out of trouble in each of the first two innings, Frazier locked in over the final four. He was up against the single-game pitch limit of 85 heading into the sixth and final inning, with only six pitches before he hit the threshold.
Frazier responded by inducing one-pitch outs to each of the first two Montgomery batters in the sixth inning, then ended the game with a three-pitch strikeout.
With two days off, Toms River East's pitching will line up favorably for the remainder of the tournament, with DiMeo available on Thursday, Garrison eligible for Friday or Saturday and Frazier eligible for a potential Saturday championship game.
With Monday's win, Toms River East improved its record this summer to a perfect 14-0 as it looks for two more wins to put the team into this year's version of the Little League World Series, which will only include teams from inside the U.S. due to COVID-19-related restrictions and safety measures.
More From Shore Sports Network