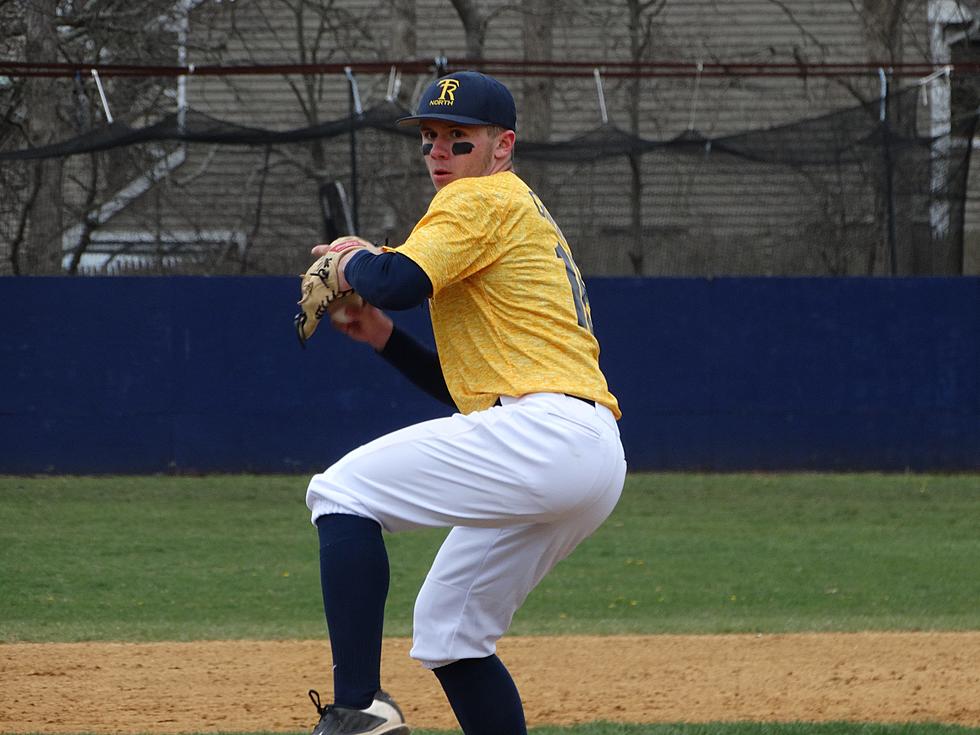 Baseball – SSN Top 10, April 15
Toms River North junior Jon Giordano. (Photo by Matt Manley)
The early part of the high-school baseball season is typically littered with so-called upsets and because of that, constructing a week-to-week Top 10 requires some discipline. Some of the high-profile teams have lost noteworthy games already, but it is going to take a little bit more volume to completely change the look of the Top 10.
A few teams, however, that were not ranked in the preseason have already proven themselves worthy of spots and are beginning their climb. Other teams could be primed to do the same but for now, the Top 10 remains mostly static with a few notable adjustments.
1. Jackson Memorial (6-1, 4-1) Last Week: 1
Despite taking its first loss, Jackson Memorial holds onto the top spot because of how impressive the Jaguars have been over the course of their first seven games, as well as the competition they have played. They dismantled Toms River South, Jackson Liberty and Somerville – three teams with considerable aspirations to play deep into the Group III Tournament. After losing to Toms River North, 2-0, to settle for a series split with the Mariners, Jackson Memorial beat Brick, 17-0, and Somerville, 16-1. Message received: The Jags are still No. 1.
2. Wall (6-0, 5-0) Last Week: 2
Rain temporarily delayed a chance for Wall and Jackson Liberty to play one another and had Wall defeated Liberty to improve to 7-0, that might have been enough to jump to the top spot. As it stands, Wall's wins are over St. John Vianney (twice), St. Rose, Red Bank (twice) and Ocean on the road. That's not as loaded as Jackson Memorial's early-season schedule, but Wall has handled its business and its pitching has been every bit as good as advertised so far. If that keeps up, Jackson Memorial will have no margin for error when it comes to keeping a hold on that top spot.
3. Red Bank Catholic (5-2, 5-0) Last Week: 4
Last week, RBC stayed at No. 4 despite losing to Middletown South. This week, the Caseys won't be punished for losing a competitive game against the No. 1 team in the state and No. 10 in the nation. Throw in CBA getting swept by Middletown South and RBC is back up to No. 3 but in order to stay here, the Caseys will have to get on a roll. They have a big series with Manasquan coming up at the end of this week and there is a good chance those two games ultimately decide the outcome of the Class A Central race.
4. Jackson Liberty (5-1, 5-0) Last Week: 5
Jackson Liberty felt the wrath of its neighbor, Jackson Memorial, in a weekend showdown but has otherwise been on its game. It would have been good for the Lions to get a shot at Wall this past weekend but they will have some more chances to win outside of B South, not to mention clashes with the one-two pitching punches of Point Boro and Pinelands within the division.
5. Manasquan (5-0, 5-0) Last Week: 6
Based on last year, No. 5 might seem like an ambitious ranking this early for a team that is coming off a 9-12 campaign. Remember, however, that Manasquan is only two years removed from winning the Group II championship and has a handful of players who were integral to that run. One of those is James Harmstead, who drove in eight runs in a win over Shore to cap the week and pitched six stellar innings as well. Shortstop Will Hopkinson and first baseman Alex Galvan were also in the 2017 lineup and are carrying a larger share of the load. Manasquan gets its first big test Thursday at Red Bank Catholic.
6. Manalapan (7-0, 6-0) Last Week: 7
The Braves remain unbeaten after wins this week over Freehold Boro twice and Long Branch, which are enough to bump the Braves a spot but not quite enough to land them in the top 10 just yet. This week finishes up with the first of two games vs. Middletown South, which will be a chance to climb into the top five.
7. Toms River North (4-2, 3-1) Last Week: Not ranked
Despite an inexperienced rotation, Toms River North is right where we should all expect them: in the mix. The Mariners have two losses and both were against top teams in the state both were competitive. On top of that, Toms River North actually won a game vs. Jackson Memorial and considering the entirety of Jackson Memorial's body of work and the fact that the Mariners held the high-powered Jaguars offense scoreless, that win is as big as it gets.
8. Middletown South (5-1, 4-1) Last Week: 8
The Eagles have three major wins on the board already – two vs. CBA and one at Red Bank Catholic – which was enough to land the No. 3 seed in the Monmouth County Tournament. The one concern for the Eagles is the walks the pitching staff has issued (33 in six games), which rose to the surface in a Thursday loss to Freehold Township in which Middletown South pitchers walked 14 Patriots. Despite those issues, the Eagles are getting outs more frequently than last year's team and the offense is stil potent.
9. Christian Brothers Academy (4-3, 2-3) Last Week: 3
After getting swept by Middletown South, CBA bounced back with well-pitched games in wins over Freehold Boro and St. Peter's Prep. The Colts entered the season with Joe Escandon and Braedin Hunt as the top two pitchers in the rotation, but this week, it was the junior duo of Evan Mahns and Pat Reilley who played the roll of stoppers. Mahns threw a five-hit shutout and Reilly followed with a one-hitter vs. St. Peter's Prep.
10. Howell (4-2, 3-2) Last Week: 9
The Rebels fall one spot simply because Toms River North's win over Jackson Memorial was so huge. Otherwise, Howell held serve this week with a pair of wins over Long Branch, including a combined no-hitter by Bryan Bernard and Ryan Bearse in which the two seniors struck out 19 of the 23 batters they faced. That pitching duo will make Howell a dangerous matchup going forward in A North – which remains in play – and especially in the tournaments.
Ocean (6-1, 4-1) Last Week: 10 – There is no shame losing a low-scoring, competitive game vs. Wall like Ocean did this week, but again Toms River North's win over Jackson Memorial bumps a team down despite said team doing nothing wrong this week.
Toms River South (4-2, 3-2) – After feeling the wrath of No. 1 Jackson Memorial in their first two games, the Indians have responded with four straight wins, including a pair of resounding victories over Toms River East.
Point Pleasant Boro (6-1, 4-1) – The schedule starts to pick up by the end of this week for Point Boro, which will face Manchester twice in two days. It doesn't hit its peak until April 29, when the Panthers begin a stretch that includes back-to-back B South series against Jackson Liberty and Pinelands with the Ocean County Tournament mixed in.
Toms River East (4-2, 3-2) – The Raiders missed an opportunity to push into the top 10 by losing twice to Toms River South last week but can begin making a new case this week with two games vs. Toms River North.
More From Shore Sports Network