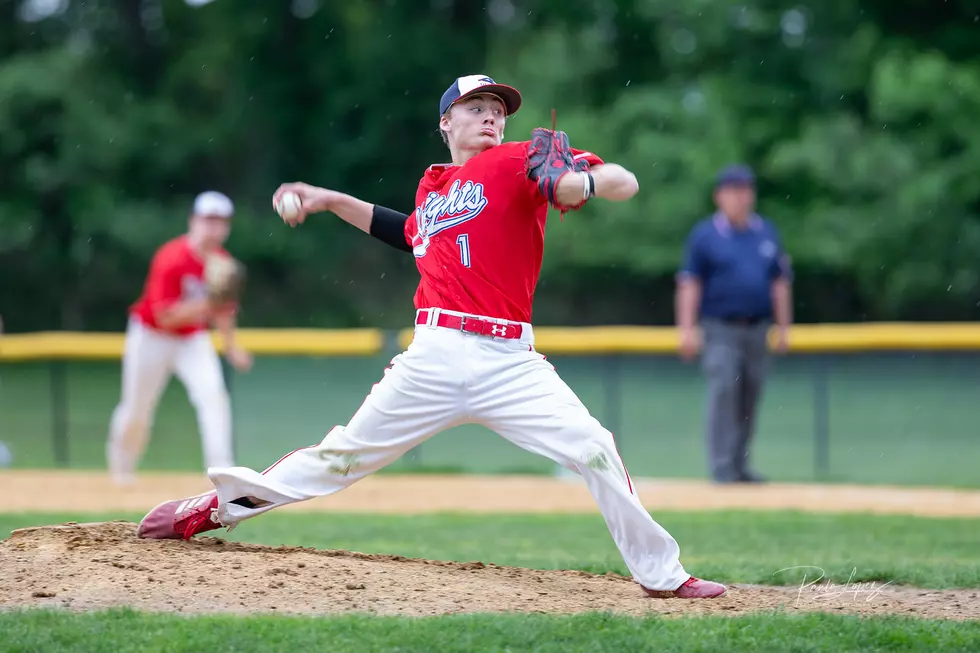 Baseball – Sharkey Starts, Dombroski Closes Wall's State Victory Over Colts Neck
Wall junior Teddy Sharkey. (Photo by Paula Lopez)
WALL TWP. - Nothing about Trey Dombroski's game looks uncomfortable, except for maybe the hitters who have to figure out how to hit his arsenal: a fastball in the high 80-mile-per-hour range, a wicked breaking ball and pinpoint command.
If there is one thing that has given Dombroski some pause over his past two seasons of dominant pitching, it has been pitching on short rest following a start. He has done it only twice, the second time coming in Thursday's NJSIAA Central Jersey Group III quarterfinal against Colts Neck.
With a championship on the line for him and his fellow Crimson Knights seniors, Dombroski ultimately gave his coach, Todd Schmitt a resounding answer when asked to nail down a Wall win while pitching on two-day's rest: "Give me the ball."
After junior Teddy Sharkey pitched four strong frames and with Wall locked in a 1-1 tie with fifth-seeded Colts Neck, Dombroski came on to fire three shutout innings, pick up his eighth win of the season, reach two career strikeout milestones and pitch No. 4 seed Wall into the Central Jersey Group III semifinals with a 3-1 win over its Class B North rival.
"I was a little hesitant at first but if they need me to come in on short rest in relief, I'm going to do it," Dombroski said. "It's my last season and I want to make the most on it by leaving everything out on the field."
The bar for Dombroski during his senior season has been near perfection, with no better example than his last start. In the opening round of the CJ III playoffs, Dombroski pitched a five-inning no-hitter with seven strikeouts, no walks and one hit batter in a 14-0 win over Lawrence.
The 6-foot-5 left-hander threw only 62 pitches in the win, giving him a chance to come back on short rest and throw as many as 88 on Friday against a Cougars team that boasts one of the Shore's most dangerous lineups. Dombroski has only once in his three-year varsity career pitched on fewer than four-day's rest following a start and that was a relief appearance against Jackson Liberty in a regular-season game last season. He gave up a home run in 1 1/3 innings in that game but managed to nail down a save.
"I'm learning how to do it," Dombroski said of pitching in relief. "Last year, I had a save in the state playoffs (vs. Lawrence). It was just a matter of getting my routine down, getting hot, getting a little sweat going so I can pitch like I normally do, trust my stuff and just have good time out there with my teammates backing me up."
Given how consistently excellent Dombroski has been this season, his outing Thursday was not his sharpest, although it was record-breaking. The first of his three strikeouts established a new single-season school record with 97 and his second was the 200th of his varsity career.
In three scoreless innings, Dombroski gave up one hit and one walk - his fifth walk of the season and first since April 16, ending a streak of 39 consecutive innings without one. The walk came on four pitches and was part of a sixth inning in which Dombroski threw only seven of his 16 pitches for strikes, but still managed to put up another zero.
The two base-runners Thursday raised his WHIP (walks plus hits per innings pitched) from 0.42 to 0.44, while he nudged his season ERA down to 0.13.
Dombroski took over for Sharkey in the top of the fifth and pitched a one-two-three frame to get Wall back to bat in a 1-1 game. The Crimson Knights mounted a threat by loading the bases with none out, beginning with a leadoff single by sophomore Jay Bant. Senior first baseman Tanner Powers worked a bases-loaded walk on eight pitches to force in the go-ahead run and senior right fielder John Iradi earned a free pass two batters later to make it 3-1.
Colts Neck scored the game's first run with a two-out rally in the top of the first. After Wall turned a double-play for the first two outs of the inning, senior right fielder Reece Horneck singled, stole second base and came around to score on an RBI single by junior first baseman Dan Cowles. The Cougars struck for two hits and a walk in the first inning against Sharkey and all three baserunners reached with two strikes and after Sharkey had gotten ahead 0-2.
Sharkey quickly got himself the run back in the bottom of the first. Senior shortstop John Volpe led off the inning with a single and chugged home on an RBI double by Sharkey that kicked up chalk from hitting the left-field line.
"Danny Cowles is one of my friend who I've gotten to play with for a long time and he got a good hit off me," Sharkey said. "I put myself in that position in the first inning but I had an opportunity to get it back at the plate."
Once again tied, Sharkey settled in and struck out six while allowing two hits and a walk over the next three innings before turning the game over the Dombroski.
"We had a gameplan after beating Jackson Liberty (Wednesday in the Shore Conference Tournament)," Sharkey said. "It was just a matter of who was starting between Trey and I. Trey didn't have as many pitches to throw so they gave it to me and I was all excited. I threw to the best of my ability and got to give the ball to Trey to close it."
Colts Neck has defeated Wall twice in the last two seasons - once in the Monmouth County Tournament last season and again this season on a walk-off hit by Horneck. Dombroski shutout the Cougars in the second divisional meeting between the teams this season.
"That walk-off loss to Colts Neck really put us in a bad mood," Sharkey said. "They have done it to us a couple of times these last couple years, so we came out with a lot of fire behind us. We weren't losing this game."
Wall has now won 13 straight since a 1-0 loss to Christian Brothers Academy with Dombroski on the mound in the Monmouth County Tournament quarterfinals. Over its last eight, the Crimson Knights offense has scored 74 runs, including 35 in three road games.
"That's been big," Dombroski said of the offense. "At the beginning of the year it was a little slow but we knew the bats would come around. We know that this is our time and guys are stepping up in the moment and coming through."
Thursday's win guarantees Wall at least two games next week - the first a Central Group III semifinal showdown at top-seeded Hamilton West on Tuesday. Win or lose, Wall will play Manalapan Wednesday night in Red Bank with a trip to the Shore Conference Tournament championship game on the line.
"For most of us, this is our last year and our last chance to win a championship," Dombroski said. "We're ready, we trust each other and we're going to leave it all on the field the rest of the way, however far we go."
The Crimson Knights made it to this stage last season, making both the SCT semifinals and the CJ III championship game. They lost both by one run - to Central in the SCT and to Allentown in the sectional final.
"We came up short last year but we have a little more of a fire this year," Sharkey said. "Losing on our home field to Allentown last year was a bad feeling and it's been motivation for us to come to play and take nothing for granted. We want that championship and this is our year to get it."
| | | | | | | | | | | |
| --- | --- | --- | --- | --- | --- | --- | --- | --- | --- | --- |
| | 1 | 2 | 3 | 4 | 5 | 6 | 7 | R | H | E |
| Colts Neck (12-9) | 1 | 0 | 0 | 0 | 0 | 0 | 0 | 1 | 5 | 1 |
| Wall (23-3) | 1 | 0 | 0 | 0 | 2 | 0 | X | 3 | 7 | 1 |
| | | | | | | | |
| --- | --- | --- | --- | --- | --- | --- | --- |
| Colts Neck | IP | H | R | ER | BB | SO | PC |
| Nick Torres (L, 0-2) | 4 | 7 | 2 | 2 | 3 | 3 | 89 |
| Adrian Jimenez | 0.1 | 0 | 1 | 1 | 2 | 0 | 21 |
| Brooks Condon | 1.2 | 0 | 0 | 0 | 0 | 2 | 23 |
| | | | | | | | |
| --- | --- | --- | --- | --- | --- | --- | --- |
| Wall | IP | H | R | ER | BB | SO | PC |
| Teddy Sharkey | 4 | 4 | 1 | 1 | 2 | 6 | 70 |
| Trey Dombroski (W, 8-1) | 3 | 1 | 0 | 0 | 1 | 3 | 37 |
| | |
| --- | --- |
| Colts Neck | Stats |
| Dan Cowles | 1-2, RBI |
| Reece Horneck | 1-3, R, SB |
| | |
| --- | --- |
| Wall | Stats |
| Teddy Sharkey | 1-3, 2B, RBI |
| Jay Bant | 2-4 |
| John Iradi | 1-1, 2 BB, RBI |
| John Volpe | 1-4, R |
More From Shore Sports Network