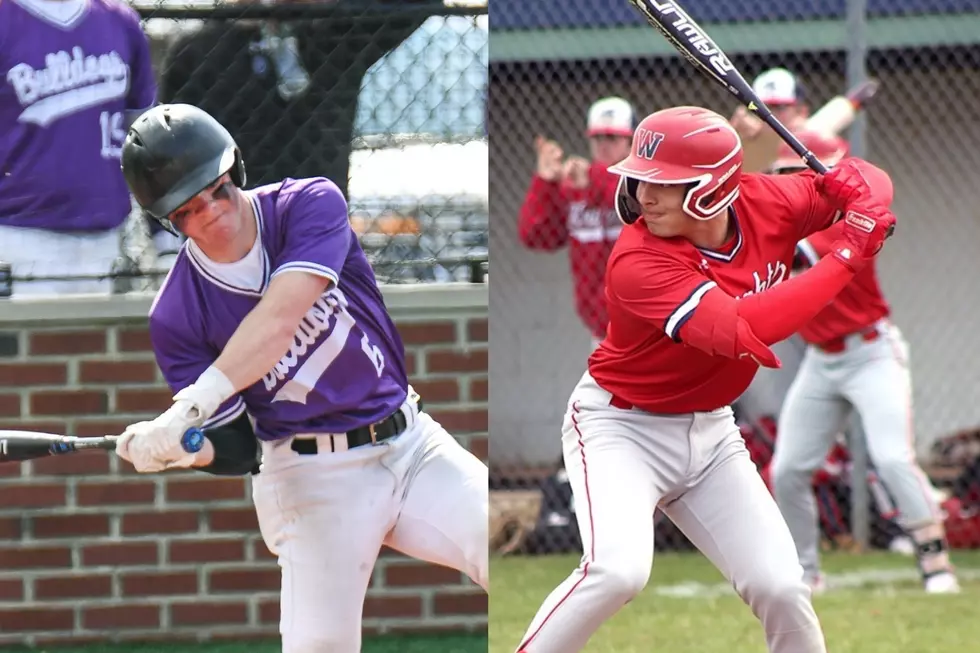 Baseball – NJSIAA Sectional Final Preview: Rumson-Fair Haven and Wall Battle for Central Group II Crown
From left: Rumson-Fair Haven junior Owen Kenney (Photo: Tom Smith | tspimages.com) and Wall senior Andrew Fischer (Photo: Steve Meyer).

Central Jersey Group II Championship
Friday, June 10, 2022
No. 2 Wall (23-6) at No. 1 Rumson-Fair Haven (21-4), 4 p.m.
Wall at a Glance
Head Coach: Jim Rochford
Last Sectional Championship: 2019
Probable Starting Pitcher
Matt Johnson, Sr., RHP (9-2, 1.92 ERA, 58.1 IP, 54 H, 15 BB, 61 K)
Notable Available Pitchers (With number of available pitches)
Andrew Fischer, Sr., RHP (106)
Triur Brown, Jr., RHP (110)
Ineligible Pitchers
Zach Szatkowski
Top Hitters
Andrew Fischer, Sr., 3B (.378, 4 2B, 2 3B, 5 HR, 22 R, 27 RBI, 9 SB)
Nick Lovarco, Sr., CF (.365, 5 2B, 4 3B, 2 HR, 26 R, 21 RBI, 21 SB)
Gabe Cavazzoni, Jr., SS (.340, 7 2B, 1 3B, 31 R, 18 RBI, 17 SB)
Jerry Winchester, Sr., RF (.356, 5 2B, 1 3B, 4 HR, 18 R, 17 RBI, 3 SB)
Jake Howlett, So., C (.356, 6 2B, 2 HR, 15 R, 24 RBI, 1 SB)
Nick Colbert, Sr., 2B (.298, 2 2B, 1 HR, 22 R, 14 RBI, 9 SB)
Jackson Coan, Sr., LF (.274, 5 2B, 2 3B, 21 R, 11 RBI, 6 SB)
Colin MacDermant, Jr., 1B (.246, 3 2B, 15 R, 13 RBI, 17 SB)
Road to the Final
First Round: Zach Szatkowski pitched a three-hit shutout with no walks and 11 strikeouts to carry the Crimson Knights to a 3-0 win over No. 15 East Brunswick Tech. Andrew Fischer walked three runs and scored a run while six different Wall players went 1-for-3, with Gabe Cavazzoni doing so with a run scored and an RBI.
Quarterfinal: After Szatkowski's first-round gem, it was Matt Johnson's turn to pitch a shutout. The senior right-hander pitched a one-hitter with eight strikeouts and two walks as Wall got past No. 7 Metuchen, 2-0. Fischer took care of the scoring early with an RBI ground rule double in the first, then scored on an error to cap the two-run inning.
Semifinal: Gabe Cavazzoni came through with a go-ahead, two-run single to center to give Wall a 3-2 lead in the bottom of the fourth and Fischer came on for three scoreless innings to pick up the save and lock up a win over No. 3 Governor Livingston. Szatkowski allowed two runs in four innings while throwing 74 pitches.
Rumson-Fair Haven at a Glance
Head Coach: Owen Stewart
Last Sectional Championship: 2004
Probable Starting Pitcher
Charlie Jones, Sr., RHP (6-2, 1.26 ERA, 39 IP, 16 H, 17 BB, 52 K)
Notable Available Pitchers (With number of available pitches)
John Goodes, Jr., RHP (82)
Jackson Hinchcliffe, Jr., RHP (100)
Cal Champeau, Jr., RHP (110)
Ineligible Pitchers
None
Top Hitters
Brian Doherty, Sr., CF (.449, 5 2B, 1 3B, 1 HR, 24 R, 13 RBI, 7 SB)
Charlie Tallman, Sr., SS (.386, 11 2B, 1 3B, 2 HR, 23 R, 22 RBI, 14 SB)
Owen Kenney, Jr., C (.359, 5 2B, 2 3B, 5 HR, 25 R, 14 RBI, 4 SB)
Johnny Bruno, Sr., LF (.426, 2 2B, 2 HR, 19 R, 17 RBI, 7 SB)
Matt Rigby, Sr., 1B (.354, 4 2B, 1 3B, 3 HR, 21 R, 20 RBI)
Liam Murphy, Sr., RF (.301, 5 2B, 3 HR, 16 R, 14 RBI, 1 SB)
Spencer Hobson, Jr., DH (.281, 3 2B, 1 HR, 6 R, 13 RBI)
Road to the Final
First Round: Griffin Shenman and Owen Kenney both homered and Jackson Hinchcliffe pitched a three-hit shutout with no walks and eight strikeouts to lead the Bulldogs to a 12-0 win over No. 16 Carteret in five innings. Charlie Tallman (2-for-3 with a triple) and Spencer Hobson (1-for-1 with a double) each drove in three runs in the win.
Quarterfinal: Charlie Jones allowed two unearned runs over six one-hit innings with nine strikeouts and two walks as Rumson fought past No. 9 Bordentown, 4-2. Johnny Bruno and Liam Murphy hit back-to-back RBI doubles to give Rumson a 3-1 lead in the bottom of the third, with Matt Rigby igniting the rally with a leadoff triple. Kenney later added a solo home run to cap Rumson's scoring and John Goodes pitched a scoreless seventh on six pitches for the save.
Semifinal: Kenney homered for the third straight game to give Rumson a 2-1 lead in the bottom of the first and the Bulldogs went off for seven runs in the bottom of the sixth to put away a 12-4 win over No. 4 seed and defending Group II champion Voorhees – the team that ended Rumson's 2021 tournament run in the same round. Bruno put Rumson up 8-4 with a two-run single in the sixth and Hobson and Shenman capped the rally with back-to-back two-run doubles. Goodes came on for 4 1/3 innings of relief and at 68 pitches, he maintained his eligibility to pitch in the championship game should the Bulldogs need him.
A Closer Look
Wall and Rumson will lock horns for the second time this season Friday and this upcoming matchup will have a whole lot more on the line than the first meeting. The two sides met in a regular-season game on May 19, which was one day after Wall lost to Middletown South in the Monmouth County Tournament championship game and one day before both teams were scheduled to play in the Shore Conference Tournament quarterfinals.
Given the circumstances, both teams went deep into the pitching staff to cover the seven innings and the result was a back-and-forth, high-scoring, 8-7 win for Rumson-Fair Have on its home field. Wall's three best statistical hitters this season – Andrew Fischer, Nick Lovarco and Jerry Winchester – all had big games in the loss, while the Crimson Knights mostly kept Rumson's big bats quiet, with junior Spencer Hobson clubbing his first homer and driving in four to lead the Bulldogs in victory.
Friday's game will have a much different intensity to it and while both teams come in with capable offenses, both have gotten superb pitching of late. Rumson's pitching has been outstanding all year, with the Bulldogs allowing just 2.5 runs per game on the season and the pitching staff posting a collective 2.02 ERA. Jones is headed to Wake Forest and has pitched numerous big games against quality opponents over the past two years and Friday's game will be the first championship game he has pitched in as a Bulldog.
Goodes – a Rutgers commit with a 1.03 ERA in 40 1/3 innings this season – has been a versatile weapon for Rumson over the past two years as both a reliever and a starter and he offers a contrasting look to Jones. Combined, the two have allowed one earned run in 11 1/3 innings this postseason and it is likely coach Owen Stewart is going to let his two co-aces cover any innings required to finish the game Friday, so long as they are both allowed to go.
Wall has not been as dominant as Rumson on the mound from start-to-finish, but no team has pitched better than the Crimson Knights during the NJSIAA Tournament and few pitchers at the Shore have been hotter than Matt Johnson. Wall's senior right-hander started the season with losses to Colts Neck and Manasquan and has since won his last nine decisions. Since giving up seven runs in a no-decision at Howell on May 1, Johnson is 6-0 with one earned run allowed in 31 1/3 innings (0.22 ERA) and 35 strikeouts with only eight walks.
Fischer has been a dominant pitcher out of the bullpen for Wall all season long and brings a 0.50 ERA over 14 innings into Friday with 23 strikeouts and just two walks.
Both lineups came into the season with sterling reputations and while both have battled inconsistency a little more than expected over the course of their respective schedules, both remain dangerous. Wall has not had a breakout game during this tournament, with Duke commit Andrew Fischer continuing to draw walks (31 on the season) and opponents mostly keeping dynamic leadoff hitter Nick Lovarco in check so far. Seton Hall commit Gabe Cavazzoni had the big hit last game and when he is locked in, Wall's top six in the order allows pitchers no breaks.
Rumson, meanwhile, had its breakout inning Tuesday against Voorhees to put away a 12-4 win and has also had a breakout star this postseason. Junior catcher Owen Kenney entered the tournament with two home runs on the season – both of which came in a blowout win over Shore Regional – and has gone on to homer in three straight games to spark the offense. Classmates Griffin Shenman and Spencer Hobson are also starting to settle in after playing their way into starting jobs and the Bulldogs are hoping another talented junior – Reece Moroney – is close to returning from a hand injury that has sidelined him since mid-March.
Rumson is trying to finish off its first sectional title in 18 years while making its first appearance in eight years. The Bulldogs have never won an overall group championship. Wall, meanwhile, is in its third sectional final in five years and is looking to add another sectional title trophy to go with its Central Jersey Group III title and overall Group III championship from 2019.
Prediction: Rumson-Fair Haven, 3-2
More From Shore Sports Network