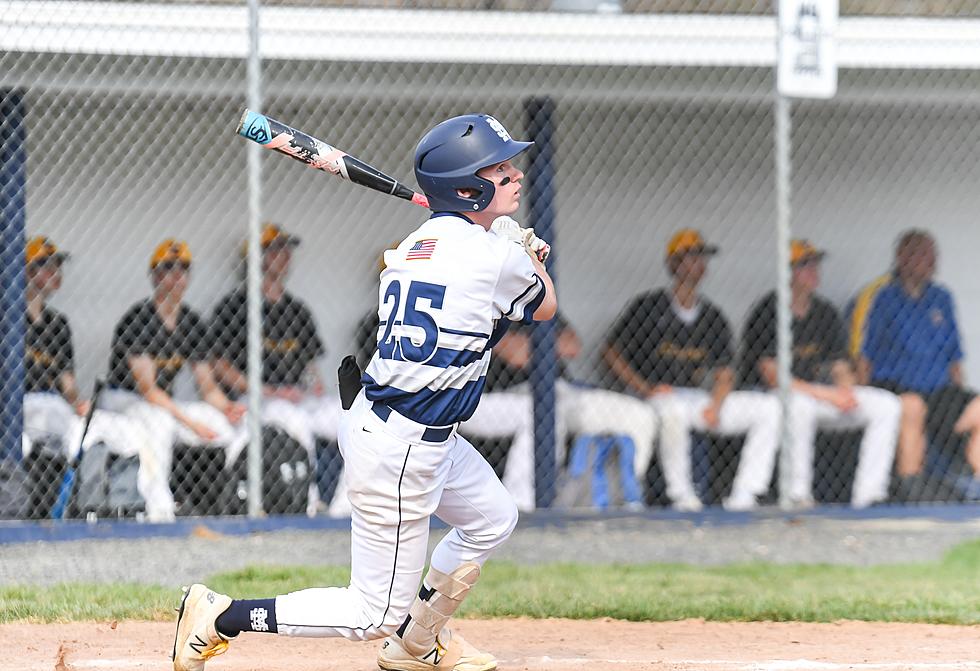 Baseball – New Starters Back Schild in Middletown South Win Over Ranked Cranford
Middletown South junior Lou D'Alessio connects on a home run in 2022. (Photo: Tom Smith | tspsportsimages.com)

MIDDLETOWN -- As bench players on the 2021 Middletown South baseball team, Matt Sliva and Louis D'Alessio each had a front-row seat for the Eagles' run to the NJSIAA Group IV championship.
On Wednesday at Walter Woods Field, in a game against a state-ranked opponent that had a postseason feel, the two first-year starters were front-and-center.
D'Alessio swatted his first career home run and scored what proved to be the winning run on an RBI double by Sliva in the bottom of the fifth to power Middletown South to a win over Cranford, the No. 19 team in the state, according to NJ Advance Media.
"We came back from a lot of games last year," D'Alessio said. "Although I was only a freshman and was pinch-running for us, I was still a part of the dugout and experienced all of that."
"These are the kind of environments I want to put these kids in because I really feel this is who we are going to be when we get into late May and June," Middletown South coach Chris LeMore said. "This is the time to learn. When you get to the middle of the year, you're not a freshman anymore, you're not a sophomore anymore, you're not a first time starter anymore. To have them play the way they did today is really a testament to them."
For the first three innings of the game, it looked like all Middletown South -- No. 5 in the Shore Sports Network Top 10 -- would have to do to wrap up a big, non-conference win was to ride the powerful right arm of junior right-hander Ben Schild. The 6-foot-5 UConn recruit sat between 88 and 92 miles-per-hour with his fastball throughout this start and he struck out nine of the first 10 batters he faced, with centerfielder Jake Carter bunting his way on in the second inning to break up the run of strikeouts.
After Schild's ninth punchout to end the top of the third and strand a runner on third base, D'Alessio jumpstarted the offense. The sophomore centerfielder ambushed Cranford starter Will Gallagher's first pitch of the inning a launched it over the right-centerfield fence for an opposite-field, solo shot to open the scoring.
"I got the fastball after he had been throwing the curveball," D'Alessio said. "I was just trying to stay through the ball. It was pitched on the outside part of the plate, I just went with it and it carried over."
D'Alessio began the season hitting leadoff for Middletown South, but settled into the No. 7 spot Wednesday and came through after Gallagher retired the first six Eagles in order.
"I felt like in the leadoff spot, he was trying to do too much," LeMore said. "He didn't quite look like he was settled and I feel like, for a young kid, being the leadoff hitter is a tall task. He is like the sixth man in a basketball game: He's got to get a feel for the game first before he can settle himself in and get moving."
Cranford, though, found a way to tie the game and it was not by squaring up Schild. Junior third baseman and George Tech commit Ryan Jaros worked a leadoff walk and stole both second and third by the time there was still only one out.
With a 2-2 count, first baseman Tony Silva squared to bunt and punched the ball just over the reach of Schild on the third-base side of the mound. The ball hit the ground and Jaros scored the tying run.
Schild struck out two more in the innings, bringing his game total to 11, with the only out other than a strikeout coming on a pop-out to Evan Wood at third base.
LeMore opted to pull Schild after 68 pitches, citing that he had an approximate maximum pitch count for his ace of 80 pitches. Schild last pitched on Friday vs. Marlboro and with his starter pitching on four days of rest, LeMore played it safe and went to his bullpen.
"We were in discussions all day," LeMore said. "That's one of the advantages of being in the school in which I coach. I have been around and I have never been in the building, so we were able to have a conversation first block, we were able to have a conversation fourth block. First block was different than fourth block and by fifth block it was 'I want the ball.'
"He was going to be in relief today and the conversation was, 'What is the number (of pitches) that you have? At that point, it was probably 80. I start shaking when we get to 90. It's still too early for that."
Wood came on to relieve Schild, which has been a comfortable move for LeMore over the last two seasons. Wood saved five games in 2021 and already has one in 2022, but on Wednesday, he would need to keep a dangerous lineup quiet long enough to give the offense a chance to score. The senior right-hander did just that, tossing three scoreless innings with one hit allowed in each frame he pitched with no walks.
"There is nobody better to put in the end of the game," LeMore said. "Look at his body of work: He was 4-1 with five saves last year, he's already closed two close games for us this year. If there is one guy to have the ball in his hand at the end of the day, it's Evan Wood."
In the bottom of the fifth, Middletown South gave Wood a lead to protect. With two out, D'Alessio roped a hard ground ball toward the how between shortstop and third base. He beat the play in plenty of time and the throw got away on top of that, allowed D'Alessio to motor to second base, just barely beating the throw from first base to try and nab him advancing.
Sliva then stepped in and with the outfield playing in to defend the two-out single and have a chance to throw D'Alessio out at home, the junior second baseman smashed a shot deep into left-centerfield for a two-out RBI double that put the Eagles back on top.
"Two strikes, I was just trying to shorten up and put the ball in play," Sliva said. "He gave me a fastball and I read it, put it in play and got the run in. I saw they were playing in, so I knew on contact it was going to get over his head. I just started thinking two."
Wood took it from there, working around a leadoff infield single to strand a runner on third in the sixth. With two out, freshman Brendan Sliva went into the shortstop hole, fielder the ball and fired across the diamond for the out, which prevented the tying run from scoring.
A still image on social media appeared to show that Carter beat the play at first base and had it been called that way, Cranford would have scored the tying run.
Instead, it was a memorable play for a freshman shortstop, with his older brother and double-play partner looking on while it happened.
"That got me going," Sliva said. "To see my brother make that play, especially since he has been a little low on this throws this year and to see him dart that thing over from short to first, it was a great feeling.
The Sliva brothers and D'Alessio are part of an all-new defense up the middle for Middletown South, with senior Ben Cacoilo taking over at catcher as well.
"It's been great," Matt Sliva said of playing with his brother. "We have been working on this our whole lives, but we never got to play on the same team. Now, it's his first year of high school and I'm a junior, so it's awesome. It's what I have been waiting for since 8U and the varsity setting is awesome."
In the Cranford seventh, Shea Grady singled and went to second on a sacrifice, but Middletown South's defense again came through. Wood snared a comebacker to the mound and caught Grady between second and third and initiated a run down. The Eagles executed the play, got the out and came out of it with the tying run now on first base and two out instead of in scoring position.
Wood induced a ground out to Matt Sliva at second to end the game.
After a big win on Wednesday, the Eagles are scheduled to complete their Shore Conference Class A North home-and-home against Long Branch before heading to play Delbarton on Saturday. Those games will lead into a crucial A North series with Christian Brothers Academy next week, with Schild pitching next in one of those two games.
"Playing in Class A North gets you ready for games like today," LeMore said. "If you come out against an A North team and you aren't focused, you are going to lose. That sort of intensity prepares you for games like this and, ultimately, games in late May and June, when we want to be at our best."
Box Score
Middletown South 2, Cranford 1
| | | | | | | | | | | |
| --- | --- | --- | --- | --- | --- | --- | --- | --- | --- | --- |
| | 1 | 2 | 3 | 4 | 5 | 6 | 7 | R | H | E |
| Cranford (5-2) | 0 | 0 | 0 | 1 | 0 | 0 | 0 | 1 | 5 | 1 |
| Midd South (5-2) | 0 | 0 | 1 | 0 | 1 | 0 | X | 2 | 4 | 0 |
Pitching
| | | | | | | | |
| --- | --- | --- | --- | --- | --- | --- | --- |
| Cranford | IP | H | R | ER | BB | SO | PC |
| Will Gallagher (L, 2-1) | 6 | 4 | 2 | 2 | 0 | 6 | 89 |
| | | | | | | | |
| --- | --- | --- | --- | --- | --- | --- | --- |
| Middletown South | IP | H | R | ER | BB | SO | PC |
| Ben Schild | 4 | 2 | 1 | 1 | 1 | 11 | 68 |
| Evan Wood (W, 1-1) | 3 | 3 | 0 | 0 | 0 | 1 | 43 |
Top Hitters
| | |
| --- | --- |
| Cranford | Game Stats |
| Ryan Jaros | 1-2, BB, R, 2 SB |
| Tony Silva | 1-3, RBI |
| | |
| --- | --- |
| Middletown South | Game Stats |
| Lou D'Alessio | 2-2, HR, 2 R, RBI |
| Matt Sliva | 1-2, 2B, RBI |
More From Shore Sports Network