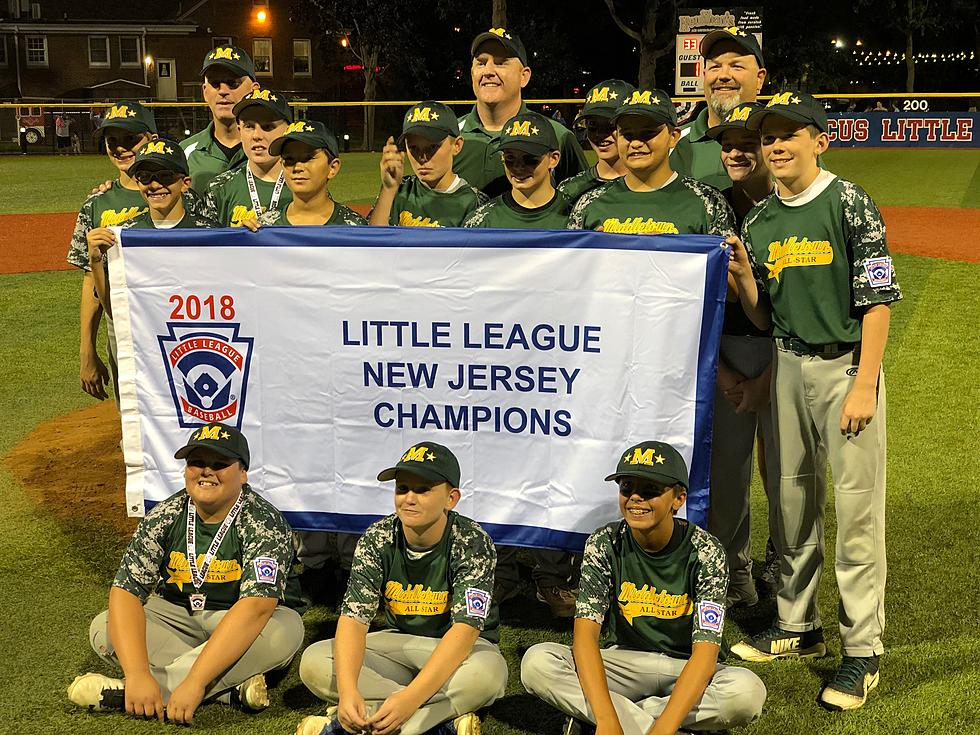 Baseball – Middletown Little League Bows Out of Regionals
Middletown Little League defeated Elmore, 4-1, to win its first-ever state championship. (Photo by Robert Badders/Townsquare Media NJ).
Middletown's Jason Quardt was inches away from making a potential momentum-changing diving catch in center field during the fourth inning of a win-or-go-home game in the Mid-Atlantic Regional.
When the ball bounced out of the webbing of his glove, however, the floodgates opened and the memorable run for the Middletown Little League squad ran off the rails.
Berlin Little League of Maryland scored six runs with two out in the fourth to break open a close game and spark an 11-1 win Friday over Middletown to advance to the regional final Saturday against Mid-Island Little League of Staten Island.
Matthew Sheehan entered the game with Berlin runners on second and third and none out in the fourth with his Middletown team trailing, 3-1. Sheehan induced a pop-up and a soft line-out for the first two outs coaxed Berlin pinch-hitter Briggs Pugner into a soft line drive to shallow center.
Quardt reached the ball with his diving attempt coming in on the ball, but it squirted out of his glove, allowing the two runs to score and extend the Berlin lead to 5-1. Berlin added four more runs: one on a pinch-hit bouncer through the right side by Foster Smith, another on a wild pitch on a potential inning-ending strikeout, one on an infield single in front of home plate and the last one on an inning-ending fielder's choice rundown.
Berlin ended the game with a two-run single by Nate Berzonski that activated the 10-run rule in the bottom of the fifth. Cannon Cooper opened the inning with an infield single and Riley Calloway hammered a double off the fence to set up Berlin with runners on second and third and none out.
Maryland's state champs wasted little time in jumping on the scoreboard, with shortstop Owen Knerr blasting his fifth home run of the regional tournament with two out in the bottom of the first. The solo blast gave Knerr five of the seven home runs hit in the Mid-Atlantic Regional.
Lukas Loring added an RBI double with two out in the first and Case Tilghman capped the first-inning scoring with an RBI single to right field.
Middletown answered the three-run Berlin first with some two-out magic in the top of the second. After Berlin starter Stephen Wade struck out the first five hitters he faced, Quardt doubled over the head of left fielder Waylon Hobgood and catcher Joey Wall drilled an RBI double to the fence in right-center.
Berlin suffered a 6-2 loss to Middletown on Monday and advanced through the loser's bracket to get another shot at the New Jersey champs, which lost to Staten Island on Wednesday.
More From Shore Sports Network