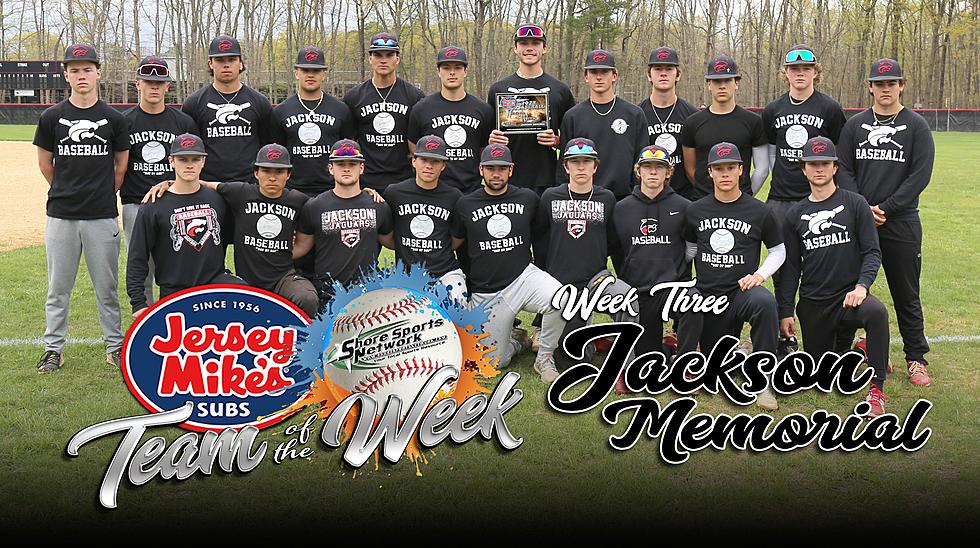 Baseball – Jersey Mike's Week 3 Team of the Week: Jackson Memorial
Photo: Steve Meyer

The Jackson Memorial baseball team has had some exceptional teams with exceptional players in its recent history, but this year's team has, over the last two weeks, had the look of a special group that is being led by one of the hottest hitters in the state.
A 4-1 loss to Brick Memorial dropped Jackson Memorial to 3-2 overall and in the two weeks since, the Jaguars have rattled off eight wins in a row -- including seven in a span of nine days to earn them the Jersey Mike's Week 3 Baseball Team of the Week.
The winning streak started on Friday, April 13, when the Jaguars erased an 8-0 deficit to beat Brick, 16-10. The following Monday begin the Team-of-the-Week push, with the Jaguars crushing crosstown rival Jackson Liberty, 11-1, followed by another come-from-behind win over Brick -- this time with the Jaguars overcoming a 9-4 deficit to win, 13-9.
"We're not the same team we were in the first two weeks," Jackson Memorial coach Pat George said. "We would do one thing right and two things wrong and that would cost us. During this run we're on, we have been executing in all three phases -- pitching, hitting and defense. Everything is clicking right now, we're coming up with timely hits, we're making our pitches and playing sound defense."
After those three wins against teams with losing records, Jackson Memorial has picked things up with five consecutive noteworthy victories -- three of which came during Week 3 of the season.
It started with a hard-fought, 4-3 win over fellow Class A South contender Central Regional Thursday in a game that saw senior ace Anthony Mehmet pitch a complete game to earn the victory.
The following night, the Jaguars participated in the annual Autism Awareness showcase in North Brunswick and flexed their muscles in a 10-6 win over perennial South Jersey Non-Public A contender St. Joseph of Metuchen. Senior Charlie Meglio starred in the win by hitting two of his Shore-Conference-leading seven home runs and driving in five of his Shore-leading 28 RBI, including the tiebreaking grand slam in the sixth inning.
On Sunday, Jackson Memorial capped its week with a 3-2 win over a Kingsway team that entered the day ranked No. 9 in the state by NJ Advance Media. After falling into a 2-0 hole, Jackson Memorial's bullpen trio of Tommy Mazzella, Nick Izzo and Dean Daddio pitched 6 2/3 scoreless innings of relief to give the Jaguars offense a chance to rally for the win.
Daddio returned to the Jaguars after graduating in 2022, playing as a bridge-year senior -- which is an option offered to 2021 and 2022 graduates who want to play an extra year of high-school sports in the spring while attending community college. During the current eight-game winning streak, Daddio has pitched in relief in five of the wins and earned either a win or a save in four straight appearances.
"Daddio has been our guy," George said. "In big moments, he wants the ball. He was in the same type of role last year and he's just a year better. He just wants it more than anybody and you can tell when he's out there."
During the early part of the season, Meglio has been the Shore's most powerful hitter, posting a line of .371/.551/1.029 with seven homers, two doubles and 28 RBI.
"His approach is second-to-none right now," George said. "He goes up looking to hit early in the count and attack. If anyone is the poster child for what we preach, it's him."
Jackson Memorial ran its winning streak to eight with wins over Central and Southern on Monday and Tuesday, holding on for an 8-6 win at Central and returning home to earn a 4-3 win over Southern in 10 innings.
Jersey Mike's 2023 Team of the Week Winners
Week 1: Southern
Week 2: Shore
Week 3: Jackson Memorial
More From Shore Sports Network