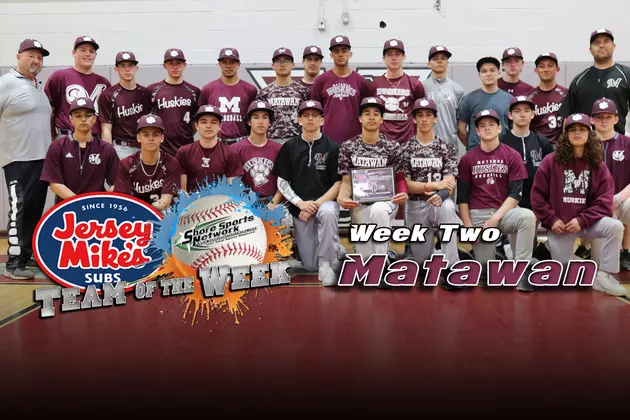 Baseball – Jersey Mike's Team of the Week: Matawan
Photo by Steve Meyer
Last week began with Raritan looking poised to run away with a second consecutive Shore Conference Class A Central champions and Matawan three games back in the loss column with a sub-.500 record in the division.
After hammering Long Branch on April 14, the Huskies fought their way back into the Class A Central race by beating Raritan, 7-5, then knocking off junior right-hander and Villanova commit Jack Povey and his surging Red Bank Regional squad to extend their winning streak to three.
Matawan then opened up this week with a 12-3 win over Shore Regional to make it four in a row and on Wednesday afternoon, the Huskies picked up the third Jersey Mike's Team of the Week Award of the 2018 season.
Raritan dropped its first divisional loss of the season on April 17 against St. John Vianney and the next day, Matawan kept the Rockets reeling by handing them a 7-5 loss thanks to a seven-run sixth inning that erased a 5-0 deficit. Dan Hirujo was 2-for-3 with a two-run double in the big inning.
The Huskies picked up where they left off by plating eight runs against Povey in four innings on Friday during an 8-1 win. Hirujo delivered again on Friday, this time allowing one run over six innings in the win.
Matawan hung around the Class A Central race a year ago thanks to a win over Raritan before fading at the end of the division schedule and settling for second place. With some holes to fill from a year ago, particularly in the pitching staff, the Huskies got off to a lukewarm start but their latest offensive outburst - they have scored 42 runs during the four-game streak - has them looking like a dangerous team heading into the stretch run of the regular season and the Monmouth County Tournament.
Matawan travels to play Ocean Friday in the preliminary round of the MCT and if the Huskies can win an MCT game for the second straight year, they will also get a chance to play second-seeded Christian Brothers Academy in the first round for the second straight year.
2018 Team of the Week Winners
More From Shore Sports Network