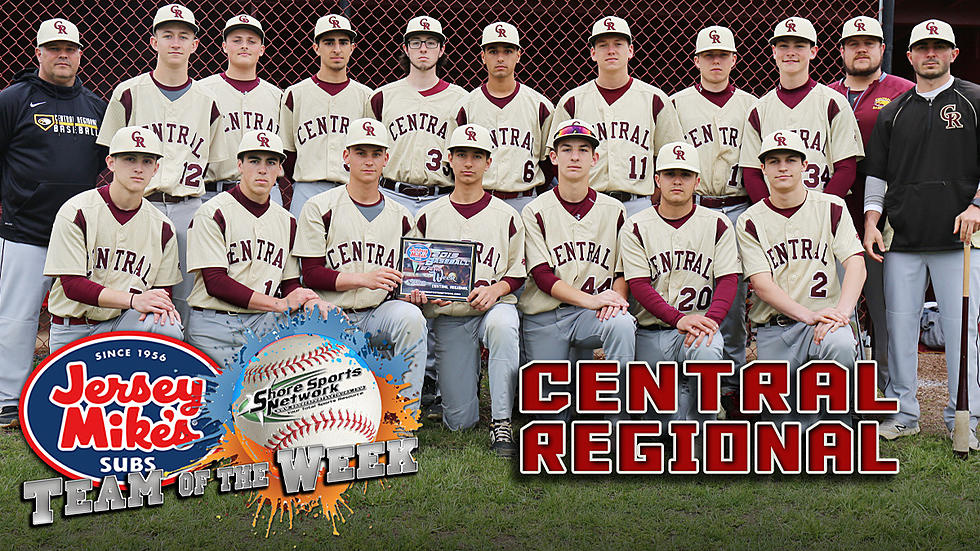 Baseball – Jersey Mike's Team of the Week: Central
Photo by Steve Meyer
When Jerry Frulio took over the Central Regional baseball program for his second stint as its head coach, he knew he was not inheriting the team that won 18 games and reached the Shore Conference Tournament championship game a year ago.
Seven senior starters graduated from that squad and the group that returned had limited experience throughout the lineup, so Frulio was hoping to lay the foundation for some good seasons in the near future and pick up a few wins along the way in 2019.
One of the wins the Golden Eagles picked up along the way was one that few, if any, could have ever seen coming.
Last Thursday, on the morning of April 25, a two-win Central club picked up its third win of the season by stunning Jackson Memorial, 4-3. The Jaguars were then ranked No. 1 at the Shore and No. 2 in the entire state behind a 9-1 record and an overwhelming run-differential fueled by a relentless lineup, deep pitching staff and sure-handed defense.
Central entered the season just hoping to get some of its younger players experience and provide its few senior contributors with some memorable moments, but a last-place team in A South beating one of the best teams in the state? That was not in the playbook and when a team goes above and beyond the call like Central did on that Thursday morning, it has to be the Jersey Mike's Team of the Week.
As is the case with any huge win, Central had many heroes. First and foremost, there was junior right-hander Dan Greene. As a sophomore in 2018, Greene gave Central some quality innings in meaningful games and has absorbed a more prominent position in this year's pitching staff. He proved he could headline a rotation with his start against Jackson Memorial, which included three earned runs on five hits and three walks to go with five strikeouts in a complete-game effort.
Despite a slow day at the plate, the visiting Jaguars still had a 2-0 lead heading into the bottom of the fifth with junior left-hander Nick Beetel on the mound. Beetel was an All-Shore pitcher last season after catching fire during Jackson's run to a South Jersey Group IV championship and a two-run lead would figure to be safe in his hands.
Central, however, rallied against the Jaguars' All-Shore southpaw. Senior Scott Truhan bunted for a base hit to start the inning and senior Nick Altieri followed with a single through the middle. Senior Jack Santora then delivered an RBI single to break up the shutout before Jackson finally got an out at third base on a sacrifice attempt.
Shane Sajewicz followed with a single to load the bases and junior Evan Agripedes delivered a game-tying RBI single. Junior Mike Masino gave Central the lead with an RBI fielder's choice that turned into two runs on a throwing error.
Greene responded by pitching a one-two-three sixth inning but ran into trouble in the seventh. Matt Feld led off the inning with a double but Green got the next two batters on a strikeout and ground out. Christian Pellone then cut the Central lead to one with an RBI double to bring up Ahmir Cournier with a chance to tie the game with a two-out hit. Cournier entered the game hitting .600 for the season but Greene got him to pop out to seal the upset.
Central will hope to pull off another upset when it opens this weekend's Ocean County Tournament as the No. 15 seed taking on No. 2 Jackson Liberty on Saturday.
2019 Team of the Week Winners
More From Shore Sports Network