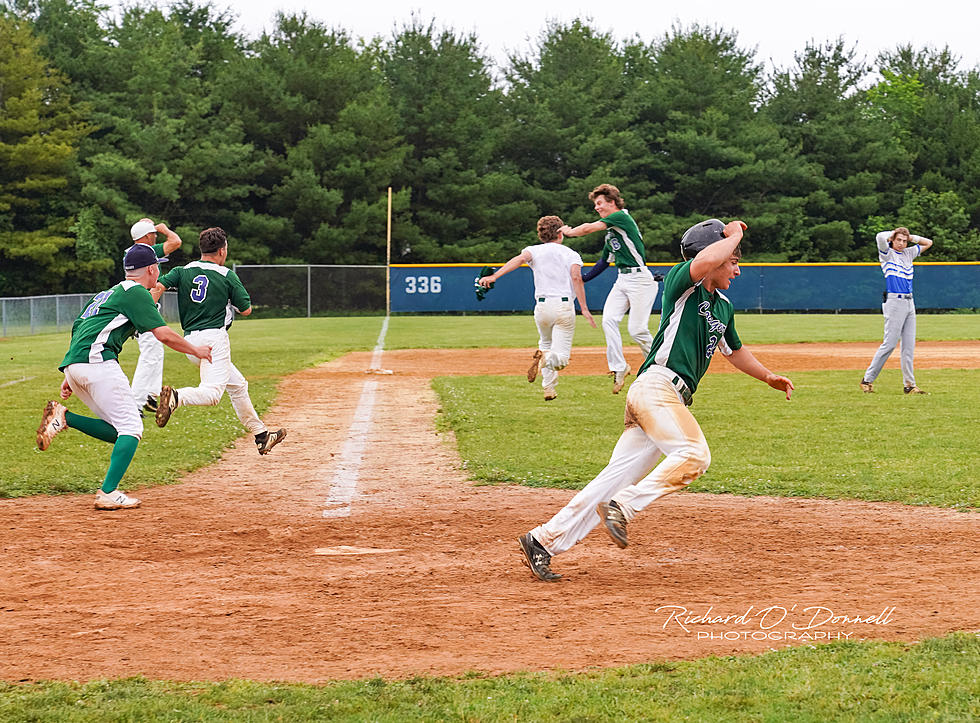 Baseball: Dave Cohen's Walk-Off Slam Gives Colts Neck (NJ) First Sectional Title in Program History
Richard O'Donnell

COLTS NECK – The reality of what he had just accomplished was beginning to set in for Colts Neck junior Dave Cohen as he rounded first base. But before he could even complete his historic home-run trot, the celebration had come to him.
With the bases loaded and no outs in the bottom of the seventh and the NJSIAA Central Jersey Group 3 championship game vs. Northern Burlington knotted at two, Cohen took the first pitch of the at-bat and blasted it over the right-field fence for a walk-off grand slam that delivered Colts Neck its first state sectional championship in program history.
Cohen touched first and Cameron Knipp scored the winning run from third to officially end the game, but before he could complete his trip around the bases he was mobbed by his teammates and a group of fans in between second and third. The other two runners also came around to score and Cohen did eventually complete his jog around the bases. Some Northern Burlington players made a last-ditch argument that Cohen – or somebody, anybody – should be out because of the celebration, but the home plate umpire said that because of the interruption, it would officially go down as a walk-off single and a 3-2 victory for the Cougars.
That is just bookkeeping at this point, however. In Colts Neck, it will always be remembered as a walk-off slam that gave the Cougars their first NJSIAA sectional title.
"Once I hit it I knew we were going to win," Cohen said. "But I had no idea it was going over, I honestly thought I hit the fence. It was an unreal feeling."
"No matter what happens, whether the ball is 20 feet over the fence or not, Cameron scored and that's it," said Colts Neck head coach Mike Yorke. "They're going to remember that whole sequence for the next 10, 20, 30, 50 years. I'm super happy for Dave. There's no one else I would rather have up there. I knew he was going to square it up and hit something solid. He's a heck of a hitter."
The third time was the charm for Colts Neck, which had previously reached sectional finals in 2006 and 2008. The Cougars now await the winner of Saturday's South Jersey Group 3 championship game between Mainland and Ocean City and will host the winner of that game on Monday in the Group 3 semifinals.
It was a storybook seventh inning for Colts Neck, but the tone was set in the bottom of the sixth when Brad Salamone made a diving catch in left field to cap a flawless two-inning relief stint by junior right-hander Collin Kratzer.
"Once Brad made that catch in the outfield I think the kids felt like they were going to win the game," Yorke said.
The Cougars were set up well with the top of the order coming to the plate in the bottom of the seventh. Knipp laced the first pitch he saw into center field and Christian Rice followed by dunking a base hit down the right-field line. Knipp raced to third and Rice motored to second when the throw went through to the catcher. Rice was actually sent up to sacrifice bunt Knipp over to second but fouled off his first two attempts. With the bunt now out of the equation, he fouled off another offering before taking a two-strike pitch the other way to put runners on second and third with nobody out.
"You could see he was visibly upset he didn't get the job done bunting, and he's typically one of our better bunters," Yorke said. "He was a little frustrated but what a great job he did with two strikes."
Northern Burlington then intentionally walked Salamone to load the bases and set up a force play. But that never came into the equation thanks to Cohen's heroics.
"Every inning we were on them. We had runners on base but just couldn't pull through," Cohen said. "I was looking for a fastball that first pitch, everyone was telling me the same thing. That last inning we had the momentum coming off the diving catch and everybody did their job."
Sophomore left-hander Anthony Gubitosi started for Colts Neck and provided a gritty five innings of work on 108 pitches, allowing two unearned runs on four hits while striking out eight and walking five. He allowed a baserunner in all five innings but found a way to shut the door in key moments, which included picking off two Greyhounds baserunners.
"I woke up this morning and saw that everyone picked Northern Burlington to win and that just gave me motivation," Gubitosi said. "It feels great to get the win and make history for Colts Neck."
"He's a baller," Yorke said. "He wants the baseball in his hands all the time and what else can you ask of anybody. I think he was having a little bit of control issues with his secondary pitches in the inning where they scored, but give Northern a lot of credit, those top four or five guys really swing it and they're not getting cheated on swings. He had to throw his fastball more because he wasn't getting the other two pitches over, but after that he settled down nicely. He's a warrior."
Colts Neck struck first with two runs in the bottom of the second inning. Cohen led off the inning with a single to right field and catcher Joe Cilea singled with one out to move Cohen to third. Blaze Masterson then executed a perfect safety squeeze bunt to plate Cohen for a 1-0 lead. Ben Goldman followed with an RBI single to bring home Cilea to make it 2-0.
Northern Burlington answered immediately with two runs in the top of the third. Gubitosi struck out the first two hitters before Marco Mannino began the two-out rally with a single. Drew Wyers then reached on an error and a balk moved the runners to second and third. On a full count, cleanup hitter CJ Fredricks came through with a two-run single to left field to tie the game 2-2.
Both teams were able to load the bases in the fourth inning but neither could find the two-out hit they needed. Colts Neck also put runners on first and second with one out in the sixth inning.
While those innings and the seven total runners left on base represented missed opportunities, the way Colts Neck's players saw it, it was only a matter of time before they broke through.
"We won our division this year, too, and now we get a second banner in the gym for this," Cohen said. "I don't even know how to describe this. It's amazing."
LOOK: Here are the 25 best places to live in New Jersey
Stacker
compiled a list of the best places to live in New Jersey using data from
Niche
. Niche ranks places to live based on a variety of factors including cost of living, schools, health care, recreation, and weather. Cities, suburbs, and towns were included. Listings and images are from
realtor.com
.
On the list, there's a robust mix of offerings from great schools and nightlife to high walkability and public parks. Some areas have enjoyed rapid growth thanks to new businesses moving to the area, while others offer glimpses into area history with well-preserved architecture and museums. Keep reading to see if your hometown made the list.
More From Shore Sports Network