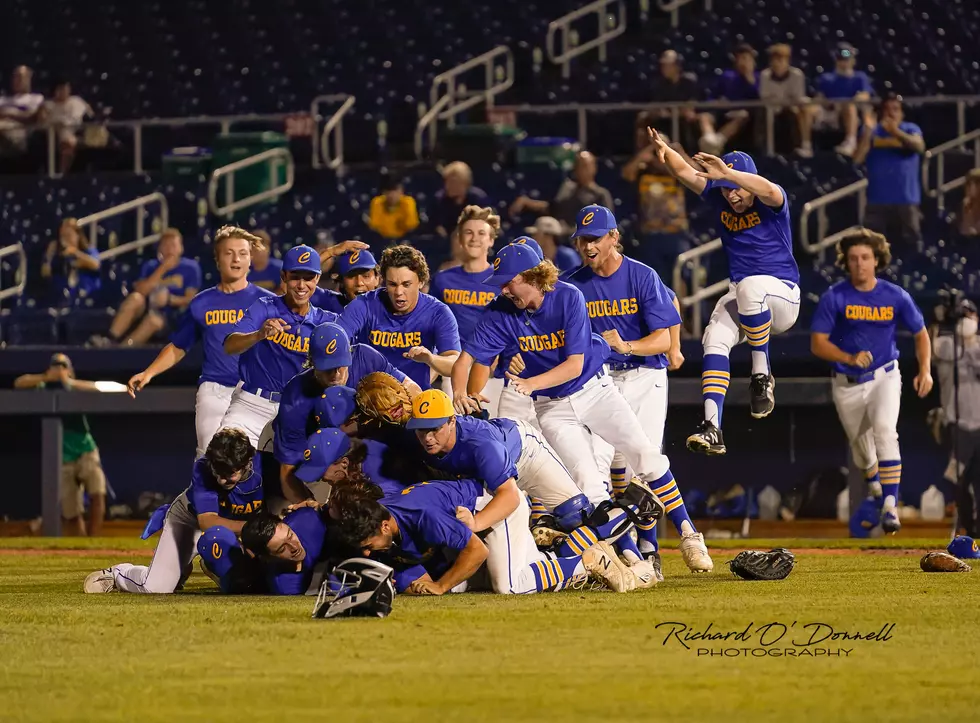 Baseball – Cranford Cruises Past Jackson to Complete Last Dance Run
Cranford celebrates its Last Dance title. (Photo by Richard O'Donnell)

Enter your number to get our free mobile app
TRENTON - Right around 9 p.m. eastern time, on the field at Arm & Hammer Park, a significant portion of a senior-laden group of Jackson Memorial baseball players shed visible, audible tears - the kind that are commonplace for a team that loses its last game of the year.
They are not the kind of tears an athlete wants to cry but Friday night's tears had additional layers to them. To categorize them as either tears of sorrow or tears of joy would not do justice to the whirlwind of emotions the Jags and so many others have felt over the last four months.
In early May, when it became apparent that there would be no spring scholastic season in New Jersey because of the COVID-19 pandemic, a moment like the one the Jackson players experienced hardly would have been conceivable.
"When we were told the season was canceled, it was one of the worst feelings I've felt," senior third baseman Jake Wendell said. "At least we were able to play the full eight games and that's what really mattered to us - even if it wasn't in the greatest way."
Last Dance: Jackson vs. Cranford
The Jags wanted to finish the Last Dance World Series as the undisputed top team in New Jersey, but that distinction will go to the Cougar Baseball Club from Cranford, which completed a staggeringly-dominant three-week run by rolling over Jackson, 12-2, in five innings in Friday's state championship game.
Jackson's players were disappointed to lose and to play its worst game in its last game. At the same time, they were thankful to have a last game to process at all and to share in the anguish with one another on the field rather than on a video conference call.
"The goal set forth at the beginning was to spend the three weeks together," Jackson Jags coach Frank Malta said. "We didn't finish it but right from the beginning, we said we got cheated out of three months and we wanted to make the most out of these three weeks and we did."
"I went from the worst news of my life and ended up playing in the biggest game of my life," senior second baseman Christian Pellone said. "It's a bittersweet thing, losing the season because of the coronavirus, but I wouldn't change anything that happened."
The Jags players also marveled at the Cranford hitting attack, which lived up to the lofty expectations the Cougars set for themselves over the course of the tournament. With another 10-run victory, Cranford outscored three high-profile opponents - Don Bosco, Bergen Catholic and Jackson - by a combined scored of 34-2 during the last week of the LDWS.
"It felt like they gave us a taste of our own medicine," Wendell said. "That's the stuff we usually do to other teams. Those guys never let off the gas, they kept going and they are a very good ball club."
"This tournament just preaches to what Cranford Baseball is," Cranford senior Aidan Plick said. "It's never about individual talent. It's just one-through-nine, we need guys who are able to get the bunt down, get on, come through in clutch situations, situational hitting and it's what we have been able to do all tournament. We never really need to depend on one guy to get us there."
An early deficit is nothing Jackson has not seen during its seven-game streak toward, but falling into an early hole against Cranford and with a taxed pitching staff made for an entirely different challenge. Senior Joe Santoriello got the start on the mound - his first appearance since allowing one run over three innings against Manalapan's Monmouth Monarchs squad during the first week of the tournament.
Marcus Johnson bounced a slow ground ball through the right side and got to third with a stolen base and a wild pitch before freshman Ryan Jaros worked an eight-pitch walk. Senior first baseman Aidan Plick bounced another single through the right side to plate the first run.
Senior second baseman Jake DiClerico dropped a bunt to the left side of the infield and beat it out to load the bases, but Santoriello answered with a strikeout for the first out of the inning. Catcher Lucca Limeria struck back with an RBI single and Malta went to his bullpen and senior Dan Greenwood, who threw 34 pitches on Wednesday night vs. Bishop Eustace's Sader Baseball Club.
Senior Joe Meola greeted Greenwood with a line-drive single to left-center on the first pitch, chasing home two more runs. It took a fly-ball double-play, with right fielder Bill Petrina doubling off Meola at first, to get Jackson out of the first inning with Cranford out to a 4-0 lead.
"We came in and won pitch-by-pitch - that's all we try to work on," Plick said. "We try not to worry who were are playing. Three powerhouse teams - we knew that going in but we just put that out of our mind and focused on what we had to do."
Unlike the three other times during this tournament in which Jackson allowed at least one run in the first inning, the Jags were unable to respond with a run of their own in their next turn at-bat. Senior catcher Tom Cartnick continued his torrid tournament with a solid single to center with two out but Cranford starter Joe Carea coaxed a ground out from first baseman Carmine Petosa.
Jackson shortstop Ty Beck started a 6-4-3 double play to end a scoreless Cranford second but the Cougars did their most serious damage in the top of the third.
Jags centerfielder Ryan Lasko made an all-out diving catch for the second out of the inning, but Plick - who led off the inning with a double - scored on the sacrifice fly by centerfielder Mike Murphy.
Lasko nearly made another acrobatic catch on the next ball in play, but the line drive by Limeria popped out of his glove as he made a leaping attempt. With the bases empty prior to Limeria's single, Lasko's missed catch opportunity seemed innocent enough, but no situation is low-risk against a Cranford offense that finished the Last Dance averaging 10 runs per game.
"Those balls are being scalded and when you're leaving balls like that for them to hit, plus you're not establishing the zone, close plays like that are going to seem like the difference but really, they just kept hitting the ball hard."
Greenwood hit Meola and sophomore shortstop Will Gallagher ripped a single inside the third-base bag to score a sixth run. Greenwood hit another batter to load the bases to end his outing.
Malta turned to sophomore left-hander Zach Crotchfelt, whom Malta said would not be available after the Auburn commit threw 60 pitches Wednesday night. With the bases loaded, two out and Jackson needing to stop the Cranford offensive barrage, it fit the description of a situation that called for using the talented left-hander.
"That was kind of an emergency plan," Malta said. "(Crotchfelt) really begged for it. We talked to his dad about it and they were satisfied with it. Danny has been great too but again, you're bringing a guy back on short rest to try to minimize damage and he hasn't done it yet. It's hard because they are such a good offensive club. To beat them, we had to be as good as we had been for the last seven games and we couldn't be that, unfortunately."
Crotchfelt missed just low with a 3-2 fastball against Johnson to force in the seventh Cranford run and Crotchfelt after running up a 3-2 count against Jaros, the talented freshman connected for a three-run double to broke the game wide-open at 10-0.
Cranford added two more runs in the rally on a wild pitch and an error, giving the Cougars an eight-run inning.
"In 15 years, I don't think we've given up an eight-run inning at Jackson," Malta said. "Credit to them. They took it to us and they deserved to win this thing.
"We never got to establish the strike zone. They established the strike zone as an offensive team and we never got to establish the zone as defenders and that has been the recipe for us during this (tournament)."
Sophomore right-hander Devin Foderaro stabilized the game for Jackson with two clean innings after getting the final out of the third.
Jackson mounted a threat in both the third and fourth innings but could not break through. Pellone drew a one-out walk and Lasko was hit by a pitch to put runners on first and second. That brought up Cartnick and his .588 tournament batting average heading into the at-bat and Carea got him to ground into a 6-4-3, inning-ending double play.
Petosa opened the fourth with a booming double off the right-field wall, but Carea got a ground out, a strikeout and a pop-up on which DiClerico made a running, over-the-shoulder catch on a blooper by Jake Caruso to end the inning.
Jackson finally got on the board in the bottom of the fifth on a two-out, two-run single by senior Matt Feld, who replaced Cartnick in the batting order after the catcher aggravated a back injury.
The Jags had runners on first and second with two out, trying to extend the game, but Carea finished it with a strikeout to clinch the championship.
Coming up short on Friday did not change Jackson's overall outlook about the tournament and their performance to get to the final. The LDWS began as a longshot idea in late May and on Friday night, it was a completed tournament that delivered closure to so many players, especially the two that played the maximum eight games.
It had an added element of gravity Friday night with Governor Phil Murphy throwing out the ceremonial first pitch and Toms River's own Todd Frazier delivering a message over the video board prior to the first pitch.
"Going from (losing the season) it was heartbreaking for pretty much everybody on this team, especially for the seniors," Plick said. "There are only four of us continuing to play baseball, so this was our last shot."
"It started out as a rumor and it ended up being the biggest thing I have ever played in," Pellone said. "Playing in major stadiums, we got to play in dogfights against great teams in front of great crowds with people fighting to get tickets. I've never been a part of anything like that."
Jackson's seniors concluded their high-school careers as one of the last two teams standing in the Last Dance World Series that started with more than 220 clubs, winning the South Jersey championship in the process. That title goes with a 2018 NJSIAA South Jersey Group IV championship in which many of the current seniors played key roles."
"Playing with these guys, playing in these nice stadiums and just having these last three weeks have been a blast," Wendell said. "Coach Malta, I'd say, is the best coach in the state. We work our butts off every day and it's just a great time being around these guys. Going into high school, I didn't know what to expect, but it's been even more fulfilling than anything I could have expected."
Cougars Baseball 12, Jackson Jags 2 (5 Innings)
| | | | | | | | | | | |
| --- | --- | --- | --- | --- | --- | --- | --- | --- | --- | --- |
| | 1 | 2 | 3 | 4 | 5 | 6 | 7 | R | H | E |
| Cougars Baseball (8-0) | 4 | 0 | 8 | 0 | 0 | X | X | 12 | 10 | 0 |
| Jackson Jags (7-1) | 0 | 0 | 0 | 0 | 2 | X | X | 2 | 4 | 1 |
| | | | | | | | |
| --- | --- | --- | --- | --- | --- | --- | --- |
| Cougars Baseball | IP | H | R | ER | BB | SO | PC |
| Joe Carea (W, 2-0) | 5 | 4 | 2 | 2 | 5 | 4 | 91 |
| | | | | | | | |
| --- | --- | --- | --- | --- | --- | --- | --- |
| Jackson Jags | IP | H | R | ER | BB | SO | PC |
| Joe Santoriello (L, 0-1) | 0.1 | 4 | 4 | 4 | 1 | 1 | 25 |
| Dan Greenwood | 2.1 | 5 | 5 | 5 | 0 | 0 | 28 |
| Zach Crotchfelt | 0 | 1 | 3 | 2 | 2 | 0 | 19 |
| Devin Foderaro | 2.1 | 0 | 0 | 0 | 0 | 1 | 19 |
| | |
| --- | --- |
| Cougars Baseball | Game Stats |
| Aidan Plick | 2-2, 2B, 3 R, RBI |
| Lucca Limeria | 2-3, RBI |
| Ryan Jaros | 1-3, 2B, BB, 2 R, 3 RBI |
| Joe Meola | 1-2, R, 2 RBI |
| Will Gallagher | 1-3, RBI |
| Marcus Johnson | 1-3, BB, 2 R, RBI |
| | |
| --- | --- |
| Jackson Jags | Game Stats |
| Matt Feld | 1-1, 2 RBI |
| Carmine Petosa | 1-2, 2B, BB |
| Tom Cartnick | 1-2 |
| Andrew Sefick | 1-2 |
More From Shore Sports Network