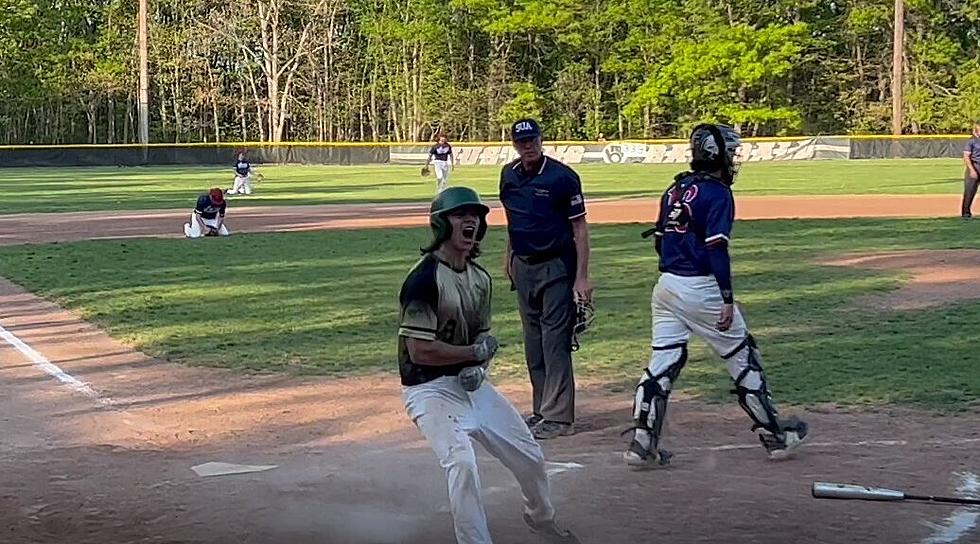 Baseball – Brick Memorial Rolls Dice, Lands on Seven in Wild Ocean County Tournament Finish
Brick Memorial freshman Tyler Garbooshian scores the winning run Tuesday vs. Lacey in the Ocean County Tournament semifinals on Tuesday. (Image: Matt Manley/Shore Sports Network on YouTube)

BRICK TWP. -- When Brick Memorial senior second baseman Joe Cordi stepped to the plate with two out in the the bottom of the seventh inning of his team's Ocean County Tournament quarterfinal game against Lacey Tuesday, his focus was on keeping the Mustangs' tournament run -- as well as their current winning streak -- alive.
Thanks to some daring baserunning during his at-bat, Cordi's goal changed two pitches in: end the game, extend the streak.
Cordi came through with a line-drive single to left that scored pinch-runner Billy Caruso with the tying run and freshman shortstop Tyler Garbooshian with the winning run, giving the third-seeded Mustangs a 7-6, walk-off win over No. 6 Lacey to earn a spot in Friday's OCT semifinal round.
Tuesday's heroics extended Brick Memorial's winning streak to seven, which is Ocean County's second-longest current winning streak. Donovan Catholic -- the No. 2 seed in the OCT and Brick Memorial's Friday semifinal opponent -- owns the longest at 11.
"That's something we haven't had in a while," Brick Memorial coach Evan Rizzitello said of the walk-off victory. "I think we're playing with a little bit of extra confidence right now. We feel real confident in every single one of our guys."
Throughout most of the seventh inning, Brick Memorial's string of victories looked to be sputtering out thanks to a late-inning surge from Lacey, a defensive miscue by the Mustangs and the Lions' two top pitchers throwing well. Lacey erased a 5-2 deficit with a three-run seventh inning and took the lead in the top of the seventh with a combination of sound execution on its part and a lack thereof from Brick Memorial.
With junior Rylan Messina taking off from first base on the pitch, freshman Connor Bragg lined a single into right field to complete a textbook hit-and-run. Lacey got even more than it bargained for out of the play when the ball skipped past charging rightfielder Devante Noriega, allowing Messina to chug all the way home with the go-head run and Bragg to pull in at second base.
Noriega quickly atoned for the error by throwing out Bragg at the plate on an attempted tag-up, which ended the winning with Lacey still up 6-5.
In the bottom of the seventh, senior Nick Garbooshian reached on a throwing error that went out of play and advanced him to second with one out. Caruso took over as a pinch-runner for Garbooshian and Tyler Garbooshian was then hit with the first pitch of the at-bat to put the tying run aboard.
The tension grew during during the first three batters of the inning, with the home plate umpire warning the Brick Memorial bench about the content of its dugout chatter, followed by the Mustangs dugout audibly accusing Lacey senior right-hander Jack Sramaty of hitting Tyler Garbooshian in his left elbow on purpose. With the winning run now on base, Sramaty dismissed the accusation with a shrug and a smile and struck out the next batter for the second out of the inning.
Down to its last out, Brick Memorial rolled the dice on the first pitch of Cordi's two-out at-bat and came up a winner. Caruso broke for third base and slid in ahead of the throw from Lacey senior catcher Carson Gudzak, with Tyler Garbooshian pulling into second behind him.
"Billy is our guy: he is real close to setting the stolen base record," Rizzitello said. "He's got the green light at all times and he took third base. That was huge. He has the green light every time he is on base with pretty much no exceptions."
Caruso's gamble got Brick Memorial 90 feet closer to tying the game, but Tyler Garbooshian's awareness got him to second base on the back-end of the double-steal without a sign from the third-base coaches box to tip him off to Caruso going.
"He has been playing with older kids since he was about eight years old and he is committed to Rutgers for a reason," Rizzitello said of the younger Garbooshian. "He is a kid that is going to make physical mistakes but he knows exactly what to do at all times. It's pretty impressive."
The double-steal moved both the tying and winning runs into scoring position and intensified the pressure on Sramaty, who fell behind 1-0 on the first pitch and 2-0 after one more.
"Joe has been a very consistent guy for us," Rizzitello said. "He doesn't have eye-popping stats, but he has a good on-base percentage, he's been seeing the ball well, hitting the ball well and we like him in the bottom of our lineup. He has had a few walk-offs in his career, so we felt pretty comfortable with him in that spot."
With the count in his favor, Cordi lined a breaking ball into left and Garbooshian scored without a play at the plate to secure Brick Memorial its seventh straight win.
The Mustangs rode four pitchers through Tuesday's seven innings and the one who threw only three pitches -- sophomore right-hander Jaxon Figueroa -- earned the win. It was another workmanlike performance from a staff that has been without its best arm since the first week of the season.
"When you think about it, it's amazing we have been able to do all this without Brady Leach," Rizzitello said. "He was our clear number one and an All-Shore, No. 1 starter and he won't be able to pitch for us this year, so finding guys to get big outs has been huge."
Leach -- a senior right-hander and 2022 Shore Sports Network All-Shore selection -- pitched five innings in a loss to Toms River South during the first week of April before coming down with a shoulder injury that has kept him out and, according to Rizzitello, will keep him out for the rest of the year. Leach has still been able to play first base and swing the bat, which he also did at an All-Shore level as a junior.
"He is an unbelievable talent, but he is not having the year he anticipated," Rizzitello said of Leach. "He is capable of doing so much, but he's just not at full strength right now. He's giving us what he's got."
Junior Chase Cohen threw 47 pitches and allowed two runs in the first two innings before senior Point Pleasant Beach transfer Nate Van Norman followed with consecutive scoreless frames to settle the game down.
Lacey, however, got to Van Norman -- who is still stretching out after sitting the first month of the season to comply with the NJSIAA transfer rule -- in the fifth inning with a three-run rally. Gudzak and senior starting pitcher Noah Quinn hit back-to-back one-out singles and junior Ethan Anderson worked a walk to load the bases. Junior Anthony Eckerson then beat out an infield single to plate the first run of the rally, cut the deficit to 5-3, and chase Van Norman from the game.
Brick Memorial turned to relief specialist Mike Gioia, who entered Tuesday with a 2.10 ERA in 16 2/3 innings out of the Mustangs bullpen. With a 1-0 count already on him during the pitching change, Messina greeted Gioia with by smacking the first pitch he saw into centerfield for an RBI single.
"Gioia has been awesome all year long," Rizzitello said. "I know he gave up a couple runs, but he has been a late-inning guy for us all year and he is always going to compete. We tried to keep everybody at around 50 pitches because of all the games we have this week. We're going to have games every day so we'll need everybody."
One batter later, Bragg bounced into a slow-developing groundout to the right side that gave Anderson enough time to scamper home with the tying run. After a walk to re-load the bases, Gioia coaxed an inning-ending flyout to centerfield by Lacey leadoff hitter Zack Mohr.
Brick Memorial's late-inning magic snapped the Mustangs out of a two-inning after they had scored in each of the first four innings. Junior Nicco Maribo led the game off with a booming triple to the fence in left-centerfield, followed by a one-out walk by catcher Joe Nolan and stolen base by Caruso as the courtesy runner.
Nick Garbooshian delivered Brick Memorial a 2-1 lead with a line-drive single to center that chased home both baserunners.
Cordi then led off the bottom of the second with a long double of his own and scored on the back-end of a first-and-third double-steal attempt to push Brick Memorial back in front, 3-2. Junior Jimi Popp bunted his way on, then sacrificed himself in a rundown between first and second to give Cordi a chance to trot home.
Senior Brady Leach and Nolan led off the bottom of the third with back-to-back singles, but Quinn recorded a pair of outs that left runners on the corners with the Lacey ace just one out away from escaping trouble. Leach, however, did score the fourth Mustangs run when Bragg could not come up with a pickoff throw from Quinn and the ball squirted away far enough to allow Leach to score easily.
Another error coast Quinn an unearned run in the bottom of the fourth, although this one came after Mohr showed off his range at shortstop to get to a ground ball in the third-base hole. With Popp on second, Mohr back-handed a firm ground ball off the bat of Leach while Popp headed to third base on contact. Upon transferring the ball from his glove, however, Mohr lost the handle and it kicked away into foul territory, giving Popp a chance to speed home and Leach to move into second as the Mustangs took a 5-2 lead.
Lacey opened the scoring in the top of the first on an RBI single by Eckerson, which Brick Memorial kept to one-run play thanks to a relay from Popp in leftfield that cut down a potential second run at the play. Popp hit junior third baseman Dom D'Erasmo with the relay throw and D'Erasmo quickly fired the ball to Nolan at home for the inning-ending tag at the plate.
After Nick Garbooshian's two-run single put Brick Memorial on top in the bottom of the first, Lacey responded by tying the game on an RBI groundout by freshman Brayden Messina after the Lions loaded the bases with one out on a pair of walks that bookended a single by sophomore second baseman Logan Resetar.
Brick Memorial will attempt to reach the OCT championship game for the second time in three years Friday, which will require the Mustangs to knock off second-seeded Donovan Catholic (16-1) and end a winning streak that could very well be 12 games by the time first pitch arrives on Friday at Donovan Catholic's Whitty Road Complex in Toms River.
Before trekking to Toms River for the next round of the tournament, Brick Memorial will play a key Class A South divisional game at Toms River East on Wednesday and a first-round Shore Conference Tournament home game on Thursday against Freehold Township. If Brick Memorial beats Freehold Township on Thursday, the SCT round of 16 is scheduled for Saturday, which would give the Mustangs games on six consecutive days while competing for a Class A South title that is still up for grabs, as well as two different tournament titles.
"It's something I have never done and I have been coaching 20 years here," Rizzitello said. "I have never played this many games in a row, where you have to deal with the pitch counts and mixing and matching. Thank god we've got some guys who have stepped up and will be available for us, otherwise I don't know how we would do it."
Box Score
Brick Memorial 7, Lacey 6
| | | | | | | | | | | |
| --- | --- | --- | --- | --- | --- | --- | --- | --- | --- | --- |
| | 1 | 2 | 3 | 4 | 5 | 6 | 7 | R | H | E |
| Lacey (9-7) | 1 | 1 | 0 | 0 | 3 | 0 | 1 | 6 | 12 | 3 |
| Brick Mem (12-6) | 2 | 1 | 1 | 1 | 0 | 0 | 2 | 7 | 8 | 2 |
Pitching
| | | | | | | | |
| --- | --- | --- | --- | --- | --- | --- | --- |
| Lacey | IP | H | R | ER | BB | SO | PC |
| Noah Quinn | 5.2 | 7 | 5 | 3 | 4 | 6 | 108 |
| Jack Sramaty (L) | 1 | 1 | 1 | 0 | 0 | 3 | 25 |
| | | | | | | | |
| --- | --- | --- | --- | --- | --- | --- | --- |
| Brick Memorial | IP | H | R | ER | BB | SO | PC |
| Chase Cohen | 2 | 3 | 2 | 2 | 4 | 0 | 47 |
| Nate Van Norman | 2.1 | 4 | 3 | 3 | 1 | 2 | 41 |
| Mike Gioia | 2.1 | 5 | 1 | 1 | 2 | 2 | 50 |
| Jaxon Figueroa (W) | 0.1 | 0 | 0 | 0 | 0 | 0 | 3 |
Top Hitters
| | |
| --- | --- |
| Lacey | Game Stats |
| Anthony Eckerson | 2-4, 2 RBI |
| Ethan Anderson | 1-2, 2B, 2 BB, R |
| Rylan Messina | 2-4, R, RBI |
| Connor Bragg | 1-3, BB, R, RBI |
| Logan Resetar | 2-3, BB |
| Brayden Messina | 2-5, R, RBI |
| Noah Quinn | 1-3, BB, R |
| Carson Gudzak | 1-4, R |
| Brick Memorial | Game Stats |
| Joe Cordi | 2-4, 2B, R, 2 RBI, SB |
| Nick Garbooshian | 1-4, R, 2 RBI |
| Nicco Maribo | 1-3, 3B, BB, R, SB |
| Brady Leach | 2-4, R |
| Tyler Garbooshian | 1-3, BB, SB |
| Jimi Popp | 1-2, BB, R |
| Joe Nolan | 1-3, BB |
More From Shore Sports Network