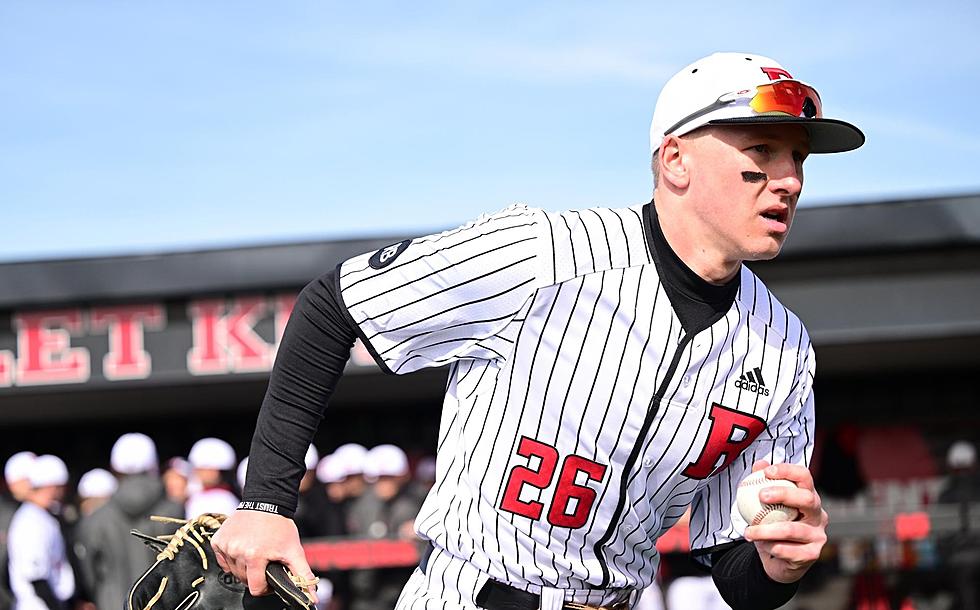 Baseball – 2023 MLB Draft Preview: Shore Conference Alums Await the Call
Rutgers centerfielder and Jackson Memorial alumnus Ryan Lasko (Photo: Ben Solomon/Rutgers Athletics)

The Major League Baseball Draft is set to begin Sunday night in Seattle with the first two rounds and continue over the ensuing two days, with the 20th and final round concluding the festivities on Tuesday evening. New Jersey has been a source of impactful talent for Major League clubs to target in recent years and the Shore Conference has been a part of that wave.
A year ago, four Shore Conference alumni were selected in the 2022 draft – all on day two – led by Wall graduate and Monmouth University ace Trey Dombroski going to the Houston Astros in the fourth round.
One round later, Pinelands alum Noah Dean (Old Dominion) and Freehold Township (Notre Dame) alum Liam Simon were selected within seven picks of one another, with Dean going to the Boston Red Sox and Simon to the San Francisco Giants.
Former Jackson Memorial standout Alex Iadisernia was the fourth and final Shore Conference alumnus to hear his name in the 2022 Draft, with the St. Louis Cardinals selecting the outfielder out of Elon.
This year, there are at least three players who graduated from Shore Conference schools who are highly likely to hear their name in this year's MLB Draft, and one who is projected to have at least an outside shot to be selected on day one (top 70 picks). All three lost their senior seasons of high school due to the COVID-19 outbreak that canceled virtually all sports around the country that spring and have re-established themselves during their college careers.
There are also a couple of recent high-school graduates to keep an eye on in the later rounds, although it is unlikely any seniors from the past season of high-school baseball will get the call this year.
2023 Draft Hopefuls from the Shore
Ryan Lasko, OF, Rutgers
High School (Graduation Year): Jackson Memorial (2020)
2023 Stats: .330/.428/.581, 227 AB, 18 2B, 3 3B, 11 HR, 60 R, 54 RBI, 18 SB
Last Season of HS Stats (2019): .380/.423/.747, 79 AB, 8 2B, 7 HR, 24 R, 33 RBI, 14 SB
Prospect Rankings (As of July 6)
MLB: 89
Baseball America: 76
ESPN: 90
High School Résumé
Lasko was a First Team All-Shore centerfielder as a junior in 2019 and an integral part of a Jackson Memorial team that won 45 games during his two years as a varsity starter – including an NJSIAA South Jersey Group IV championship during his sophomore season in 2018. Heading into the spring of 2020, Lasko and the Jaguars were poised for a big season before it was canceled because of the COVID outbreak.
After High School
Major League Baseball used the pandemic as an excuse to shorten the 2020 Draft to five rounds, which squeezed many potential day-two and day-three picks coming out of high school out of the draft. Lasko could very well have fallen into that group (one of the three Shore alums on this list most certainly was in that group), but he was committed to Rutgers anyway and set off on a decorated three-year run with the Scarlet Knights.
Lasko was named a Freshman All-American by Collegiate Baseball in 2021 and as a sophomore, he was a Second-Team All-American and a semifinalist for the Golden Spikes Award, which goes to the National Player of the Year in College Baseball. In 2022, Lasko helped lead Rutgers to a single-season-program-record 44 wins and his numbers as a sophomore were even better than the ones he put up as a junior: .349/.431/.634, 258 at-bats, 24 doubles, two triples, 16 home runs, 81 runs scored and 51 RBI.
Why Teams Like Him
Opinions vary on Lasko when it comes to what his strengths are right now, but the optimistic view of him is rather evident when looking at both his body of work and his tools. He has a three-year track record of consistent offensive production at Rutgers and he has shown an ability to impact the ball with power to all fields. While his power and overall production plateaued as a junior, he increased his walk-rate while slightly scaling back his strikeouts – which was not a major problem for Lasko to begin with.
The part of Lasko's game in which he really boosted his reputation this season was his defense. Heading into the season, according to outlets like Baseball America, ESPN and Prospects Live (now Future Stars Series), he was considered an average centerfielder who might not stick there in professional ball. Now, ESPN and Baseball America are both relaying positive feedback from scouts about Lasko's centerfield defense, which checks out for those who watched him make some spectacular catches while patroling the Scarlet Knights outfield this past spring.
Why Teams Might Hesitate
The primary knock on Lasko at the moment is that he did not perform particularly well at the plate in the Cape Cod League last summer (.239 with no homers in 139 plate appearances), which leaves questions about how his swing will translate hitting with a wood bat and against consistent, higher-level pitching. Summer ball can be a red herring for teams that read too much into the performance in those leagues, but for a player that is not playing in the SEC, ACC, Big 12 or Pac 12, it is a unique challenge that, if passed, can but to rest a lot of questions.
Whether or not Lasko's performance at the Cape signals something that either needs to be fixed or that will hold him back, it could very well give some teams pause. Ultimately, however, his defensive profile, college track record and overall feel for the game are going to catch the attention of a lot of teams and one of them will submit his name by Monday and as early as the end of day one on Sunday.
Teddy Sharkey, RHRP, Coastal Carolina
High School (Graduation Year): Wall (2020)
2023 Stats: 49.2 IP, 7-2, 11 Saves, 2.90 ERA, 39 H, 18 BB, 74 K
Last Season of HS Stats (2019): 43 IP, 6-0, 0.80 ERA, 27 H, 20 BB, 68 K
Prospect Rankings (As of July 6)
MLB: N/A
Baseball America: 398
ESPN: 288
Future Star Series: 341
High School Résumé
Sharkey made an immediate impact at Wall as a freshman, joining a group of players who were one year ahead of him in leading the Crimson Knights to a spectacular three-year stretch from 2017 through 2019. Sharkey began his career looking more like a future outfielder at the college level thanks to his advanced bat speed and power, but all the while, he dominated when called upon to pitch. Early on, it was more as a closer, but as a junior, Sharkey assumed the No. 2 spot in the rotation behind current Astros farmhand Trey Dombroski and turned in a dominant two-way junior campaign that landed him on the Shore Sports Network All-Shore First Team. That performance also helped Wall claim its first NJSIAA Group III championship in 15 years.
After High School
Sharkey initially committed to Florida State, but re-opened his recruitment and switched to Coastal Carolina before his senior season of high school. That senior season, of course, never came to be because of the canceled 2020 season and Sharkey headed to Conway, S.C. with a body of work that included equal parts hitting and pitching. Coastal, however, believed in Sharkey as a pitcher and the Wall graduate poured his focus into his craft on the mound, specifically as a reliever.
By the start of his freshman season, Sharkey turned himself into one of college baseball's most electric relief pitchers and he fully embraced the late-inning reliver role – including the high-intensity personality often associated with the role. He pitched to a 2.25 ERA with 33 strikeouts in 32 innings as a freshman and after struggling to the tune of a 6.19 ERA in 16 innings as a sophomore, he used that disappointment to fuel what would be a dominant junior campaign as Coastal Carolina's closer.
Why Teams Like Him
Put simply, Sharkey has nasty stuff and he throws it hard. His fastball is 93-to-97 with the occasional 98-mile-per-hour reading in the mix and he features both a slider and a curveball that are both good enough to carry with him to the next level and should protect him from heavy platoon splits. At 5-foot-11, he is shorter than the prototypical relief ace, but reports are scouts are confident his athleticism and easy velocity suggest that won't be an issue.
Sharkey is an intense competitor as well and while there may have been a time his emotion was a drawback on his scouting report, he has learned to channel it. Having been through a frustrating sophomore season and coming out the other side a dominant, late-inning fire-baller speaks to Sharkey's resilience and competitiveness – which was apparent to those who saw him play for those ultra-competitive Wall squads of the late 2010's.
Why Teams Might Hesitate
College relievers are hard to pin down when it comes to their ability translating into pro ball and, ultimately, the Major Leagues. The stuff is often there, but with more command required of pitchers with each step up in the system, relievers are challenged in an area (control and command) that often lands them in a college relief role in the first place. As an example, several Shore Conference alumni pitching in the Major Leagues this season as relievers – Mark Leiter Jr., Ron Marinaccio, Joe Jacques – were all starters at one point in college and settled into reliever roles in pro ball. Marinaccio began his final season at Delaware as a reliever, but moved back into the rotation after showing improvement early in the 2017 season.
In Sharkey's case, he is a max-effort pitcher whose style fits best in relief. As for his control, it was not exceptional this past season, but it is trending in the right direction and is plenty good for a pitcher who misses bats as often as Sharkey does. Sharkey's 2023 walk percentage was by far the best of his career: at 8.6 percent, it is equals the Major League average in 2023 and slightly higher the 2022 league average of 8.2. If Sharkey continues to trend in the right direction with his command while maintaining his velocity with two plus breaking pitches, he would profile as a reliever who should translate from the college game to pro ball. With that being said, it is hard to predict how proven MLB relief pitchers will perform from year-to-year, so doing the same with a college player is especially challenging.
Patrick Reilly, RHP, Vanderbilt
High School (Graduation Year): Christian Brothers Academy (2020)
2023 Stats: 48.1 IP, 5-4, 5.77 ERA, 44 H, 30 BB, 65 K
Last Season of HS Stats (2019): 42 IP, 7-0, 0.67 ERA, 19 H, 19 BB, 67 K
Prospect Rankings (As of July 6)
MLB: 219
Baseball America: 235
ESPN: N/A
Future Star Series: 289
High School Résumé
Competing in a deep, pitching-rich CBA program, Reilly did not get a varsity look in either of his first two years of high school. Despite that, he committed to Northeastern before his junior year, then took the Shore Conference by storm in his first and only season in CBA's rotation. The 6-foot-4 right-hander earned a spot on the Shore Sports Network All-Shore First Team and his 7-0 record as a junior included a 1-0 win over Wall ace Trey Dombroski – who is now thriving in his first year in the Houston Astros system.
Reilly was set to enter his senior year as, perhaps, the top pitcher in the state from the 2020 class. He re-opened his recruitment that fall and committed to Vanderbilt, increased his top-end velocity to 97 miles-per-hour and was rumored to be a top-three-round selection in what would be a five-round MLB Draft in 2020.
After High School
Ultimately, Reilly held a solid commitment to Vanderbilt and MLB clubs were not comfortable using one of their limited picks – and the bonus money associated with it – on a high-school pitcher who did not showcase himself in game action during the spring due to the cancelation of the high-school baseball season throughout the country in 2020. With that, Reilly headed to Nashville and turned in a promising freshman campaign for the Commodores, finishing fifth in innings (43 1/3) on a pitching staff that included top-three picks Jack Leiter (2021) and Kumar Rocker (2022), posting a 4-2 record with a 4.98 ERA, and striking out 53 against 28 walks.
Over the next two seasons, Reilly performed similarly as a spot-starter and bulk reliever, finishing fourth on the team in innings pitched in each of the last two seasons, with his ERA inching up to 4.99 in 2022 and increasing to 5.77 this past season. His strikeout rates have remained consistent and he allowed six home runs in each of the past two seasons after surrendering eight as a freshman. Pitching for an elite program, Reilly's high walk totals limited his opportunities to start in his final two seasons while other pitchers passed him on the depth chart, but he still racked up 144 career innings in the toughest conference in college baseball.
Why Teams Like Him
With a tall, athletic frame, a swing-and-miss fastball that rushes up to 98 miles-per-hour and an array of potential secondary weapons that includes a slider, cutter, two-seamed fastball and a changeup, Reilly has all the ingredients to be a Major League pitcher in some capacity. If not for the pandemic, there is a chance Reilly would have signed out of high school and already been in an organization by now and there were, no doubt, offers made to Reilly and his ilk from MLB teams trying to find talent at prices that they found more suitable in the 2020 Draft.
Reilly bet on himself by going to Vanderbilt as one of the program's top recruits from the 2020 graduating class and while his performance has not elevated him to first-round status, he has competed for three years in the ultra-competitive SEC, has stayed relatively healthy and maintains the powerful arm he displayed coming out of CBA. At other programs, he would have been given a longer leash to figure things out as a starter, but at Vandy, he performed in several different roles while constantly competing against similarly-talented pitchers for innings.
Why Teams Might Hesitate
Most of the questions surrounding Reilly have to do with his control. In his one season at CBA, Reilly started the year by showing an aversion to walks while posting huge strikeout numbers, but still ended up walking 19 in 42 innings when all was said and done. That wavering command followed him to Vanderbilt and to the Cape Cod League, where he flashed brilliance, but was not quite able to harness it while fighting for innings on the mound.
The arm talent on Reilly will make him a serious consideration for teams on day two of the draft and he is an extremely safe bet to have a team by the early part of day three, at the very latest. He has some leverage in that he could return to college baseball and try to answer some of the questions teams have about his profile, but the more likely outcome is an organization will be legitimately excited to take Reilly whenever they do with a plan in place to help him harness his great stuff.
Local Prep Players to Watch
A.J. Gracia, OF, Ranney
2023 Stats: .467/.628/1.052, 77 AB, 7 2B, 1 3B, 12 HR, 49 R, 33 RBI, 12 SB
Prospect Rankings (As of July 6)
MLB: N/A
Baseball America: 348
ESPN: N/A
Future Star Series: 545
High School Résumé
Gracia just completed one of the great two-year stretches in Shore Conference history, clubbing 12 home runs with a slugging percentage over 1.000 in each of the past two seasons and running away with the 2023 Shore Sports Network Player of the Year Award. In addition to being the Shore's best overall hitter in each of the past two years, Gracia was a gifted centerfielder, a savant on the base paths and a big-game pitcher for a Ranney team that went 65-13 since the day he debuted as a high-school player six games into the 2021 season.
Why Teams Should Like Him
Gracia demonstrates the ability to do so many things on a baseball field and while every tool is impressive, his most impressive attribute is his baseball instinct. He has an ability to make quick adjustments at the plate, read the game on the base paths and change the course of a game when he has a chance to do so.
As for the tools, he possesses a picturesque left-handed swing with an ability to hit for some power to the opposite field and with plenty of power to the pull side. Gracia is long-limbed, which makes him deceptively fast and while his arm is not overpowering, it is an effective weapon when he is in the field and could develop into a plus tool. If Duke chooses to try him on the mound, Gracia has a sharp curveball and a low-90's fastball that would likely improve with more time to focus on developing them.
Why Teams Might Hesitate
Gracia shows off a long list of tools, but at this stage of his development, it is not clear which of them, if any, will be the ones to carry him through the minors and to the doorstep of Major League Baseball. He does not have explosive bat speed and while his power is impressive in person, you can find similarly-prodigious power in other high-school bats who have a better chance to stick at a premium position. It is possible he could be a centerfielder for the early part of his pro career, but most scouts expect he will be a corner outfielder, which will put extra pressure on his bat to be well above average. With his long arms, he could develop the power to profile at a corner spot, but that could also make hitting for average a challenge.
Ultimately, these are not so much concerns as they are unanswered questions, which is why it is highly likely that Gracia will be playing at Duke next season as its prized freshman. Wall graduate Andrew Fischer just put up a huge freshman season with the Blue Devils and transferred to Ole Miss, so there is recent precedent for a Shore Conference player passing on the uncertainty of the Draft and dominating at Duke. If Gracia performs the way he is capable of performing in college, teams will be climbing over themselves to draft him in 2026.
Charlie Meglio, 3B, Jackson Memorial
2023 Stats: .368/.533/.868, 68 AB, 5 2B, 9 HR, 19 R, 38 RBI, 3 SB
Prospect Rankings (As of July 6)
MLB: N/A
Baseball America: N/A
ESPN: N/A
Future Star Series: N/A
High School Résumé
Meglio blasted 20 homers in three seasons playing for a Jackson Memorial team that thrived under his leadership as a junior and senior over the past two years. He also set a school record with 109 career RBI and played a quality shortstop as a junior before shifting to third base for his senior season in preparation to play the hot corner for Campbell University next season. Meglio is a three-time All-Shore selection by Shore Sports Network, including a First-Team selection in each of the past two seasons.
Why Teams Should Like Him
Meglio is not on any public draft radars heading into day one and with only 20 rounds in the draft, he is almost certain to not hear his name called. In the days of 40 rounds, he would be an interesting name to watch because of his physical attributes. Meglio is 6-foot-5 with long limbs and while that might land him in the outfield, he is smooth enough at third base that he should plant himself there for the Camels over the next several seasons.
While the athleticism and defense are nice, it is all about the bat with Meglio. He makes consistent hard contact with a simple swing that doesn't involve a whole lot of movement pre-pitch or in the approach. It is the kind of swing that should translate well to the college game and as Meglio adjusts to pitching at the next level, he should start to generate some buzz heading into his junior year that way his former teammate Lasko did at Rutgers.
Why Teams Might Hesitate
With only 20 rounds of picks, players like Meglio lose out in the numbers game. It is good for college baseball that more players aren't tempted by the quick money and professional career, but a lot of players in Meglio's situation would be going to college regardless of whether or not they are picked in the last few rounds of a 40-round draft -- especially with NIL money now a factor. In today's environment, Meglio is a name to watch in the college game beginning next season and to store away for three years from now when it comes to the Draft.
Other New Jersey Players to Watch
The following players are draft prospects who played their high-school ball in New Jersey, whether they just graduated or are coming from the college ranks. Includes draft-class rankings from MLB Pipeline (MLB), Baseball America (BA), ESPN and Future Stars Series (FSS).
Kyle Teel, C, Virginia (Mahwah High School)
MLB: 7
BA: 10
ESPN: 7
FSS: 6
Steven Echavarria, RHP, Millburn
MLB: 60
BA: 74
ESPN: 46
FSS: 67
Drew Conover, RHP, Rutgers (Voorhees)
MLB: 220
BA: 332
ESPN: 212
FSS: 322
Cameron Flukey, RHP, Egg Harbor Twp.
MLB: 149
BA: 194
ESPN: N/A
FSS: 216
Nick Maldonado, RHRP, Vanderbilt (Seton Hall Prep)
MLB: N/A
BA: 236
ESPN: 267
FSS: 127
Adam Boucher, RHP, Duke (St. Joseph Metuchen)
MLB: N/A
BA: 355
ESPN: 280
FSS: 178
Jay Harry, SS, Penn State (Metuchen)
MLB: N/A
BA: 430
ESPN: N/A
FSS: 221
Alex Kranzler, RHP, Old Tappan
MLB: N/A
BA: N/A
ESPN: N/A
FSS: 293
Luca Reyes, OF, Bergen Catholic
MLB: N/A
BA: N/A
ESPN: N/A
FSS: 500
Drew Compton, 1B, Georgia Tech (Governor Livingston)
MLB: N/A
BA: N/A
ESPN: N/A
FSS: 603
Ryan Jaros, 3B, Cranford
MLB: N/A
BA: N/A
ESPN: N/A
FSS: 605
Tony Santa Maria, 3B, Rutgers (Atlantic Tech)
MLB: N/A
BA: N/A
ESPN: N/A
FSS: 613
More From Shore Sports Network