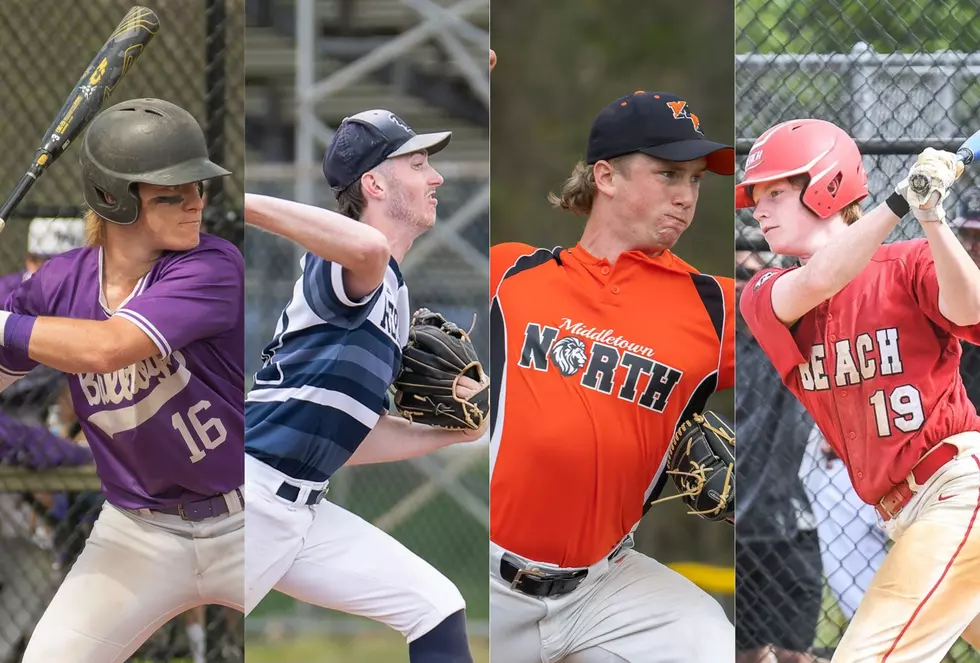 Baseball – 2022 NJSIAA Group Semifinal Preview: Four Shore Teams Play for State Championship Spots
From left: Rumson-Fair Haven senior Charlie Tallman (Photo: Richard O'Donnell Photography); Howell senior Dan Furlong (Tom Smith | tspimages.com); Middletown North senior Colin Dowlen (Richard O'Donnell Photography); Point Beach sophomore Bryan Matuschat (Tom Smith | tspimages.com).

It has been an unprecedented NJSIAA Tournament for the Shore Conference and there is still a week left to go until the dramatic conclusion Saturday at Veterans Park in Hamilton. The 2022 season marks the first time that the Shore has had one team reach the Group Semifinal round in all six groups, with the Non-Public sectional finals doubling as a state semifinal for purposes of this exercise.
Another first in play for this season is the Shore Conference advancing a team to each of the public group championships, which would require a perfect 4-0 day for the four teams playing in the Public Group Semifinals on Monday.
Here is a quick-hitting look at what Howell, Middletown North, Rumson-Fair Haven and Point Pleasant Beach are up against as they all prepare to hit the road to South Jersey on Monday.
Note from the author: I don't normally make predictions on individual baseball games because it is an especially unpredictable sport. Nevertheless, I decided to add some flavor to the sectional final previews with score predictions and ended up going 6-0 picking the winners with some close scores, including one on the nose. I wasn't going to do it again, but you have to keep shooting until you miss one, so predictions are back.
NJSIAA Group Semifinals
Group IV
Howell (23-6) at Cherokee (22-7), 4 p.m.
Fresh off winning their first sectional title in 28 years, the 2022 Howell baseball team will look to match the 1994 team by taking the next step and reaching the Group IV final. To get there, the Rebels will have to get through Cherokee and right-handed ace Jeremy Cheeseman. The senior two-way threat is 4-0 on the mound with a 1.64 ERA and 67 strikeouts in 42 2/3 innings, which statistically makes him the toughest pitcher Howell has seen since the first round, when the Rebels got past Tyler Kane and Manalapan.
Howell will have to proceed through the end of their season, whenever it ends, without senior Nick Gomes, who sustained a broken wrist in the sectional final vs. East Brunswick, according to coach Eric Johnson. Gomes was one of Howell's top two pitchers during the Central Jersey Group IV run and was also swinging a hot bat at the plate as the first baseman. On the bright side, the Rebels will give the ball to 8-1 senior ace Dan Furlong, who beat Manalapan and Jackson Memorial in his two NJSIAA Tournament starts.
Prediction: Cherokee, 3-1
Group III
Middletown North (19-10) at Delsea (23-5), 3 p.m.
The formula has been pretty simple for Middletown North throughout its 10-game winning streak: crush the ball from top-to-bottom in the order and if you can't, make sure Colin Dowlen is pitching. The Lions have failed to score 10 runs or more just twice during the current 10-game run those were the two state-tournament games started by Dowlen. The fifth-year senior is again set to start Monday at Delsea and he will put his 8-2 record and 0.82 ERA on the line against a South Jersey Group III champion that is in the midst of a 14-game winning streak.
Delsea will counter with a pitching staff that remains entirely available, although with an 86-pitch limit on junior workhorse Angelo DelPalazzo. Sophomore George Starr leads the team with a 1.98 ERA and is the likely starter for the Crusaders, which have seven starters hitting .300 or better to counter Middletown North's eight starters at .300 or better. Unlike Delsea, Middletown North will have two ineligible pitchers (Mike Weinbel and Matt Adamson), but if Dowlen pitches as efficiently as he has over his past four starts, the Lions won't need any bullpen help.
Prediction: Middletown North, 4-2
Group II
Rumson-Fair Haven (22-4) at Haddon Heights (21-7), 4 p.m.
The two most dramatic finishes around the state on sectional final Friday were in the Central and South Group II finals, so both Rumson and Haddon Heights are feeling like the team of destiny right now. Rumson was down to its last strike in three straight batters and somehow pulled out a 4-3, walk-off win over Wall in the Central final. The Garnets, meanwhile, appeared as through they gave up the tying run with two out in the bottom of the seventh at Cedar Creek on a potential passed ball, but Haddon Heights recovered to cut off the runner to end the game and win the championship on a play at the plate.
Rumson has two thirds of its three-headed pitching monster available, with juniors John Goodes and Jackson Hinchcliffe available. Statistically, Goodes has been Rumson's most dominant pitcher this season, but coach Owen Stewart has shown a propensity to use Goodes in relief during the past two postseasons. Goodes pitched the seventh inning on Friday after pitching 4 2/3 innings in a sectional semifinal win over Voorhees, meaning he could be looking for his third straight win on Monday. Speaking of streaks, Bulldogs junior catcher Owen Kenney has homered in four straight games heading into Monday and will try to make it five against the best the Garnets have to offer. Senior John DiConstanzo (2.40 ERA, 65 strikeouts, 12 walks in 46 2/3 innings) is the likely starter for Haddon Heights, which has won three of its four state tournament games by one run.
Prediction: Rumson, 6-2
Group I
Point Beach (20-9) at Woodstown (17-9), 4 p.m. at Woodbury High School
Coming off a historic win over Middlesex in the Central Group I championship, Point Beach will try to parlay its first ever sectional championship into an overall Group I title. In order to finish the job, the Garnet Gulls will turn to what will likely be a combination of James Larsen and Andrew Banick on the mound after junior Kyle Kolans pitched four huge innings on 84 pitches in the win over Middlesex on Friday.
Woodstown will also be without its big-game pitcher in senior Chase Rieger, who earned the win in the championship game Friday against Paulsboro. While Rieger has drawn some of the toughest assignments of anyone on the Woodstown staff, senior Ben Foote actually has a better ERA at 2.89 and will take that standing into Monday as the likely starter for the Wolverines.
Prediction: Woodstown, 9-6
More From Shore Sports Network